Winter hiking is an excellent way to stay active and healthy during the cold months. However, it presents a lot of safety concerns absent during warm seasonal conditions, necessitating additional planning and preparation. Read on for 11 tips for safe and comfortable hiking in winter.
Image Source: pixabay.com
1.    Choose appropriate clothing and gear
Selecting the proper clothing is crucial when hiking in cold temperatures. Be sure to adopt the three-part layer system, which includes the shell layer that keeps out wind and moisture, the mid-layer that insulates your body from cold, and the base layer that keeps the sweat from the skin. Layering allows you to remove or add clothing when winter hiking to stay comfortable and warm without getting sweaty or overheating.
Some essential winter hiking clothing and gear include fleece gloves, winter hats, neck gaiters, wool or synthetic socks, snowshoes, crampons, shell jackets, and fleece pants. Avoid cotton clothing as they take a long time to dry, increasing the chances of contracting hypothermia. You should also avoid tight clothing as they cause poor circulation, leading to frostbite. Check out Kryptek to shop for your winter hiking clothing and gear.
2.    Bring emergency supplies
Prepare for crisis circumstances and situations when winter hiking by packing proper safety equipment. A proper emergency supply kit can be a life-saving difference if you encounter a challenge in an area where help could be hours or days away. In addition to the essential hiking gear, bring a compass, first aid kit, trail map, headlamp or flashlight, hand-warming packets, or multi-tool. Ensure that all supplies are in excellent condition, keep batteries warm, and pack more than one primary survival tool to prepare better for unanticipated scenarios. Do not forget to carry a whistle to help you reach out to your friends if you are lost or injured.
3.   Hike with a partner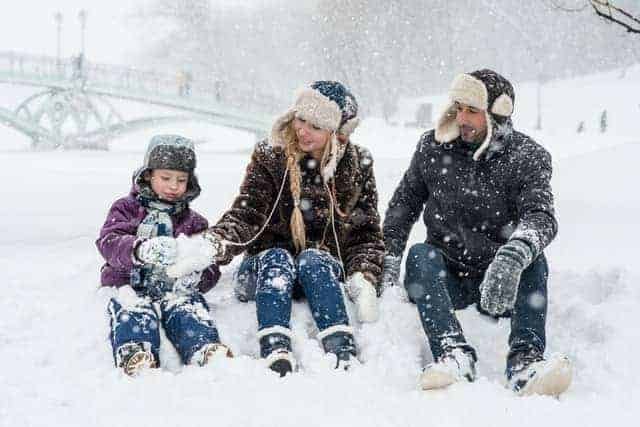 Hiking with a partner is the way to go, especially in winter. You could encounter minor challenges that could turn into life-threatening issues as you hike if you cannot contact help. You should share the adventure with a more experienced partner, as they provide more safety and can help you address issues you encounter on the trail. They can help you use snowshoes and microspikes, select gear, and determine dangerous conditions.

Hiking with a partner is ideal, especially when you do not have enough money to spend on the adventure or are new to the spirit. You can borrow goggles, gloves, and hiking poles, among other essential items for the trek. Be sure to let a close friend not on the adventure know about your timetable and plans to ensure that you get assistance while in the wilderness in case you are unable to call for help.
4.    Pack a pair of microspikes
With the crisp air and the absence of flying, and biting insects, hiking in winter is fun. However, this quickly changes when you or your friends find themselves on their backside upon reaching an icy patch on your trail. For this reason, you should always carry a pair of microspikes with you when winter hiking, even when you feel you might not use them.
Microspikes offer traction on slippery areas such as surfaces with snow or ice. This reduces falling, slipping, splattering, or spilling during winter hiking. They dig into ice or snow, allowing you to keep standing still on a slippery surface. However, ensure that you learn how to use them, especially if you are new to microspikes, to avoid injuring yourself. Have a friend teach you how to put them on, take off, and use them when going downhill or up. A single stumble or misstep when using your microspikes could sprain your ankle or cut your leg.
5.    Check the weather
It is crucial to determine the expected weather conditions when hiking, especially in winter. Frontal systems, and severe storms, among other weather changes, occur quickly, so determining what to expect can help you be better prepared when on-trail. Check the wind speed, precipitation, daylight hours, and avalanche reports to ensure proper preparation and planning. Consider postponing your hike if the weather conditions are not manageable to avoid exposing yourself to danger.
6.    Invest in trekking poles
Trekking poles are a significant investment when hiking and can be the difference between catching yourself when you slip and a trip to the doctor due to a broken bone. They provide stability and balance when navigating a slippery or icy trail. If you come across a stream, a trekking pole can help you test whether or not the river is frozen.
Be sure to invest in telescoping poles when shopping for your winter adventure supplies, as these hiking poles allow you to adjust the height when needed. You could also opt for a pole with a rubber grip as it does not absorb water, so you do not have to worry about it getting cold to the touch during the extreme winter temperatures.
7.    Be ready to turn around
If you notice any dangerous conditions during your winter hike, do not hesitate to turn around for your safety. You should also focus on the entire adventure and not just reaching the top. Note that the ascent is just half your trip, so you must preserve enough energy and time to get down. 
8.    Plan shorter trips
When planning your hike, keep in mind that the winter weather entails less daylight, and darkness often takes root abruptly after sunset. This means that undertaking a lengthy hike that you could navigate easily during the summer months could leave you stranded on the hiking trail when temperatures and darkness begin to fall in winter. For this reason, you should plan for hikes with a modest scope in winter and start early to ascertain that your adventure is enjoyable and safe.
9.    Be aware of trail dangers
It can be challenging to find and stay on the trail when winter hiking due to the wind blowing snow and winter cover. The short daylight hours, snow, and wind also limit visibility, making it challenging to see trail blazes and signs, increasing the chances of missing them. Soft snow also makes it challenging to see holes and dips. You should always carry a trail map to ascertain that you are using the right path. Alternatively, invest in the app AllTrails. This app allows you to add a custom map into the navigator, then using your phone GPS, the app follows along your trail and notifies you when you hike off the track.
10.     Stay hydrated
It is difficult to drink water when you are cold. However, drinking water regularly when hiking in winter is essential, even when you do not feel thirsty, to prevent dehydration. Dehydration speeds up the onset of hypothermia, which can be life-threatening as it is hard to treat the condition by yourself in the wilderness.
11.    Eat frequently
Winter hiking increases the number of calories in the body, so you should regularly consume foods and snacks high in complex carbohydrates, fats, and proteins. This ensures your body functions efficiently, allowing you to make the most out of your winter adventures.
EndNote
Do not let the cold temperatures in winter keep you from enjoying the outdoors. Implement the above strategies to make your winter hiking comfortable and safe.