Hiking boots are a must-have if you are serious about having an awesome time outdoors. Your feet are constantly under threat from harmful plants, dangerous animals, abrasions, humidity, and extreme temperatures whenever you hit the trail. Investing in a pair of quality hiking boots is a guarantee of optimal comfort and protection. If you are unsure about the aspects to consider when selecting hiking boots read along.
Before delving into what to look for in hiking boots, let us first highlight the types of hiking boots:
1. Backpacking boots
They are ideal for multiday hiking trips thanks to their lightweight. On top of that, they are excellent for carrying your hiking backpack with bulky loads. Most backpacking boots are high cut featuring ankle wraps for additional anchorage. Their stiff midsoles and sturdy outer material boost durability.
2. Day hiking boots
Just as the name suggests, day hiking boots are meant for day hikes.  Likewise, they can be utilized for short backpacking trips. They stand out for the short break-in time and flexibility. They are available in mid to high-cut versions.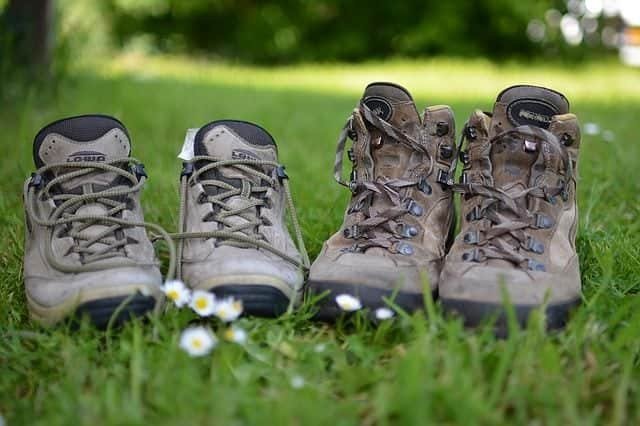 These boots are intended for short hiking trips or ultralight backpacking. They incorporate flexible midsoles and are low-cut.
Now that you are familiar with types of hiking boots, here is a breakdown of crucial attributes to consider when choosing a pair of hiking boots:
Protection
The most crucial aspect of any hiking boot is protection. This is due to the unforgiving outdoor terrain characterized by cold, wet, and rough surfaces. You need a pair that will prevent injuries and keep your feet dry. Nonetheless, most protective boots are made from sturdy material. Other things to look out for are toe caps. Heavier hiking boots have also proven to be more effective at foot protection.
Traction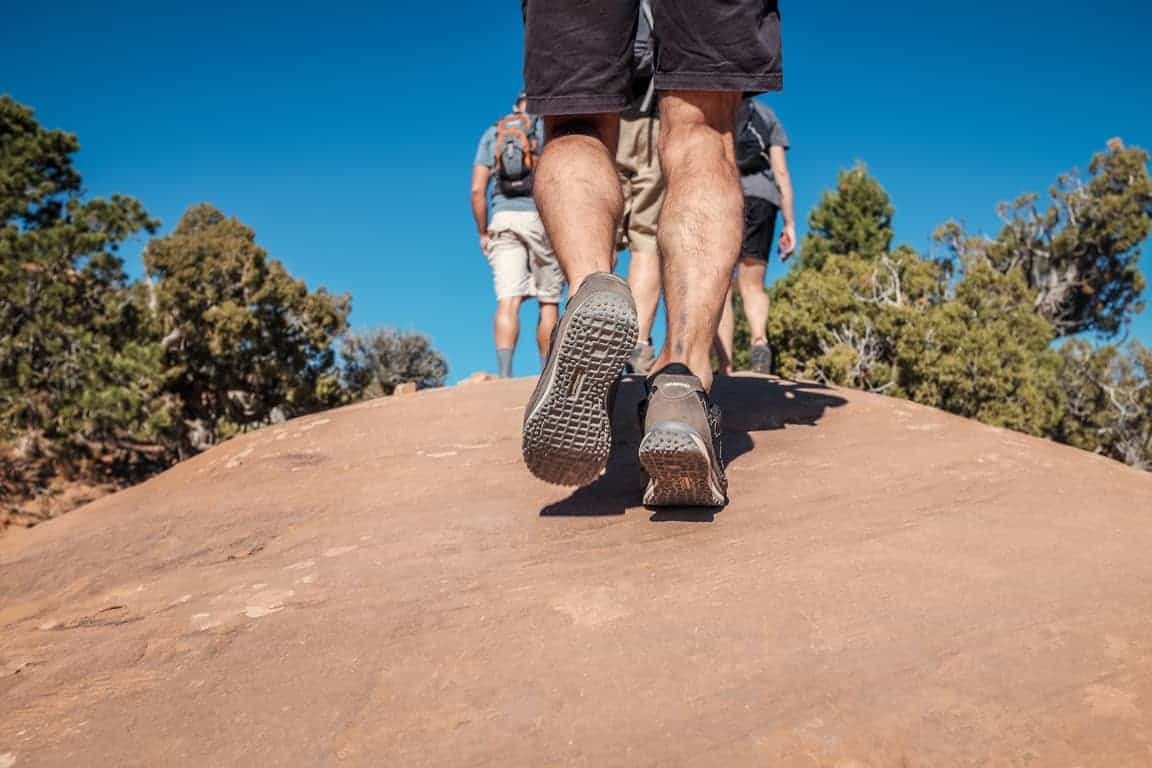 Another important aspect that you have to keep in mind is traction. You are likely to interact with a muddy or wet surface while outdoors. Such surfaces increase your chances of slipping and falling. That is why you need hiking boots with top-class traction. It offers resistance to spillage. Outsole design, midsole stability, and tread pattern determine traction. Outsoles incorporating carbon or blown rubber are robust hence they provide better traction.
Fit
The functionality and performance of your hiking boots are negatively affected if they fail to fit properly. In addition to that, the fit has a direct impact on comfort. Remember that feet volume, girth; width, and length vary all through the day. This should be put into consideration before ascertaining the right fit. Shoes that fit well provide more support and stability. They are also better at shock absorption.
Cushioning
Proper cushioning enhances a boot's ability to absorb shock. Impeccable shock absorption is a crucial aspect to look for in hiking boots. If the cushioning is questionable you will be exposed to pain, injuries, or discomfort. Hiking boots with gel, pads, fluid or air soles offer the best cushioning.
Durability
Good hiking boots ought to be long-lasting. Durability is anchored on terrain, hiking frequency, and maintenance; the technology used does not forget the material. Weather conditions also play a big role in the durability of hiking boots too. Moving on, leather handles abrasion damage better than synthetic materials. Consider the traction design and material of the sole as well.
Sole stiffness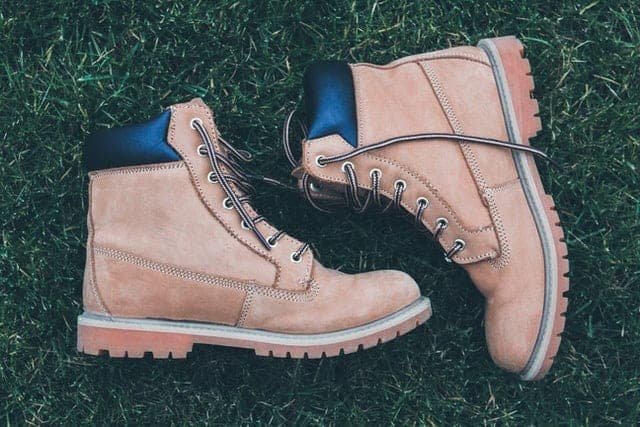 For added protection from rough terrain, you need boots with stiff soles. Additionally, these soles accommodate heavy loads with ease. The only downside of such boots is that they cut down on the natural movement of the feet. However, a thick sole is excellent for snowy or rough terrain.
Weight
Heavier hiking boots are known to offer more ankle support and stability when carrying bulky loads. They also offer more durability and performance. This is true especially if the sole is thicker and stiff. Nonetheless, most experienced hikers prefer lightweight boots when going on long hiking trips. Ensure that the durability and performance of your boots are not hampered by the weight.
Breathability
The design of conventional hiking boots fails to bring out adequate ventilation and breathability. Inadequate ventilation can be disastrous in hot climates. The thing is your feet have more sweat pores than any other body part. Improper breathability culminates in infections, foul smells, rashes, and blisters.
Comfort
Comfort is the main reason behind having your hiking boots on. All of the attributes above have an impact on comfort in one way or the other. The most vital attributes that make a hiking boot comfy are ventilation, weight,  boot shape, and fit.
FAQs
Here are more FAQs related to hiking boots:
It is wise to buy hiking boots that are bigger because of two reasons. First, you need some allowance for multiple socks layers in cold weather. Second, bigger boots prevent injury or discomfort while descending downhill trails.
2. How do you know if your hiking boots are too big?
In the event that your hiking boots do not flex in the right place –normally at the beginning of the toe – they are too big. Still, they may be too big in case they slide back and forth uncontrollably whenever you walk.
Rugged trail running shoes are best suited for hiking. Besides being light, they are waterproof in addition to providing enviable traction. Most importantly, they provide top-class comfort.
4. Are hiking boots worth it?
Hiking boots offer comfort and protection against the unforgiving outdoor environment. As much as they may be a little bulky they are lifesavers in extreme conditions.
A properly fitting boot should allow a finger between the back of the boot and your heel. If this fails then the boot is too small. Likewise, if you tie the laces and they bulge out, it is an indication of small boots.
6. Where should your toes be in hiking boots?
There ought to be about an inch of wiggle allowance at the front of the boot. To add to that, the toes should not slip or make contact with the boot's front as you walk.
7. How can I widen my hiking boots?
One of the ways to widen your hiking boots is to moisten tight spots with alcohol. Thereafter, try walking in them for a while so as to allow the alcohol to stretch the material. Another trick is to use a hairdryer.
Hiking boots have to allow you some room to wiggle your toes. Aside from that, the boots must fit snugly all around. Plus they should not be tight on your feet. Lastly, there has to be room for an extra layer of socks.
Conclusion
It should be easier to choose a great pair of hiking boots with the tips above. You need hiking boots that will not only be worth your money but also be durable and highly functional.