It is not a new thing for accidents to happen while hiking. This is why it is essential to bring the best first aid kit for backpacking during a hike. This will help you clean and secure any wounds as well as lessen pain from injuries. Even as you minimize the weight of your luggage, ensure you have all the basic requirements for an emergency.
If you feel you cannot build your own hiking first aid kit, stop at an outdoor store and get a pre-packaged personal first aid kit. You can go ahead and add other items that you feel are indispensable for you. If you decide to create your own, the following are items that you must include.
Best first aid kits you should have triple-check while backpacking
One of the most important pieces of gear that a backpacker should take on their trip is a first aid kit. You never know when you'll need to treat an injury or illness. Whether it's a small cut or something much more serious, your first aid kit will have everything needed to make it better. In this article, we'll be discussing the best backpacking first aid kits and what they include, so you'll be ready for anything!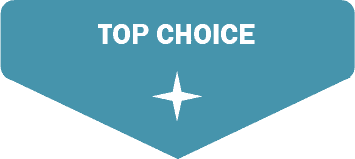 Surviveware
Large First Aid Kit
Fortis EDC
Emergency First Aid
Lightning X Products
Premium Nylon MOLLE Pouch Emergency Kit
Surviveware
Large First Aid Kit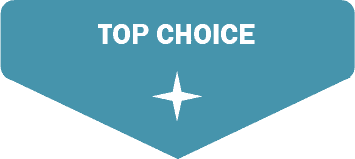 Fortis EDC
Emergency First Aid
Lightning X Products
Premium Nylon MOLLE Pouch Emergency Kit
1. Surviveware Large First Aid Kit
"The Big Brother!"
Premium Pick
Main Features
Durable bag and Labelled Compartments
Water-Resistant Bag with adequate Space
Added mini kit, Size: 12″ x 8″ x 6″.
Durable Bag
It comes in a bag made from 600D Polyester. This is very strong, it can withstand the toughest conditions and hence is durable.
Water-Resistant Bag
The bag is also water-resistant and items placed on the inside are placed in laminate pouches for extra protection.
Adequate Space
No doubt, this first aid kit from Surviveware is FDA-approved. It is large enough to hold 200 basic life-saving items plus extra space to add other personal items.
Labeled Compartments
The inner compartments are all labeled according to their functions for easy operation during emergencies.
Removable Systems
This will come in handy when you want to attach the bag to your car's headrest.
---
2. Fortis EDC Survival First Aid Kit
"Strong. Prepared. Aware!"
Top Choice
Main Features
Fully Equipped
Multipurpose
Money-back guarantee.
Fully Equipped
It has 254 life-saving items, consisting of both first aid and survival EDC equipment, convenient both for day-to-day use as well as a natural disaster. It also consists of an Israeli trauma bandage, and upgraded EMT scissors among other value-added items which add more value to the kit.
Multipurpose
This first aid kit is suitable for both domestic use as well as outdoor activities.
Money-Back Guarantee
Since customer satisfaction is a top priority, there is a ninety-day money-back guarantee as well as a one-year free replacement warranty for this first aid kit.
Cons
---
3. Adventure Medical Kits Sportsman Series
"Be Safe."
Best Value
Main Features
Lightweight and Compact
See-through Compartments
Well-equipped and informative.
Multipurpose
This is ideal for recreational fishermen and hunters. However, it can as well serve campers and backpackers.
Well-equipped
It consists of tools useful in case of wounds caused by bullets, arrows, and fish hooks among others. The kit can serve four people on a trip lasting up to four days.
Lightweight and Compact
It is light in weight and compact to fit in any pack.
See-through Compartments
This enables you to see and easily remove whatever you need.
Informative
It contains a booklet, 'Comprehensive Guide to Wilderness and Travel Medicine' for more information about first aid.
---
4. Lightning X Products Premium Kit
"Developing and Utilizing Effective Pre-plans for Emergency Incidents."
Reliable Pick
Main Features
MOLLE Compatible
Adequate Storage
Easy access.
This is a good option for tactical medics, the military, the police, and the outdoors.
MOLLE Compatible
The items are put in a MOLLE pouch which is compatible with MOLLE gear.
Durable
The kit is made from high-quality nylon which is designed to last even in harsh conditions.
Adequate Storage
It consists of eight elastic storage loops for adequate storage. You can as well add your own items.
Easy Access
The kit has a drainage grommet and a drawstring cording platform holding the pouch open at a ninety-degree angle to easily see and access the items.
---
5. Survival First Aid Kit (USA Model)
"Emergency Solutions."
Reliable Pick
Main Features
Upgraded and labeled items
Water-resistant bag
Additional spaces
Easy to find in the dark
Upgraded Items
The new 2019 version of the kit consists of 3 X external d-rings, a MOLLE system, and shoulder straps on the outside panel, and a zip pull with the product logo.
Labeled Equipment
Besides the fact that every item in the kit is labeled, there is information on how to use them plus the number required. It also has reflective piping to easily find it when it's dark.
Water-Resistant Bag
Its bag is water-resistant and has strong zips as well as double-stitched handles.
Additional Spaces
This version has an increased depth as well as other additional spaces to give room for other stuff that you may require.
Money-Back Guarantee
There is also a money-back guarantee in case of dissatisfaction.
---
6. Adventure Medical Kits Sportsman Series
"Quick Solutions for Safety."
Reliable Pick
Main Features
Well-equipped
Easy access in the dark
Well-Equipped
It features all basic supplies including a trauma pad, elastic bandage, irrigation syringe, butterfly closures, medical tape, die-cut moleskin, and forceps among others.
Easy Access in the Dark
Its external kit map plus the reflective design makes it easy to find items in the dark.
---
7. Swiss Safe First Aid Kit
"The Ultimate Emergency Preparedness and Survival."
Reliable Pick
Main Features
Money-back guarantee
Well-equipped
Lightweight and well packed
Well-Equipped
It consists of 152 essential items useful during emergencies and disasters.
Money-Back Guarantee
In case of dissatisfaction, there is always an option to replace the kit or to be given back your money.
Well-packed and Lightweight
It is compact and can easily fit in a backpack and anywhere in the house and office.
---
8. Lifeline 85 Piece First Aid Emergency Kit
"Ultimate Survivor."
Main Features
Has all essentials
Hardshell foam carry case
Dual zipper case with warranty
Multiple compartments
Has all essentials
It consists of all basic medical supplies plus an emergency whistle to alert your friends in case you get separated from them or have an emergency.
Hard Shell Foam Carry Case
This is strong and durable.
Dual Zipper Case
The dual zipper with pull tabs makes it easy to open the case, even with gloves on, and access the items in case of an emergency.
Multiple Compartments
These enable you to easily organize the kit.
Warranty
There is a twelve-month warranty for this kit.
---
9. Adventure Medical Kits Ultralight
"Be Safe…"
Reliable Pick
Main Features
Water-resistant bag
Well-equipped
Small and lightweight
Water-Resistant Bag
It consists of dry flex bags on the inside and a seam-sealed siliconized nylon bag on the outside to secure the supplies from water.
Well-equipped
It has all the basic medical supplies best suited for four on a trip lasting up to four days.
Small and lightweight
It can easily fit in a backpack and has an insignificant weight which is not burdensome.
---
10. First Aid Kit, All-Purpose Aid Kit
"Ultimate Survivor for More than 25 Years."
Reliable Pick
Main Features
Well-organized
All-round kit
Well-equipped
High quality and durability
Well-equipped
It consists of 156 essential items which are useful during emergencies.
Well-organized
Despite being compact and lightweight, everything perfectly fits in. In addition to that, there is an extra small pouch with a zipper closure for other necessary items.
All-round kit
This can be used absolutely everywhere: at home, in the office, in school, in the outdoors among many other places.
High Quality
The bag is made from durable rip-stop nylon and vinyl fabric and has a strong handle. Its components are manufactured and sold by FDA registered company.
---
11. I Go Compact First Aid Kit
"Get Prepared on the Go."
Reliable Pick
Main Features
FDA Approved
Money-Back Guarantee
Upgraded Items
Multipurpose Kit
Well-equipped
It consists of 85 essential medical supplies for emergencies but is still very lightweight.
Multipurpose Kit
It can be used at home, in institutions, and in outdoors.
Upgraded Items
It consists of items such as bigger, stronger metal scissors, and tweezers among many others.
FDA Approved
These kits are manufactured using a high-quality FDA-approved facility.
Money-Back Guarantee
If you are not satisfied with the kit, it can either be replaced or your money is given back to you.
---
12. First Aid Kit, All-Purpose Aid Kit
"For Car Kitchen Camping Travel Office Sports and Home."
Reliable Pick
Main Features
Lightweight and compact
Multi-purpose and durable
FDA Authorized
Upgraded Items
It consists of bigger, stronger, metal scissors, tweezers, and flashlights among others. It houses a total of 163 pieces.
Compact, Lightweight, and Durable
The kit comes in a lightweight bag therefore easy to carry around. It is also compact making it easy to fit anywhere in the backpack, at home, in the car, and so on.
Multipurpose
It can be used on any occasion, at home, outdoors, and in many other places.
FDA Authorized
The kit has high-quality items manufactured using a trusted FDA-approved facility. You can receive a 100% refund in case of dissatisfaction.
---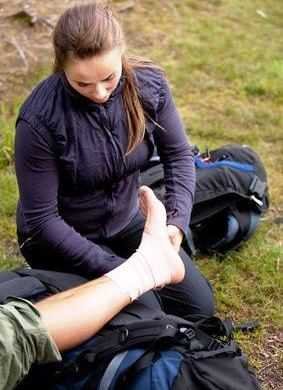 Basic Items in a Backpacking First Aid Kit
Medical Gloves
Before handling any wound, you need to have medical gloves on for hygiene reasons. The weight of gloves is very insignificant so feel free to carry a few more pairs.
Irrigating Syringe
Using an irrigating syringe with purified water is the best way to clean a wound. Ensure it has a tiny tip for water to come out with a lot of pressure.
Pair of Tweezers
This will help remove things such as debris from a wound making it clean and free from infections.
Antibiotic Ointment
This is applied on a cut or burn to prevent and treat minor skin infections.
Hydro-gel Pads
These are excellent for dressing wounds while backpacking. They hydrate wounds and blisters so they heal faster. Hydro-gel helps cool down the wound and temporarily relieves pain for up to six hours. Hydro-gel pads are clear to enable you to easily monitor the progress of the wound. Always carry different sizes to fit any size of the wound.
Blister Treatment
With the wrong choice of shoes and socks, walking long distances may be a nightmare. So, carry blister bandages and tape covers to wrap up parts of your feet that are prone to blistering. These will prevent a hot spot from becoming a blister.
Gauze
Gauzes are suitable for bigger wounds. It surely gets terribly painful while removing these so consider non-stick gauze. These will cause little or no pain at all at the time of removal. They also do not interfere with the healing process of the wound. Neither do they leave any residue. They definitely cost a little bit more, but it's worth it.
Elastic Wrap
These will help to put mild, uniform pressure around an injury to reduce pain and swelling. It also provides the injury with support. You can as well use this to hold bandages in place. This is way more comfortable than a bandage and is reusable. It is advisable to remove this and let the injury rest for some time then wrap it up. That should be done twice a day. Also, wash it daily.
Medication
Always include pain relievers and any prescribed medication in your backpacking first aid kit.
Cutting Tool
This could be a knife, a pair of scissors, or a scalpel. These can be used in various situations so always have them close.
Items in a First Aid Kit
While backpacking, you are trying to minimize the amount of luggage. In that case, you only carry the basic requirements. A standard first aid kit will consist of a lot more items. They include athletic tapes, cleansing pads, antiseptics, rubberized bandages, cotton tip swabs, safety pins, thermometers, and tongue depressors among others.
The 5 Main Aims of First Aid
Preserve Life
First-aiders are usually not medical professionals. Their job is to make sure that a patient is in stable condition until the ambulance arrives. In case the patient is in a critical condition, the first aider focuses more on preserving life rather than providing care to the patient.
Prevent Escalation
This means that if a patient is bleeding severely, the first aid should be to end the bleeding prior to the arrival of the ambulance rather than stitching the wound. This will prevent the condition from worsening and the creation of more health problems.
Pain Relief
Pain relievers can only be given to the patient if they don't cause further harm to them. In cases of bleeding, some pain relievers may be risky.
Protect the Unconscious
All unconscious patients should be removed from dangerous conditions such as fire, floods, or traffic. First-aiders and individuals who are nearby should be kept safe as well.
Promote Recovery
Every action that a first aider does should be aimed at helping the patient recover.
4 Principles of First Aid (4 Cs)
Call for Help
Always call for help just in case there are people around to help. Also, call the local emergency number.
Calmly Take Charge
You have to be relaxed and free from tension in order to perform well.
Check the Scene and Casualty
Check for the responsiveness of the casualty and eliminate anything that is unsafe such as a fire.
Carefully Apply First Aid
Provide care to the casualty and ensure that they are safe until the ambulance arrives.
What to Consider while choosing a First Aid Kit for Hiking
Trip length
Get a first aid kit whose estimated number of days (indicated in the product description) marches the time you will be spending on the trip. When shopping for a first-aid kit, keep in mind the size and weight of your bag.
Trip Activity
A trip that involves more intense activities, such as car camping, will require a more comprehensive first aid kit. Check that all contents are safe to use in severe weather or high elevations.
Trip Risk
Keep in mind the risk of the place you are going to and ensure you have items that will provide solutions. For instance, when going to a very rocky and thorny place, accidents are likely to happen, so ensure the kit is fully equipped.
Special needs
Carry pain relievers, EpiPen (in case of allergies), and other medical prescriptions if necessary. Be sure to include a personal medication if you have any allergies or reactions to medication.
Conclusion
It is very advisable to bring along friends during a hike. This way, it will be easy to get help in case of emergencies.  It is also important to have a personal kit even when there is a large group kit. This will cater to your personal needs and help when the kit handler is not close.
In conclusion, the best first aid kit for backpacking should contain all of the necessary items to help you in case of an emergency. It is also important that the first aid kit is lightweight and easy to carry so that you can take it with you on your hike. We hope that our buying guide has helped you choose the perfect first-aid kit for your next backpacking adventure.
Disclaimer
All the information displayed in this article is in good faith and is exclusively meant for educational purposes. Under no circumstances should the images, graphics, texts, and other materials created by this article be perceived as medical treatment, diagnosis, or instruction. Only seek professional medical advice from a qualified physician concerning any medical condition.
In the event of a medical emergency, contact the nearest medical facility for assistance. Do we neither endorse nor recommend any particular claims, opinions, procedures, or products highlighted directly on the site or through links to an external website?
Always, deduce some of the information from our outdoor, hiking, or camping experience and do not provide any warranty regarding its accuracy, completeness, reliability, and accuracy. Therefore, any action undertaken because of the information available on this website Hiking Gear Lab is entirely at your own risk. We will not be in any way accountable for damages or losses incurred through reliance on the information on our website/this article.
Always, consult your physician or a qualified medical professional for exact information before making a decision on changing your lifestyle or diet depending on the information given in this article.