Are you looking for backpacking tips for beginners? Have you heard people mention the relaxing fun a backpacking trip can be, but it sounds daunting because you don't have experience or gear?
Well, rest assured, anyone can backpack with a few tips and guidelines to follow. Follow the below steps to learn the importance of organization, teamwork, and proper backpack packing techniques some tips are longer than others, but all come in handy. Then before you know it, you'll be on your first successful backpacking trip and you'll be asking yourself why you didn't try it sooner! Actually, these tips will enable you to utilize your backpack comfortably.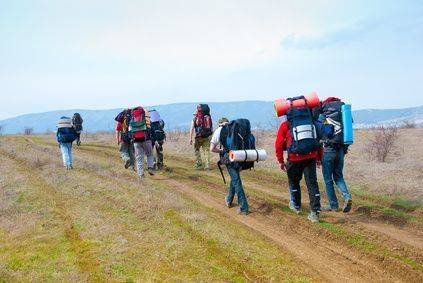 Follow these Tips
You Need these tips, Because You're a Beginner and a (Little) Lost! No doubt, experts also need the same guidelines for safe outdoor experience.
1. Be positive.
2. The sequence of packing
3. Listen to your body.
4. Keep an open mind.
5. Work together with your group.
6. Plan for the unknown.
7. Know the main packing zones.
8. You will work hard.
9. Always be safe.
10. Prepare and follow the backpacking checklist.
1. Be positive!
Go into your first backpacking trip with a can-do attitude!
2. The Sequence of Packing:
Always, try to observe a sequence of packing for your first backpacking trip onwards. When you make the decision to embark on your first backpacking trip there are some things you will need to consider.
i. How many people are on the trail?
First, how many people are going along with you, this will be important to determine how many packs are in the group and who will be carrying what to use when you stop choosing a campsite.
ii. How long you will be on trail?
Next, you will need to determine how long you will be staying and if you plan to do laundry while you are on your trip, this way you can decide how many clothing items to bring.
iii. Weather forecast for trail
First, you know how many people are going and for how long. Then, you need to look up the local weather to see what types of clothing you should bring and also the weight of your sleeping gear. Always, be sure to plan accordingly so you don't overheat or the opposite: hypothermia!
Backpacking for beginners will be much easier if you start with a plan. Actually, that lets you know the who, what, and where and then go forward with a complete plan.
3. Listen to Your Body:
Actually, if you feel tired and like you need to take a break. No doubt, listen to what your body is telling you, no one is an expert on day one!
Hiking, backpacking, and camping are all great ways to get exercise and enjoy the outdoors. However, it's important to listen to your body when you're traveling outdoors. If you feel tired, take a break. There's no shame in taking a break, and you'll be able to hike, backpack, or camp for longer if you take breaks when you need them. Additionally, if you're hiking in hot weather, make sure to drink plenty of water so you don't get dehydrated. Dehydration can lead to heat exhaustion, which can be dangerous. So, make sure to listen to your body and take breaks when you need them. You'll be able to hike for longer and enjoy the outdoors more if you do.
These outdoor activities are all great ways to get fresh air and exercise. However, it is important to listen to your body when you are out in nature. There will always be another trail to hike or another campsite to explore. So, if your body is telling you to take it easy, be sure to listen!
4. Keep an Open Mind:
From here on, try new things and have a full experience, don't regret being nervous. Of course, we've all been beginners at one time or another!
Hiking, backpacking, and camping are all activities that I never would have considered doing had I not decided to keep an open mind. I used to be the type of person who would never step outside my comfort zone, but I've learned that life is so much more fulfilling when you're willing to try new things. Hiking, backpacking, and camping have given me a sense of independence and confidence that I never knew I possessed. And the best part is, that I'm always learning new skills and meeting new people whenever I go on a hike, backpack trip, or camping trip. So if you're ever feeling hesitant about trying something new, just remember that it's always worth it to keep an open mind. Who knows? You might just end up surprising yourself.
One of the best ways to explore the world and get outside your comfort zone is by hiking, backpacking, and camping. These activities allow you to immerse yourself in nature and see the beauty that you would otherwise miss. They also give you a sense of accomplishment and help you to appreciate the simple things in life. So, next time you are feeling nervous about trying something new, remember that hiking, backpacking, and camping are all great ways to open your mind and have an unforgettable experience.
5. Work Together with Your Group:
Listen, there is no need for everyone in your backpacking group to bring a coffee press, nor is there a reason for everyone to bring a pan or pocket knife. Maybe two knives, but definitely not two large pans to boil water- what if someone has a water purifier, this is why you must coordinate!!
I know this is for beginners. However, once you get out with your affordable backpack on, you will understand why teamwork is key to your outdoor experience. If two people can fit in one backpacking tent, not everyone needs to bring one.
Save your body some stress and make better time by distributing the heavy items amongst yourselves and carrying lighter individual loads! At this point, if you are planning your hike with your puppy, share your dog essentials in your dog backpack. Before sharing the load, make sure it is carrying only 20-25% of its body weight.  Teamwork!!
6. Plan for the Unknown:
Even if the forecast says there won't be rain, bring a poncho! In fact, you should be ready to face any tough weather or wilderness at any point. Ready to face it, don't be afraid of any eventuality. After all, hiking is a mixture of adventure and pleasure trip.
7. Main Packing Zones :
What are the Main Packing Zones and How to Make the Most of them!
Alright, the backpack has zones and they are as follows: bottom zone, core zone, top zone, accessory pockets, and tool loops or lash on points. Wondering how to use each zone most efficiently? We have you covered!
a. The Bottom Zone:
The bottom zone is used for the big items you are not going to need access to before making camp. In detail, this includes (but is not limited to) a sleeping bag, sleeping pad, extra clothing layers, extra socks, or anything that you will be using to sleep.
b. The Core Zone:
The core zone is used for gear that you will need before you go to sleep, but you will not need access to it while you are hiking. To clarify, this includes (but is not limited to) food you will use for dinner, camping stove and cooking utensils, water reservoir, and bear canister. 
Always, placing your heavy gear in the middle, or core, makes sense not only from the perspective of your backpacking timeline, but it makes sense. In the long run, placing the heaviest items in the middle of your pack balance your center of gravity and are the most forgiving on your back as you hike!
c. The Top Zone:
What should be at the top of your pack? Essential items that you will need during your hike and on the go, are items that tend to be light. An extra warm fleece jacket, a rain jacket, trail snacks, an extra dry pair of socks, toilet items such as toilet paper or wet cloths, or hand sanitizer. Also, you may decide to place a tarp or light tent at the top of your pack in the event rain is in the forecast and you need to seek shelter quickly.
d. Accessory Pockets:
Your accessory pockets are used just for that: accessories. You may carry the following: map, sunglasses, lip balm, sunscreen, bug repellant, headlamp, water bottle, extra snacks, car keys, money, and ID.
e. Exterior Tool Loops:
Finally, what to keep on your tool loops? Tool loops are handy for climbing rope, trekking poles, a camp chair, a large sleeping pad, and your tent poles. Again, these are just suggestions, you may find that you don't need rain gear or that you are not planning to stay overnight. Always, find what is right for your beginner trip but this basic guide will serve as a good outline for you to reference!
8. You Will Work Hard:
Above all, bring extra food, you will be burning extra calories and will need fuel to keep going!
9. Always be Safe:
In addition, give a family member or friend a plan of where you will be hiking and a timeline, just in case. It is always best to keep safety in mind!
10. Prepare and follow Backpacking Checklist
You need to have a couple of backpacking checklists for yourself and for your group. Once you are on the trail heading to your first camp, that is not the time to ask someone in your group if they brought a specific item. It is a good idea to plan ahead of time and delegate who should bring which items.
When you have the list of items you are responsible for, take that list and begin packing your backpack (maybe even using our above guide). Also, as you put items in, check them off your list. Keep your list with you on the trail for reference and also accountability. Your beginner hiking trip will go much more smoothly with an organized and teamwork approach.
Final Verdict
Now that you have got some tips to embark on your beginner's trip. By now, you should be feeling more confident with your interest in the hiking activity. In fact, it is extremely physically and mentally rewarding to be out with nature. 
In short, experience the time 'unplugged' from the hustle and bustle of daily life. Of course, that's why many people are interested in getting back to nature. Don't worry, you'll learn as you go from your experiences and those around you. After a few trips, you will have your own unique rhythm of planning and no longer consider yourself a beginner at all! For more information, you can refer to this site.