Nepal is undoubtedly one of the most beautiful countries located in South Asia. It has much to offer the adventurous traveler with its awe-inspiring Himalayan Mountain range, diverse cultures, and many outdoor activities. From hiking in the mountains to discovering ancient Buddhist temples and from sampling Nepalese cuisine to getting to know the local traditions, this tiny nation offers an incomparable travel experience. The capital city of Kathmandu is famous for its vibrant cultural sights and bustling bazaars. If you are traveling to the country for the first time, know that you are in for a treat. In the article below, I have mentioned a few things you must do when visiting this beautiful country.
1.      Trek to Everest Base Camp
Everest Base Camp offers probably one of the most iconic hiking adventures in the world. Trekking in Nepal is incomplete without it, as it is an experience like no other. Located roughly 5,364 meters above sea level, it offers a chance for passionate adventurers to explore the most famous mountains in the world. With amazing views and challenging terrain, there are many reasons why you should consider trekking to Everest Base Camp. Primarily, trekking to Everest Base Camp allows you to witness some of the most breathtaking scenery imaginable. The trail takes you through lush valleys, glaciers, and high-altitude passes – all offering unique perspectives of Mount Everest. You can stop in villages that have remained unchanged for centuries, creating a truly unique experience.
2.      Explore Kathmandu
Kathmandu is the capital of Nepal and a city that you should explore when visiting this beautiful country. This bustling metropolis offers something for everyone, from the culturally curious to the daredevil adventurer. Whether you enjoy history and culture or nature and adventure, Kathmandu has a little bit of everything for those interested in exploring its unique offerings. For starters, Kathmandu is home to some of the most incredible temples and monuments. Visitors will marvel at Durbar Square's ancient architecture, intricately carved woodwork, courtyards, shrines, and idols. The Swayambhunath Temple is also well worth checking out – it is an ancient Buddhist temple located on top of a hill overseeing the city.
3.      Visit World Heritage Sites
If you are looking for an incredible and unforgettable travel experience, look no further than World Heritage Sites in Nepal. With eight different sites scattered throughout the country, each offering a unique experience, it is easy to see why many people love visiting these locations. From ancient Buddhist shrines and Hindu temples to stunning mountain scenery and national parks, there is something for everyone. Many of these sites have been declared UNESCO World Heritage Sites because of their historical importance or exceptional natural beauty. A trip to one of them will provide an opportunity to learn about Nepal's rich culture and witness its spectacular landscapes firsthand.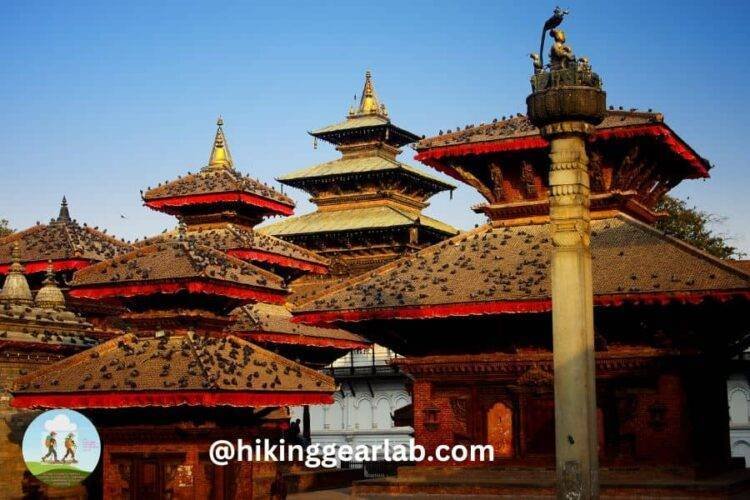 4.      Enjoy Local Cuisine
Nepal is a country rich in culture and history. It offers visitors a unique experience not found anywhere else in the world. Nevertheless, what makes Nepal unique for tourists is its delicious local cuisine. From traditional Nepali dishes to international fare, there are plenty of reasons why you should enjoy local Nepalese cuisine during your visit. Visiting Nepal allows travelers to sample some of the most diverse and flavorful foods from around South Asia. Additionally, rich spices blend to create new tastes that cannot be experienced elsewhere. Traditional Nepalese dishes such as momos, dal bhat, chowmein (a noodle dish), and sel roti (a type of bread) offer delicious meals that will tease your taste buds and leave you wanting more!
5.      Take a Rafting Tour
Nepal is a stunningly beautiful and diverse country known for its majestic mountain ranges, lush jungles, and deep valleys. However, many travelers do not know that Nepal also offers some of the best rafting tours in the world. From thrilling white water rapids to tranquil meandering rivers, a rafting tour in Nepal will give you an unforgettable experience. Whether you are an experienced rafter or starting out, there is something for everyone on a Nepalese river. The rapids are classified according to difficulty level so that beginners can enjoy a gentle ride. At the same time, more advanced rafters can tackle the wilder waters of some of Nepal's most challenging courses. You will witness breathtaking views of sprawling landscapes and snow-capped peaks as you float downriver and get close to wildlife, such as monkeys, crocodiles, and turtles, along the way.
6.      Unwind with Ayurvedic Massages
An ayurvedic massage is an ancient form of Indian healing practiced in Nepal for centuries. It involves using herbs, oils, and other natural ingredients to relax and rejuvenate the body and mind. An ayurvedic massage is a holistic well-being approach that can help people reduce stress, improve sleep quality, boost their immunity, and even alleviate pain. When you are looking for ways to unwind while traveling in Nepal, an Ayurvedic massage is one of the best options available. The goal is to relax tense muscles and balance energy within the body so you leave feeling invigorated and refreshed.
7.      Go Wildlife Spotting
If you thought Nepal only offered terrific mountain views and valleys, think again! Nepal is an incredible destination for wildlife spotting. From the majestic snow-capped Himalayan peaks to the lush jungles teeming with exotic animals, this diverse landscape offers a wealth of opportunities to explore and observe its wild inhabitants. Whether you are looking for rare species or want to take in some spectacular scenery, Nepal will not disappoint. Home to 8 percent of all bird species on this planet, it is also one of the world's top spots for birdwatching and has one of the highest numbers of tigers in Asia. Moreover, wildlife spotting tours are available from Kathmandu and Pokhara, offering visitors an up close and personal experience with some of nature's most impressive creatures.
8.      Shop at Thamel Markets
Shopping at Thamel Markets in Nepal is an experience like no other. Located in the heart of Kathmandu, Thamel Markets offer a unique glimpse into Nepal's vibrant culture and personality. There is no better place to pick up souvenirs and gifts for friends and family and explore all this fascinating country has to offer. The selection offered at Thamel Markets is unparalleled; from artwork to traditional clothing, jewelry, and handmade crafts, there is something for every taste.