It's hard to compete with what Michigan offers. Dense, active forests dot the entire state. Rolling hills, endless miles of beaches, and picture-worthy landscapes coat the land. For this fact, almost all parks and campgrounds are free to enjoy at all times of the year.
Indeed, the heart of The Mitten State is close to the heart of nature. Therefore, the state values its ecosystems and protects them well. With all this in mind, Michigan impresses travelers and locals alike while exploring the beautiful state.
As expected, the list of best hiking places in Michigan is long. The state's plethora of protected wildlands leaves a lot of room to explore. Even so, I've narrowed it down to some of the best-rated spots in Michigan, detailed below.
1.

North Country National Scenic Trail
With around 4,600 miles of trails, The North Country Trail winds through lush farmlands and small towns. Not only this, but it also passes so many lakes they identify by number rather than by name.
Wander further north in the Upper Peninsula and you'll find some of the most remote trails in Michigan along the way.
Camping is available in many places along the trail. For more information and which specific treks to choose from, head to northcountrytrail.org.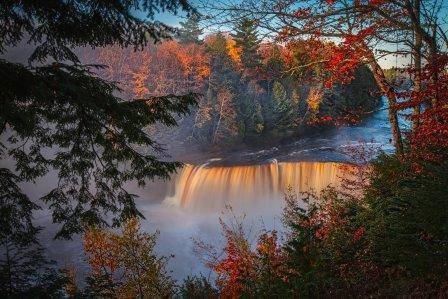 2. Iron Belle Trail
The Iron Belle Trail extends over 2,000 miles. To put it into perspective, it starts at the farthest western tip of Michigan's Upper Peninsula and ends in Belle Isle, Detroit.
The route offers beautiful scenic landscapes covering the length of Michigan. In fact, it travels through 48 different districts throughout the state.
Open in every season, the trail includes two separated paths; one for hikers and the other for bikers. What's more, it includes much of the North Country Trail. Campgrounds are not available along the path. However, one can take advantage of many campgrounds throughout Michigan along the way.
3. Tahquamenon Falls State Park
Tahquamenon Falls State Park holds one of the largest waterfalls in the region. Moreover, it includes 13 acres of undeveloped land around the Tahquamenon River.
Boasting over 35 miles of trails, 16 of them are a part of the North Country Trail. Thus, there are many opportunities to see a diverse amount of wildlife. Notable species spotted in the area include beavers, otters, deer, porcupines, and many different species of birds. Among the less common are moose, black bears, foxes, coyotes, and mink.
Camping is available around the falls. The trail system is vast throughout the park, and along with the campgrounds, they're open year-round. Tahquamenon Falls is in the eastern part of the Upper Peninsula 20 miles west of Paradise, Michigan and lies 25 miles north of Newberry.
​​​​

4.

Pictured Rocks National Lakeshore
One of Michigan's greatest treasures is Pictured Rocks National Lakeshore. In fact, it includes almost 100 miles of unspoiled beaches. Other features include colorful sandstone cliffs, rolling sand dunes, and dense forests.
The crystal clear water of Lake Superior is the drain for many lakes and streams you'll see along your hike. As a result, Pictured Rocks makes the list as one of the best camping places in Michigan.
The area is open year-round. In fact, camping is available in your choice of 14 different campgrounds in any season.
Pictured Rocks National Lakeshore is in Michigan's Upper Peninsula. It lies between Munising and Grand Marais. When conditions allow, roads are available to access this valued landmark.
5. Sleeping Bear Dunes National Park
The Sleeping Bear Dunes exist as one of the most unique areas in Michigan. The National Park has huge rolling sand dunes and miles of sparkling shorelines. The site's history and the native ecosystems make up this special corner of Michigan. With this in mind, Michigan preserves the area well.
With endless activities to do in and around the park, visitors have no time for boredom. Popular activities include sandboarding, kayaking, canoeing, swimming, hiking, camping, and stargazing. Many historical landmarks are accessible in the park, as well.
Additionally, about 100 miles are available to hike. If you prefer, climb a dune and view Lake Michigan from above. If you like stars, stop by the Lanphier Observatory on a clear night. The park provides access to the 14" Celestron Telescope so visitors can see the dark sky in bright detail.
The dunes are located 25 miles west of Traverse City and the park is open year-round. Plus, public and private campgrounds provide plenty of opportunities to camp.
6. Warren Dunes State Park
The Warren Dunes State Park encompasses numerous miles of Lake Michigan's shoreline.
Sand dunes reach up to 260 feet high above the lake. Six miles of hiking trails are available to explore. As a matter of fact, the park makes up 1,952 acres in total.
Make sure to give sandboarding a try while visiting. Otherwise, if you don't have a board, jumping off of a sandy cliff into warm and soft sand is the next best thing.
Located in Sawyer, Michigan, you can find this gem along the southwest shoreline of Michigan, open year-round to visitors. Campgrounds are available for those hoping to take more time to see the park.
7. Hiawatha National Forest
The Hiawatha National Forest highlights archaeology and prehistoric Native American landmarks. Scattered throughout the forest are six historic lighthouses. This, along with impressive natural scenery, makes the area one of the best places to hike in Michigan.
Hiking trails are open in all seasons of the year but are not always groomed in Winter. Due to this fact, it's best to come well-prepared. The park invites people to ski, snowshoe, and snowmobile for the adventure it offers in the winter.
The Hiawatha National Forest divides into two parts—the East Side and West Side. In addition, it spans several counties in Michigan's Upper Peninsula. Camping and hiking are available all throughout the year.
8. Isle Royale National Park
This national park delivers some of the most remote hiking spots in Michigan. Isle Royale is a small island off of Michigan's Upper Peninsula, surrounded by Lake Superior.
The rugged land of Isle Royal National Park has no cars. Therefore, it invites those fond of adventure to backpack, kayak, canoe, and scuba dive the area.
The island has 36 campgrounds. Consequently, there is plenty of room to park your stuff for the night after a long day of exploring the wild.
To arrive on the island, take a ferry or plane. Make sure to come prepared, as there are limited facilities on the island.
Isle Royale is open from November 1st through April 15th annually. However, the lake is still open to boaters during these months.
9. Porcupine Mountain Wilderness State Park
The Porcupine Mountain Wilderness State Park makes up over 60,000 acres. Hence, this makes it the largest State Park in Michigan. It's also home to the state's mountain range. Among other impressive features are waterfalls and more than 90 miles of trails.
Lake of the Clouds is one of the most famous and recommended hikes in this area. Spectacular views of both the lake and the mountain range's rich geology are visible during this hike. In the Autumn, colorful trees give a unique treat to visitors before the leaves have fallen.
Your itinerary will be full while visiting The Porkies. Enjoy the Summit Peak observation tower, an 18-disc golf course, and a ski mountain at your leisure.
Porcupine Mountain Wilderness State Park is open year-round. It is located on the west side of Michigan's Upper Peninsula in Ontonagon. In addition to this, the park offers plenty of backcountry camping opportunities.
10. Dequindre Cut Greenway
For those looking for a bit less nature and more urban comforts, the Dequindre Cut is a good choice. It connects neighborhoods with the East Riverfront and Eastern Market in Detroit.
The two-mile greenway is known for its urban graffiti and professional artwork. Taking this into account, there are plenty of places to park your bike or rest. Pedestrians and bikers have ample opportunity to take in the sights and sounds of Detroit.
Also, be sure to check out the Dequindre Cut Freight Yard. Open each weekend, it connects to the Cut and attracts visitors for shopping, food, and entertainment.
To enter the Cut, go to any entrance ramp. Ramps are available at Lafayette Street, Atwater Street, Franklin Street, Mack Avenue, Wilkins Street, Woodbridge Street, & Gratiot Avenue.
Conclusion
Michigan is a special place to be in the heart of nature. It offers expansive grasslands, lively forests, and miles of pristine beaches.
Truthfully, there are many more to add to this list of hiking places. In fact, Michigan's fertile lands make for some beautiful scenery. However, it can be overwhelming choosing from so many great options. So to narrow down the list, the above are ten of the most noteworthy in Michigan.
The state features an impressive amount of lakes and wildlife. In effect, the rest of the world is still slowly discovering Michigan as the treasure that it is.
Particularly, one of the best parts may be the ability to explore it so freely. As a result, you won't find an excessive amount of tourists in much of Michigan. Nevertheless, you will find plenty to do in every season. Michigan has something for everyone, guaranteeing you will leave feeling fulfilled and inspired.
FAQs
Let us discuss some of the FAQs related to Michigan Trails:
Where can I hike in metro Detroit?
Some of the most notable hikes in metro Detroit area:
The Dequindre Cut
Bald Mountain State Recreation Area
Belle Isle Park
Maybury State Park
How long is the North Country Trail in Michigan?
The North Country Trail covers 1,150 miles throughout Michigan alone. Notably, this is the most out of any state it passes through. In total, the trail hosts 4,600 miles.
How many miles of trails are in Michigan?
Michigan has built and designated over 13,000 miles of trails throughout the state. Many of these trails were built along unused railways connecting the state's cities.
Looking for a specific route in Michigan's vast network of trails? Go to www.michigan.org/trails for more information.
How many campgrounds are in Michigan?
Michigan offers countless beautiful camping spots in over 1,000 campgrounds statewide. Learn more, about how to set up a camp.
Can you camp on state land in Michigan?
Michigan permits camping in state land if no signs say otherwise. Additionally, it's free if you are one mile away from a state forest campground.
Learn here for more information on camping and backpacking in Michigan.
Reference: