Having the correct footwear while hiking is crucial. It's the difference between a miserable experience and a great one! The footwear for a hike determines how successful the trek is! There is footwear out there that hiking is a top priority for use. There are boots, waterproof shoes, trail runners, and many more. All of these forms function to make your trip a breeze! Taking the kids along on a trip is a bit of a commitment. It doesn't have to be hard though! To ensure a comfortable fit and protection, you should have the right footwear. Lucky for you, in this article, we will go over the best hiking shoes for kids.
IMPORTANCE OF KID'S SHOES FOR HIKING
Nature is the perfect play area for any child. Along the way of an adventure, there is so much possibility. There are specific clothing and shoes for these types of adventures. No need to worry about clothing. Leaving much more room for creativity and memory-making!
Shoes for a hike, if they are boots or trail runners have a specific form. This is to provide comfort and protection. It is beyond important to have the correct footwear while on a trip.
The correct footwear is especially important when it comes to children. You of course want maximum protection and comfort for them. Blisters, sore feet, or toe and ankle injuries will not aid in the experience.
There are various features you should keep in mind when looking for this footwear. It is important to consider things like the season, terrain, and fit. More on this later though.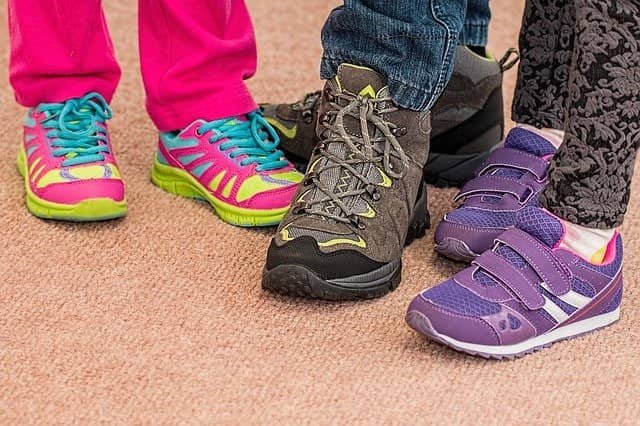 1. Merrell Kids' Trail Chaser Sneaker
"Ideal for less demanding hikes!"
Reliable Pick
Main Features
User-friendly hook and loop closure system
Light and breathable construction
Thickly padded collar and tongue
Superb quality to price ratio
"The hiking shoes that bring power to your kid's step!"
Comfy footbeds, easy closures, and slip-resistant outsoles are just a few attributes that will give your young one confidence in every stride.  Here is a detailed breakdown of what Merrell Kids' Trail Chaser Sneaker brings to the trail.
Parent-Approved Features
Every aspect of these shoes promotes the safety and comfort of your little one. To begin with, the inside encompasses cushy EVA footbeds. They enhance shock absorption for an appealing step all day long. Likewise, for non-marking traction and added flexibility, the pair has the M Select grip.  The outside incorporates premium suede leather that prolongs its life.
Breathable Fit 
The pair hugs around the feet precisely with minimal adjustment. Consequently, blisters and other related injuries will be a thing of the past. On top of that, your kid will not have to worry about sweaty feet thanks to breathable mesh uppers.
Lightweight Construction
The pair improves mobility without sacrificing functionality. They are as light as a feather to encourage your active toddler to go as far as possible. Additionally, the shoes are easy to put on and take off because of the convenient hook-and-loop closures. The Velcro strap at the top also gives a snug fit.
The performance and functionality are too good for the price hence worth every penny.
PROS
Unparalleled toe protection
Grippy rubber construction
Great slip resistance
Durable build
CONS
Narrow and stiff for kids with wide feet 
Velcro strap wears out easily
---
2. KEEN Kids' Targhee Low Hiking Shoe 
"Right for all-weather hiking on any terrain!"
Reliable Pick
Main Features
Secure bungee laces and hook-and-loop closure
Flexible and stable on uneven terrain
Five-star stitching and construction
Waterproof and extra breathable
"The benchmark of all junior hiking shoes!"
Your kid will be unstoppable in the KEEN Kids' Targhee Low Hiking Shoe. The pair can handle serious abuse stemming from climbing, hiking, or running inflicted by the most active youngsters. You have these specs to thank for that:
Super Convenient and Appealing to Wear
These shoes allow your kid to wear them smoothly. This is due to the convenient bungee laces. To add to that, the pair features hook-and-loop closure that keeps the shoes secure and generates a snug fit. Besides that, the kicks are extra light not to mention the thick cushioning on collars and tongues. To ensure your kid plays uninterrupted, they come with the lace-capture system. It prevents shoelaces from snagging and tripping.
Outdoor-Focused Design 
For optimal weather protection, the shoes encompass the KEEN dry waterproof membrane that keeps out any elements on muddy or rainy surfaces. Similarly, the pair comes with a breathable membrane for dependable airflow. It curbs bad odors and elevates comfort as well. Lastly, it has expertly stitched leather and textile uppers that improve durability.
All-terrain Versatility
Due to non-marking rubber outsoles, the shoes are suitable for any activity. They yield sufficient grip to reduce slipping and sliding. The thermoplastic urethane heel-capture system generates stability.
It is well-priced performance footwear your little trail-seeker can count on.
PROS
Padded extensively for comfort
Durable grip and traction
Incredible toe protection
Ideal for all seasons
CONS
The velcro strap is not easy to adjust
---
3. Salomon Kids' Speedcross J Hiking
"Made for trail running!"
Reliable Pick
Main Features
Minimal snagging and tripping on laces
Sturdy and abrasion-resistant
Aggressive tread pattern
Agile and sporty looking
"Hiking shoes that live to perform beyond your expectations!"
Any young outdoor lover deserves a superb pair of hiking shoes with the right feature set and functionality to nurture his or her passion for adventure. The Salomon Kids' Speedcross J hiking shoes tick all the boxes for such a pair:
All-Terrain Traction
The pair can conform to any terrain courtesy of nonmarking conta-grip outsoles.  They provide terrific traction on uneven surfaces for smooth nonslip mobility. On the other hand, the shoes come with a sensifit design, which yields a secure and snug fit.
Kid-Approved Design
Salomon Kids' Speedcross J kicks to match your kid's needs and yield a less strenuous hiking experience. For one, they include the sturdy streamlined quick lace system. It enables your kid to put the shoes on or off with a single pull. In the same way, the pair has a breakaway technology that keeps snagging in check. To top it off, integrated pockets store laces away to control tripping.
Trail Ready Features
For an easy time in the jungle, these shoes feature quality lightweight construction. Your young one can hike fast and for days without running out of breath. As if that is not enough, they include an abrasion-resistant lining that works to enhance breathability. Molded EVA midsoles provide stability. They amplify comfort too. For uncommon toe protection, they are equipped with synthetic toecaps.
The go-to hiking shoe if traction and durability are your priorities
PROS
Stable and comfortable
Excellent toe protection
Impressive build quality
Easy to put on and off
CONS
The lacing system is poor and not user friendly
---
4. Columbia Youth Redmond Waterproof Hiking Shoe
"A sporty versatile shoe ideal for hiking, playing, and other uses!"
Reliable Pick
Main Features
Reliable waterproof membrane
Five-star construction quality
Elevated toe protection
Secure comfortable fit
"Five stars all around!"
Geared right for budding hikers, these outdoor champions possess ideal facets to propel your kid's outdoor experience to the next level.  Find out why the Columbia Youth Redmond Waterproof Hiking Shoe is so special:
Waterproof Design
This pair grants your young one the chance to play and have fun in the rain, mud, or any other unforgiving conditions. To achieve this, the shoe encompasses taped seams and waterproof membranes.
Elevated Foot and Toe Protection 
With these shoes, your little hiking buddy can say goodbye to injuries, bruises, or blisters. On top of the protective feature set are Omni-grip non-marking rubber outsoles. They give crucial traction on dry and slippery grounds. Similarly, they have a Techlite midsole responsible for high-energy return and cushioning of the feet. Scratch rubber reinforcement at the heel and toes curbs injury.
Year-Round Comfort
The pair are appealing to wear at all times. There is sufficient cushioning at the tongue and collar also. Likewise, the kicks are super light for enjoyable movement. A combination of suede and mesh paneling on the upper is responsible for unequaled ventilation for a dry inside.
If you want a tough, good-looking, and well-made shoe, this is the one for your young one.
PROS
Scratch-resistant shell
Long-lasting comfort
Protected footfall
Grippy outsoles
CONS
---
5. adidas Outdoor AX2 Hiking Shoe
"Suitable for rough and tumble kids!"
Reliable Pick
Main Features
Versatile enough for hiking and regular wear
Excellent price to quality ratio
Dependable grippy traction
Aggressive tread pattern
"A pair that looks great and lasts forever!"
The Adidas Outdoor AX2 is ever adventuring ready. The pair can is built to take on playgrounds and trails. It is capable of standing up to the most unforgiving conditions because of a rich blend of convenience-boosting features.
Convenient Closure System
The Velcro strap equals zero frustration for your kid. It straps and stays in place with minimal effort giving a hassle-free time to all children. That is why the pair is suitable for kids with special needs. With bungee laces, your youngster will not have to mind tangled laces.
Durable Construct 
Durability should be your last concern with this boot. It is constructed out of quality pure textile uppers as well as synthetic overlays. They yield enough support and protection in grim conditions. Still, the pair comes with a rubberized print on the toe and heel for extra shielding.
Light and Comfy
Your young one will enjoy playing in these boots for hours. Besides holding up to the most ruthless torment, the pair is almost featherweight. Together with that, it has thick cushioning courtesy of a light EVA midsole providing premium comfort. Finally, breathable mesh collar lining facilitates airflow to prevent odors and keep the inside cool.
Might be a little pricy but are worth the investment as they hold up well to abuse.
PROS
Easy to put on and off
Provide good support
Nice unique colors
Fit snugly
CONS
Run narrow which is a hurdle for kids with wide feet
---
6. Merrell Kids' M-Chameleon Hiking Shoe 
"They are ideal for occasional hikes!"
Reliable Pick
Main Features
Superb lacing system for easy on and off
The flexible outsole conforms to all terrains
Unbeatable toe and ankle protection
Anti-slip grip enhances traction
"The best sneaker hands down!"
The Merrell Kids' M-Chameleon 7is a versatile outdoor shoe equipped with a solid set of features to handle different situations and terrains. That is not all; check out more reasons why they are the right pick for your kid:
Uncommon M Select Grip
With the exceptional M select grip, your kid can enjoy a safe injury-free hiking experience. The grip yields incredible traction on all terrains to curb slipping, and sore feet among other complications.
Superior Construction 
Nothing spells durability like pure leather. This is one of the upsides of choosing the Merrell Kids' M-Chameleon 7. Besides leather, the top of the shoe includes sturdy mesh. Likewise, the sole incorporates rubber making it long-lasting. World-class stitching of all pieces ensures a waterproof shell that keeps inside dry and comfy.
Light, roomy, and comfortable
These shoes will give your kid an easy time moving around thanks to a lightweight design. Alongside that, a thick flexible rubber sole improves shock absorption for everlasting comfort. Their roomy inside generates breathability. To top it off, a mid-height cut amplifies ankle support.
A great buy for the price.
PROS
100% leather for durability
Waterproof construction
Superlight design
Dry quickly
CONS
Waterproofing is not entirely reliable in adverse conditions
---
7. Teva Boy's Arrowood 2 Low WP Hiking Shoe  
"Stylish on the go kicks created for any rugged environment!"
Reliable Pick
Main Features
Thickly cushioned around the ankles
The highly adjustable lacing system
Light yet highly functional
Easy to slip on and off
"Your kid's favorite hiking companion!"
What makes the Teva Boy's Arrowood 2 outstanding is its outside-the-box construction and sturdy design. You will also love the epic feature combination that makes it a favorite among kids and parents alike:
Desirable Ankle Protection
The exceptional construction of these shoes caters to the needs of your active boy. This is courtesy of the low-cut design, which yields sufficient ankle protection. It also makes the shoes steady for a sure-footed step.
Durable Rubber Outsole 
First, the rubber sole is long-lasting in addition to providing great traction. Moreover, it generates better shock absorption on uneven surfaces aside from boosting toe protection.
Elastic Lacing System
For a less strenuous time in the jungle, the pair comes with a bungee-cord lace system that is one of a kind. This way, your young lad can slip the shoe on and off or adjust effortlessly.
Durable Upper
The upper part of the shoes embodies top-class textile and leather materials. They keep the shoe well ventilated and firm against the unforgiving outdoor environment and make the pair durable too.  Together with that is a water membrane, which seals out puddles and rain.
The best option for pocket-friendly hiking shoes with decent outdoor performance
PROS
Reliable waterproofing
Breathable interior
Comfy and grippy
Pocket friendly
CONS
The lacing system is not so durable
---
With the wide range of options above, it should be less stressful to get your kid geared up for the next hike. Before making a purchase, keep an eye on the key features and take time to check out what other customers have to say. The absolute pair ought to be of quality build, offer all-around foot protection, and display world-class functionality. Primarily, keep in mind that the shoes for kids depend on the kid's hiking style and the foot type.
HOW DO YOU CHOOSE KID'S HIKING SHOES?
There are a few aspects of this footwear that are non-negotiable when it comes to kids.
First, you want a shoe that has a reinforced rubber toe or a bump toe. Kids are unpredictable and at times more adventurous. Having this precaution is great for the protection of the little one.
Next, ditch the laces. Luckily, most kid's footwear does not come structured with laces. Imagine having to stop along the hike every other minute to tie a shoe? No way to opt for an option without laces.
Last, the footwear must do its purpose. These shoes are meant to provide stability, comfort, and protection. Don't settle for less.
Having correct footwear makes the difference between a miserable experience and a great one! There are different types of outdoor shoes for kids. Let's take a closer look at the different styles.
DIFFERENT TYPES OF KID'S HIKING FOOTWEAR
Image Source: Pexels
Though they all have the same purpose there are different styles of this footwear.
HIKING SANDALS
Sandals are a great option when it comes to footwear for the summer. They are breathable and lightweight.
It is important to make sure the sandal does have a reinforced closed toe. If the sandal has an open toe it's easy for an injury to occur.
Sandals do have an open style. It can help to find a pair that has mesh over the holes in the make. This helps to avoid rocks or pebbles entering the shoe. Which could cause injury or discomfort if they did enter.
Sandals are a great option for high temperatures. They do not necessarily provide the most protection. As a result, could be dangerous.
HIKING SHOES
This style is very similar to that of a typical tennis shoe. These are low cut and are a great option for an average hike or adventure. They are suitable for warmer climates. They can work in cold temperatures. Of course, if the snow will not be a part of the terrain.
Hiking shoes are affordable and accessible. Longevity is not something to consider while looking at the price point. This is because the child will most likely outgrow them after a few uses.
It is easier to find the proper fit in this style compared to boots. They are lightweight and flexible, setting the child up for maximum comfort.
HIKING BOOTS
Boots are the best option for cold weather. You have to be particular when choosing a boot for a kid.
If the boot is too heavy, it can result in a miserable experience. You want to ensure the boot is light enough while providing the proper protection.
You will want to make sure the boot is at least breathable. This is so that the child's sock is not soaking in sweat by the end of the trip.
Boots will be the most durable option.
WHAT TO CONSIDER WHILE CHOOSING KID'S HIKING SHOES
You want to set your kid up for success as they venture into nature with you. With so many different types of footwear, it may be difficult to know where to start.
It can feel overwhelming when trying to decide the best option when it comes to footwear. There are a few things to keep in mind while choosing this footwear. This will ensure the best outcome of your choice if these have all been taken into consideration.
PURCHASING OPTIONS
You can purchase this footwear used. Children's feet are constantly growing. you can commonly come across them used because sometimes the previous owner only got one use of them before their foot outgrew the fit.
Most department stores and athletic stores will offer hiking footwear for children. The options are often affordable. Once you know what style you want and need for the child, it will make the purchasing process easier.
SEASON
As obvious as this aspect may be, it is one of the most important. You do not want to make the mistake of having a child in boots in the heat of summer.
A hike taking place in the heat of summer would require sandals or a low-cut sneaker. This gives the child the mobility and comfort they need while still proving structure and support. This choice will also help to keep your body temperature lower.
A hike taking place at a cold temperature will require boots. The heavier and higher cut, the better it will be for winter. This will provide enough warmth as well as keep the child's foot dry if the snow will be along the trail. Boots also provide a bit more support and traction which will be beneficial if facing ice and snow.
Along with considering the season and temperature, you should consider the terrain.
TERRAIN
There are all kinds of earth out there. From rivers to rocky paths, you will want to choose footwear that will provide protection.
For instance, if your hike will consist of rivers and creeks you would want to have waterproof shoes. If you can, you could also consider just bringing along some extra water shoes for the child! This is a great option because waterproof footwear can tend to be more expensive than other footwear.
PROPER FIT
Having the shoe or boot fit correctly is overall the most important thing to consider. Having the child try the footwear before purchasing it is a must!
The shoe should feel "snug", but it should not feel "tight". The child's toe should not touch the end of the shoe. This will result in a painful experience.
Making sure that the footwear is not tight will make for a comfortable fit. It will also give the ability for the child's foot to grow a bit without having to purchase new footwear.
It is beneficial to have the child walk around in the shoe for a bit. If there is any suggestion that the footwear is uncomfortable it is not the proper fit.
LONGEVITY
Longevity is not something that requires that much attention. The size of a child's foot is constantly increasing. Once a child's foot outgrows the shoe there would no longer be a need for it. Once the child's foot even changes the slightest bit, it could result in the shoe not properly fitting.
Though longevity is not of concern, durability should still be taken into consideration. You want to get the most out of your purchase and have a happy hiker.
Boots are oftentimes more durable than sneaker-style footwear.
FINAL VERDICT
Having the correct footwear while on a hike is crucial. This is especially true when it comes to children's hike footwear.
There are three main styles that you will come across when it comes to this footwear. Hiking sandals, hiking shoes, and hiking boots will be the most common forms. All serve their purpose; some are just better for certain situations than others.
There are a few things that you should consider before purchasing this footwear. The terrain, the season in which you will be adventuring, as well as the proper fit, are all things to take into consideration.
Have the child try the footwear on before purchasing. If there is even a slight bit of discomfort, move on to the next pair!
Make the little ones happy and get them the correct footwear for your adventure! Don't forget to get the proper attire for yourself as well. Happy hiking!