What do you get for the hiking couple that already has everything? Finding the right gift can feel like a daunting task, so we've made a list of our favorite gifts for hikers! From gear and games to hiking poles and GPS units, the gifts are curated for hikers that are sure to appreciate anything that helps make their outdoor adventures more enjoyable.
In this article, the author talks about 10 unique gifts for hiking couples that you can buy. These gifts are specific to the lifestyle of a hiking couple and could be useful for anyone who is looking for a gift for their partner. This article has something special for the couple that just loves the outdoors and enjoys being on their own.
Now, Check Below For All Holiday Deals Available.
GET ALL HOLIDAY DEALS FOR YOU NOW
1. ZOLEO Satellite Communicator
The ZOLEO Satellite Communicator is the perfect gift for any adventurer in your life. This handheld device uses Iridium satellite technology to provide two-way messaging, GPS tracking, and SOS capabilities even when they're off the grid.
Whether your loved ones are hiking solo or enjoying a romantic camping trip together, the ZOLEO Satellite Communicator will help them stay connected and safe. With its long-lasting battery and rugged design, the ZOLEO is built for even the most extreme adventures.
2. Collapsible Trekking Poles: Black Diamond Trail Trekking Poles
The Black Diamond trekking poles provide excellent support and stability on any terrain, making them ideal for couples who love to hike often. With their lightweight construction and comfortable grips, the trekking poles are easy to carry and use, even on longer hikes.
Plus, these poles are adjustable, so each hiker can customize them to their height. And if you want to give them a gift that's even more personalized, consider having their names or their favorite hiking coordinates engraved on the shafts.
3. COSORI Food Dehydrator
Dehydrated food is a lightweight, tasty and nutritious option for hikers, and the COSORI Food Dehydrator is the perfect tool for making it.
This dehydrator has six stainless steel trays with plenty of room to fit large batches of food. In addition, it features adjustable temperature settings to dehydrate different types of foods.
This unit also comes with a fruit roll sheet and a recipe book, and the easy-to-use controls mean they'll be creating their delicious trail snacks in no time. So whether they're hitting the trail for a day or a week, the COSORI Food Dehydrator will help them stay fueled for every step of the journey.
4. National Park Pass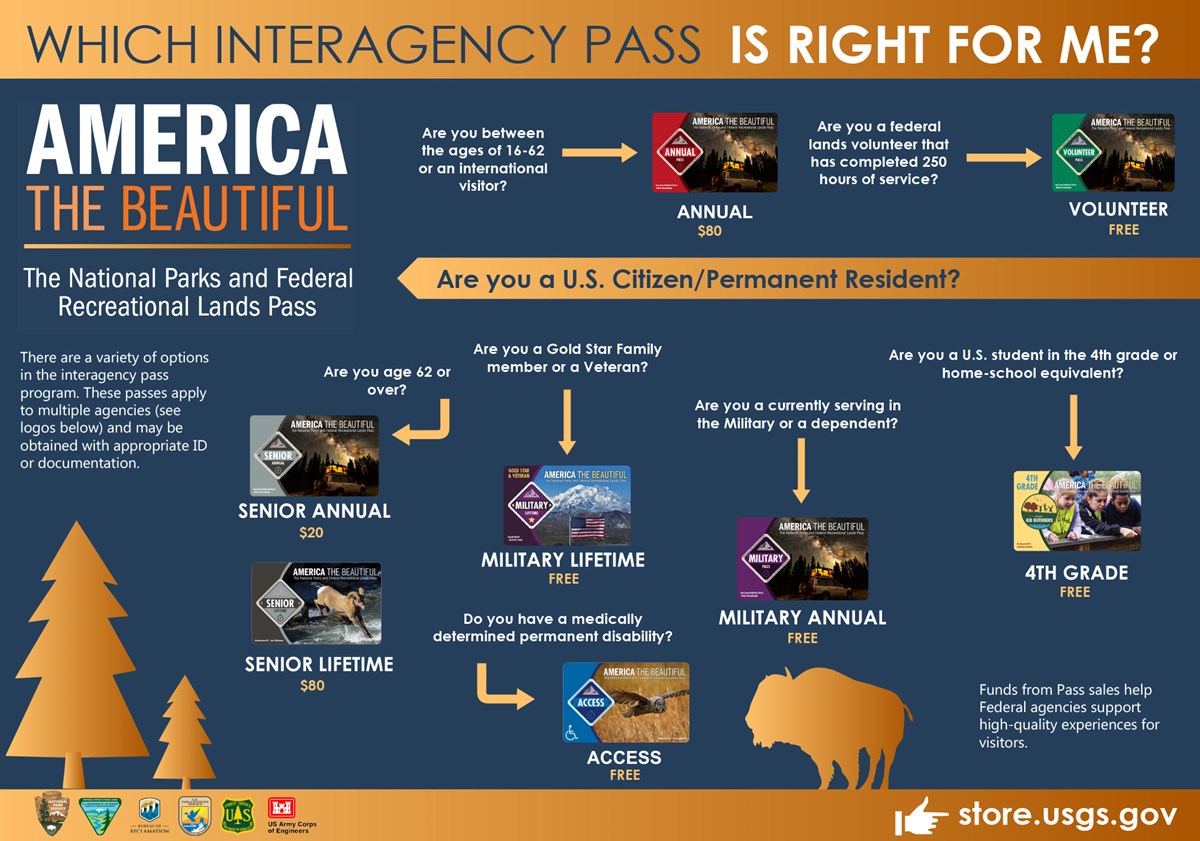 The best gifts for hikers encourage them to get out and explore the great outdoors. And what better way to do that than with a national park pass? The national park pass is valid for one year and provides access to more than 2,000 parks across the country, each with new trails and breathtaking views to discover.
Plus, it comes with several additional benefits, including free entry to national monuments and forests, discounts on some camping and extended amenity fees, and more. So share the gift of adventure with a national park pass!
5. Picnic Backpack: ROMALI'S Family Picnic Backpack
Is there anything more romantic than enjoying a picnic with someone you love? We don't think so! And that's what makes the ROMALI'S picnic backpack a wonderfully thoughtful outdoor gift for couples because it includes everything they need to set up their little getaway.
It consists of an insulated compartment for food and drinks, a folding table, a place for a bottle of wine, a waterproof blanket, and a complete cutlery set. This backpack will help them make the most of their outdoor meals, whether they're hitting the trails for a day hike or an overnight camping trip.
6. GoPro MAX Camera
The GoPro MAX Camera is the perfect gift for the outdoor-loving couple in your life. This rugged, waterproof camera can be used as a traditional GoPro for capturing all the action on the trails, or it can be turned 360 degrees to capture incredible immersive footage.
It's perfect for couples who love to document their adventures, whether summiting a mountain or just enjoying a beautiful hike together. Plus, with built-in stabilization and editing features, the GoPro MAX Camera makes it easy to create pro-quality adventure videos that they can relive whenever they want.
7. Trekking the National Parks Board Game
Trekking the National Parks Board Game is a fun and educational gift for couples who love to hike. Players compete by racing to see who can finish the most hikes, with each National Park represented by a card. The game is full of tough tactical decisions, and it's sure to be a hit with any couple who loves the great outdoors.
With beautiful artwork and easy-to-follow rules, Trekking the National Parks is a great way to spend an afternoon indoors or out. Plus, it's a fun way to relive memories of past hikes and plan future ones. So if you're looking for outdoor gifts for couples, this board game is a perfect choice.
8. ENO DoubleNest Hammock
Nothing brings a hiking couple closer together than the ENO DoubleNest Hammock. And we mean that literally.
This handy camping hammock is large enough to comfortably accommodate two people. In addition, it's made from lightweight, durable materials that can withstand the rigors of years of hiking and camping.
Plus, it comes complete with its stuff sack and packs down to the size of a softball, meaning transporting from one location to another is a breeze.
So, whether your couple is enjoying a relaxing day in the backyard or exploring a new trail, the DoubleNest will provide a cozy spot to rest and take in the scenery.
9. TAHE Beach LP2 Tandem Inflatable Kayak with Paddles
The TAHE Inflatable Kayak makes for one exciting gift for the outdoor enthusiasts in your life. This kayak is designed for two people, perfect for exploring lakes and rivers together. The kayak is made of durable PVC and it comes with two paddles, so couples can adventure together in comfort and safety.
The kayak comes with a carrying backpack and a pump, making it easy to transport and store. Plus, it's easy to set up. Simply inflate it and you're ready to hit the water! Thanks to the TAHE Beach LP2 Tandem Inflatable Kayak, couples can enjoy hours of fun on the water while they create lasting memories together.
10. Midland GXT1000VP4 2-Way GMRS Radios
The Midland GXT1000VP4 2-Way GMRS Radios are a smart and practical gift for hiking couples. These radios have a wide range of features ideal for hiking and other outdoor activities. With a max range of 36 miles, Midland radios provide clear communication even in challenging environments.
In addition, the radios come equipped with NOAA weather alerts to stay informed about changing conditions while you are out on the trails. Finally, the Midland GXT1000VP4 radios have a rechargeable battery that provides up to 10 hours of use, making them ideal for long hikes or multi-day camping trips.
Conclusion
No matter what outdoor activity your hiking couple loves, we have the perfect gift for hikers. From 360-degree cameras to inflatable kayaks, we have something for everyone on your list. So don't stress over gift ideas any longer. Start shopping today and get those outdoor enthusiasts ready for their next big adventure!
If you've been thinking about what gifts to get your hiking companions this holiday, consider these unique ideas for your next gift-giving adventure!