Camping creates a connection between us and nature and we can enjoy the wild. This is a great opportunity for the whole family, especially for your dog who can enjoy your company while spending all his time outdoors in the endless playground.
Routine campers often make a list of all the equipment they will need for a successful, enjoyable hike. If you plan to take your dog with you, you need to make sure he or she gets the right care, too. Prepare like a pro with these tips and you and your dog will have the time of your lives.
1. Carefully assess the situation
First, let's carefully think about whether our dog is a suitable candidate for camping. Ask yourself these questions before you embark on the mission:
Is the dog easily irritable and tense?
How sophisticated is his hunt instinct?
Does he bark a lot?
How does he cope with being on a leash?
Does the dog have health problems (joint problems, heart problems, genetic conditions)?
Does it bother your pet to have people or other animals around him?
Does he tend to wander or run away?
2. Getting used to the environment
In the case that your dog has never camped before, he might get overwhelmed at first. The number of new sights and smells might even stress your dog out on the first day. Dogs that are not used to long walks and runs might get a muscle fever that might look like the dog got sick because he will tire more quickly.
To prevent these, you might want to consider going on short hikes (every time you hike with your dog do it for a bit longer until you reach the goal of a full-day tour) in the forest or even camping in the backyard for a night, this way the dog will be more prepared for the trip.
It's also important to take the time to secure the dog with a leash or carrier kennel while you're nearby but he can't come with you. This way you simulate what it's going to be like at the campsite. There may be a lot of barking and whining at the end of the first exercises, but the more you practice, the more you will both realize that everything is fine and no need for drama.
3. Before packing
Before you start packing it's advised you visit the vet. The veterinarian will prepare you for any unexpected illnesses that might occur during camping. Make sure your dog has valid vaccinations. Start your dog on tick and flea repellent drops. Especially take note to get his anti-parasitic treatment weeks before you plan on camping, as it takes more time to work.
Before you leave, look carefully at the conditions under which you can bring your pet to the campsite or park area. For the most part, this doesn't usually pose a particular problem, but it's good to prepare for the trip. Nothing can be more uncomfortable than having to come back at the beginning of the holiday because the dog is not allowed somewhere.
4. Assemble the package
Leash, harness, feeding bowl. Do you have everything? Let's see what else is a necessity on a camping trip with your dog. The backpack should include these things:
5. Harness, collar, leash
Take the usual walking equipment with you. In addition, you could bring a more flexible and longer leash. Harnesses are a safer solution than collars, as harnesses disperse pressure over a larger area of the body, reducing strain on his neck and back and making it easier to control and manage any dog.
Depending on the campsite and its rules, you might have to moor your dog so others are not disturbed.
6. Stress reliever
Dogs get stressed out for many different reasons (driving to the site, campfire, noises he's not used to, other animals and people, unpacking and packing). For this reason, it's a good idea to have some stress relievers in the backpack. This can be a yummy food supplement, a new favorite toy, or if all else fails, a mild sedative or a calming spray.
7. Food and water
Calculate your pet's food and beverage needs accurately because you are unlikely to find a place in the wild where you can get food for him. Keep in mind that, like you, your dog will most likely burn more calories than lazily lying at home, and he will need extra food to maintain his energy level. If you have the opportunity, take folding bowls with you on the road. Try to get the pet used to the new bowl while you're still at home. After feeding, always empty and rinse the dishes to avoid an ant farm in your backpack the rest of the way.
Don't start experimenting with a new brand of dog food in this case, take your usual one.
When you set off, always have a bottle of fresh drinking water ready for your dog, if not, make sure you have water filters that you would use as well.
In the case of camping where there are bears, make sure all the food is placed in bear-proof canisters.
8. Sleeping accommodations
Never leave your dog under the starry night alone at night. Dogs might get scared of the unfamiliar noises and animals that wander around the campsite and the dog might runoff.
You can always let your four-legged friend into your tent, he can even keep you warm on frosty mornings. The other solution might be to get a special dog tent for campers.
9. Hygiene
Don't forget to pack the dog's brushes and combs, as these will be your allies once you settle down for the day. A daily routine of brushing will be necessary, as dogs tend to get tangled up in various weeds, such as thistles. Their paws should be inspected daily to check if something is stuck between the toes and if their paws are cut.
Check the dog often: watch for ticks, cuts, and scratches.
10. Dog first-aid kit
In case your dog is on prescription medication, make sure you pack it with the rest of the essential things.
The dog's first-aid kit should contain the following:
Gauze
Non-Stick Bandages
Adhesive Tape
Hydrogen Peroxide
Antibiotic Spray
Tweezers
Magnifying Glass
11. Leave no trace
This principle applies to dog poop as well. A very important step in keeping the trail clean is to pick up after your dog, either with a biodegradable bag or a shovel. Feces should be buried in a cat hole 6-8" deep at least 200 feet from the trail and water source. This is the way to protect the water supply along the trail.
12. Backpack for dogs
If you're unable to make your way to the campsite with any kind of transportation, you will have to walk. The extra stuff that you have to carry will make it a difficult hike. Dogs can carry up to 25% of their weight with ease, thus a doggy backpack filled with his gear is a no-brainer.
13. Keep the dog cool/warm
Keep the dog warm at night: even though dogs are blessed with fur, their feeling of heat decreases in the evenings.
If it's really hot out, equip him with a cooling vest that you dip in water and put on him to keep his core temperature down.
These are some basic tips to prepare for camping with your dog. Although the trip together requires planning, you will have a lifetime experience with your dog.
Author Bio: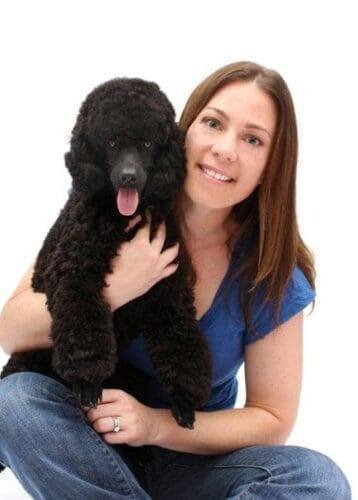 Contributor: Jackie Brown
Pet expert Jackie Brown has spent 12 years following her passion for animals as a writer and editor in the pet industry. Her expertise includes dog and cat health, care, nutrition, feeding, grooming, behavior, and training.