Avid hiking enthusiasts know that hiking at night is an exciting activity that can add some variety to your daily hiking routine. However, hiking at night will require that you have the right supplies to ensure a safe and fun journey.
Packing for a night hike requires consideration for both comfort and safety. You may wish to bring an extra pair of socks, hiking poles, a first-aid kit, and some food and water. Above all, it is essential to have a bright hiking light to illuminate your path.
If you bring all the essentials, you will find that night hiking is a pleasant and rewarding experience. Keep reading to learn more about your essential night hiking packing list, along with some of the overall benefits that come with hiking in the nighttime.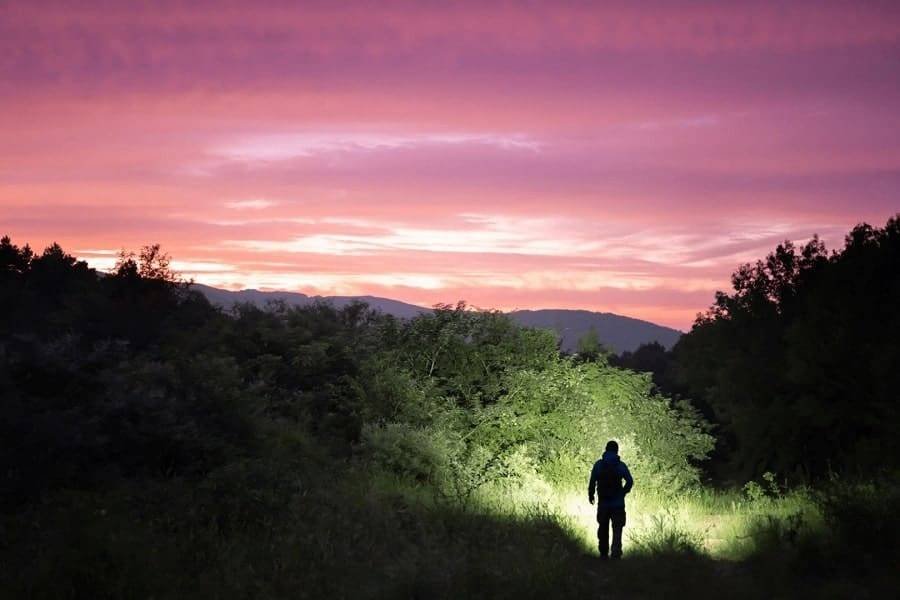 Why Hike at Night?
The majority of hikers are probably used to their daytime trails. Hiking during the day is a lot of fun, but it is not the only way to do it. Night hiking occupies a special place in many hikers' hearts because of the different perspectives it offers on the outdoors.
Many people hike at night for the following reasons:
The peaceful atmosphere
Cool temperatures
Ability to see stars and other forest features
Exposure to nocturnal animals, such as owls and porcupines
Whatever your reason is for choosing to hike at night, you are not alone! Many people love this unique experience of being outdoors in the dark.
Things to Bring When Night Hiking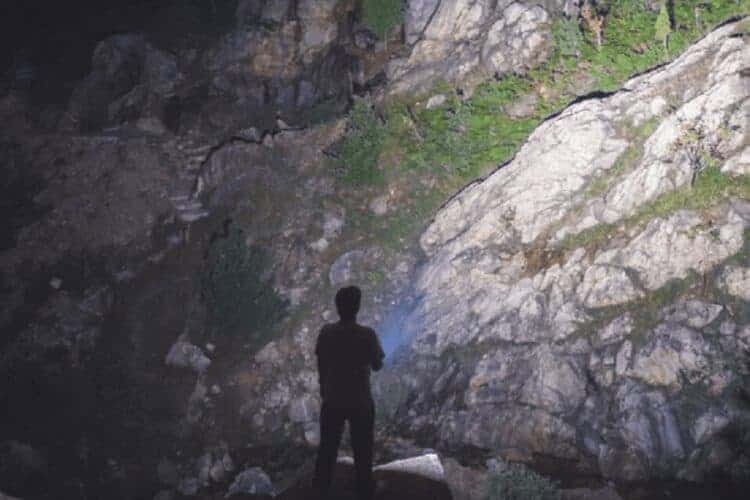 As with day hiking, hiking at night will require that you bring supplies to keep you happy and healthy on the trail.
Food and Water
Even though night hiking will probably not be as warm as day hiking, you will still need to bring things to keep you nourished and hydrated. Hikers should pack at least a bottle of water, allowing at least 2 liters per person if you are going on a difficult hike.
You will also want to bring food that is nutritious and keeps you energized. Many hikers choose to pack these foods:
Granola or protein bars
Dried fruit
Beef jerky or snack sticks
Even if you are not going far, it may be worthwhile to have a little snack with you and certainly bring some water. Nighttime hiking can be disorienting, and it is a necessity to have things that keep you energized.
A Change of Socks
Hiking socks keep your feet dry and warm, but they are not impervious to damage. Once night falls, outdoor settings can become increasingly damp as dew and condensation accumulate. Even with the best hiking boots, you may end up with wet feet, especially if you sweat or step in a puddle.
Bring an extra pair of your favorite hiking socks in your backpack. If you end up with wet feet, you can easily change your socks and avoid any discomfort caused by blisters and chafing.
Hiking Poles
When you are in the dark, it can be harder to see obstacles or variations in the terrain. If you are hiking a rugged trail, hiking poles can help you keep your balance and avoid slipping or injury. Consider investing in some lightweight aluminum hiking poles to help you keep your footing even on the darkest nights.
A First-Aid Kit
Accidents happen, and it is best to be prepared for them when they do. Carry a small first aid kit in your pack, similar to what you may take with you during the day.
A well-stocked first-aid kit should contain the following things:
Band-aids and bandages
Sanitizing wipes
Gauze
Low-grade painkillers such as ibuprofen
Hopefully, you will not need to use your first-aid kit, but when you hike at night danger can be harder to detect. Keeping first aid products on hand will allow you to go about your night hike with some added peace of mind.
A Light
Bringing a torch or flashlight is perhaps the most important thing you can have when hiking at night. By definition, night hiking takes place in the dark, and having a reliable source of illumination will make sure you get down the trail safely and avoid injury or disorientation.
The following section will discuss lighting for hiking at night in more detail so you can make an informed choice about which type of light you would like to bring.
Lighting for Hiking at Night
The best torches and flashlights are reliable and will provide bright illumination with just the click of a button. Olight has the best products for outdoor activities, including night hiking.
The Olight LED Torch
Olight flashlights and torches are the perfect tool for hiking, biking, camping, fishing, shooting, mountain biking, and more. It is reliable, with strong LED bulbs, and comes in a variety of sizes and price ranges to meet any outdoor needs. You can find Olight LED products in the following forms:
Tactical flashlights
Bike lights
Head torches
LED rechargeable torches
If you are an avid night hiker, it may be best to opt for the head torch for hiking or an LED rechargeable torch. The headlamp will easily rest on your head and can be turned on and off easily.
The LED rechargeable torch will provide you with the opportunity to recharge the battery with minimal effort. Just make sure you plug it in a few hours before you go out on your hike!
The Olight Advantage
Please note that if you purchase an Olight torch or flashlight, you will receive protection under the warranty program. This covers repairs and replacements for up to five years after purchase.
Additionally, all Olight lights are guaranteed to meet standards for illumination that suit a variety of sports and outdoor pursuits. The lights are crafted with care using durable materials and with a commitment to ecological sustainability and energy efficiency.
Olight lights are waterproof and resilient and can operate in extreme hot and cold temperatures. Know that when you purchase an Olight product, you are getting the very best lighting device to accompany you on your hike.
Headlamps for Night Hiking
Another popular and useful option for night hiking is to make use of a headlamp. Many manufacturers, such as Olight, carry headlamps that are perfect for outdoor activities.
What is a Headlamp Used For?
A headlamp is an illumination tool that is mounted on an elastic band. This band can be worn around your head with ease and comfort, lending the object its name. Headlamps are used for a variety of activities, including the following:
Hiking
Camping
Rock Climbing
Fishing or Hunting
Many people consider headlamps to be an extremely useful tool in any outdoor activity that takes place in low lighting.
Why are Headlamps Especially Important for Hiking?
Headlamps are especially important for hiking because they are very easy to wear and use. If you hike with a headlamp, you can easily turn on the light and not have to hold a tactical flashlight. This allows you to use your hands for hiking poles, or have your hands free.
Headlamps are also recommended for hiking because there is a smaller likelihood that you will lose them. When they are firmly affixed to your head, you will reduce your risk of dropping them in the woods or on the trail.
How Many Lumens are good for Hiking Headlamps?
When you hike, you should purchase a headlamp that has 150 to 200 lumens. This means that they will emit enough light to keep the trail in front of you illuminated, even when you are moving.
What Should I Pay Attention to When Buying a Headlamp?
When you buy a headlamp for hiking, pay attention to the following features:
The type of lightbulb (LED is typically best for hiking)
Whether batteries are included
The lumen strength of the headlamp
Warranties and return information
Olight has numerous headlamps with lumen amounts and bulbs that are specifically catered toward outdoor activities, such as night hiking.
Tips for Night Hiking
Night hiking is not without its specific risks and dangers. When you hike at night, keep the following tips in mind to stay safe:
Use your light at all times so you can see where you are going
Bring a backup light in case yours runs out of battery
Follow a carefully charted route
Hike with a buddy or let someone know where you are going beforehand
Carry a cellphone or satellite phone
Wear bug spray and long pants to protect from insect bites or scratches
If you follow safety precautions, you can enjoy your hike without worrying about danger or accidents. Night hiking should be enjoyable, and with some preparation, you can have a stress-free nighttime adventure.
Conclusion
Avid hikers do not have to limit their hikes to daylight hours. Hiking at night allows you to see the world in a new way and enjoy the outdoors. Before you go, make sure your hiking backpack contains all the necessities for an outdoor adventure.
When you bring a flashlight, you are committing to your safety on the trail. An Olight flashlight is reliable, allowing you to hike with ease no matter how dark the trail may be.