Whether you are hiking or traveling cross country, the best way to keep all the gear inside your backpack dry is to use dry bags. This guide will explain the best ways to keep your gear dry and organized on a backpacking trip using the best dry bags.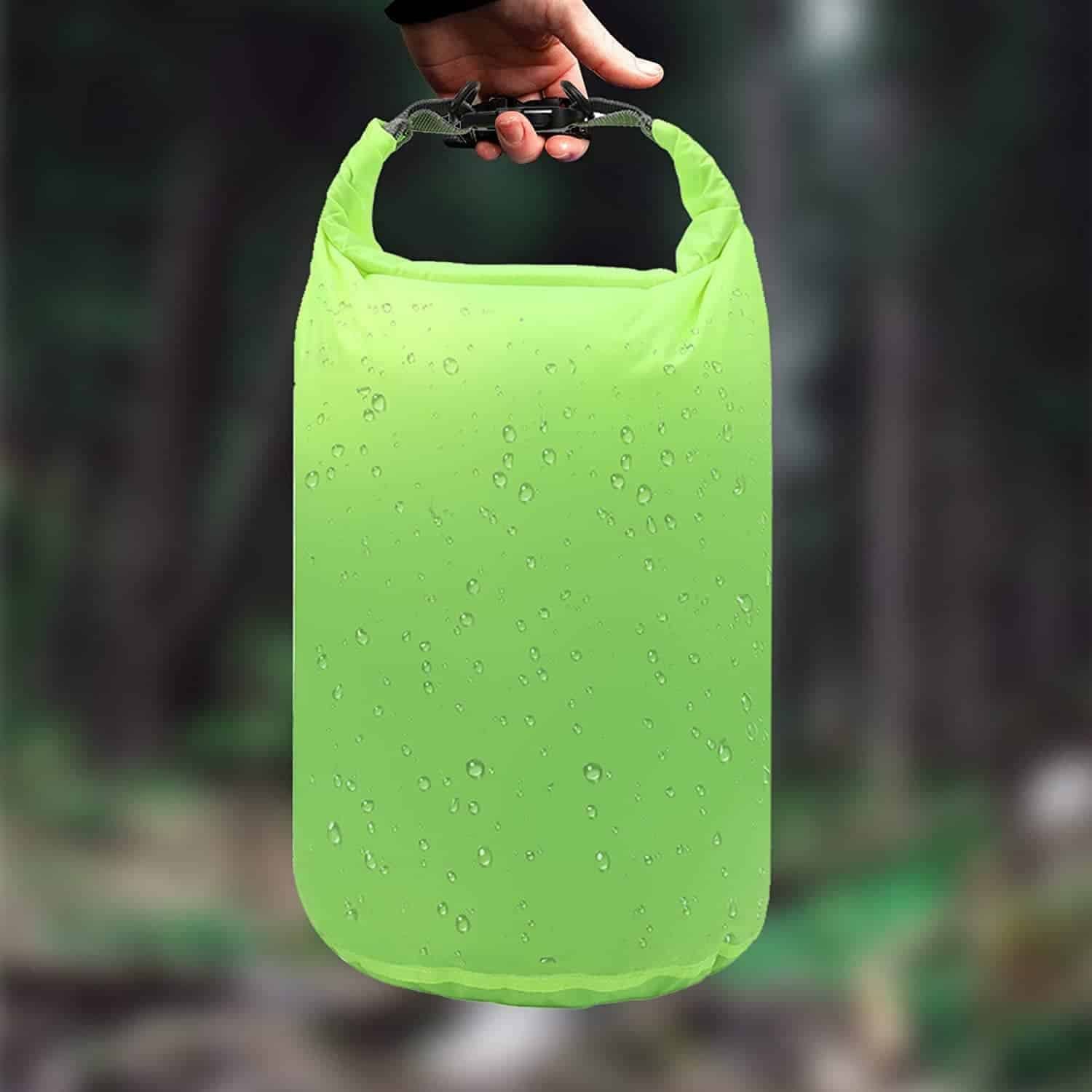 What are dry bags?
Dry bags are basically sacks made from waterproof material that has a roll-top closure with the purpose of preventing your goods from water.
The original dry bags were created by Bill Parks the founder of NRS in the mid-1970 who was the first to use PVC for this purpose. Since then there have been lots of advancements but the design remains pretty much the same. Dry bags can be used for all kinds of outdoor activities to keep your things dry but were initially intended for sailing and boating expeditions. Nowadays they are a staple piece of camping and hiking gear used to ensure the safety of your belongings.
Why use a dry bag?
Dry bags don't just keep your gear dry and electronics safe, they also provide customized organization inside your rucksack. You can get small 1 liter dry bags which are ideal for your valuables. It is worth knowing that the 1-liter dry bags from Sea to Summit will fit a full toilet roll inside which prevents it from getting wet and ruined. You can keep your first aid kit free from dirt and getting wet which helps with sanitation. Toiletries and liquids can be kept securely inside a dry bag to stop any spillages from spreading through your backpack.
When backpacking around the world, you will often find yourself with more dirty clothes than clean which is why having a separate dry bag for each is such a good idea. Keeping your clothes in a dry bag not only keeps them dry but also compacts them down like a vacuum to save space in your bag. If your clothes get wet, you can put them in your second dry bag to stop them from soaking everything else in your bag.
If you have camping gear then I highly recommend getting a waterproof compression sack for your sleeping bag which can be a lifesaver when you need a dry sleeping bag to keep you warm on cold nights. A plus point of dry bags is that if you loosely fill them with soft clothing and seal them up, they make great pillows and take away the need to pack a pillow.
The best dry bags are incredibly lightweight and take up next to no room in your bag when not in use but come in handy ALL the time. With your valuables safe inside a dry bag, you don't have to worry about your spare clothes getting wet or damaging any electronics you may have with you.
Image Source: unsplash.com
Materials
Vinyl is the most durable dry bag material on the market, used for kayaking and boating vinyl is thick and abrasion-resistant. When nylon is coated with a durable water-repellant (DWR) finish it becomes a viable material for dry bags although there are better options at a very similar price. Sil-Nylon is probably the best material to look for when shopping for dry bags. It is lightweight, hard-wearing, and flexible which makes it perfect for stuffing with clothes or awkwardly shaped items. Cuben Fiber is not as common as silnylon, Cuben fiber is even more lightweight and just as durable but not as soft or flexible.
Sizing
Dry bags come in sizes ranging from the micro 0.5 liters to the massive 140-liter backpack liners which makes them superb for organizing all your bits and bobs. I like to separate all my gear into categories to keep things clean, dry, and organized. For example, I keep my clean clothes separate from my dirty clothes and my food separate from my cooking equipment. Everything has its bag which makes finding things super fast and easy, especially if it's something at the bottom of the bag.
You can balance the weight of your gear towards the middle of your backpack by packing things like your sleeping bag and tent at the bottom followed by your clothes and water. I like to keep food and first aid at the top of my backpack to avoid squashing them or not having easy access.
Closure
The main type of closure you will find on dry bags is a roll-top which is the most reliable for waterproofing. They work by creating a new waterproof seal every time you roll the top down a complete turn. This means that if you roll the top down about 3 times you have a triple barrier which creates a very reliable airtight seal. Before you seal the bag up you should compress the air out of the bag which helps to save space in your backpack and reduces the risk of popping the bag under pressure.
Best Brands
In my experience, there isn't much difference between the premium and budget dry bag brands. I do however have some favorites that I know I can trust and have used for many years.
The first brand is Sea-To-Sumit which is well known for its ultralightweight camping gear and they have many, many different dry bag options. They have a massive range of both sizes and materials which helps to serve many different needs and is one of the reasons why hikers love them.
The second brand I would recommend is Exped which are very another trusted outdoor gear company known for its lightweight innovations. They too have a large range of dry bags made from different materials and available in lots of sizes.
The final brand that makes excellent dry bags is Granite Gear which has made a name for itself in the through-hiking community. They are distinguished by their featherweight hiking gear and the drybags are no exception
Extra Protection
Image Source: unsplash.com
Dry bags are designed to provide waterproof protection to the items inside your backpack and are incredibly effective if sealed correctly. Another way to keep your backpacking gear dry is to use a waterproof bag cover that aims to stop your backpack from getting wet in the first place. If you have ever bought an Osprey or Lowe Alpine backpack amongst other names then you likely got a bag cover included with your purchase. When backpacks get wet they also get far heavier and so quickly whipping out your bag cover when it rains is an easy way to stay dry and light.
Conclusion
Rain can come out of nowhere and soak you through to the bone. Dry bags make life easier when you are living out of a backpack by keeping your gear dry and safe as well as organizing it so that you can find things when you need them. They also allow you to relax when engaging in outdoor activities knowing that your gear won't get wet and your valuables won't be damaged. I recommend at least 1 dry bag for your sleeping bag, 1 dry bag for your clothes, and 1 dry bag for your valuables – all made from silk-nylon if possible.