Hiking during summer can be fascinating. Many tend to shun hiking activities during summer since they are scared of the heat. But this should not be the case. Extreme high temperatures experienced during winter can be manageable while hiking. The secret is simple: the right choice of dressing plus proper hydration. This article will focus on what to wear hiking in hot weather.
When it comes to dressing in relation to hiking, I feel like summer is the best time. This is due to the fact that you don't have to put on very heavy clothing making you feel so heavy and weirdly rigid (of course you have to carry some just in case of anything). Summer is a time to loosen up! Moreover, the brightness of the environment itself is a mood booster. In this regard, what exactly is the best way to dress up for hiking during summer? A few tips first.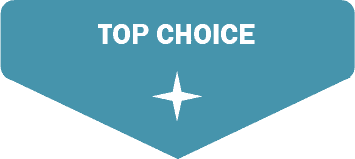 QIXING
Top Swing T-Shirt Loose Dress
Levi's
Women's Poly Bomber Jacket
LUSMAY
Casual Fitting Shirt Blouse Tops
QIXING
Top Swing T-Shirt Loose Dress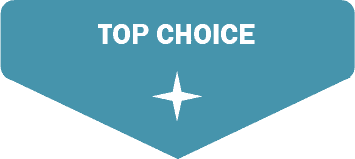 Levi's
Women's Poly Bomber Jacket
LUSMAY
Casual Fitting Shirt Blouse Tops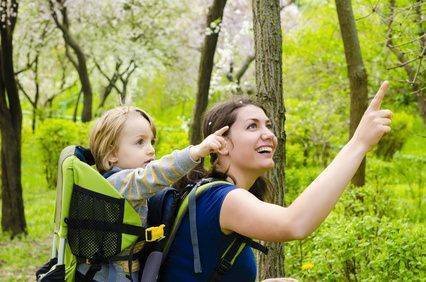 What to wear hiking in summer?
Hiking carries a myriad of benefits such as helping to clear up your mind or as an amazing form of exercise thanks to the beauty and tranquility the jungle offers. A huge chunk of outdoor junkies loves to venture into the backcountry during summer. Conditions are quite favorable during this time except for the fact that most enthusiasts are not aware of what to wear when hiking in summer. Keep in mind that your hiking experience in any weather is as good as the type of gear you put on.          
In fact, the scorching weather comes with tonnes of heat and sunlight that can be deadly if not kept in check. Proper hiking outwear provides comfort and protection besides keeping your body cool. Therefore, in this article, we are going to guide you through what to wear when adventuring in hot weather. 
1. Hiking Pants
Wearing pants while hiking on a hot day may sound really absurd. Wait until you go hiking on a tick-infested hiking trail. So, it is always important to have a pair of light, loosely fitting pants with you while hiking during summer. This will of course help with the airflow. However, for more convenience, choose convertible hiking pants. With this, you can always take away the lower part when there is a need to, and boom, you have your pair of shorts.
The North Face Women's Aphrodite Pant
"Best for desert hiking and outdoor excursions in hot months!"
Premium Pick
Main Features
Adjustable drawcord for a custom fit
Dependable quick-dry technology
Stretchy material for flexibility
Extremely comfortable
"The best outdoor pants for the buck!"
The North Face Women's Aphrodite pant is a must-have for any female adventurer that wants to have an awesome time outdoors in the scorching sun. Here is why:
Adventure-Ready Design
This pair will make your spontaneous adventures effortless and more fun. It is light, protective, and crafted from the most durable material. Its quick-drying fabrics will allow you to hike through wet vegetation and overgrown fields fearlessly. You will also find its ample stretch to be on point. The pants are designed with straight legs which allow more breathability and added air circulation to keep the inside cool.
Fit Snugly
For a personalized fit, the pants are equipped with stretch cords that are strategically fitted at the ankles and waist to ensure the pants stay in place. In the same way, the waistband features a wide rib knit that elevates comfort as well as flexibility.
Extra Storage Space
Storing your phone and other accessories will not be a problem with the North Face Women's Aphrodite 2.0 pants. It has one zip pocket and two front-hand pockets to keep your belongings intact.
Flattering and functional hiking pants for hot weather.
PROS
Thin breathable material
Multiple secure pockets
Extra lightweight
Built to last
CONS
Expensive pricing
They run large
---
2. Hiking Shorts
This is what you wear to a place where you are certain there are no ticks. Actually, this is a favorite hiking attire for many girls. This is due to the fact that they are comfy, expose a large part of the body to fresh air and above all, girls feel good in them. Girls like to feel good. So, why not?
prAna Women's Olivia Short
"Versatile performance shorts."
Premium Pick
Main Features
Easy to care for and maintain
Features quick-dry materials
Available in different colors
Water-resistant materials
"Premium all-around shorts!"
Summer hikes cannot be complete without a phenomenal pair of shorts. The prAna Women's Olivia Short is the holy grail of hiking shorts equipped with a unique combination of facets to give you a memorable summer excursion.
Durable Performance Fabrics
The fabrics on this pair may have a soft touch but have a tough exterior too. They come with the stretch Zion construction which stretches with your body movements for smooth and relaxed motion. The same materials are super breathable and quick-drying to keep your skin cool and dry.
DWR Treatment
In the event that you are caught up in a shower, this short will keep you protected. This is courtesy of the DWR treatment on its fabric.
Cute and Stylish
With a fashionable design and a wide range of colors to choose from, it is easy to style the shorts with your favorite top or sandals. It is also light allowing you to walk comfortably and enjoy tree-lined landscapes. Likewise, you do not have to worry about packing space as they pack away small. Additionally, the pair has a silhouette cut which not only brings out a chic look but also promotes breathability. For a custom fit, the shorts have a button-front fly not forgetting the chain stitch fitted at the pockets and waistband.
The pair may be slightly overpriced but completely worth it when it comes to performance and functionality.
PROS
Versatile performance
Attractive design
Multiple pockets
Stretchy fabrics
CONS
Inconsistent sizing
High-end pricing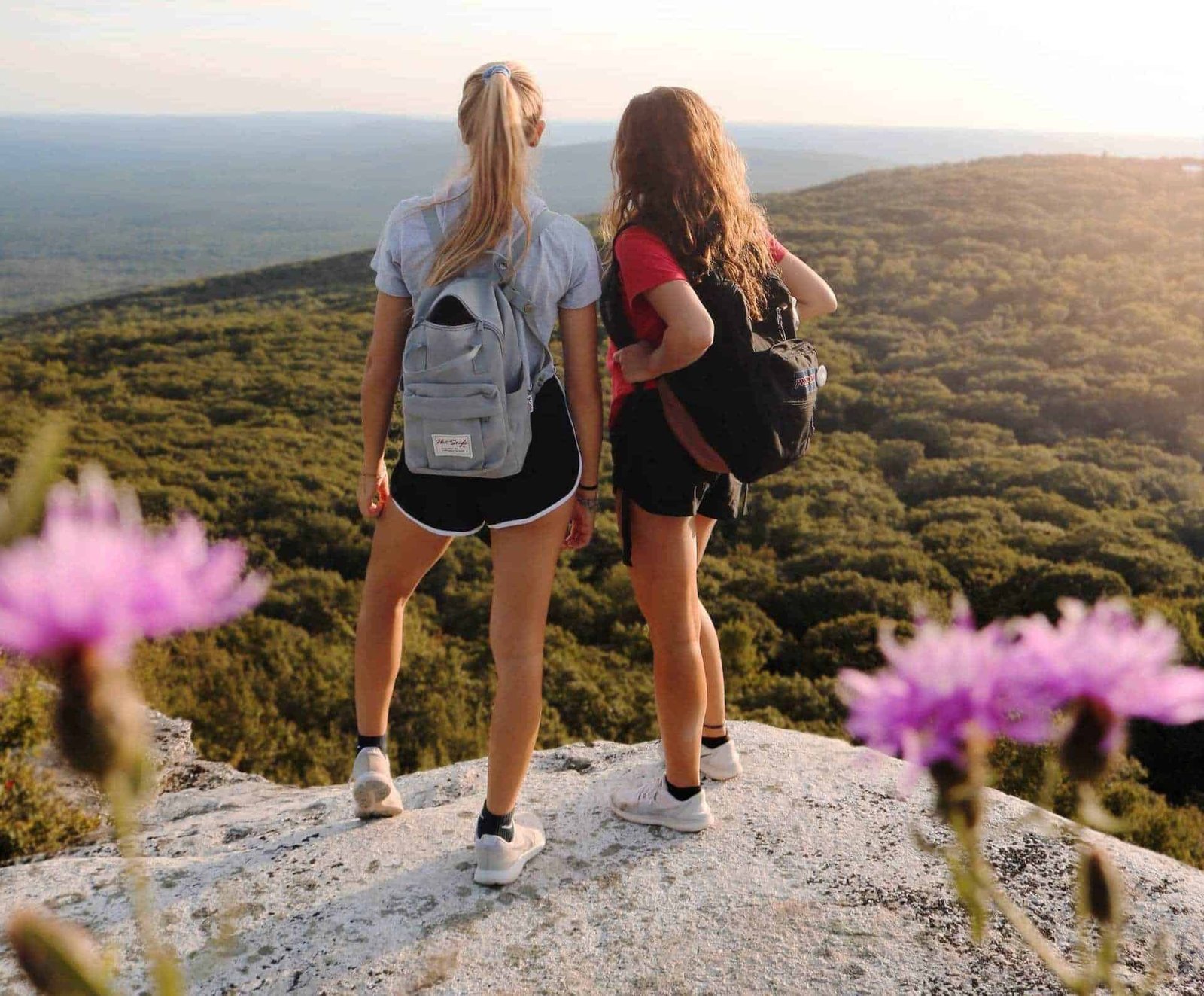 ---
3. Hiking Skirts
Hiking in a skirt may look so odd and old fashion, but during summer this could do you a lot of good. They allow for more ventilation as compared to pants and shorts. Skirts also have the added advantage of easy response to nature calls in the woods (you won't have to expose your backside).
Mountain Hardwear Women's Dynama Skirt
"A multipurpose skirt suitable for outdoor use."
Premium Pick
Main Features
Strong and flexible materials
Light and pack away small
Adjustable for a custom fit
Has water repellent finish
"A sleek travel skirt that makes a joke out of the scorching weather."
Another superb gear that will enable you to take on warm months without a hick is the Mountain Hardwear Women's Dynama Skirt. It is everything you dream of in a great hiking skirt, bringing the toughest, softest, and most flexible material to the trail.
Flexible Long-Lasting Materials
Female outdoor lovers cherish hiking skirts that hold together after extended use. This model lives up to that expectation. It is expertly made from top-of-the-line nylon-spandex fabrics that are tough and long-lasting.
Feminine Inspired Design
Everything about this skirt shouts female. It has the right fit to complement the feminine curves yet still allows ample space for movement. Other than that, its design allows for versatility. You can use it for hiking or hitting the grocery store. To crown it all, the skirt has adjustable drawcord cinches fitted at the hem to generate a personalized fit.
Rugged Construction
Its low-rise cut allows for maximum air circulation to keep hikers cool all along. On the same note, the skirt is adventure-ready thanks to its lightweight and the fact that it packs away small. Water should be your last concern in this model as it features a DWR finish. With two spacious pockets on the side, the skirt grants you extra room for your accessories. Plus, your summer excursion has never been safer with the solid UV protection of UPF 50.
It is worth the money as it offers the right feature set for a great outdoor adventure when temperatures are high.
PROS
Features multiple pockets
Integrated UV protection
Offers feminine fit
Flexible usability
CONS
Its material shrinks upon washing
A little pricey
---
4. Hiking Leggings
Leggings are definitely a good option for hiking on a hot day. They are always comfortable since they are elastic. Once you get yourself some leggings made of lightweight material, you are good to go. You can also wear leggings under your skirts to avoid ticks and mosquito bites.
Under Armour Women's Compression Leggings
"Versatile thermal pants meant for both hot and cold weather performance."
Premium Pick
Main Features
Stretchy fabrics for unhindered motion
Cut from the top of the range fabrics
Welded seams to eliminate chafing
Compression fit boosts performance
"The go-to thermal tights!"
Female outdoor enthusiasts can finally smile as the Under Armour Women's Cold Gear Compression Leggings are here to bring king-sized comfort and protection on any sunny day. The leggings possess appropriate facets to grant you an appealing summer adventure.
Outdoor-Oriented Design
You do not have to mind sweating or extreme heat while donning these leggings on the trail. They boast a moisture transport system that effectively wicks moisture to keep the skin cool and dry. Breathability is also top-notch to guarantee maximum air circulation. You will also adore its insulated interior and quick-drying exterior.
Reliable Fabrics
The pair is cut from the world's best fabrics that generate a smooth touch coupled with toughness as well as much-needed longevity. This is further amplified by the dual-layer construction. For unhindered movement and different motions, the thin fabrics are extra-stretchy.
Uncommon Outdoor Performance
These leggings are super versatile and well capable of taking on the most daunting outdoor activities regardless of the weather. Nonetheless, they particularly stand out for what they can deliver during summer thanks to a smooth interior alongside exceptional moisture-wicking capabilities. Moreover, the leggings come with a lightly encased elastic waistline which offers a streamlined appearance. Chaffing is canceled out by wielded seams while a compression fit improves the overall experience. 
The pair offers unparalleled outdoor performance with a decent price-to-quality ratio.
PROS
Excellent moisture wicking
Superb breathability
Fast-drying exterior
Versatile usability
CONS
They lack pockets for extra storage room
They fall apart easy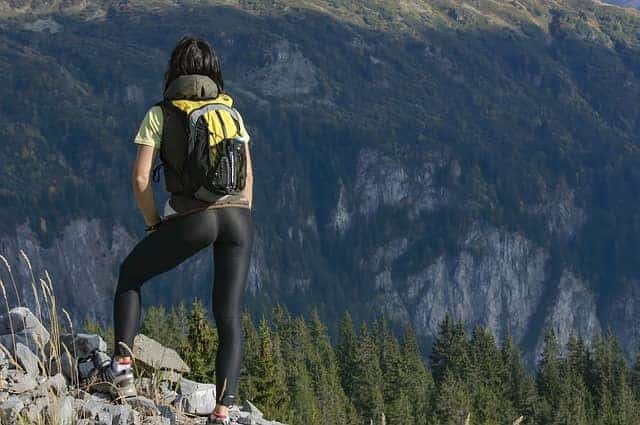 ---
5. Hiking Tops
It is very easy to select tops for hiking during summer. You can go for tank tops, t-shirts with open vents, or lightweight long-sleeved tops. On a day when the scorch from the sun is unbearable, it is more advisable to wear a lightweight long-sleeved top with a light color (remember not to wear cotton). This will not absorb heat, dry up quickly after absorbing moisture and protect your skin from sun rays. If you are a hunting fan, you may be more interested in concealed carry shirts reviewed here. 
32 DEGREES Cool Women's Bra Tank 
"Perfect for home and outdoor wear in hot months."
Premium Pick
Main Features
Slightly padded in-sewn bra
Available in different colors
Thick adjustable straps
Light and breathable
"All the comfort and support you need on one top!"
Your summer outwears just got better with the 32 DEGREES Cool Women's Shirred Flowly Relaxed Lounge Built-in Cups Shelf Bra Tank. The tank top is one of a kind bearing a tone of the bells and whistles for great hot weather clothing:
Sewn-In Bra
The tank design is simply out of this world featuring the innovative built-in bra. The wire-free self-bra comes with directly sewn molded cups. For convenience and cozy wear, the molded cups are non-removable in addition to incorporating the softest materials. This also provides additional support and comfort.
Quality Fabrics
The fabrics on this camisole are of unbeatable quality. Featuring a blend of spandex and polyester, the fabrics deliver 4-way stretch alongside an ultra-soft touch that makes it easy to wear. On top of that, they are extra light and well-ventilated. You will also learn how effortless it is to wash and maintain the camisole. With such premium fabrics, the camisole is a must-have not only on a sunny day but also ideal for night outs, yoga or simply lounging in your backyard at home.
Perfect Soft Fit
A sunny day demands loose-fitting attire with a gentle touch. This is exactly what this model is designed to offer. Its center front has a shirring detail that contributes to the crucial loose fit. Along with that is the adjustable shoulder strap that delivers a precise placement.
A practical top with the right features for an enjoyable hike on a sunny day.
PROS
Cozy and supportive
Soft durable fabrics
Anti-odor fabrics
Has a relaxed fit
Stylish design
CONS
Some hikers find the material itchy
Runs large
---
6. Leg Gaiters
Everyone is terrified of snakes. To secure your legs from snake bites, please consider having your leg gaiters on in the woods.
Kahtoola INSTA gaiter Mid
"Ideal for trail running and hiking in damp or dry climates."
Premium Pick
Main Features
Breathable to promote air circulation
Easily adjustable for a custom fit
Easy to wash and maintain
Lightweight construction
"A trusted summer companion!"
Kahtoola INSTA gaiter is a product that gives you the freedom to run, hike and explore in hot months without having to care about moisture, burrs, sand, dirt, or rocks. It is easily the best pair of gaiters based on design, outdoor performance, and durability.
Efficient Design
For an easy step and a natural ankle flex, the pair has an asymmetrical zipper which ensures that the gaiter conforms to the shape of your footwear. Moreover, you will not have to worry about adjusting the zipper every time as it folds down at the top. Aside from that, the gaiters include an attached lace hook that amplifies security. When temperatures become too much, breathable fabrics ensure smooth air circulation to keep your footwear cool.
Attractive Aesthetics
Every detail about this pair brings out class. From an ingenious color scheme to the magical overall design, you realize that the model is built to impress.
Equipped with Protective Facets
The Kahtoola INSTA gives the protection you need for a pleasurable hike and more. Its zippers have a protective flap that keeps out any moisture. On top of that, it is crafted from tough water-resistant nylon fabrics for heightened functionality.
Highly Adjustable
Hikers appreciate gaiters that fit perfectly regardless of their boot size. The makers of this bad boy put that into consideration. That is why it is fitted with a durable replaceable instep strap which ensures an exact fit.
With unbeatable functionality and sturdy material construction, The North Face Women's Aphrodite 2.0 pant is a good investment.
PROS
Water-resistant fabrics
Long-lasting materials
Provide a custom fit
Packs down easy
CONS
The cord is uncomfortable over long runs
Zippers are not durable
---
7. Keep your neck cool
If you have ever walked in the heat for long and felt the scorching sun rays at the back of your neck then you know how distressful that is. To avoid this, dampen a scarf, bandana, a light cloth, buff headwear, or a sun-protective neck gaiter in water and wear it around your neck. This will keep the back of your neck as cool as the water evaporates. You can also opt for a special polymer-crystal-filled neck scarf as this will maintain the moisture for a way longer duration.
BUFF Cool Headwear and Face Mask
"Suitable for different outdoor activities during summer."
Premium Pick
Main Features
UV protection to curb sunburn
Decent price-to-quality ratio
Dependable odor control
Long-lasting construction
"Where quality meets functionality!"
Are you fed up with boring outdoor ensembles? Well, there is a cool way to cover your head and still leave a fashion statement on the trail with the stylish Buff cool net headgear. What is more amazing is the fact that it also doubles up as a face mask. Here are more awe-inspiring facts about this product:
Versatile and Multi-functional
You are free to wear this model in 12 different ways. Whether you choose to wear it as a neck gaiter, balaclava, or cap, it is up to you. It fits seamlessly any way you want to wear it.
Ultra-soft and Stretchy Construction
The fabrics of this headgear are crafted with your needs in mind. It is composed of 5% elastane and 95% of recycled microfiber to guarantee durability and reliable performance. This outstanding blend of materials delivers epic softness that intern allows you to breathe effortlessly. Furthermore, it is equipped with a 4-way ultra-stretch that gives a personalized fit.
Fashionable Design
You will be blown away by the exceptional artistic patterns on this accessory. As if that is not cool enough, it features multiple neutral colors that will compliment your summer outfit impressively.
Additional Protective Features
You will enjoy rocking this accessory on the trail even in the hottest months without worrying about cancer or any drawbacks that come with extreme sunlight. This is owing to the UPF 50+ sun protection that the model bears. Still, you will not have to mind the odors that accompany excessive sweating during summer. The model boosts ventilation, wicks nicely, and incorporates unbeatable odor control.
A simple yet valuable accessory that offers solid sun protection at a reasonable price.
PROS
Extra stretchy fabrics
Breathable material
Yields a perfect fit
Super lightweight
CONS
Impractical for long term use
Material is itchy
---
8. Hiking Shoes
Hiking shoes should be comfortable, supportive, and breathable to avoid blisters.
9. Protect your face with Hiking Cap
To protect your face from sun rays, you need to wear a cap. However, if you want that extra protection that goes all the way to your neck, a hat will do the perfect job. The brim of the hat which goes all the way around will provide a shade that will secure both your face and the back of your neck.
As much as a hat will do a better job than a cap in securing both the face and the neck from sun rays, I understand that not everybody is a fan of hats. It's ok. Even a cap will serve you well enough. In this case, don't forget to secure your neck using a scarf or any other applicable piece of clothing.
10. Choose your hiking socks right
You have to be careful about the kind of socks you wear for hiking when it is hot. Never wear cotton socks as these absorb a lot of moisture and take quite a long to dry up. While wearing closed shoes, moist feet can do you a lot of harm, not to mention damaging your shoes. Of course, moist feet can cause bad odors along with other foot problems. To avoid this, wear wool or synthetic socks instead.
11. Protect your eyes with Hiking Sunglasses
When hiking during the summer, you will definitely need sunglasses. They protect your eyes not only from harmful sun rays but also from dirt and sand. Wear hiking sunglasses to protect your eyes from excessive sunlight.
Now that you are familiar with what to wear when hiking in summer, your next outdoor trip should be nothing but pure fun. The secret is to go for outwear that is super breathable considering how hot it gets during the hot months. Thus, opt for thinner fabrics or any form of gear that is designed to promote air circulation. 
Color Selection
The best thing about hiking in the summer is that you don't even have to wear those gloomy colors. They absorb the sun's rays. This is why you will have to look for clothing in lighter colors such as white, khaki, or tan. These will reflect the sun rays, rather than absorb them, helping to keep you cool.
Go for loose clothing
The heat during summer requires light and loose-fitting clothes which air can easily go through. This helps regulate body temperature. Materials such as nylon and polyester usually work well.
Consider clothes with open vents
Wearing clothes with open vents during hikes could help a lot in improving airflow. This assists in cooling the body.
Clothes with UPF rating
As much as any type of clothing can prevent sun rays from reaching the skin to some extent, wearing clothes that are UPF-rated will always provide more surety of protection.
Expose less of your skin
Having to put on extra clothing in the heat may sound illogical. Those with vulnerable skin, please do. This provides the required protection against UV rays. After all, these should just be lightweight clothes that don't cause much discomfort.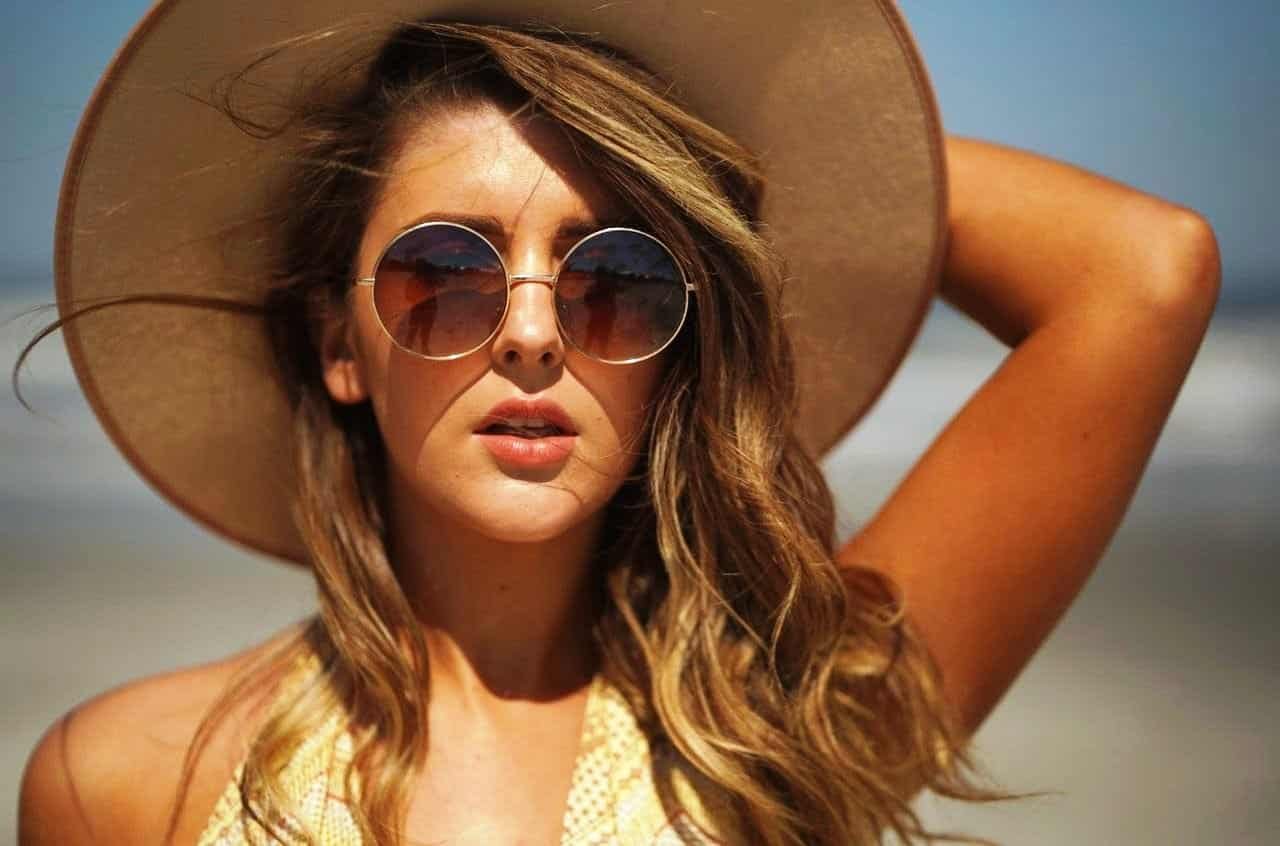 How to stop Sweating while Hiking during Summer?
Good Choice of Dressing
This is very simple. It is all about the three L's of summer clothing – Lightweight, Loose-fitting, and Light-color. Wearing clothes with these features will expose your body to lots and lots of fresh air. This will keep your body cool and so there will be no reason to sweat.
Hydration
Drink lots of water. This will cool your system and prevent sweating. Even when you sweat, the water you drink will substitute the water lost through sweating. Remember to carry your hydration pack as required.
Keep your clothing dunk
Wearing a damp piece of clothing around your neck or head will keep your body cool. This will hence prevent sweating.
Freshen Up
While hiking, wash your face from time to time. Better yet, take advantage of the slightest opportunity you get to jump into any available authorized water source you come across and swim. This will make you feel fresh as you proceed with your journey in the heat.
Reduce your moving pace
Too much activity will result in heavy breathing. This will, in turn, lead to more water loss through perspiration.
Cover up to the maximum
Use a head gaiter to cover up your head. Leaving much of your skin open will expose the sweat on it to evaporation. This will cause much water loss.
Walk in the shade
Walking in the shade will keep your body cool as it is free from direct sun rays. You can also opt to walk in the night and relax during the day (if it does not freak you out).
Conclusion
All the above provide the solutions to the problems you are likely to face while hiking in summer. Remember that the undergarments also have to be lightweight in order to dry quickly.
Always, it is also important to consider bringing a friend along to a summer hike. You want to experience a heatstroke with nobody around to help out. Hike wear usually incorporates a lot of baggy clothing, but who said it should not be stylish? 
You can play around with your colors and minimize your packing in order to have that simple but stylish look. Now you have no reason to shun a summer hike.
FAQs on What to Wear Hiking Summer:
What should I wear for hot weather hiking?
The best colors to wear for hot weather hiking are khaki, white, and tan. Go for shirts and shorts that are loose. Ensure they are breathable, keeping you cool in the heat.
What is the best shirt to wear in hot weather?
The best shirts to wear in hot weather are those made from light material. You can choose from rayon or polyester. Avoid anything made using heavy ones like cotton.
What pants to wear for hiking?
In hot weather, ditch the pants for comfortable shorts. Pants only make you hotter, taking the fun away from the hike. Get those shorts out and show some leg.
What do you wear on a short hike?
On a short hike, wear comfortable underwear, a shirt, and a pair of shorts. Complete the look with hiking shoes and light socks. Light clothes must be breathable.
How do you stay cool while hiking?
Hiking in hot weather means you must come up with ways to remain cool. Start with hydrating throughout the hike. Carry enough drinking water to last you from start to finish.
Is it better to wear pants or shorts in the heat?
Pants are better to wear when it's hot out, but that doesn't mean you will be comfortable. They offer better coverage. You must protect your skin from the sun if you intend to hike for long.
How should you wear jeans in hot weather?
When it's hot outside, you don't need to put all the jeans away. Wear lightweight jeans with simple t-shirts. These types of jeans are not only comfortable but can keep you cool.
What is the coolest fabric for hot weather?
When you know you will spend most of the time outside in the heat, wear linen clothes. Linen is the coolest material since it's highly breathable. It keeps you cool all day.
What is the best fabric to wear in hot, humid weather?
For hot, humid weather, choose to wear clothes made using lightweight cotton. Not all cotton materials are bad to wear in the heat. Light-cotton material feels comfortable in such conditions.
What is the best color to wear in hot weather?
Black is the best color to wear in hot weather to help you keep cool. As crazy as that sounds, it's true. Black absorbs heat from the sun while at the same time reflecting that from your body.