It is essential to invest in a good pair of hiking socks if you look to have a stress-free hiking experience. Do not just get any fabric for your new pair. Select the most suitable material. Wool has proven to meet all the requirements for the best hiking socks. As a matter of fact, it is a darling among avid hikers. You should follow suit as well.
Anyway, why are wool socks better for hiking? The fabric is warm during winter and cool in hot weather. Over and above that, its moisture trapping and antimicrobial properties are one of a kind. Let us take a dig deeper into the epic wool socks and unravel why they should be your top choice for hiking.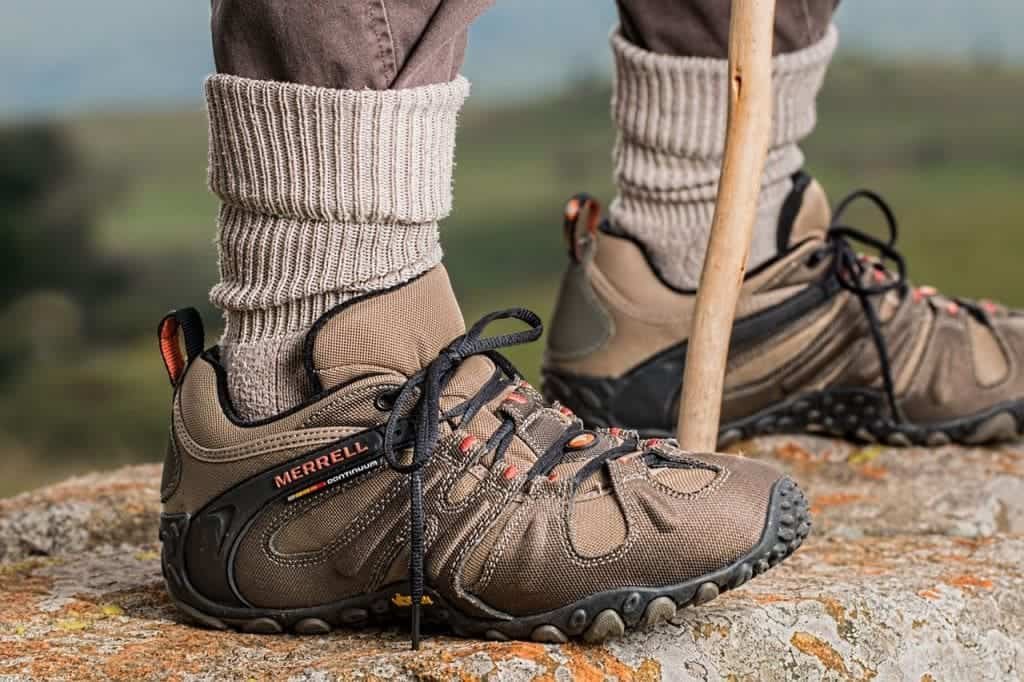 Photo from Pexels
Hiking socks provide an added layer of comfort and protection that your outdoor boots might not be able to offer. A proper pair of backcountry socks should yield uncommon moisture-wicking capabilities, odor control, and promote breathability. Well, no sock material beats wool when it comes to performance on the trail. This article paints a clear picture as to why these socks are better. We will be reviewing four of the best wool socks running the outdoor universe currently.
1. DANISH ENDURANCE Merino Wool Hiking Socks
Reliable Pick
Main Features
Cutely designed with amazing aesthetics
Superb temperature moderation
Exceptional trail performance
Amazing color options
"The summer companion you deserve!"
The DANISH ENDURANCE Merino Wool socks are remarkable value socks that will not only be kind to your pocket but also guarantee the warmth, comfort, and protection you have been longing for. Let us look at more reasons why you need to choose this pair:
Unbeatable Sweat-Wicking Capability
You will enjoy the ventilation mesh lanes that are added to the structure to facilitate sweat-wicking. In a similar fashion, the mesh lanes improve breathability in addition to heightening odor control for an enjoyable encounter.
Natural Temperature Regulation
Outwear that features merino wool naturally has an edge over ordinary models with synthetics on many grounds. This sock's fabric is composed of 33% merino wool that is responsible for natural thermoregulation to keep your feet cool and fresh even on the hottest day. 
Comfortable Cushioning
To isolate you from aches and blisters, the pair is equipped with thick padding. Aside from that, it comes with targeted cushioning that enhances shock absorbance and eliminates injuries. The fit is also on point for a smooth experience.
Sturdy Rugged Construction
One wear in these bad boys will shed some light on what a great sock should possess. You will appreciate the mid-calf cut that allows for all-weather usability. The compression, stretch, and ankle support is epic too.
A dependable three-season sock with long-lasting construction and stellar breathability for summer excursions.
PROS
Good fit and comfort
Extensive ventilation
Durable construction
First-class versatility
Reasonable pricing
Ergonomic design
CONS
Some hikers find it tight around the calf
Not ideal for extremely cold hikes
---
2. Darn Tough Merino Wool Socks
"Flexible enough for three-season functionality!"
Reliable Pick
Main Features
Fresh with impeccable odor control
Available in a variety of fun colors
Come with a lifetime warranty
World-class thermoregulation
"Hiking socks that never disappoint!"
With an out-of-the-box combination of comfort, breathability, and moisture-wicking capabilities, the Darn Tough Merino Wool Boot Sock is a must-have for a wholesome adventure. Here are more outstanding attributes of the pair:
Next-level Odor Control
Merino wool is best known for its antimicrobial properties that come in handy in odor control. Even if you hike in this pair for a whole day, you will not have to mind about sweat or smelly feet.
Cozy with Full Cushioning
The socks are designed to offer the most comfortable hiking experience ever. They are well cushioned to offer a warm and soft touch. You will also find the undetectable seam fusion to your liking. Still, the socks deliver sufficient shock absorption for an injury-free hike.
Perfect Performance Fit
You do not have to pull up your socks every time as the pair features quality stretch and ample compression. It also fits precisely to eliminate blisters and bunching.
Superior Construction
Well made with fine gauge and high-density knitting, the Darn Tough Merino Wool Boot Sock is one of the most durable socks on the market. Its fabrics are breathable to promote fast action wicking. The pair is meant to offer unbeatable functionality in all conditions with an ergonomic design.
A remarkably versatile outwear that outranks its peers as a dependable three-season sock thanks to unsurpassed outdoor functionality.
PROS
Premium feel with a cozy fit
Easy to wash and maintain
Long-lasting crafting
Reliable insulation
Breathable fabrics
Quality material
CONS
Durability issues
Steep pricing
---
3. DG Hill Merino Wool Socks
"Suitable for long-term outdoor year-round use in all weather!"
Reliable Pick
Main Features
Integrated ankle vents for breathability
Exceptional arc compression support
Extra stretchy and flexible
Superior thermal control
"The outdoor champion you never had!"
The DG Hill Merino Wool Socks are where durability meets world-class comfort. If you are looking for a pair that is unstoppable on the trail and indestructible regardless of the condition, this model would be a fantastic choice:
Quality Materials
Despite its pocket-friendly price tag, the pair comes with a rich combo of merino wool and some synthetics for added stretch. Merino wool offers a great deal in terms of breathability and odor reduction.
Heavy Duty Construction
You will love how tough and durable it can be in punishing conditions. The pair is mindfully stitched with high-density fiber to deliver a warm and comfortable feel. Furthermore, the grip is magnificent too allowing the socks to stay in place throughout your excursion.  To add to that, the model incorporates great cushioning that guarantees an appealing encounter.
Premium Temperature Control
The DG Hill 3 socks are ever adventure-ready courtesy of materials that are quick drying. This is in addition to added breathability which offers supreme thermal regulation to keep your feet cool in hot conditions. A soft seamless inside ensures optimal warmth besides isolating you from blisters on long hikes.
An affordable wool sock that is a cut above average outwears for those who prioritize durability and functionality in rugged conditions.
PROS
Well-cushioned footbed
Best wicking capability
Excellent arch support
Reinforced yarn
Stays in place
CONS
Tend to shrink a lot
Not true to size
---
4. FEIDEER Women's Hiking Walking Socks
"They are super warm and insulated which makes them ideal for cold-weather adventures!"
Reliable Pick
Main Features
Unparalleled temperature control
Great merino wool concentration
Remarkable technical cushioning
Available in different colors
"The pair of socks you can bank on!"
There is a tone of comfort-boosting features that these socks bring to the table. They bear all the earmarks of an all-rounder and are engineered to deliver on all fronts.  Let us check out more awe-inspiring facets of the FEIDEER Multi-pack Outdoor Recreation Socks:
First-Class Wicking with Odor Resistance
The pair gives you the freedom to walk all day long without the need to worry about any discomfort or blisters that might come with sweat. It boasts epic moisture control, absorbing any moisture from your skin to keep it cool and dry. Other than that, the socks have a substantial merino wool composition which promotes odor control.
Exceptional Stretch and Elasticity
Walking in this pair is quite enjoyable given that it has elasticized arch braces which enhance grip that keeps the sock from rotating when you walk. On top of that, the socks feature durable elastic ribbed cuffs that deliver added grip.
Durable Rugged Design
The model is crafted expertly, taking account of all vital technical details not to mention appealing aesthetics. You will cherish how it goes well with different hiking boots for a stylish look. In a like manner, they come with heavy-duty knitting that keeps them from coming apart easily. A cool interior and a thick breathable structure also make the pair suitable for use in different conditions.
A high-performing sock with a thick, warm, and firmly knitted structure right for cold-weather excursions.
PROS
Comfy and soft on the skin
Heavy-duty construction
Top-notch drying speed
Ergonomic design
Solid grip
CONS
Tend to shrink when washed
Inconsistent sizing
---
Apparently, wool socks host a tone of bells and whistles for deserving outdoor enthusiasts. Nevertheless, you need to consider the weather forecast, and trail requirements alongside your own needs before arriving at an ideal pair. Keep in mind that there is a direct correlation between the quality of your hiking socks and the quality of your outdoor adventure. Therefore, choose wisely.

Why wear socks for hiking?
Here are the benefits of rocking hiking socks:
i. Warmth
Hiking boots are not sufficient in terms of keeping your feet warm in cold weather. Loose-fitting boots, in particular, do not offer the right amount of insulation to your feet. You need an extra layer of protection from a nice pair of socks.
ii. Moisture prevention
It is imperative to keep your feet cool and dry while hiking. This helps in reducing blisters that are triggered by moisture and constant rubbing. Nonetheless, hiking socks with reliable moisture-wicking will put this problem to bed.
iii. Extra padding and fit
In spite of shock-absorbing hiking boots, extra padding is necessary as it elevates your hiking experience. Padded hiking socks can help with this. Additional padding also comes in handy when hiking boots fail to fit snugly.
iv. Added protection
Mosquitoes are a major threat to anyone spending time outdoors. While in the jungle, your legs are exposed to a lot of harm from hard surfaces and bugs. It is wise to wear socks while exploring extreme conditions.
Different types of socks
How many types of hiking socks do you know? Well, add these to your list:
Double-layer socks
The name comes from their thick fabric with double lining. This design enhances insulation, and comfort and prevents blisters.
Padded socks
These socks feature extra padding around the toes and underfoot area. Additional padding cuts down on rubbing hence mitigating blisters.
Anti-bacterial socks
Best suited for hot conditions where sweating is more prevalent. They boast superior moisture-wicking properties which aid in keeping the feet cool, dry and odor-free.
Liner socks
These kinds of socks are worn to curb blisters. Liner socks have superb moisture-wicking capabilities that help keep the feet dry thus eliminating the friction that might culminate in blisters. Other than that, they offer excellent padding. Similarly, they are worn alongside boots to restrict rubbing and unwanted movements.
Insect repellent socks
You need this pair when exploring a mosquito-infested area. Its material is infused with a powerful insect repellent.
Crew socks
Hikers love this pair for its mid-calf length construction and appealing thickness. Crew socks are ribbed at the top.
Flat seamed socks
Their structure does not have seams that transform into minimal rubbing and added comfort.
Different materials of socks
Polyester
Apart from being synthetic, polyester wicks moisture dries quickly and insulates wonderfully. For amplified durability and comfort the fabric is often blended with wool and nylon.
Wool
It is the most preferred sock fabric thanks to reliable insulation, decent cushioning, and top-class moisture wicking. On top of that, wool boasts natural microbial capabilities which keep it less smelly as compared to other materials.
Silk
Although it may not be as durable as other fabrics, silk is outstanding for its comfort, lightweight, and dependable moisture wicking. That is not all; the fabric is a natural insulator making it suitable for cold weather. All these attributes make it perfect as a sock liner.
Spandex
It is known for its exceptional elasticity. The attribute is crucial in keeping a sock structure shapely. Moreover, it prevents wrinkling and bunching. That might explain why a small element of spandex is present in most hiking socks.
Nylon
Nylon is another synthetic material commonly utilized as a primary material for hiking socks. It is long-lasting not to mention the fact that it dries fast.
Why are wool socks better?
Wool should be your go-to hiking socks material for the reasons below:
Natural antibacterial properties
Normally, you do not have to worry about bacteria or bad odor with your wool socks on. Its fibers come with natural microbial traits that get rid of any bacterial infections. With that, you do not have to wash your wool socks every time.
Dries fast
In addition, the fabric dries at an impressive rate.
Great insulator
Wool retains its unparalleled insulating properties even when wet.
Better wicking
It is capable of absorbing colossal amounts of moisture without compromising performance. You can forget about your sweaty feet running cold.
FAQs
Below are more FAQs relating to wool socks for hiking:
Why are cotton socks bad for hiking?
Cotton is good at trapping moisture yet it does not dry easily. This means that after a few miles of hiking your socks will be drenched in sweat. It affects warmth and insulation as the wet fabric makes feet cold.
What socks are good for hiking?
Socks made from merino wool are the best for hiking. Other than being extremely breathable, the socks are warm, itch-free, soft, and cushioned. Still, they are resistant to shrinking and odors. Their moisture-wicking is reliable not forgetting their durability.
Why are hiking socks important?
You need hiking socks to keep your feet warm. Besides, hiking socks absorb any sweat from the feet leaving them cool and dry. Also, these socks protect your legs from insects and other harmful things in extreme environments.
Do wool socks keep your feet dry?
Wool socks are able to keep the feet dry by trapping moisture inside wool fibers while retaining insulation properties at the same time. Aside from that, wool dries up pretty fast.
Should you wear two pairs of socks when hiking?
There are several occasions when you can consider wearing two pairs of socks. In the event that you sweat a lot, you might benefit from a double layer of moisture-wicking fabric to keep the feet dry. The same applies if your feet get blistered frequently. Two pairs of socks provide added cushioning too. Lastly, you need two pairs of socks in case your hiking boots do not fit snugly.
How do you prevent blisters when hiking?
Blisters are formed when sweaty feet rub against a hiking shoe. Therefore, you need hiking boots that fit appropriately to minimize friction. Likewise, ensure that your boots are broken into prior to hitting the trail. Next, you must have a good pair of socks preferably woolen to keep the feet dry.
Conclusion
The kind of fabric you choose to wear on an excursion is up to you. However, consider wool socks for all-around protection in the jungle.