Bikepacking is a rapidly growing outdoor adventure activity for many reasons. One part backpacking and another part bike-touring, bikepacking provides an alternative form of adventure for those who like cycling, camping, and a myriad of outdoor activities.
Not only does bike-packing allow you to cover more distance compared to hiking, but with the right bike, you can enjoy trails and dirt roads that are often inaccessible to vehicles. Bikepacking trips can range from simple overnighters to cross-country expeditions that take weeks to complete.
Bikepacking is all about exploration (sometimes to the point of getting lost) and sharing the adventure with friends. If you're intimidated by the vastness of gear choices, bike packs, and route planning, worry no more. The great thing about bikepacking is that virtually anyone can do it with the fundamental essentials and a bike.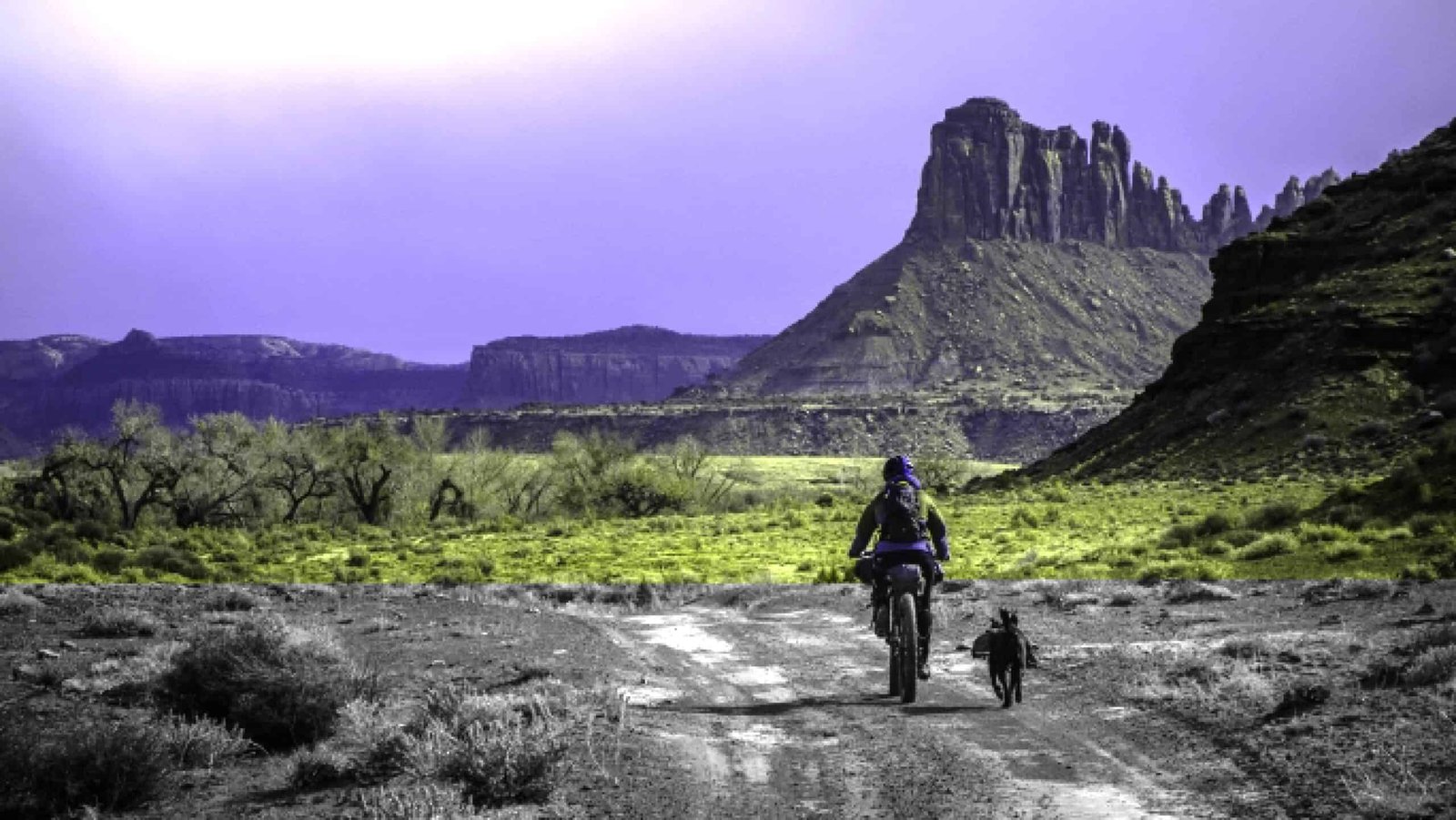 What Are The Best Bikes for Bikepacking?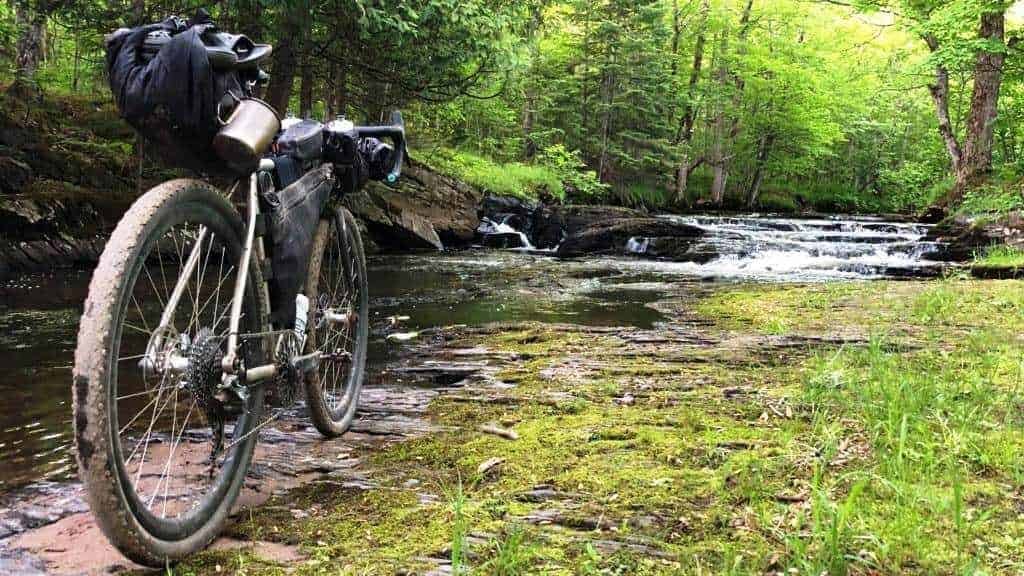 Slightly different from bike touring that typically uses all-road bikes, bikepacking is done primarily off-road on trails and mixed terrain. Routes can consist of paved, dirt, gravel roads, two-tracks and single tracks, designated bikeways and commuter paths, and mixed terrain trail systems. Although mountain bikes are great when the terrain gets rough, gravel bikes are also a popular option for all-road rides that include both paved and unpaved terrain.
Virtually any bike that can be equipped with bike bags, hydration, mount racks, and storage bags can be used for bikepacking. Experienced bikepacking enthusiasts will typically tailor their bikes to accommodate the type of conditions and terrain they anticipate riding the most. For instance, different handlebar setups, like aero bars for ultra-distance racing purposes or wide bars for mountain biking, can be added to increase comfort.
A universally-capable rig for any bikepacking will be a 29″ or 27.5″ mountain bike with disc brakes and a multi-position handlebar. Tubeless tires can also have an advantage over tubes; however, it's always recommended to bring a patch kit and spare tubs in case serious repairs are needed. The bike provides an essential foundation for bikepacking, but it's mostly about the additional gear and equipment that brings it all together.
Essential Gear & Carrying Options for Bikepacking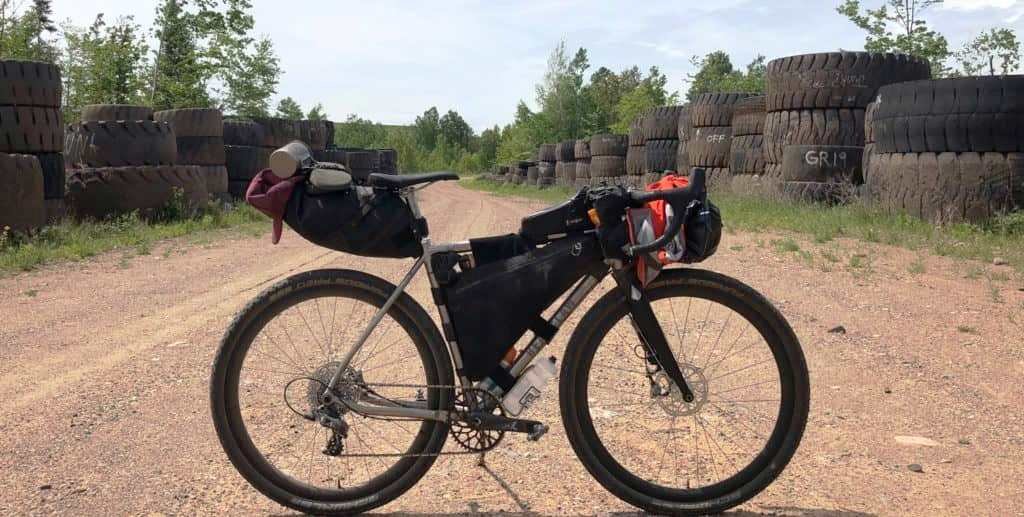 Bikepacking trips require much of the same gear as backpacking, plus specific bike tools, spare parts, and tubes. Fortunately, with a bike, you have more places to carry these extra items without the added weight on your back.
Unlike backpacking, you want to avoid carrying a lot of weight on your back. Wearing a hiking backpack can be very uncomfortable after long hours in the saddle. Not only can a backpack make for a sweaty back, but many cyclists will attest to neck and shoulder pain after extended hours.
Instead, most gear should be placed on bike bags and packs. In the case of bike touring, racks and panniers are the most common form of gear storage. However, with bikepacking, especially off-road with mountain bikes, the use of frame bags, Seatpost bags, and other storage attachments is more practical.
Most Popular Bikepacking Bags
In terms of bike bags and storage, a typical gear setup may include:
Large Seatpost bag: an essential high-capacity pack for mountain bikes and gravel packs, this bag is ideal for bulky, lightweight items.
Frame bags: most common for heavy items, such as tools, cookware, food, and hydration.
Handlebar bag: for light to moderate items, such as a tent, sleeping pad, or easy access gear (i.e. rainwear, camera, map, etc.)
Fork bags: low-capacity bags ideal for anything ranging from tools, food, and quick items.
Top-tube bags: also known as bento boxes, gas tanks, or fuel packs, these small packs are essential for snacks and easy-access items (i.e. phone, camera, USB chargers, etc.)
Water bottle cages: depending on the type of frame bag being used, riders will often attach two internal cages and an extra cage under the downtube. As a substitute for fork bags, fork cages can also be used for additional hydration.
These are just the essential bags used for off-road bikepacking purposes. Many cyclists prefer a camelback for hydration, especially for adventure bike racing, while others equip their bikes with additional storage packs, like hip sacks, tool bags, and food/water bottle pouches.
Must-Have Gear and Equipment for Any Journey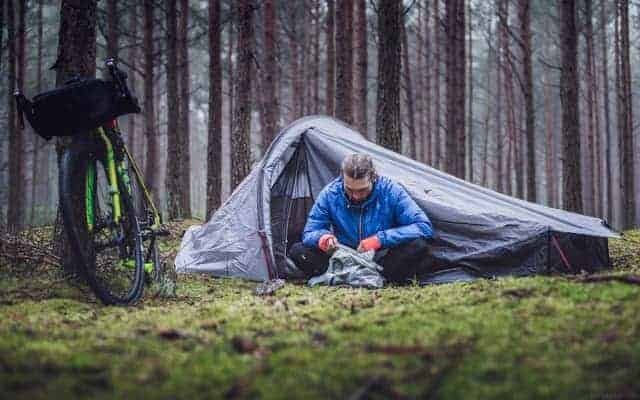 In addition to having the necessary bags and packs for bikepacking storage, you'll also need essential equipment and gear to facilitate an ideal experience.
This isn't a comprehensive list of needs, but it will help get you started acquiring the right gear needed for any adventure.
Navigation system
In most cases, a GPS like a bike computer or multisport watch is ideal. But old-fashioned paper maps work just fine, especially in remote conditions when GPS wearable s and charging stops are unavailable.
Lights
Proper lighting on your bike is a must on any ride, but especially during darker hours of the day and into the night. In addition to having a front bike light and taillight, a headlamp is also nice to have when at your camp. Get familiar with how long your lights last on a full charge so you can avoid problems.
First aid kit
If there's one thing to over-pack, it's basic first aid items like bandages and wraps. Beyond accidents, be prepared for everything from blisters and mosquitoes to stomach bugs and joint pain.
Toiletries
From oral care products, sunscreen, soap/shampoo, toilet paper, hand sanitizer, and other basic toiletries, these are your personal items that should not go overlooked.
Cookware
While some bikepackers rely on gas stations, restaurants, markets, and food stand for their rations, others prefer a more self-sustainable approach to cooking their meals. Basic cookware like a couple of 700ml+ pots, propane burner, and utensils are just a couple of essentials worth considering.
Fire-starters
In most cases of bikepacking, building a campfire is a nice element at the end of a long ride, especially in cold conditions. Bring a lighter and/or matches (or tin with cotton balls soaked in Vaseline) for easy fire starting.
Straps, zip-ties, and bungees
Even if it's just a couple of extra bungees affixed over your handlebar bag, having a couple of extra straps is never a bad idea. You never know when you might need to strap food to your bike or make a quick fix to a failing pack.
Of course, you'll always need to prioritize food and water when bikepacking. Similar to backpacking and all-day hiking trips, you'll burn a lot of energy riding bikes for a greater part of the day. Replenishing calories often while bikepacking is critical, especially for long journeys.
Planning Your Bikepacking Adventure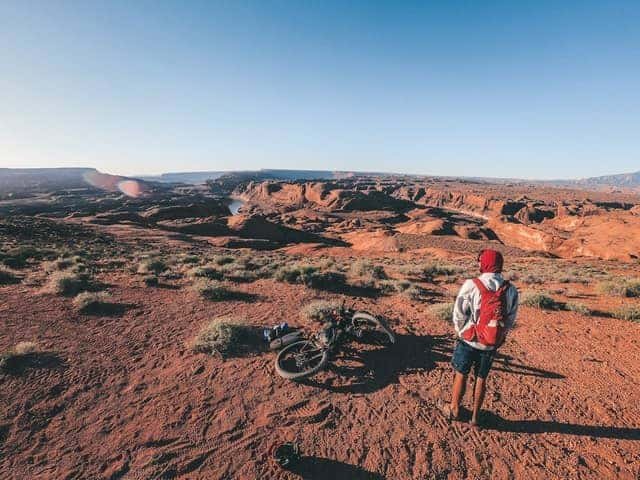 It's exciting to think about all the possible bikepacking trips that can be experienced in remote and exotic locations. But for most of us getting started, there's probably an epic adventure to be had in your backyard.
You don't have to go far to plan a bikepacking trip. Researching and planning are a big part of the fun and excitement, so be creative with what's in your travel means and budget. Many journeys can be had in your backyard, while others might involve a road trip to a new environment.
One easy place to start is to check your local state park website for information on trails and campgrounds. You'll also want to consider access to water and a way to treat it when extracting water from natural sources. You can also find routes by exploring websites, online maps, and even location tags on Instagram.
For beginners, planning an overnighter is an easy place to start. You'll be surprised by how much learning, growth, and fulfillment will be earned in a one-night trip. And if you're like most new bikepackers, you'll quickly conjure interest in planning more extended adventures.