Summer is easily the best season to step into the jungle and enjoy nature in its full glory. The weather is extremely favorable except for a little heat.  Most hikers fail to appreciate the impact of their feet in the course of hiking. Remember, your feet bear the full weight of your time in the jungle. They have to deal with all the injuries alongside sweating and blisters that are more prevalent in hot months. Therefore, they deserve the best hot-weather hiking boots for superior comfort, ankle support, and underfoot protection.
With the astonishing plethora of hiking footwear flooding the market today, finding an ideal pair of walking booties for the hot weather can be pretty laborious. This buying guide paints a clear picture of what you need to know about hot-weather hiking boots as well as the attributes to scrutinize when making your choice.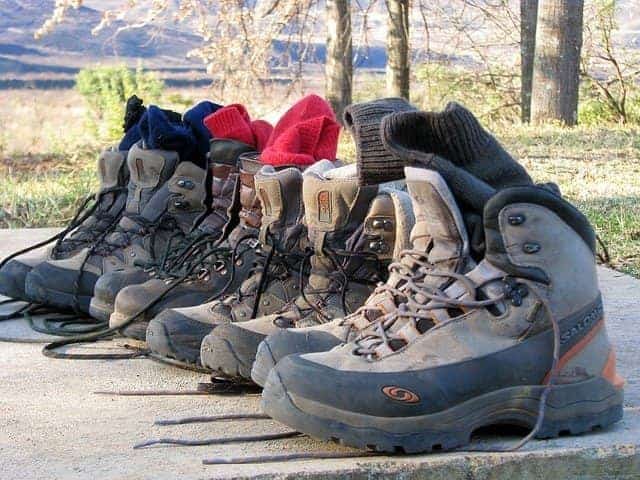 Image Source: pixabay.com
7 Best Hot Weather Hiking Boots For You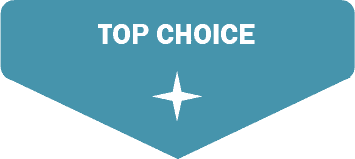 Merrell
Men's Moab Mid-Hiking Boot
Columbia
Women's Redmond Hiking Boot
Salomon
Men's Quest GTX Boot
Quality leather, Ideal for Hiking in hot weather, Breathable, Toe cap for protection
Comfortable, High-end design, Simple elegant design, Air permeable fabrics, Ideal for women
Lightweight, Highly durable, Waterproof boots, Affordable price, Appealing fit
Merrell
Men's Moab Mid-Hiking Boot
Quality leather, Ideal for Hiking in hot weather, Breathable, Toe cap for protection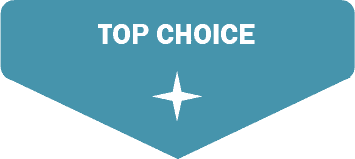 Columbia
Women's Redmond Hiking Boot
Comfortable, High-end design, Simple elegant design, Air permeable fabrics, Ideal for women
Salomon
Men's Quest GTX Boot
Lightweight, Highly durable, Waterproof boots, Affordable price, Appealing fit
Your hiking gear will always dictate how enjoyable any outdoor adventure turns out to be. Great hiking waders might not be the solution to all hot weather problems but are the starting point of an appealing experience. Choosing proper outdoor waders can be quite confusing considering the countless metrics involved.
However, with our comprehensive review, choosing an ideal pair of boots for the hot weather should not be a problem. Take time to check through your preferred model and consider your own needs before making a final choice. In this article, we will be reviewing seven pioneering summer hiking waders and looking at what sets them apart.
1. Merrell Men's Moab Mid-Hiking Boot
"Light and air permeable for hiking in moderately hot conditions."
Premium Pick
Main Features
Equipped with an air cushion for shock absorption
Padded with gusseted tongue for comfort
GrippyVibram outsoles
Top class ventilation
"Boots that work while you enjoy!"
The Merrell Men's Moab 2 Vent Mid Hiking Boot is not your everyday footwear. It has everything you need to hit the road on a hot day. The iconic model is carefully put together with your needs in mind to offer a memorable summer excursion:
Responsive Cushioning
Targeted cushioning ensures comfortable steps. In the same way, the waders come with Merrell air cushioning to support the heel. The tongues have closed cell foam which eliminates debris and keeps out moisture.
Innovative extras
On top of the list is the practical lacing system that guarantees a snug fit. A blend of performance mesh and suede leather uppers provides breathability in addition to keeping your feet injury-free. You will adore the toe protection provided by rubber toe caps. When you thought that was all, the pair also features a breathable mesh lining to promote ventilation. 
Stable Vibram Outsoles
For optimal traction on different terrains, the outwear possesses quality rubber bottoms that are ultra-flexible to allow natural foot movement. Furthermore, the soles are furnished with 5 mm lugs that grip the surface to eliminate slipping.
Comfortable Footbeds
With blended EVA footbeds, your feet get all the shock absorption necessary for hiking rough terrains. The footbeds are also contoured to provide added support around the heel and zonal arch.  The toe box is roomy as well allowing your toes to wiggle unhindered. Likewise, there are EVA midsoles for stability and impact resistance. 
Ultimately the best hot weather footwear if you are after comfort and breathability.
PROS
Stabilizing midsole
Epic ankle support
Light and flexible
Protective design
CONS
Lacks supportive outer lining
Sizing options are limited
---
2. Columbia Women's Redmond Hiking Boot
"Tough and versatile footwear capable of all-year use."
Top Choice
Main Features
Soft and sweat-wicking inside material
Added heel and toe protection
Solid waterproof protection
Great price-to-quality ratio
"Where comfort meets breathability!"
For any female outdoor enthusiast in search of a multi-terrain and multi-season hiking bootee, the Columbia Women's Redmond Mid is the way to go. It is adventure-ready footwear boasting an outdoor-inspired feature set to carry you through unforgiving conditions in the wilderness:
Reinforced Toe and Heel Protection
Injuries will be a thing of the past in this protective footwear. Heel and toe barriers are raised and hardened to facilitate impact absorption. The footbed is also cushioned for stepping comfort and high energy return.
Unmatched Build Quality
A combination of suede, mesh, rubber, and webbing delivers one of the best hiking footwear on the market. While there is a flexible rubber sole, the suede and mesh uppers provide excellent waterproofing and foot protection. There is thick cushioning for comfort, support, and balance. Quick-drying and sufficiently ventilated uppers guarantee cool and dry feet. For effortless wear, the boots have an incredible lacing system.
Top-Notch All-Terrain Traction
For sufficient grip on uneven or slippery terrains, the model comes with non-marking rubber outsoles. On top of that, the outsoles include multi-zone treads that yield confident footing.
A good-looking and cozy hiking boot is worth the investment for exceptional on-trail performance.
PROS
Women-specific design
Air-permeable uppers
Durable construction
Cozy EVA midsole
Ultra-grip traction
CONS
Inconsistent sizing
Run narrow
---
3. Salomon Men's Quest GTX Boot
"Ideal for hiking across technical terrain in extreme temperatures."
Best Value
Main Features
Antimicrobial material to remove odors
Quality abrasion-resistant materials
Advanced heel and foot support
Moisture-wicking inside lining
"The go-to summer footwear!"
With an ingenious blend of high-end materials, and exceptional design elements the Salomon Quest 4d 3GTX is crafted to be one of the most functional hot-weather footwear out there. Here is a detailed breakdown of its prominent features:
Mindful Chassis Construction
The Salomon Quest GTX comes with a 4D advanced chassis support system that yields amble flexibility and seamless movement. It is light to minimize fatigue as well. Furthermore, the chassis is covered by nylon mesh and suede leather, which creates supreme upper protection other than promoting breathability.
Dependable Moisture Management
To keep your feet dry, the model has a moisture-wicking lining that features polyester owing to its fast-drying qualities. Similarly, it has the Gore-Tex textile membrane that is seam-sealed to further block out moisture. For an odorless and infection-free hiking experience, the pair incorporates antimicrobial fabrics.
Trail-Ready Extras
Grip and traction on these bad boys are on another level. They come with contagrip outsoles featuring aggressive lug patterns to maximize grip on mixed terrains. Together with that are the EnergyCell midsole and the EVA foam which work together to generate impact resistance. For a snug and secure fit, the model has a good lacing system and sensifit cradles. Of course, it is also cushioned adequately with thick tongue and collar padding for extra comfort and support. 
The boot offers unsurpassed durability and the ultimate summer boot functionality which makes the steep price tag worthwhile.
PROS
Extensive padding for comfort
Protective and flexible design
Water-resistant uppers
Air permeable fabrics
CONS
Limited sizing options
Steep price tag
---
4. The North Face Men's Hedgehog Hiking Shoes
"Good for summer adventures on less demanding terrain."
Reliable Pick
Main Features
Breathable and quick-drying uppers
Thick, flexible, and durable outsole
Grippy, balanced, and stable
Convenient lacing system
"The holy grail of summer booties!"
If you appreciate hiking bootees that are expertly ventilated and waterproof without sacrificing breathability, the North Face Men's Hedgehog does not disappoint. Let us run through more of its outstanding facets.
Quality Moisture Management
The inside incorporates ortholite cushioning for dry and cool wear. Plus, the uppers dry fast to keep out moisture. This makes them effective in dew grass and light rain.
Ample Foot Support
These waders give you adequate support to enjoy the beautiful backcountry thanks to Cradle technology cushions on the footbed. With Vibram outsoles rigged out with deep lugs, you get ample grip and balance to hike comfortably. You will also love the wide tread spacing which works to minimize caking on muddy trails. To add to that, EVA midsoles ensure sufficient shock absorption. For a snug and secure fit, the boots have an updated lacing system.
Durable Uppers
Nothing comes close to the North Face Men's Hedgehog boot when it comes to the longevity of its materials. The uppers, encompassing a mixture of synthetic nubuck and PU-coated leather, can easily take any amount of punishing. Moreover, the boots have abrasion-resistant mesh which also doubles up as ventilation channels.  For added life, the footwear includes rustproof hardware.
An all-around value buys with a guarantee of stellar hot weather performance.
PROS
Long-lasting material
Strategic ventilation
Lightweight chassis
Cushioned footbed
CONS
Average cushioning and poor foothold limit comfort
The thin insole promotes discomfort
---
5. KEEN Men's Targhee Hiking Boot
"Excels in hot weather conditions under short mileage hikes."
Reliable Pick
Main Features
Sturdy outsoles for adequate traction
Plenty of mesh ventilation
Breathable waterproofing
Responsive cushioning
"Smash the miles while they keep you cool!"
The KEEN Men's Targhee checks all the crucial boxes for an ideal summer boot i.e. comfortable, grippy, and breathable.
Unbeatable Climate Control Features
This includes strategically crafted mesh panels that provide breathability and seamless air circulation. The boots feature a mesh lining that further heightens ventilation. Still, the boots' fabrics are treated with a microbial agent to deal with odors and infection. To crown it all, the nubuck leather uppers are oiled to make the pair water-resistant.
Classic In-shoe Comfort
Stability is well catered for with the injected TPU heel-capture system. Likewise, the pair boasts of uncommon lightweight support courtesy of internal shanks. For impact absorption, there is a removable metatomical EVA footbed not to mention the compression-molded EVA midsole.
All-Terrain Traction
The model is packed with 4mm deep lugs that offer multi-directional traction. It also has a rubber outsole that is surprisingly flexible and durable for enhanced grip.
Great Support
For a seamless encounter, the structure is adequately supportive thanks to extensive cushioning around the collar and tongue areas. A mid-cut and a raised toe cap guarantee protection while the quality lacing system generates a snug fit.
If you need solid waterproofing for occasional showers alongside first-class ventilation on summer hikes, these boots are a great choice.
PROS
Nice forefoot width
Impressively light
Good overall fit
Stable support
CONS
---
6. NORTIV 8 Men's Shoes
"Versatile boots that also work well in hot weather."
Reliable Pick
Main Features
Cushioned footbed for impact absorption
Water-resistant construction
Padded collars and tongue
Light and well ventilated
"What your feet deserve!"
Great traction, unbeatable comfort, and premium stability are just the tip of the iceberg with regard to what these all-terrain booties can offer.
Quality Construction
The waders are extremely durable for their lightweight structure. Every aspect of the footwear is carefully crafted with high-end materials to yield longevity. You can confirm this from the high-quality rubber outsoles that work in conjunction with abrasion-resistant uppers. On top of that, the lacing system comes with extra reinforcement for support and added life.
Practical Protective Features
No hazard is a match for the NORTIV 8 field boot. With this pair locked in place, you can forget about moisture as it features ankle-high full waterproofing. Uppers, hardened by sturdy materials, will isolate your feet from dangerous debris. Likewise, the uppers have a reflective line that keeps your feet safe from excess heat. Underfoot protection is provided by thick rubber soles while a targeted rubber toe covers the forefoot section.
Five-Star Support and Traction
The pair is equipped to handle different terrains. Durable rubber outsoles with multi-directional lugs guarantee firm footing on mud or slippery surfaces. It is also slip-resistant on rocks for a confident step. Additionally, the model features high-end shock absorption courtesy of thick cushioning. The pair comes with an EVA midsole that promotes arch support which is further amplified by removable footbeds.
Highly Comfortable
Other than having quick-drying interiors, the waders offer breathable uppers for better sweat management and odor control. Alongside that, the toe box is roomy for natural toe movement. To top it off, the model has a pull-on tab, making it fast and effortless to put on.
An affordable high-performing pair of boots engineered to provide reliable functionality in a wide range of terrains.
PROS
Exceptional versatility
Superb ankle support
No break-in period
Long-lasting build
CONS
Unreliable waterproofing
Durability issues
---
7. Irish Setter Men's Mid-Calf Boot
"Ideal for summer hikes on dry terrain."
Reliable Pick
Main Features
Superior balance and ankle support
Light and breathable structure
Abrasion-resistant materials
Moisture-wicking interior
"The footwear you can count on!"
The buskins come furnished with performance-enhancing attributes built to take on the rugged backcountry in hot conditions. Let us look at each of them in detail:
Ample Foot Protection
You will enjoy its ingenious design, featuring light abrasion-resistant nylon and leather uppers that offer reliable waterproofing without weighing you down. With ArmaTec technology, your toes will be injury-free throughout your excursion. For ankle support and added shock absorption, the waders are rigged out with detachable EVA midsoles and footbeds.
Solid Grip and Traction
The bootees' bottoms are adventure-ready. Incorporating rubber outsoles, the pair delivers dependable grip and traction that is heightened by aggressive bi-directional lugs. They are crafted to climb rocks, decent slopes, and cross streams without a hitch.
Odorless and Bacteria Free
The field boots suffice for summer outwear encompassing ScentBan a microbe-resistant lining that eliminates all bacteria which might bring bad odor.
Breathable and Quick-Drying
The uppers are super breathable allowing air to circulate sufficiently to keep the inside cool. In the same way, the inside features the UltraDry technology that facilitates speedy moisture wicking to keep your feet dry and comfy. 
Functional summer hiking boots are a go-to option for entry-level outdoor enthusiasts on a tight budget.
PROS
Convenient lacing system
Excellent all-terrain grip
All-day comfort
Stylish design
CONS
Poor waterproofing capability
Inconsistent sizing
---
Summer is a perfect time to take a break from the busy city life and experience what the beautiful and tranquil backcountry is known for. Apart from breathable clothes, you need the right pair of footwear to complete your look during the hot months. Hot-weather hiking boots are an important addition to your arsenal. They yield the breathability, waterproofness, foot protection, and moisture-wicking capabilities that are imperative for an appealing outdoor trip on a hot day.
Importance of Hiking Boots
1. Support
Unlike ordinary hiking shoes, booties are known to offer abundant ankle support. Hiking is occasioned by ankle twists and rotations among other unprecedented dangers that avid explorers have to deal with from time to time. Hiking boots might not be injury-proof but they will prevent unnecessary ankle sprains. https://b1607dbb5d3d837e900a8a46a4f92474.safeframe.googlesyndication.com/safeframe/1-0-38/html/container.html
2. Protection
Walking booties are uniquely designed to offer solid protection against elements that might cause discomfort. They are synonymous with thick, stiff, and rugged outsoles, engineered to grip different terrains and keep your feet safe from sharp rock that might pose a real danger for ordinary shoes. Mud, water, pebbles, and debris are some of the elements you can forget when safely clad in your waders.
3. Durability
You will probably get less than three months of service from a trail runner in hot months, as much as they are lighter and breathable. Real durability is found in hot-weather boots. Indeed, they are bulkier but guarantee more than eight months of service even in the most punishing conditions.
How to Choose the Hiking Boots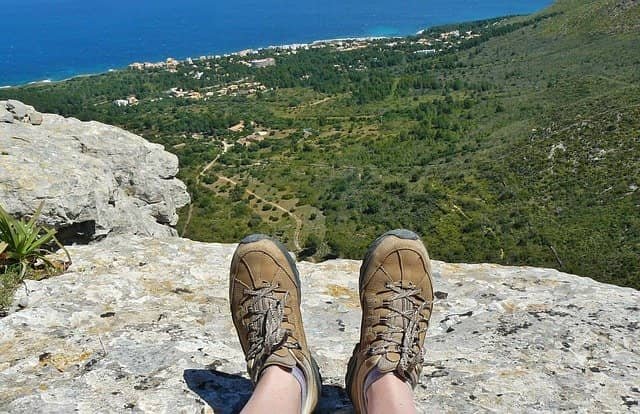 Image Source: pixabay.com
Selecting proper footwear for the hot months is such a rigorous matchmaking process. There are so many factors that you have to contemplate for that exceptional pair. On the bright side, we are committed to ensuring that your hiking experience is as smooth as possible. Check out our exclusive tips below:
a. Give them a test run
Of course, you can never know what certain footwear feels like unless you try it on. It is the only way to confirm if they fit well or if they meet your requirements for a summer hiking boot. It even makes more sense to test the walking shoes in actual hot conditions to verify if they bear the attributes you are after. Another way to achieve this is to check out reviews by customers who bought the same products and see what they have to say.
b. Try them on to ascertain the size
A boot's fit and comfort all depends on its sizing. The more congruent they are to your feet' size, the more appealing they will be. It is often advisable to choose hiking boots that are a size bigger to allow room for toe movement. The truest way to ascertain the size of a prospective pair is to put them on. Female hikers should go for a women-specific cut.
c. Keep the terrain in mind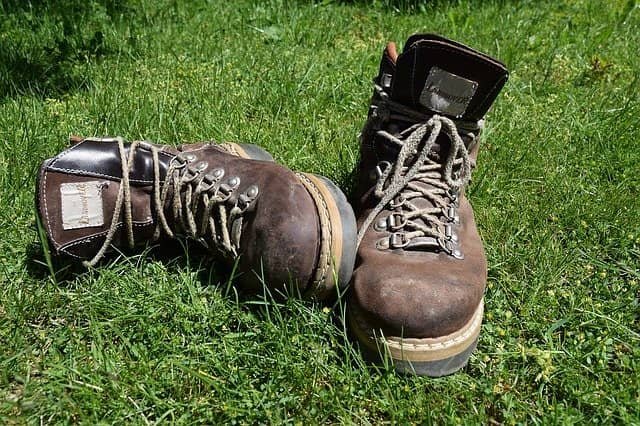 Image Source: pixabay.com
Terrains come in three categories namely, easy, uneven, and off-trail. It is vital to know the kind of terrain you intend to use the boots over. Essentially, the best pair should be protective and tough on injury-causing hazards but flexible enough to allow your feet to move naturally.
d. Remember the length and pace of your hike
Knowing how long you intend to stay out in the wild will greatly influence the kind of footwear you bring to the trail. If you have a penchant for long hikes, you should opt for heavy-duty boots, equipped with advanced protective features. On the flip side, if you only plan to take a short stroll through the woods, lighter boots would be in order.
e. Take your hiking level into account
Your hiking expertise will dictate the amount of protection you need from a pair of booties. Beginners will need all the ankle support and toe protection they can get. The frequency of your hikes is also another game-changer.
Things to Consider While Choosing The Boots For Hiking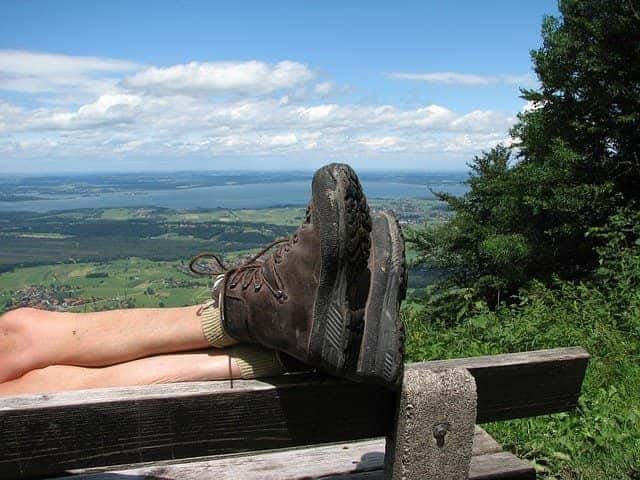 Image Source: pixabay.com
Every hiking boot model is unique in terms of its feature set as well as the ultimate functionality. Great specs will deliver impeccable outdoor performance. Here are the attributes to look for when choosing a pair of hiking boots for the hot weather:
1. Stability and Stiffness
Stability and ankle support are among the key reasons you need a hiking boot in the first place. The two aspects are generated by the shank, a piece of hard plastic found between the outsole and midsole. It provides ample stiffness around the heel area to keep your feet from dropping when ascending technical terrains. Nevertheless, the shank comes with one major drawback which is bulkiness. Be that as it may, you can choose flatter and lighter hiking boots without the shank although you will have to sacrifice ankle support. For optimal support in punishing conditions, heavy-duty boots will be okay.
2. Weight
The standard weight for most over-the-ankle boots is about 3 pounds. Yet the perfect correlation between a boot's performance and its weight is hard to ignore. It just so happens that less bulky walking boots offer less stability, support, and protection in comparison to their heavy parallels. Long-term durability is also different in both cases, with bulkier boots outperforming lighter ones. All the same, it is always advisable to choose a pair with a flawless balance between weight and performance. 
3. Insoles
It is vitally important to buy hiking boots with insoles that match your feet' size and shape. This is because the insole determines how well your footwear fits. Thankfully, insoles are easily replaceable and you can do that to enhance fit, improve shock absorption, or better the cushioning.
4. Toe Protection
The risk of bruising your toes on rocks is ever-present when in the jungle. For heightened toe protection, get booties that are fitted with rubber bands or toe caps. Unfortunately, toe protection is not a feature you may enjoy in many lightweight boots.  The uppers of hiking footwear alone will do very little to keep your feet secure. In whatever way, a pair whose front is covered with thick rubber will provide adequate protection if you encounter a hazard on the trail.
5. Outsole
The outsole and traction are almost the same. With a good outsole, you can worry less about sharp objects or falling on uneven terrains. Well, traction is the greatest reason why hikers ditch their cross-trainers for actual hiking boots. You need hiking boots with aggressive tread patterns and deep lugs for unmatched grip in muddy areas. In the same manner, you will find sticky rubber outsoles valuable on rocky surfaces.
6. Midsole
There is a wide spectrum of midsole materials to think about. However, your main concern should be regarding eventual comfort. Hiking requires you to bring along extra weight that may exert a lot of stress on your feet. This is why your hiking boots need a proper midsole to sufficiently absorb any shock that might be incurred from impact. On top of that, midsoles are tasked with mitigating injury from sharp objects. The best midsoles for challenging terrains ought to be thick and a little stiff. PU and EVA foam are the most preferred materials in this regard.
7. Fastening system
Most hikers fail to notice how crucial the lacing system is to the comfort and fit of a hiking boot. Substandard laces will give you a difficult time, loosening constantly and forcing you to readjust throughout your excursion. Utterly bothersome, right?  The best way to avoid such a quagmire is to choose the best lacing system. Make sure it is comfortable, strong, secure, and easily adjustable for a personalized fit. Single-pull laces might not be ideal for long hikes. Aggressive designs with locking hooks are recommended for all-trail performance.
8. Upper material
Hiking boots are essentially meant for protection and support. The uppers of any hiking footwear have a huge role to play in that regard. Other than that, the upper material dictates how strong and durable your boot will be. Thus, it makes sense to go for premium materials. You also need to ensure that the material is breathable and water-resistant. We all know leather is more durable except for its underwhelming ventilation which might be a significant setback in hot weather. A lot of boot manufacturers tend to gravitate towards a blend of leather, a little mesh, and synthetic fabrics.
9. Breathability
It is impossible to enjoy a hike in hot weather if your boots are not well-ventilated. Unfortunately, most heavy-duty leather boots – synonymous with aggressive waterproofing features – offer the poorest breathability in the summer months. The manner, in which they keep water from sipping into the boot, is the same way they will prevent sweat from escaping the inside. Poor air circulation means lots of sweating, blisters, and eventually incredible discomfort. You might want to ditch them or get rid of the waterproof lining for a cool hiking experience. Footwear with synthetic materials such as nylon yields decent ventilation.
10. Waterproofing
Although waterproofing may have an inherent effect on breathability, it might be worthwhile if you plan to venture into mountainous, wet, or marshy terrains. A vast majority of high-end hiking boots provide a fine balance between waterproofing and breathability. Outdoor lovers have a soft spot for Gore-Tex waterproof liners trusted for their unmatched effectiveness. Apart from that, you should look out for boots with water-repellent coating. Nonetheless, adventurers in predominantly hot regions are advised to avoid waterproofed footwear altogether.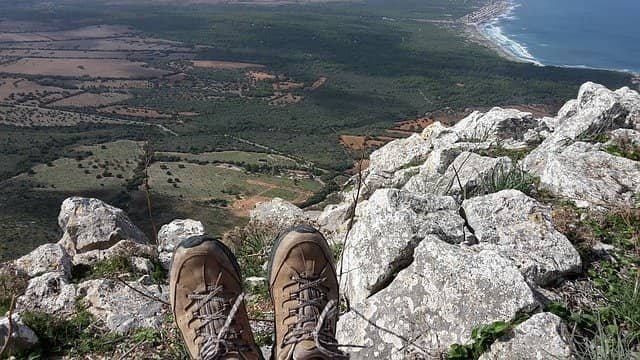 Image Source: pixabay.com
Final Verdict
Ideal hiking boots should thrive on terrains that regular footwear would find challenging. On the same note, the top boots for hot weather ought to offer the same amount of comfort, grip, protection, and support when temperatures go through the roof. It is also worth pointing out that most outdoor lovers shift towards lighter and more flexible booties when the hot months arrive. You should also follow suit as it will vehemently cut back on bulk while boosting your pace for a more enriching outdoor experience.