For day trips to week-long expeditions in the backcountry, your backpacking food needs to be nourishing, strengthening, and revitalizing. So that despite being out of the house you stay healthy & fueled. Without the appropriate nourishment, your hike could ruin or can leave you weak. 
So, let us discuss a few essential facts about Backpacking Food Ideas. 
Backpacking Meal Ideas
Mountain House Granola with Milk and Blueberries
Packed with energizing dried fruit, fiber, and unsaturated fats the Mountain House Granola and...
This cold water meal can be prepared right in the pouch for easy transportation and cleanup.
2 – 1/2 cup servings
Mountain House Lasagna with Meat Sauce Pro-Pak
Pasta with cheese in a rich tomato meat sauce makes this a favorite Italian entrée.
This vacuum sealed and compact Pro-Pak pouch won't expand at high elevations. Just Add Water. Plan...
Two 1-Cup servings
Mountain House Rice and Chicken
Perfectly seasoned rice and chicken in a savory sauce accented with pimentos.
Just Add Water. Plan Easier. Travel Lighter. Eat Heartier.
Three 1-Cup Servings
Get something easy to prepare, light to carry, and healthy & delicious food for your trips. In fact, you can pack perishable foods because they are comparatively lightweight and full of nutrients.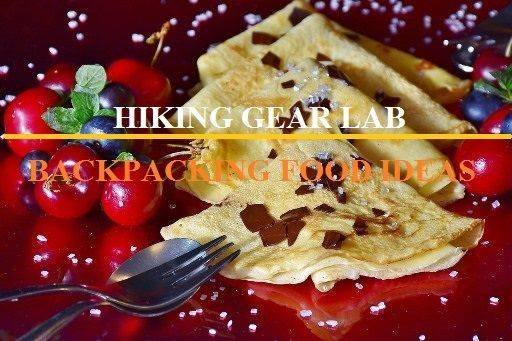 Nuts & Trail Mixes
Nuts and trail mixes are the best food for backpacking. They contain plenty of carbohydrates, protein, and fat.
Popular choices: Planters Nu​​ts & Chocolate, Tropical Fruit Trail Mix, Turtle Chex Mix, Almonds, Cashews.
Dried Fruits
The most nutritious trail foods ever, although they are low in calories. Full of natural energy, plus micro-nutrients, fiber, and antioxidants.
Popular choices: Raisins, Craisins, Dried Apricots, Banana Chips, Dried Apples, Prunes, Dates, Dried Cherries, Walnuts, Pecans, Peanuts, pumpkin seeds, sunflower seeds, and Dried Cranberries.
Protein Sources
Protein foods require refrigeration. But there are many other high-protein foods you can take on the trip.
Popular choices: Beef Jerky, Slim Jim Meat Sticks, Summer Sausage, Tuna pouches, Chicken, Cheese Sticks, Whey Protein Powder, Quest Protein Bars, freeze-dried beans, and rice.
Breakfast Cereals
You can make a quick hot or cold breakfast by adding cereal, oatmeal, and porridge to the meal. A packaged breakfast cereal is significantly more suitable than a thing that had to be cooked.
Popular choices: Apple Cinnamon Cheerios, Cookie Crisp, Reese's Peanut Butter Puffs, Rice Chex, Honey Bunches of Oats with Almonds, Cap'n Crunch, and Crunch Berries, Corn Flakes, Frosted Flakes.
Crisps & Snacks
Chips or other salty snacks are the low calories, lightweight, and flavorful food for backpackers.
Popular choices: Goldfish Crackers, Cheez-it Crackers, Fritos Corn Chips, Cheetos, Caramel Popcorn, pretzels, Flaxseed-and-Onion Crackers.
Candies
When you begin to hit, nothing gets you to the crest of the mountain faster than a shot of sugar. Candies also provide a great basis for energy in the form of simple carbohydrates.
Popular choices: Snickers Bar, M&Ms, Welch's Fruit Snacks, Grandmas Cookies, Pop-Tarts, Honey Buns, Starbust, Jolly rancher, Haribo, and Tootsie.
Energy Bars
An energy bar is the right supplement when you don't have time for a meal. It's a convenient and on-the-go snack.
Popular choices: Clif Bar, PowerBar, Kind Bar, Larabar, Granola Bar, Bear Valley Pemmican, Carob-Cocoa, Larabar Cinnamon Roll, Kellogg's Nutri Grain.
Generally, we systematize our meals by day; Breakfast, lunch, dinner, and evening snacks. Sometimes you don't want to go through the method of unpacking, cooking, cleaning up, and repacking. Just boil water and add it to freeze-dried or dehydrated foods. And enjoy your ready-to-eat meals. Below is a list of the best backpacking food ideas.
Breakfast
Oatmeal Packets – The best thing about Oatmeal is that they just need hot boiling water.
Grits – It's a nice addition to mix up your meal. It is simmered till it becomes soft and creamy.
Dried Fruits – Eating dried fruit is linked to better health. Also gives many important minerals, vitamins, and fiber. Dried fruit is an easy snack to pack, especially for hiking!
Nuts and Seeds – There are numerous ranges of nuts as well. Peanuts, cashews, sunflower seeds, almonds, pistachios, walnuts, and pumpkin seeds are examples. And they are tasty, with solid calories, protein, fat, and oils.
Lunch
Meats – A lot of dried meats like hard-dry salami are full of fat, which increases your calories per ounce.
Cheese – However, cheese can be heavy for some backpackers, but it's rich in calories and fat. And you should add this food to your meal.
Tortillas – Tortillas are the best food to make wraps, instead of bulky and fluffy bread.
Bagels – Bagels have fat, calories, carbohydrates, fiber & proteins. For extra nutrients and fiber, opt for whole-grain bagels rolled in seeds.
Crackers – High in carbohydrates and sodium and baked food typically from the floor.
Dinner
Instant Rice – There are also innumerable rice selections with special seasonings.
Instant Potatoes – Amazing backpacking meal with carbohydrates and sodium. Just add meat, oil, or spices and enjoy the taste.
Dried Veggies – You can add dried veggies to noodles, rice, couscous, or potatoes. To tickle your taste bud.
Lentils – Lentils are an old superfood rich in calories, protein, fiber, and Iron.
Freeze Dried Meals – For dried meals, just boiling water is needed. Then you can enjoy your meal again.
Snacks
Chews and gummies – Chews have a gummy/ candy-like consistency. The variety is to provide – caffeine, electrolytes, etc.
Granola Bar – Ready to eat and generally high in nutrition. Protein bars, energy bars, snack bars, nutrition bars, and food bars.
Hummus – Not a very famous food but Like peanut butter, it can be lathered on almost anything. Hummus is tasty and rich in calories, carbs, protein, and fiber.
Drinks
Tabs – Great source to boost hydration. It tastes good. Drop a tab in your water and watch it bubble away.
Powder Mixes – Similar to Tab. But in the powder, you can get a variety of flavors.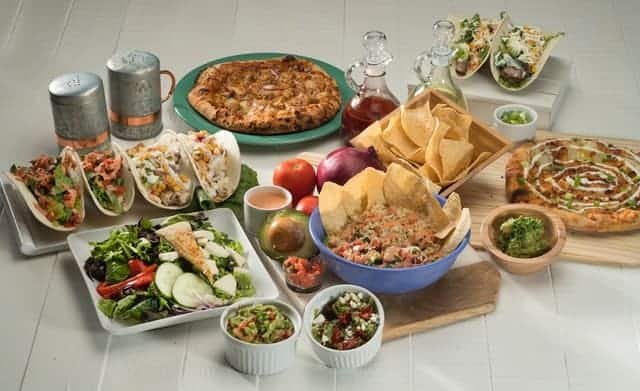 Take those foodstuffs that deliver the most calories for the volume you have to pack. Find campsites near the water. So that you can eat frozen, dried, or powdered foods which you can mix with water. 1 – 2 pounds per day is generally sufficient food to meet your caloric needs. But, in colder weather, you'll burn several calories to stay warm. So be aware and pack food accordingly. Carry food in small amounts in sealable baggies. Rather than carrying it in an original or heavy container. This idea can cut down on weight and garbage. And you can use those bags for other uses as well.
Final Verdict
Before going to hike, the main thing is to write out a menu for each and every meal you'll be eating, or carrying including snacks! These picks are absolute once you hit the track, so it's essential to prepare for further. Keep in mind to drink water after each and every meal while living outdoors. Stick to healthy and tasty food while enjoying the trail, because healthy food supplies enough energy to fill each with adventure. Whereas things like weather, wildlife, and other facets of the natural world may not be expected, well-planned meals won't ever let a hiker down.
FAQs
What is the best food for backpacking?
You can carry some fruits and veggies to the trail. Try to eat that first to avoid weight and before getting spoiled.  Pack enough food for your Find campsites near water. An extra cold meal just by chance you run into a delay in getting out or run out of fuel. For your pre-cooked items, you also need to carry a backpacking stove to cook your meals. And to save fuel cover your cooking pot while cooking. Avoid too many chocolaty food items like snacks or energy bars as they can melt and make a mess.
What to eat camping without cooking?
Accidents and breakdowns do happen. Make sure you have proper nutrition if cooking is out of the question. Also, avoid overindulging in general during the day. Just eat enough to keep your energy levels up. Avoid spices or spicy food to get your stomach all in knots. Store garlic cloves, onion, spiced oil, hot mustard, and dried salsa in a small plastic container. Don't snack regularly on chips, candy, and chocolate. Try to eat a balanced diet on the hike.
Where should you store food when camping?
Avoid meals that are cluttered or prolonged to arrange. Store food away from you and don't spill the food to avoid hungry animals. Never sleep with food especially aromatic food in your gazebo. Hang it on a tree or store it in a bear canister.
Which gas is best for camping stoves?
One more important thing you need to take care of that is Fuel. For that, you need to see how many pre-cooked items you are carrying. And how much time it will take to cook? There are many forms and sizes to choose from. Some are even equipped with chargers for keeping your electronics. For example, mobiles and GPS units are charged while you organize your meal. There are three main categories:
Liquid Fuel Stoves
As its name specifies, liquid fuel stoves unite with a refillable fuel container. And naturally, use white gas. Nonetheless, there are other energy options available.
Fuel Stoves
Alternative-Fuel Stoves: Many homes are heated by alternative techniques. Such as wood bit, many camping, and hiking stoves are appearing on the market that also this fuel.
Canister Stoves
Canister Stoves: Canister stoves are possibly one of the easiest stoves to utilize. Once the top is bolted onto the pre-pressurized canister, you are all ready to make a hot meal. These stoves can use propane or butane as a fuel source for a barbeque.