The outdoors is rich with a tone of beautiful sights and sceneries that might not be so vivid to the naked eye at times. Honestly, if you venture into the wilderness without a pair of your favorite binoculars then you are in for a big loss.
No wonder, seasoned hikers make it a point to pack up the best compact binoculars for hiking before hitting the road. These handy gadgets are not only light and convenient but also offer rare optical quality together with a wide spectrum of exceptional features. Fun-sized spy glasses will knock your socks off, bringing you closer to your favorite animals and magical scenes clearly and spectacularly.
Importance of Compact Binoculars
Unlike your ordinary binoculars, compact field glasses carry a lot of advantages. First, they are ultra-light which gives them an impressive portability edge. The thing about normal-size binoculars is that they are bulky. Well, you will feel their weight after having them around your neck for a while. Contrary to that, their compact counterparts are easy to carry around and hence can be used for the whole day worry-free.
Moreover, they are adventure-ready, fitting in your pocket or backpack perfectly without taking up a lot of space. Other than that, they are safer and less prone to bumping on hard surfaces. Another reason why scaled-down binoculars are so excellent for outdoor lovers is their budget-friendliness. You still get the performance and functionality of regular spyglasses at a cheaper price and in a smaller dimension.
Finally, these models grant you better optical correction. As you might expect their lenses are much smaller giving them a sharpness advantage that exempts them from the coma, flaring, and barrel distortion.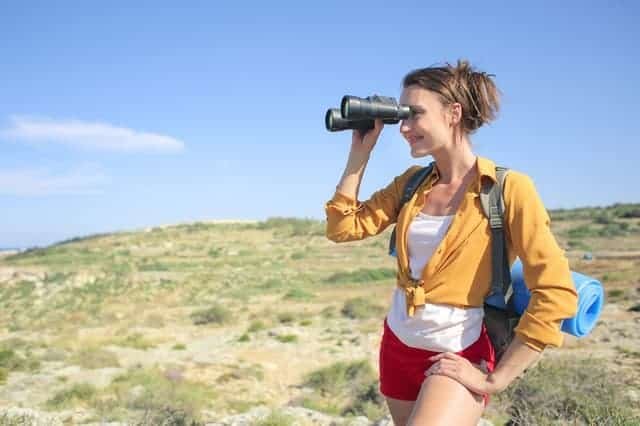 How to Choose Compact Binoculars for Hiking
Compact binoculars are unique as you can tell from their size. As a result, you have to be extra vigilant when choosing a pair to pick the right model for proper functionality. Here are a few tips to get you through this process:
1. Focus on image quality
Every adventurer will agree that image quality comes before anything else when it comes to a good pair of binoculars. You need to consider the crispness and brightness of what you see. How about the sharpness and clarity of the bins? True colors are also vital. Low-light performance is another facet of overriding importance as well. For premium image quality, it is advisable to choose compact-style binoculars with objective lenses that are bigger than 30 mm.
2. Consider your price range
The price will vary mostly depending on the quality of a model or level of sophistication. Most high-end products – which often cost above $100 – will include a sleek design and a couple of advanced features. However, you can still invest in decent compact binoculars that will cost you around $50-$100. They should give satisfactory attributes alongside greater magnification power and stellar image quality in low-light conditions.  For those on a shoestring budget, you can get a cheaper pair for about $20, which will still get the job done except for poor performance in low light conditions or over long distances.
3. Choose an ideal form of magnification
Spyglasses feature different degrees of magnification but the most common is 8x and 10x. Generally, an 8x will offer an image that is smaller yet brighter and wider. On the flip side, a 10x field-glass will grant you better distance which comes in handy when bird watching. Nonetheless, bigger magnification comes with its shortcomings including noticeable hand-shake or unsteadiness, a narrow field of view, and darker images under limited light.
4. Pay attention to eye relief
The distance you need, between the eyepiece and your eye to see an image clearly is what is referred to as eye relief. It is quite crucial to go for a pair of field glasses with eyecups that are long-lasting and highly adjustable. Such a pair will easily extend to offer ample shading for hikers who do not wear glasses and retract to suit those who do. Eye relief is particularly important for glass wearers. For a clear view with zero black rings or blurs around the image, make sure the eyecups are adjusted to a minimum position.
5. Lookout for warranties and extra attributes
Image quality is largely anchored on close focus and field of view. Consequently, these are two crucial aspects you need to watch out for. Other than that, you need to look at durability, waterproofing, and overall outdoor functionality. Similarly, confirm the warranty and also go through reviews by other customers to ascertain if your preferred product is exactly as described.
6. Try out different models
Every compact binocular is unique in its way, bearing facets that are unique and specific to what it is designed to offer. They come with varied shapes of the face, focus, hand size, and so on. Therefore, you might want to test out several pairs before making up your mind on the most suitable model to fit your needs.
Things to Consider While Choosing the Binoculars for Hiking
Shopping for your first compact binoculars can be an uphill task considering how detailed and complicated they are concerning design. However, we've got you. Here are the most essential attributes you need to give thought to before making your final pick:
1. Weight and size
Now that you plan to hike the back-country, it only makes sense to opt for a pair that is light and portable, preferably a pocket-sized gadget. Bigger and heavier pairs might be ideal for short hikes but will only wear you down on a long excursion. The size will also influence exit pupil and eye relief, specs that dictate the clarity of your images.
2. Lens glass
Lens glass is the epitome of quality, dictating the price for all binoculars. They are more like camera lenses and are engineered for precision. Barium Crown glass and BAK 4 are some of the biggest names in the lens universe. They stand out for the fact that they vividly transmit all the light received. In the same way, they lack bubbles or distortion and boast a high reflective index. Plus, they exhibit minimal chromatic aberration on top of having the highest quality coating on the optics.
3. Lens Coating
It is possible to tell a cheap, less effective pair of binoculars from the lens coating. While the top of the line models come with anti-reflective films and coatings, cheaper models have none of that.  Anti-reflective coatings curb glare in addition to boosting light transmission in different wavelengths. This makes colors clearer alongside amplifying contrast. Prism coating is another aspect that you should keep in mind.
4. Stability
Image stability is largely contingent on binoculars' magnification. High magnification results in heightened hand movement which undercuts stability. This is one of the problems that compact binoculars are designed to fix. If stability problems persist, it might be a good time to get an advanced pair with image stabilization features or simply incorporate a tripod.
5. Prism type
There are two types of prisms namely roof and Porro/traditional prism. The former is primarily utilized in compact spy glasses owing to its weightlessness, unlike the conventional prism which is relatively bulky. Roof prisms are characterized by thinner optical tubes which make holding them a no-brainer.
6. Objective lens diameter
Light gathering is hinged on how wide your objective lenses are. Binoculars with wider objective lenses are likely to yield brighter images and are of higher quality owing to enhanced lighting. Correspondingly, the brightness of images is affected by the optic's quality. Thus, go for larger lenses of superior quality.
7. Exit pupil
For brighter images, the exit pupil needs to be higher. This is imperative in low-light conditions where the exit pupil has to be at least 5mm.
8. Protective touches
For added life, your compact spy glasses need to be adequately shielded against unyielding outdoor conditions. Your pair is likely to fall, which demands proper shock absorption if you are to use it again. The rubber coating is the first line of defense against such unprecedented outcomes. Apart from that, consider buying a pair with fog proof and waterproof features just in case the weather turns wild. With such attributes, your field glasses will serve you for a long and save you money.
9. Field of view
Magnification power and field of view go hand in hand. The higher the magnification power the narrower the field of view becomes. A narrow field of view can be a nuisance in dark conditions. It will also give you a difficult time seeing minute objects or objects in motion.
10. Other features
Close focus is pivotal as it determines how close you can approach a subject and still maintain the focus. Five-star binoculars need good close focus which should fall below 6.5. On the other hand, you should put diopter adjustment into consideration too. It will allow you to fine-tune and get a personalized focus without the need to put your glasses on.
Final Verdict
Compact binoculars will save you money, time, and energy thanks to a scaled-down, lightweight construction. Nevertheless, Binoculars are only as good as their quality of construction. Take your time to critically examine every aspect of a pair before choosing. That should not be a problem with the tips and insights above. You are always free to refer to our guide for an informed buying decision. Good luck choosing and have a great time!