Whether you are going for a brief detour to a beach destination or planning a long summer getaway, packing the right stuff is the key to enjoying your vacations well.
Whenever winters are about to end, the wanderlust in us makes us yearn for a fun summer holiday. From picking up a destination and booking tickets to planning activities, we have a long to-do list. In all the hustle-bustle, we often don't pay much attention to what to pack.
Why ruin a much anticipated holiday just because you forgot to put something in your bag?
Leaving the packing up to the last minute, we fill up our suitcases with whatever stuff comes to our mind. Nothing is more annoying than realizing that something important is missing in your luggage and you have to pay unnecessarily to buy it. Sometimes it's not even available at the place you are visiting (just like the only sunscreen brand that suits me, which I forgot to keep, huh).
To keep you away from any such trouble, we are here with the ultimate guide on how to pack efficiently for your summer vacation. So without further ado, let's dive into the must-haves.
Image source
8 Travel and Packing Tips For Summer Vacation
1. The pros of having spacious bags and storage
Having adequate storage comes in so handy while traveling. You will need a roomy suitcase, several storage pouches (for toiletries and makeup), a nice leather handbag, and a clutch for your summer travel plans.
Buy a suitcase with enough room to keep your and your partner's essentials. If you have kids, it will be convenient to pack their stuff in a separate suitcase. The storage pouches, easily available online and in departmental stores, are an excellent way to organize your stuff. Also, if by chance there is any leak, the storage bags will keep your clothes and footwear from spoiling.
Before you start packing, wisely choose a handbag as you will be carrying it most of the time. Browse the cool collections of leather bags for women online and shop for a new one that goes well with your outfits, is spacious, and is made with good quality genuine leather.
Moreover, keep a nice trendy clutch or a cross-body purse for nearby walking trips and dinner dates.
2. Pack light yet sufficient clothing
You cannot survive on a single pair of jeans and a t-shirt on your entire trip. Don't fall into the trap of packing carelessly for the sake of traveling light. According to the number of days, you will be spending away from home (including commute time), you will need enough sets of clothes.
The trick here is to mix and match essentials to give you many different outfits. Keep three different tops such as a blouse, a crop top, and a comfortable t-shirt along with three bottoms, preferably lightweight trousers, denim shorts, and a long skirt. For men, sleeveless t-shirts, flannels, and cargo shorts are ideal for summer.
Keep at least one piece of outerwear such as a light denim jacket or a sweatshirt in your luggage.
As it's summer, your holiday fun won't be complete without hitting the beach or the poolside. Keep two sets of appropriate swimwear for those times. Also, don't forget to keep comfortable undergarments for every outfit that you'll be wearing.
3. Take at least two pairs of footwear (more if your visit is extended)
Ideally, for a short trip, a pair of shoes that you wear on the go and an extra pair of sandals or flip-flops are enough. However, you may want to keep a pair or two of formal footwear like dressy gladiator sandals or wedge pumps for women or loafers and sneakers for men if you are going for a longer holiday.
If you will be doing a lot of walking at the destination, keep comfortable sandals with you.
4. Don't forget the accessories
Accessories will finish off your vacation looks, so carefully plan your outfits and take some matching jewelry, belts, headwear, and scarves with you.
Summer jewelry should not be too tacky. Instead, take lightweight earrings, necklaces, rings, and bracelets in tropical designs that match your clothes. Silk headbands in floral designs are also a good accessory option.
A wide brim hat is a highly functional summer essential, but you can also keep a nice-looking umbrella if you opt not to wear the hat someday.
Do keep a nice silk scarf with you for tying around the neck for dressy looks. You can also wear it on your head to protect your hair from sand and sunlight. Or you can just tie it to your handbag for a chic look.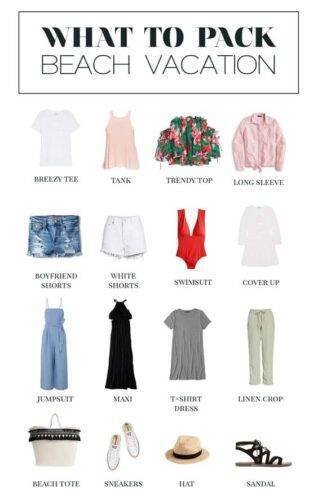 Other Travel Necessities:
5. Essentials for sun protection
Summer fun brings with it a lot of exposure to the sun. Make sure you are 100% prepared to face the sunlight by keeping products meant for sun protection.
Keep a lightweight, portable umbrella with you for walks and beach time. Also, keep a sunscreen lotion with an SPF of at least 30 to protect you and your family from the harmful UV rays. It's better to buy travel-size bottles and keep one in every family member's handbag for easy access.
Other than the sunscreen, keep a nice broad sunhat and a cool pair of shades.
6. The toiletries
Many hotels worldwide now provide complimentary toiletries such as soap, toothpaste, shampoo, conditioner, and body lotion. However, you can never be sure enough and leave it on assumption as it will be a hassle to find the right products that suit you after you have had a tiring journey.
In a sturdy storage pouch, keep your body wash, shampoo, conditioner, lotion, sunblock, toothpaste, toothbrush, deodorant, makeup remover, insect repellent, and shaving supplies. Don't forget to keep small bottles of hand sanitizers and wipes, keeping the current Covid scenario in mind. Masks, if needed, will be provided everywhere you go, but keep at least four extra per family member.
Keep a small makeup pouch and carry your essentials in it like a lip balm, liner pencil, eyeshadow kit, highlighter, blusher, foundation, and any other item that you frequently use. Men should keep a small kit containing mouth freshener mints, floss, and a moisturizer.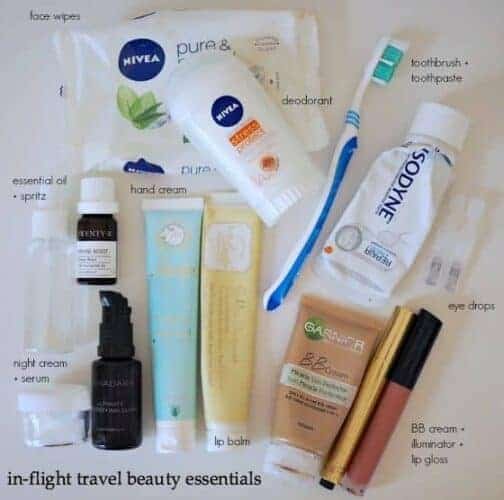 7. The tech stuff
Keep a separate storage bag containing your devices and their chargers. This is important as many people complain of not finding the right charger for their phones or laptops at the place if they forget to keep them in the luggage.
Take rechargeable AirPods and waterproof phone covers with you as well. These phone covers are easily available online and will keep your phone accessible at the beach and pool fun.
8. Pack a compact first aid kit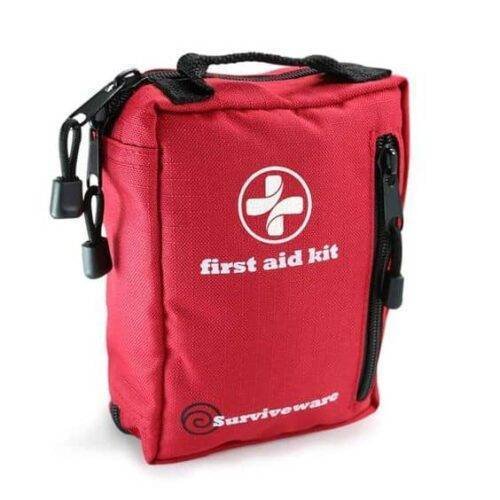 After you are done packing all the wearable stuff and other necessities, it's time to pack an emergency first aid kit. You don't know when an unfavorable circumstance arrives, and you or your loved ones might need a certain medication. Keep a small box with essentials such as painkillers, stomach relief medicine, soothing lotion, band-aids, antiseptic spray and wipes, analgesic balm, and a thermometer. You can also keep gauze, medical tape, and ointments for deeper cuts and wounds. 
Takeaway
Above, we have compiled all the important stuff that you may need in a tropical or summer destination. In order to ensure, that you are well prepared for the fun vacation, save this guide to refer to when you are about to leave. Remember that being equipped with the right stuff will make you much more relaxed, which is what holidays are for in reality.