Kettle Moraine State Forest is a beautiful collection of forests that are spread across Southern Wisconsin. In total, this state park contains 56,000 acres of woodlands that are full of interesting natural formations all formed during the last ice age. This state forest has many sections, or units, all of which are packed full of excellent hiking and mountain biking trails.
Kettle Moraine covers such a large area that it can be hard to figure out which trails to hit first. Find out the Best Kettle Moraine Hiking Trails below and start planning your next trip.
Why You Should Hike in Kettle Moraine State Forest
Kettle Moraine is a great place to go hiking because the forest offers so many different trail options. Most trails lead through the pine forests or around one of the area's 4 scenic lakes. One of the most popular trails is the Ice Age National Scenic Trail. This trail follows the borders of an ancient glacier for 1,000 miles.  
The name "kettle moraine" is actually a description of the landscape itself which was formed 10,000 years ago when two glaciers collided. During the last ice age, the hills, valleys, and ridges of this land were pushed into place. The remaining glacier created the "kettle" which is a special type of shallow lake.
The trails in Kettle Moraine are great for hikers of all experience levels and range from easy to moderate. Most trails don't have big elevation gains, but can still be challenging with steep hills and thin dirt paths. Some of the more popular trails in the forest are paved and perfect for a relaxing stroll.
This state forest is a popular destination for nature-loving Wisconsinites. Besides hiking and mountain biking, visitors can also fish, boat, or canoe on the lakes, and snowshoe in the winter. Many trails are also maintained for cross-country skiing.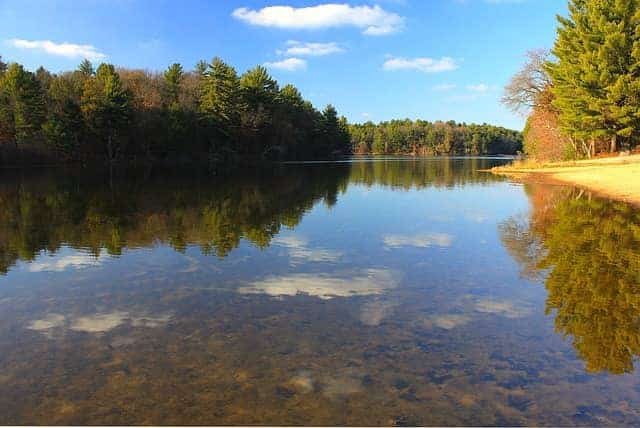 The 10 Best Kettle Moraine Hiking Trails
1. Ice Age Trail
2. Emma Carlin Trails
3. John Muir Trails
4. Nordic Trails
5. Lapham Peak
6. Dundee Mountain Summit Trail
7. Greenbush Recreation Area
8. Parnell Tower
9. Scuppernong
10. Zillmer Area Trails
1. Ice Age Trail
The Ice Age Trail is probably the most famous trail that passes through this state forest. Once completed, this trail will span around 1,000 miles across Wisconsin. The goal of the trail is to promote conservation and facilitate learning about the unique geology of the state.
One of the most interesting segments of this trail passes through the southern section of Kettle Moraine. While following the path, hikers will get to see beautiful rolling hills, lakes, wetlands, and multiple moraines (deposits of soil or rocks left behind by glaciers). You will also cross through thick forests and prairies. It's truly a path that explores all the landscape variations of Wisconsin.
This trail is often rated as intermediate because of its length and hills.
2. Emma Carlin Trails
The Emma Carlin Trails are one of the more established and popular trail systems in the forest. Located off Palmyra Road near Route 67, this area offers three main loops of different lengths ranging from 3.5 to 8 miles. All three loops have a variety of challenges and have difficult sections. Some trails have rocky sections and comparatively steep inclines making them popular with mountain bikers.
The trails here are color-coded and there is even a connecting trail that leads to the John Muir section of the forest. This is a well-maintained but less busy alternative to the John Muir Trails which can get crowded.
3. John Muir Trails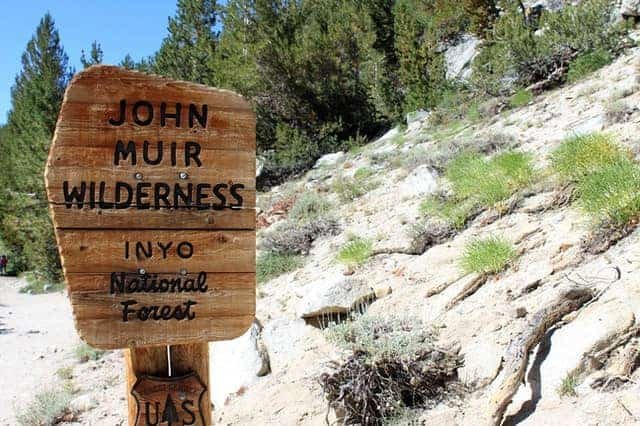 The John Muir section contains some of the most popular trails in Kettle Moraine. This section consists of five color-coded loops that range in length from 1.25 to 12 miles. Like the Emma Carlin Trails, these loops are popular with mountain bikers, so while hiking you'll need to be on the lookout for cyclists.
The John Muir section can get busy with bikers and hikers in the summer and fall. In the winter, the trails fill up with snowshoers and cross-country skiers.
The Blue Loop trail is a great choice for pleasant views of the lake and an interesting 11-mile walk through varied terrain and forests. The White Trail is a 2.8-mile loop that is great for a relaxed stroll.
4. Nordic Trails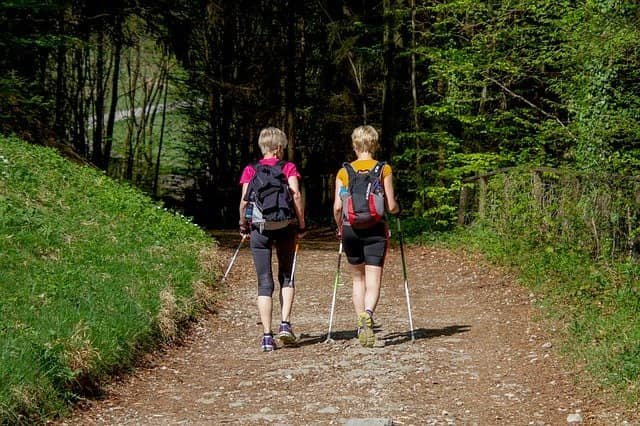 The Nordic Trails are the place to go if you are looking for well-maintained trails over gently sloping hills. The Blue Loop here is a 9-mile moderate trail that features a beautiful lake. This trail travels through hardwoods, pine fields, and open prairies. Visit in the spring to take in the wildflowers!
The most challenging trail in this area is the Green Trail because it contains some larger hills. In total, there are 7 loops in this area. Four of the loops are moderate and three are easy so it's a great spot to check out for trail variety.
The Nordic Trails are extremely popular in the winter with cross-country skiers.
5. Lapham Peak
Lapham Peak is an interesting area of the state forest and contains the Lapham Peak Observation Tower. Accessible by car, at the observation tower you can take in the sweeping views of the forests. Lapham Peak also contains mountain biking trails, a prairie restoration site, and a butterfly garden.
Only 26 miles from Milwaukee, this section of the forest is the most popular cross-country skiing site in Wisconsin. In the summer, the rolling hills and beautiful meadows are perfect for a hiking day trip. This area of the forest is maintained by a local nonprofit called the Friends of Lapham Peak which works hard to take care of the wildlife and trails in the area.
6. Dundee Mountain Summit Trail
Dundee Mountain is the best hike in the forest if you are looking for a short and challenging trail that ends in great views. As the highest natural point of Kettle Moraine, Dundee Mountain is one of Wisconsin's most interesting geological features and was created by ancient glaciers.
The summit of this mountain is around 1,200 above sea level. The hike to the top is less than a mile long but is strenuous and steep. The total elevation gain of the hike is 200 feet, most of which is accomplished in a quarter of a mile.
Make sure to check out the visitors center nearby to learn about the ancient glaciers that formed this mountain! You can also spend some time at the nearby beaches of the Long Lake Recreation Area to cool off.
Bonus: Many locals say that Dundee Mountain is a center of UFO activity.
7. Greenbush Recreation Area
The Greenbush Recreation Area gets its name from its thick forests. Trails here are typically shaded by a thick canopy of tall pines making it a great spot for summer hiking. Greenbush contains 9 miles of mountain biking trails and 13.5 miles of hiking trails. The hiking trails are arranged in a connecting pattern of 5 color-coded loops.
These trails are fun and sometimes challenging with rocky paths and steep hills. The Purple Loop is a good one to try as a first-timer because it has both hilly and flat sections. The mountain biking trails here are tough and have a reputation of being like a roller coaster ride.
8. Parnell Tower
The Parnell Tower loop overlaps the Ice Age Trail and is a 3.5-mile hike with a wooden observation tower at the end. After climbing the tower, you will be at the highest point in all of the Kettle Moraine Forests. You'll also get great views of the nearby Dundee Mountain.
The hike consists of a forest trail and then a series of stairs that lead to the base of the tower. The tower rises 60 feet above the treetops and offers 25-mile panoramic views.
9. Scuppernong
The Scuppernong Trails are shorter hikes located off Highway ZZ near Dousman. This area contains a river and 4 trails that range from 2 to 5 miles. The trails here are not for mountain biking and are a great place for hikers who don't want to be on the lookout for cyclists.
The Green Loop is the most challenging and contains rolling hills and old fire lanes making it a fun and interesting hike. The Observation Loop is only a half-mile journey but ends at a nice overlook with views of Ottawa Lake.
10. Zillmer Area Trails
The Zillmer Area Trails are a mixture of prairies and forests and cover mainly flat land with a few big hills. This is another very popular cross-country skiing spot. For hikers, what sets the Zillmer Trails apart is the nearby Kettle Moraine Ice Age Center. The Ice Age Center is open daily and is a great place to stop before or after a hike to learn about how the area's unique land formations were created.
The most challenging trail here is the Yellow Loop which is the longest and has some nice downhill sections. If you are looking for a short and easy walk, check out the Brown Loop.
Summary of What you Need to Know
Kettle Moraine State Forest covers a large area of Southern Wisconsin and is broken up into multiple sections each with its trails. Most sections contain various loop trails that are color-coded. The forest also contains a section of the Ice Age Trail which is a 1000-mile trail outlining the borders of an ancient glacier.
In Kettle Moraine, you'll find interesting formations such as mounds and hills (called moraines or kames) and shallow lakes (kettles) that were all formed by glaciers.
If you are looking for hikes with views, the best trails are Dundee Mountain, Parnell Tower, and the Observation Loop in Scuppernong. The most popular areas of the state forest are the John Muir and Emma Carlin sections which contain well-maintained and interesting hikes.
Besides hiking, Kettle Moraine is also a great spot for mountain biking, fishing, boating, show-shoeing, and cross-country skiing.