How about experiencing a fishing trip? Most of us have practiced fishing on land but never had the experience of fishing on SUP. For all those who have an intense love for fishing and paddle boarding, this one is for them.
SUP is the most trending water sport these days, and combining it with fishing is the best escapade for the approaching summers. Once you have mastered the art of balancing on paddleboards, you can relish the joy of fishing effortlessly.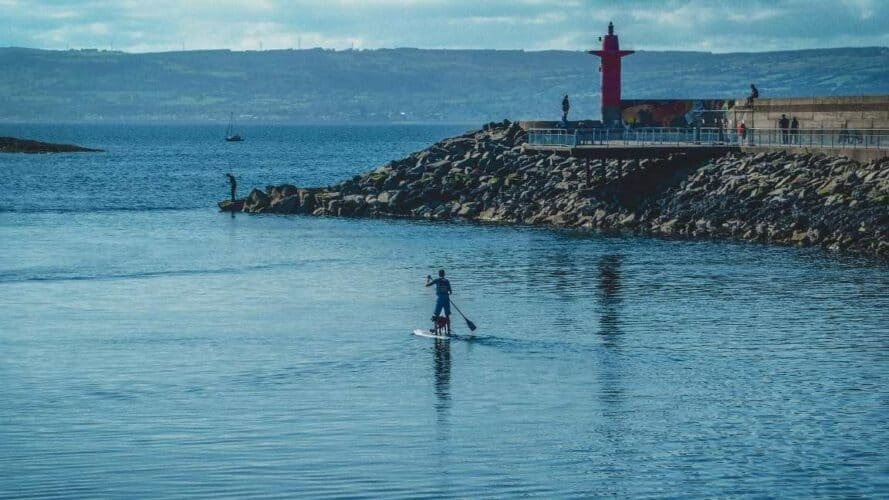 Types of SUP Boards for Fishing
Although you can use any paddleboard for fishing; however, according to expert opinion, these two come with high advantages.
Epoxy or Hardboard SUP
Inflatable SUP
Epoxy or Hardboard SUP
These paddleboards are lightweight and have better durability, specially designed for long SUP tours or fishing. Due to their hardness, Epoxy SUPs are not portable-friendly.
Newcomers to paddleboarding might have to face a fall from the board multiple times and might end up hurting their back or face. If ranked for flexibility, the rank for Epoxy paddle boards is zero. Apart from all the limitations, they are very promising in rough waters and considered best for surfing.
Inflatable SUP
Are you planning to carry your paddleboard along for an excursion? Never think twice before buying an inflatable SUP. It has been ranked highest on portability. For the newbies, practice your SUP sessions on it, and even if you fall, you will not end up hurting yourself.
But if planning for surfing and paddling in rough waters, it is a big no-no. Though very flexible in nature, it tends to lose speed in rough waters and has a short life due to leaking in the inflatable.
So, now it is up to the adventurer in you to formulate the best decision.
Must-Have for SUP Fishing
SUP Board
Life-Saving Jackets (PFDs)
Fishing Net
Fishing Rod
Carry Bag
Glares
Tracker
 SUP Cooler
SUP Board
In the previous section, we have explained the two types of SUP fishing boards in detail. Better watch your decision as this is the integral component in SUP Fishing.
Life-Saving Jackets (PFDs)
These are the boon for the paddlers in the deep waters when they are alone and face a fall. Even if you are acquainted with swimming, there is no harm in carrying a saver.
Fishing Net
Must not go fishing without it. Never forget to carry these with you on your trip.
Fishing Rod
These are used to adjust the nets and are the basics for a wondrous fishing experience.
Carry Bag
Have Carry bags on your board to catch the fish and store them to take them along.
Glares
Along with having fun in the water, your skin health is equally important, and most important are your eyes.
Tracker
The GPS tracker must be installed on the devices for location tracking to know when you are in deep waters.
SUP Cooler
While you will be rejoicing in the water, you need to have refreshments from time to time. Make sure to carry coolers with you to preserve your food.
SUP Vs Kayak Fishing
Image Source: Unsplash
Most of the newbies hung under the dilemma of choosing between kayaks and SUPs while going fishing. Both of them are similar and dissimilar at the same time. But we will try to refine some points to give a clear view of making the right decision between the two.
Fitness
Sup is the better choice if you are looking for fitness with adventure. SUPs let you stand throughout the journey while you paddle, the core strength develops, but if you are using a kayak, you will end up sitting throughout your journey with less or no movement at all.
Comfort
While your long tour could prove to be tiring, and you may want to sit for a few hours to rest your back, a kayak is your thing, but the story is different with a SUP where you have to stand throughout the tour and keep moving the paddles.
Cost
There is not much difference between the two in terms of cost. While Kayaks can be a little more costly than paddle boards, there cannot be the best option to decide between the two.
Visibility
SUP gives a clearer view of the water, which is the most rewarding part while fishing. You know when to and where to catch the fish, but in the case of a Kayak, the vision is lesser because most of the time since you end up seated.
Sound
SUP being light-weighted and less noisy, it gets difficult for the creatures under the water to guess your presence. But all the other transport systems, including a kayak, make noises, making it less possible for the fishes to hang in the nets.
Mobile
It is more problematic to transport a Kayak than a SUP. The size difference creates mobility issues. You can plan to take a SUP along even if you are not going in your vehicle, but Kayaks are heavy, and you need to carry them.
Water Choice
Rough terrains are made for kayaks and soft terrain for paddleboards unless you have epoxy ones.
There is always a choice, and you better make your own because the first impression is always the last one. If planning the tour for the first time, you never want to miss any part of it.
Benefits of Paddle Board Fishing
1. SUPs reach rough areas as the best option and help to catch a lot of fish in the fresh waters, which are present in deep waters.
2. It is the perfect combination of fitness and adventure and an excellent plan for your summer picnics.
3. While standing on a paddleboard, you get a better view of the water and grab good yield.
4. Convenience plays a key role while practicing SUP fishing. While you have planned SUP, take your fishing nets along for a better fishing experience.
5. Paddleboards have advantages over boats as you cannot row a boat in rough terrains, whereas SUP is feasible in every area.
6. Unlike boats, SUPs make less noise, and you can slowly walk on them to cast your rail perfectly.
Tips & Tricks for SUP Fishing
Image Source: Unsplash
Never carry too many possessions, and bring just the bare essentials. SUP board cannot handle weight over a limit. It is a board with minimal space. So, better choose your luggage.
Never try deep waters for the first time. Go to the areas with minimal water so you can escape risk because you might be on your own and not have an expert with you.
Fishing rods and nets are must-haves. Without them, you cannot expect much success at SUP fishing.
SUPs Versatility
Change is the law of nature, and what if the change brings you happiness? It is difficult for most of us to cope with change, but not the case with adventure.
All of us want to do exciting things in life and search for experiences that can make our life worth living. SUP has been that for recent years. With yoga, water sports, fishing, or long-duration tours, paddleboards have made everything possible and exciting.
We have never thought that something like a board can be so versatile that you can do multiple things simultaneously. But yes, SUP is here to stay because of the immense advantages it offers.
Not only fun, but it also provides employment to various people. There are lots of SUP trainers around the world who are earning their living by instructing people. So, it is an all-in-one package that is a must-try for each one of us out there.
SUP Fishing – A New Normal
Nature is man's best friend, and if you plan something around it, it should be best among the rest. SUP fishing has been one of those. Just plan accordingly, and you are good to go. Carry your accessories, grab your paddleboard and take the best out of your journey.
After this, you cannot resist planning your future holidays for SUP fishing with your family and friends, and cherish the memories forever!