Nothing brings you solace than walking in nature with a backpack. Also known as knapsacks, backpacks are suitable materials to carry the essentials needed for your adventure. Since you don't want to get stuck on the way because of the weight of your bag, it is advisable to use a backpack to convey your luggage to your destination. Not only are backpacks suitable for hikers, but van-lifers and campers also find this product essential.
These packs are easy to move around. Likewise, hikers would have no challenges using them. More importantly, these products are to provide maximum consolation to all outdoor lovers worldwide. Are you concerned about packing a hiking backpack for travel? You got no worries; this post is here to help. Here are some tips to put in mind when backpacking for hiking.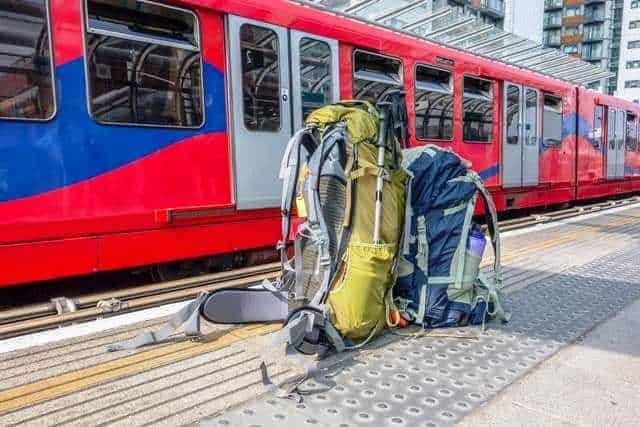 Image Source: unsplash.com
HOW TO PACK A BACKPACK FOR AIR TRAVEL
Going on adventures by flight requires thinking about what to pack, how to pack, and what to leave behind. However, every hiker wants the best air travel experience. Fortunately, backpacks are convenient and secure to use.
It is advisable to pack smartly to avoid any extra airline charges. Besides, you don't want to carry a heavy rucksack that hurts your joint and muscle. It doesn't stop there! Heavyweight bags can also limit where you go while on the road. Here are some factors to consider while deciding what to pack for your adventure.
Destination
To start with, your stopping place determines the type of wear and other essential things you need for the journey. For instance, visiting some sites requires a jacket, jumper, and many others. On the other hand, voyaging throughout New York City demands sunscreen, rain gear, and others. In addition to this, you are good with shorts and sandals when trailing in Thailand.
Activities
Like the destinations, it is equally important to consider the activities you plan to engage in before packing your luggage items. Specifically, visiting museums requires comfortable cushioned shoes. Consequently, it requires you to stand more than sit down.
Apart from this, opt-in for a lightweight shirt to keep you refreshed throughout your hiking adventure.
Airlines
The airline you are flying with determines how heavy your backpack can be. There is a slew of airlines available, and each has its rules. Besides, there are restrictions on the weight permitted to carry on the flight.
Note that if your traveling bag weight exceeds the aircraft limits, you might end up paying more. Hence, check out for the mass limits of your desired airplanes and pack essential items accordingly.
Size
Check the size of the backpack before packing your luggage. Each rucksack comes in different sizes and has extra strength and capacity. So, always consider your hiking pack size before embarking on an adventure via air.
HIKING BACKPACK PACKING TECHNIQUES FOR AIR TRAVEL
Image Source: unsplash.com
Unlike other bags, the backpack has many storage places. It can hold your hiking boots or shoes, water, first aid kit, and other necessities. What more? This item ensures maximum back safety in case you dive. Likewise, a backpack protects you from losing out on any of your luggage while trailing.
Meanwhile, packing luggage into the backpack becomes a walk in the park as long as you follow the techniques. Aside from the fact that these techniques are highly efficient, they are also effective.
Roll your attires
Image Source: unsplash.com
This technique is primarily used for packing a hiking rucksack. It provides enough space inside the bag, and that's why it is called a space-saving method. As a matter of fact, it prevents the clothes from splitting inside the backpack. You can conveniently roll your t-shirts, vests, jeans, shorts, and many other similar materials.
Compact bags
After rolling the clothes, pack them inside a dry bag before putting them inside a backpack. This technique allows you to use the space inside the load efficiently. Also, it makes repacking more effortless. Hikers can get as many compression bags as possible.
Each bag can contain rolled jeans, shirts, tops, and others based on your preference. Likewise, users can take along extra bags for sweaty and used clothes.
PACKING TIPS
Once the essentials needs are inside the compression bags, you can proceed to pack them inside a backpack. Firstly, put compact items you don't need on the flight in the bag. Lightweight clothes include extra hiking shoes, sleeping wear, and others.
Equally, pack all the heavy items in the knapsack. This item includes laptops, tabs, cameras, and all other devices. Place this gadget in the middle of the bag to reduce the damage risk.
Then, put your flight essential needs on top of all the pack-sack. Doing this erases the need to remove all the items from the pack whenever you need any less important product.
WHAT DO YOU TAKE WITH YOU IN YOUR HAND LUGGAGE
Image Source: unsplash.com
There are a plethora of essential things you need to put inside your carry-on luggage for easy use. This is because purchasing on an airplane might be pretty expensive and much more tasking. Among the essentials items for air travel includes:
Documents
Put your wallet, flight ticket, passport, and other important papers you need throughout your journey.
Collapsible bottle
This is to keep you hydrated in the aircraft. In this case, the water you get on the flight might not seem good enough for you. So putting a flask inside your hand baggage is beneficial.
Medications
For hikers with health issues, putting your medications inside the hand luggage is essential. Accordingly, it is challenging to get your drugs on a plane.
Phone charger and power bank
Even if your mobile device has the strongest battery capacity, you still need a power bank and charger to keep you on track. I'm sure you don't want to miss an important call or message while on an airplane.
Valuables
You should keep all valuable items in the carry-on baggage to avoid stories that touch the heart.
Apart from the above items, you can put them inside your hand luggage, including books to keep you alive, extra underwear, wipes, toothpaste and brush, snacks, and many more.
Conclusion
Backpacking is an essential tool for all hikers. To have comfortable and fun-filled hiking experiences, ensure all your needs are well-packed in a bag.
FAQ
1. Can I take a hiking backpack on a plane?
Sure! All you need to have is a suitable knapsack for your trip. Likewise, the kind of airline book also has an impact on the backpack you opt for. It doesn't end there! Ensure you follow the techniques for packing gear for airplanes.
2. How do you travel with a hiking backpack?
Traveling with a hiking backpack is easy as long as you know how it works. Hikers should carefully pack delicate items to make them movable.
Additionally, you can effortlessly buy your needs on arrival at your destinations. Indeed, take along irreplaceable gadgets and avoid taking dangerous items.
3. Can I check a hiking backpack as luggage?
Yes! For backpack hikers, check the weight of your bag rather than the size. Then, proceed to check the bag When you arrive at the airline.
Do you have any sharp objects with you, cover them to prevent harming other passengers. To protect your luggage from any harsh environment, cover it with a weather protector.
4. How do you pack a backpack for a flight?
To pack your knapsack for planes, roll your clothes accordingly and put them inside compression bags. Put your compact essentials first, then your computers and valuable items. Again, place your essentials for the flight on top of it all.
5. Is a 50L backpack too big to carry on?
No! A 50L backpack is technically too big to be carried. That's why you must understand and know the weight you can take as hikers. Any 50L pack will be challenging to move from one place to another because of its significance.
6. Can a 60L backpack be a carry-on?
Since each aircraft has its weight limits, ensure you check for the limits before boarding. In fact, if your bags are a little bit heavy, you may not be allowed to check in. So, remove all your computers and put them in your hand baggage. Nevertheless, if you have no choice than taking the 60L rucksack, avoid packing unnecessary items.
7. Can a 65L backpack be carried on?
No! Even a 50L is not considered a carry-on. This is because a 65L has much weight, and taking it on planes might require extra fees. As a matter of fact, it is more than the restricted weights for all American airlines. Moreover, if you are ready to pay more for your luggage, you can take it along.
8. What size backpack is considered to carry on?
For all American airplanes, the limitations for all backpacks are not more than 45L, i.e., 9 inches x 14 inches x 22 inches. Hikers can conveniently pack their needs inside the bag.
One big draw of this backpacking is that it does not require any extra charges. Other than that, it gives extra comfort to all lovers of hiking and exploring the uniqueness of nature.