One of the best outdoor activities to do whether you're with your significant other, children, or friends is to go camping. There's just something exciting about being out in nature and being one with the elements. Even if it's just going to be for a night, you can be sure the memories you'll gain will be far many.
Going on a camping trip seems like a daunting idea, particularly if it will be your first time. However, rest assured that it can be fun as long as you completely prepare yourself. You can think of this just like any other holiday you're taking, which requires spending a few days planning.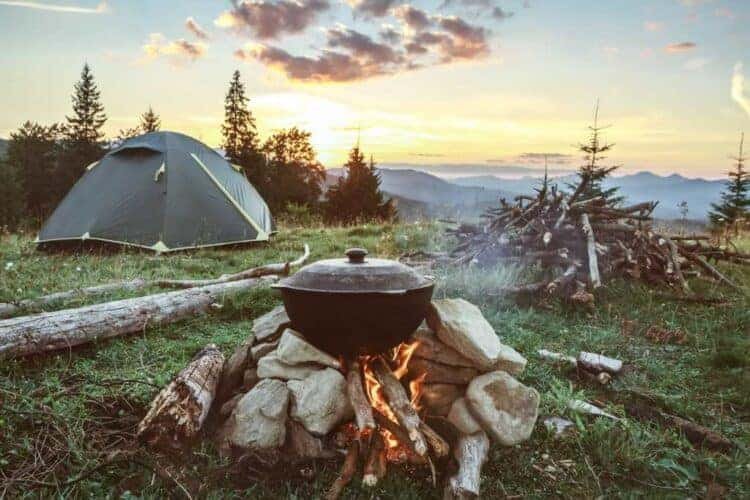 Nine Tips To Get Yourself Camping-Ready
If you're going on a camping trip soon, then you've come to the right place. Be it spring or summer, there are things you can do to ensure you're well-prepared for your camping trip.
1. Don't Skimp On The Sleeping Bag
Among all the other camping gear you're going to buy, there's one you shouldn't skimp on: your sleeping bag. Its quality, material, and thickness can make or break your trip. It's not just about the softness, but it's also about the warmth it can retain, particularly when nights get exceedingly cold.
A good sleeping bag may cost you quite a bit right at the outset. However, it's an excellent investment to make as you can reuse it repeatedly in the future.
2. Pick A Good Backpack
Your backpack is the second item you need to prepare. If you don't have one yet, you should carefully choose the best one for the trip as it will be your main travel buddy. It will house everything you will need, so get one that can fit and carry everything you plan to bring.
Like your sleeping bag, you wouldn't want to skimp on your backpack. You don't want all the things you're carrying to just suddenly fall off of you because of a rip. The good news is that there are so many hiking backpack options you can get from camping shops.
3. Always Check The Weather Forecast
Don't just check the weather forecast once before your scheduled camping trip. Check it regularly to avoid disappointments.
This is crucial as weather conditions can determine the success of your trip. It's best to move the camping trip to a different date if it's going to rain or snow. And in case it will be your first time, it should be during a dry day with clear skies and low wind speeds. This ideal condition will make it easier for you to enjoy the outdoors.
This tip also holds if you're going with kids. A combination of bad weather and children may make camping excursions even more difficult no matter how experienced you are.
If you already have experience doing this activity a few times in your life—to the point that the cold and damp don't bother you anymore—then don't let the rain stop you from camping. Just be sure you bring all the necessities and wet weather gear you need to thrive in the cold.
4. Learn How And Where To Pitch Your Tent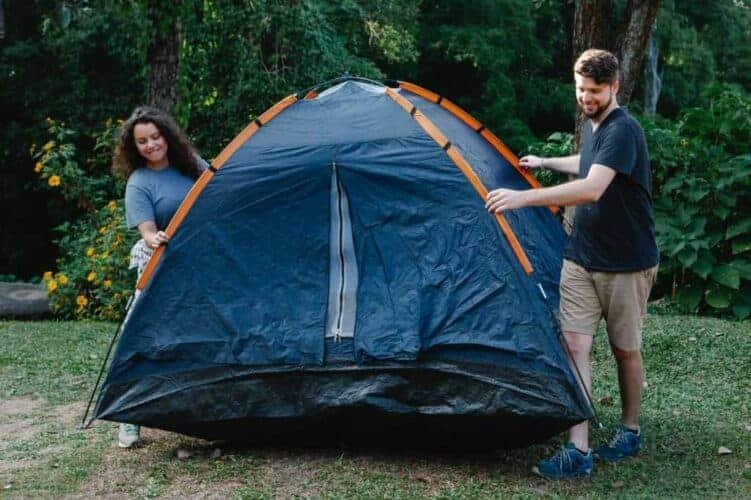 While you might think pitching your tent under a tree will give you added shade, warmth, and comfort, you should reconsider. Under a tree isn't where you want to be since they have saps, branches, and insects that may constantly fall on you and your tent. These things can make cleaning and pack even harder.
In addition, pitching a tent can always be a complicated and strenuous task. To have a better experience, here are some basic tips you can start with:
Practice
Set up your tent at home. It's a fun activity you can do with your family and get you more excited about the trip. Also, follow the tent's instructions in setting it up. Don't just wing it the first time.
Always bring the manual
Even if it's your nth time doing it, it will still be helpful to have it with you. Whenever you're confused, the manufacturer's instructions can always serve as a good guide.
Choose a safe spot
The location where you'll pitch your tent should be free of any debris. Doing this lowers the risk of having sharp objects poke through your feet, body, or tent's floor.
Be mindful of where you will face your tent
Position the tent's entrance in the direction where the wind blows. That way, you'll be able to receive optimal ventilation when you're inside the tent. However, it's a good idea to let it face the other direction if there are strong winds.
Be sure to take mental notes of these tips.
5. Know What To Bring
One of the hardest parts of camping is packing. After all, you'll need to have all your essentials without necessarily bringing your entire home with you. Remember, everything you'll bring, you'll have to fit in your backpack, so you've got to get this right the first time.
Moreover, if the little ones are going to tag along, you should closely supervise them when they start packing their stuff. It can be too troublesome when you can't even hike or walk to the site comfortably because of all the things you're bringing.
Making a list of all the essentials to bring is a vital part of preparing for a camping trip. This is a process you shouldn't rush. Focus, and take the time to sit down and think about all items you and everyone else with you on the trip will need.
For starters, here are some of the basics you'll need to have along with you:
Medical kit
While the ideal situation is you never need to use it, it's a must to have one ready. When you're camping, you're exposed to nature and the elements, which can raise the risk of accidents happening. It's best to be prepared.
Cooler
Camping doesn't mean you should go 100% primitive. A cooler allows you to have the luxury of having cold drinks with you. Also, it will give you the option to bring perishable food and goods.
Torch or flashlight
You can be sure that the nights will be pitch dark. Keeping two or three with you adds another layer of safety, comfort, and convenience. Be sure to bring some spare batteries as well.
Wellies or waterproof hiking shoes
Even if the weather forecast is good, wearing a pair lets you traverse the wilderness in comfort. After all, the last thing you'll want is to have your feet and socks soaking wet with rain or mud.
Water purification tablets
Things can go wrong, and two of the devastating ones are when you run out of potable water or your supply gets contaminated. You wouldn't want any of them to happen on a camping trip. These tablets can let you produce water you can drink to sustain you until you get back to civilization.
6. Learn How To Deal With Food Concerns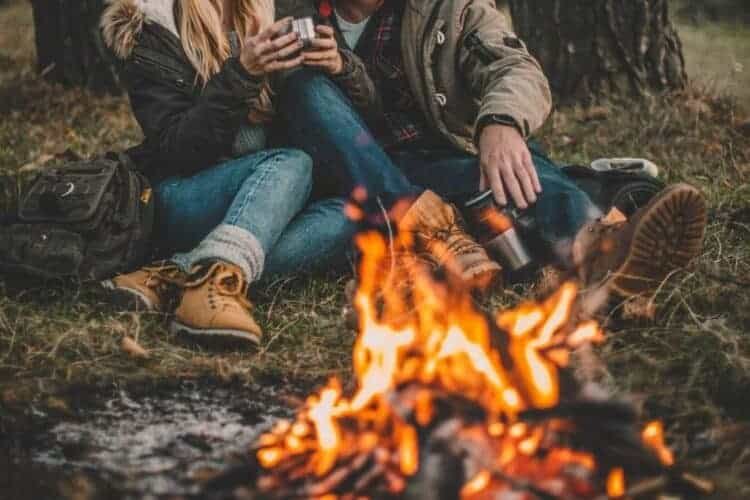 Depending on where you're headed off to, there are some campsites where there's a kitchen or cafeteria for you to have food. But most of the time, there are none of those conveniences. Yes, instant noodles can be a great solution. However, it isn't your only option for camping food, and you wouldn't want it to be the only one when camping for multiple days.
To expand your menu when you're out in nature, learn how to prepare food by yourself. Here is a quick and dirty guide you can follow:
Plan your meals ahead of time
Consider what you can bring with you, including snacks. Also, ask yourself these questions. Can your cooler keep the meat you'll bring fresh until the last day? Do you have space for backup canned food? Do you need extra bottles of water for cooking?
Bring a lot of aluminum foil
If there's a disposable item you mustn't skimp on, it's aluminum foil. While you may want to be as eco-friendly as possible, it pays to bring a few rolls or sheets with you. You can use them in multiple ways during the trip. Primarily, you can use them to wrap food to keep it warm and safe from bugs and other animals.
Chop your meat and vegetables before you leave
If you've been doing meal preps for a long now, this is also something you can do before you head out. Chopping your food beforehand and putting them in plastic zipper bags can save you so much time. And in some cases, you can even cook the meals completely beforehand.
It is worth mentioning that you shouldn't forget about variety. Nobody's stopping you from going for cup noodles all the way, but consider how the people with you will feel and think.
7. Prepare Activities And Games For The Kids
Being out in nature is great fun in itself, but this doesn't mean you only need to stick with activities only available in the wild. Also, your kids may get bored easily. It isn't bad to let them enjoy some of the games you play in the comfort of your own home. Besides, these can keep them busy without unnecessary fuss.
For instance, just in case it rains and you need to bring them inside the tent, have a deck of cards, or board game ready. Also, don't forget water toys if you're camping near the beach or a lake. Here's a list of the fun activities and games that you could do with your kids in camp:
Water gunfights
Hiking stick limbo
Hopscotch
Bingo
Ring Toss
8. Bring Trash Bags With You
While it may seem like a very obvious tip to follow, it still can't be emphasized enough how important it is to learn how to pack away your litter. There are so many irresponsible campers who don't even bother packing away and leave so much rubbish on their site.
Typically, campsites have their designated bins for you to put all your trash in, but it doesn't hurt to you bring your garbage bags with you. Plus, they can also serve multiple purposes. When it rains, it can act as your raincoat if you don't have one. You can even use it as a table cloth or an additional mat on the ground if you need one.
9. Don't Forget Your Personal Care Products
Don't take being one with nature literally. You don't need to get yourself dirty to enjoy the great outdoors. Remember, there is a plethora of viruses, bacteria, and even fungi that may stick with you during the trip. Always keep yourself, your family, and your friends clean when staying outside.
However, you don't have to go overboard and bring bath bombs and whatnot. Just the basics will do toothbrushes, toothpaste, soap, and shampoo.
Alternatively, here are some important hygiene tips you should be mindful of:
Wash your hands with your soap before cooking meals on the camp or eating.
Rinse utensils and cooking equipment thoroughly before and after a meal.
Wear gloves whenever you need to interact with nature.
Pack two or three outfits you can alternate if you're going camping for a few days.
To save a bit of water, bring and use dry shampoo.
Conclusion
Camping is that much-needed retreat that you may have long hoped to have—away from the hustle and bustle of city life.  With these tips now at your disposal, you shouldn't have to feel so daunted about the prospect of going on a camping trip.
The truth is that when you deprive yourself of this simple pleasure, you're missing out on so much. There's just a lot that can come out of a camping trip, and it's up to you to give yourself that opportunity to get out there and enjoy all these. Camping is great for everyone—from families to solo travelers and even those with young kids. Now that you've got these tips to follow, all that's left to do is to start planning that trip.