Would you like to grill a delicious meal for a camping trip? If your answer is yes then a portable charcoal grill may be the best option for you.
These grills tend to be smaller and lighter in size. These can give you all the great taste and function of a regular charcoal grill.
If you are looking for good quality and affordable charcoal grill then you must review some important things. But what are they?
If you do not know how to buy an affordable charcoal grill, then you have come to the right place. Read about cheap charcoal grill buying tips so that you can find the best one. So, don't miss anything and keep reading to know more about how to select the best Charcoal Grill for Camping.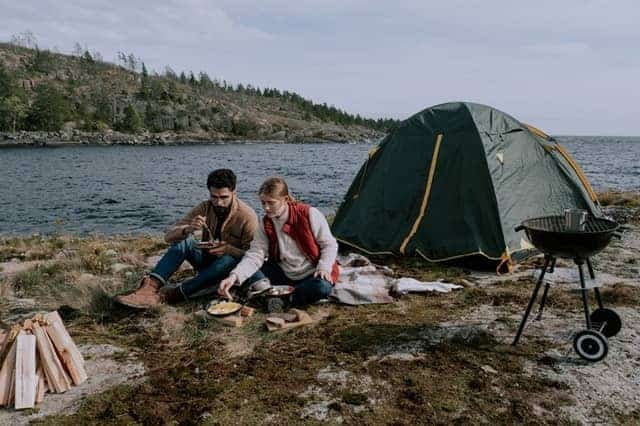 Things to Follow before Buying the Best Charcoal Grill 
Portable features
Almost all of the portable grills you see on the market today come with a variety of great features that help them cook more efficiently than traditional grills.
Check if the grill you are choosing has a snug-fitting lid or not. To control the airflow, the snug-fitting lid will help you a lot. If it has a vent or damper, you can further control the temperature and airflow. As you surely like to get more control over the condition and quality of your food, it will also help you with that.
The ability to lock the lid makes travel easier. Some portable grills are easily removable which means you will be able to easily transport them from one place to another. You will even find some of the best portable grills that include bags. You must review all these features before buying.
Size
Most of the portable grills on the market typically come with a cooking surface of 300 square inches or less. Grills that are larger than this size are not considered portable and are also unreasonable and problematic to use. With the help of 300 square-inch grills, it is possible to feed four people at a time. Small surface areas, on the other hand, are considered suitable for feeding small groups.
Weight
The weight of a grill depends on the size of the grill. Surely you don't want to buy a grill that isn't portable and extremely heavy, right? Generally, everyone prefers light grills because they are easy to carry and transport. I would advise you to buy a grill for under 40 pounds as grills of this weight are easy to carry.
Cooking Grate Ingredients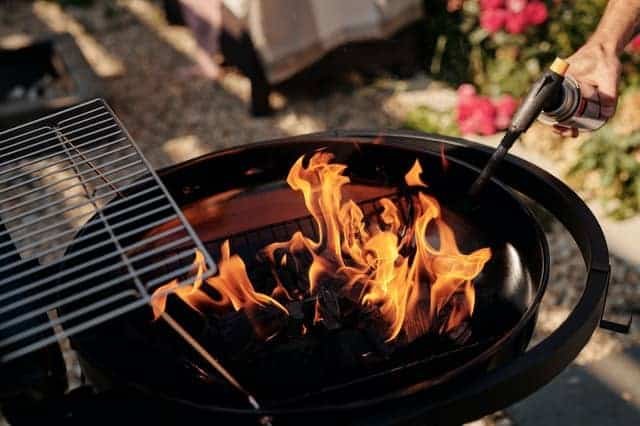 One of the most important things to keep in mind when buying a charcoal grill is the cooking grate material. You must choose a grill that can hold some heavyweight. This allows you to place pans or other cooking utensils to the right of the pier. It also helps to widen the grilling options. However, before buying, you should also pay attention to the cooking base ingredients.
Clean Up Features
Almost all the charcoal grills on the market are easy to clean. But when you go to buy it, you need to see if the grill has an ash drawer or similar reception. These features help to clean the grill. Also, grills of certain sizes will be easier to clean due to their shape or the depth of the woodwork. Shallow charcoal bins are certainly easier than deep ones.
Benefits of Using Charcoal Grill for Camping
You will find several types of grills in the market but charcoal grills are the best and most useful. It provides us with several benefits. Do you know about those benefits? No problem if you don't know because we are now going to share some ideas about those benefits. So let's go.
Hotter than Gas
Charcoal grills tend to be much hotter than gas grills. This allows you to cook anything quickly. Judging from the performance, it will surpass charcoal grills, electric and gas grills.
Charcoal grills are an ideal option to add flavor to your food. Temperature means that the juices of the ingredients fall on the hot coals, evaporate instantly and reconnect with the food to add flavor.
Multi-Zone Cooking
If you use a gas and electric grill, you know that several burners or components are needed to achieve a separate cooking area. You will need at least two burners to heat-cook on the gas grill. However, it is best to use a charcoal grill because one of its most important advantages is that this feature is inherent in the design.
For isolated cooking areas, your coals should be distributed just as you like. If you set all or most of the coal in one area of the grill, it will generate more direct heat. You can slow down cooking away from direct heat or cook several unique ingredients in different temperature zones.
Portable Option
Charcoal grills are usually simpler and lighter so they are more portable than gas grills. If you invest in a small portable charcoal grill, you can use it for everything from camping to picnics, tailgating, or fishing. For portable convenience, it is better to choose charcoal grilled.
Affordable
Charcoal grills will always be more economical than gas or electric grills. There are fewer elements here, the designs are simpler and they are easier to produce. These savings go straight to you, allowing you to get a relatively large and full-featured grill at a great price.
Even premium charcoal grills are more competitively priced than gas and electric models.
Final Thought
The charcoal grill is undoubtedly a great item that will help you make your cooking delicious. This is one of the best options for camping, fishing, or picnicking.
You will find many charcoal grills in the market but it is a difficult task to decide which one is the best. We tried to make that task easier. We have highlighted some important guidelines in our article that will help you easily choose the best charcoal grill for you. Thank you all.