About 2,000 people get lost in the woods each year. Sometimes they take a wrong turn. Other times, they might lose their map or their GPS watch quits working. Even people on hiking trails can get injured and lose their way.
It's scary to think about, and might sound like something out of a movie. But, people do get lost, injured, and can even die while hiking. There are risks involved in this adventurous hobby.
If you're an experienced hiker, climber, or mountaineer, you can save lives by doing something you already love.
You probably didn't get into hiking as a hobby to help others, but it's an incredible opportunity and even a bit of a responsibility to take care of your fellow adventurers. Search and rescue teams, for example, are made up mostly of volunteers. They always need people experienced with trails and wilderness survival to be leaders.
Whether you only end up keeping yourself and your hiking party safe or you want to do more to help others on and off the trail, you can make a huge difference as a hiker. Let's look at how preparedness, diligence, and mitigating risks can help save lives.
Image Source: Unsplash
How to Stay Safe on the Trail
Helping others starts with helping yourself. The more you know about keeping yourself safe while hiking, the more you can use those skills for your fellow adventurers.  Knowing how to stay safe can also help you feel empowered and more motivated to help others along the way.
If you've been hiking for a while, you probably know some of the basics of how to stay safe. But, that can sometimes cause frequent hikers to become "lax" in their diligence. You should take every precaution possible before every single hike. Don't assume that your experience means you're immune to accidents along the trail. Some of the most common trail injuries are sprains and broken bones. If you get hurt or lost along your route, knowing what to do is crucial for your well-being and safety.
So, what can you do before and during your hike to keep yourself and your party safe? Utilize the following tips:
Talk to a park ranger beforehand about what to expect
Don't go by yourself
Let others know where you're going to be
Put together an emergency/safety plan
Wear the right clothes and boots
Stay on the marked trail
 Be careful as you start to get tired
In addition to keeping yourself safe, it's also crucial to have the right gear with you when you're hiking. The most important thing to carry is water. It's estimated that 75% of Americans are chronically dehydrated, and dehydration can happen quickly when you're sweating and staying active. Make sure you're carrying enough water for your whole trip, or invest in a filtration system that will allow you to collect water from a stream or pond and filter it so it's safe to drink from a bottle.
In addition to bringing along plenty to drink, your gear list should include:
A first aid kit
Navigation
Protection from the sun
Fire-starting devices
Flashlight or headlamp
Food
 Emergency shelter
By hiking with other people, you can all split up the gear load so no one is taking on too much in their backpack. But, don't skip out on these important items. Most of them are precautionary, but they could end up making a huge difference in an emergency.
Join a Search and Rescue Team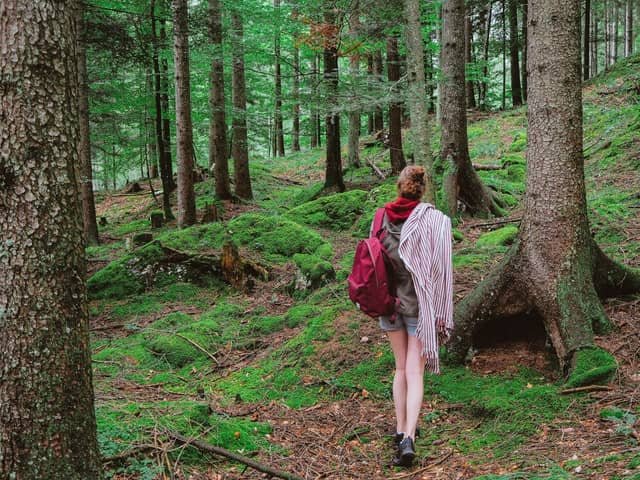 If you feel confident that you can take care of yourself and others on the trail, you might want to consider joining a Search and Rescue effort. Again, SAR teams are usually made up of volunteers who have experience in a certain area or those who know the lay of the land. Many SAR teams across the country are overwhelmed right now, so volunteers are always needed.
There is technically no formal training needed to become a Search and Rescue volunteer. Most teams look for people who are experienced and physically fit enough to handle walking long distances, climbing, and searching in potentially harsh terrain.
But, if you want to take SAR missions seriously or do them frequently, some training/educational opportunities can help you, including:
Basic compass training
Alternative navigation
Tracking
ATV lessons
Advanced navigation
 Wilderness first aid
It's important to know that there are different "jobs" for every SAR mission, and your job might change throughout the search, depending on how long it goes on. For example, you might not always be the one hiking a trail or climbing up the side of a mountain. You might be responsible for setting up a rest area for other volunteers. Or, you might be the point of communication person, keeping everyone on the team in the loop about what's going on.
Even if you have physical limitations, you can still do your part on a Search and Rescue team. They always need people to serve as representatives, organize fundraisers, and get the word out about what they do so others will continue to volunteer and help.
You might find once you join a SAR team that you love being able to help others and have an adventure along the way. Some people go from SAR volunteers to employees. But, there are a variety of other careers you might be interested in as a compassionate hiker, too.
Consider Going the Extra Mile
What are those careers, exactly? Can you really make money by turning your hobby into a full-time job?
Well, maybe hitting the trails every day for fun isn't going to give you a paycheck. But, there are many career paths that not only allow you to hike but to make a difference in the lives of others.
Perhaps the most obvious choice is to become a park ranger. It's much more than just a figurehead job. Rangers are responsible for keeping people safe, enforcing laws, and understanding what to do in emergencies. If you're a forest ranger, you'll also be responsible for taking care of your surroundings. Many rangers spray trees with pesticides and make sure the land is clean and healthy.
Interested in something that gets you out on the trails every day? Consider becoming a nature photographer, journalist, or trekking guide. You'll get to experience nature every day and enjoy different perspectives.
If your passion remains to help people, you could even consider taking your SAR efforts to the next level and get medically trained as an EMT or flight nurse. Flight nurses are responsible for taking care of patients in critical condition before they're able to receive medical treatment from a hospital. Typically, when an injured or lost hiker is found in serious condition, a helicopter will be brought to the area and they will be airlifted to the nearest medical facility. It's the responsibility of the flight nurse to care for them along the way.
Whether it's taking care of yourself, your friends, or strangers on the trail, saving lives as a hiker is a rewarding and fulfilling way to take your passion to new heights. Keep these ideas in mind if you want to help others. Your knowledge and experience could help someone see another day.