When we enjoy the great outdoors, we're assuming certain risks. Camping, hiking, and backpacking all come with known dangers. While the thrill of it all may seem adventurous, we still do all we can to avoid the biggest camping mistakes. Right up front, we can tell you two of the most common camping and hiking mistakes: Forgetting essential gear, and not getting a good night's sleep. In this article, we will outline the pros of owning the best sleeping pad like the Outdoorsman Lab Ultralight Sleeping Pad.
Outdoorsman Lab Ultralight Sleeping Pad
"Best Suitable For a Comfortable Rest and Sleep!"
Best Reliable Pad
Main Features
Ultra-lightweight and comfortable sleeping pad
More durable and high-quality Nylon material
A prominent and best reliable USA-designed gear
Awesome customer support and response
The Importance of Sleep for Campers and Hikers
Most camping accidents are caused by weather-related events. Specifically, heat exhaustion, sunburns, dehydration, or even frostbite happen more than we'd like.
When hiking, the biggest danger is falling. Actually, slipping on a trail or losing your footing on a steep incline can cause injuries minor or severe. The second most dangerous risk is getting turned around and losing your way. That increases your chances of being exposed to weather-related dangers.
The best way to avoid injuries and mistakes outside? Awareness. We love the outdoors because it lets us live in the present and connect with nature. But we cannot do that unless we're alert, fresh, and well-rested. And that means getting the best sleep we can on our outdoor adventures.
Don't Forget Your Sleeping Pad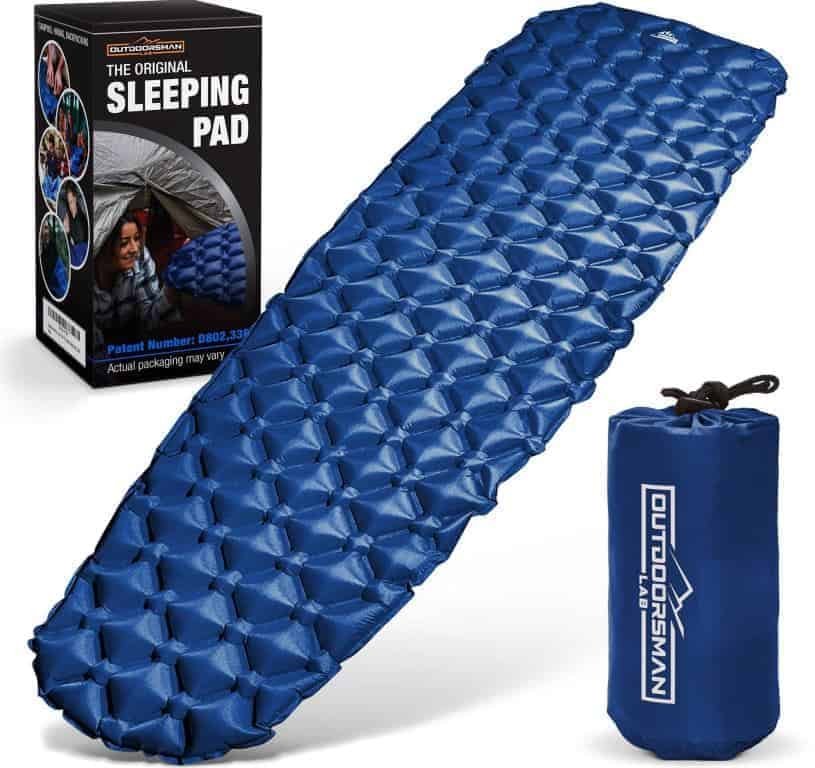 Aren't we supposed to be roughing it? Sure, doing without modern luxuries is part of the appeal. But there's a crucial middle ground between the comforts of home and bedding down on the hard, dirty ground, and that's the perfect camping pad for sleeping.
If you've always thought a sleeping bag was enough, or bought sleeping pads and didn't like them very much, we have a good idea of what the problem was. The most common reasons campers skip sleeping pads include:
Don't want to tote along with extra equipment
Difficult/time-consuming to set up and tear down
Doesn't help regulate temperature – the sleeping pad feels too hot or cold at night
Flimsy – sleeping pad tears easily and is a hassle to replace
Uncomfortable – you slide around on the pad
Listen, you'll find substandard products in absolutely every category you can shop from. If you've tried and failed to find the best camping sleeping pad for your money, it's not because it doesn't exist. It's just that the market has been overcrowded with companies that don't do their research.
However, there are a few who create the most efficient, useful designs for real campers, hikers, and backpackers. For example…
The Outdoorsman Lab Sleeping Pad for Camping, Hiking, and More :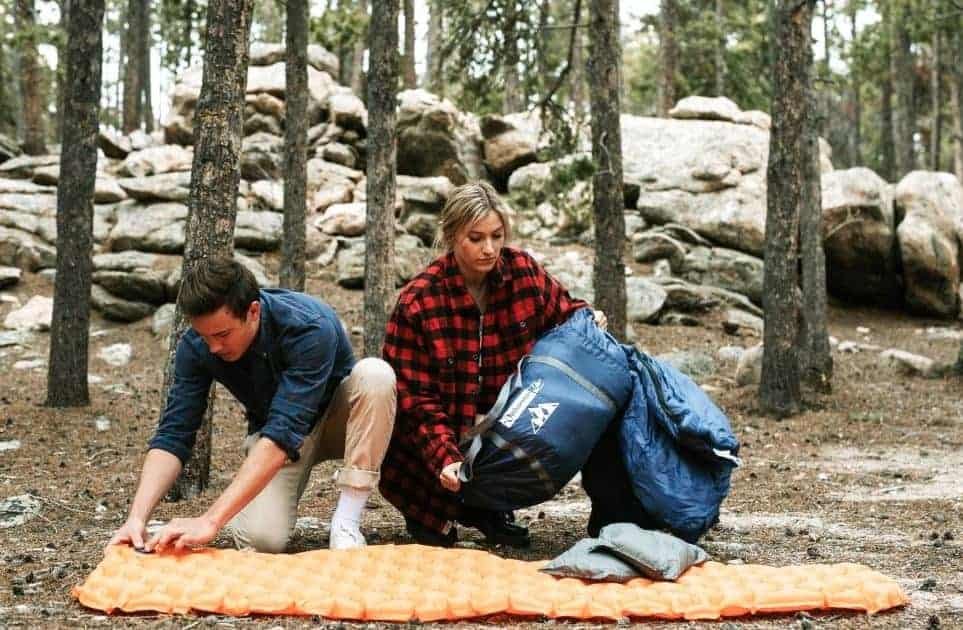 Outdoorsman Lab Sleeping Pad
Ask yourself what you need in a good night's rest while out on the trail or campground. What would make a sleeping pad worth reaching for as you prepare for every excursion?
We want:
Something light that won't add pounds to our pack
A sleeping pad that doesn't rip or keep deflating after one use
Support and comfort, no slippage
Easy to set up and pack away
Regulates body temperature
Plus a few other bonus features, like help regulating body temperature and thickness we'd describe as "just right". The Outdoorsman Lab ul Sleeping Pad has successfully hit every mark on multiple adventures.
Easy to inflate and deflate
First, there's the ease of use. This sleeping pad packs down to roughly the size of a water bottle when deflated, and weighs less than one pound. There's also the air valve – just one! – which makes inflation and deflation simple. You can adjust to your firmness preferences, but it typically takes between 10-15 breaths to fully inflate. It took us less than five minutes to get it fully set up for the night, and we didn't even get winded.
Design prevents slipping
Next comes comfort. This mat is approximately 2.2 inches thick, which is perfect for support, but not so cushy that we roll around during the night. And thanks to the tough Nylon construction with special cell design, we stayed put without slipping.
Awesome technology
What's really important to know about this sleeping pad is that you literally won't find another like it. It's patented, an exclusive technology that helps you get good rest at night, so you'll be on top of your game the next day.
About Outdoorsman Lab
Learn more about the brand behind the best outdoor gear we've recently put to the test as mentioned on Amazon under Product Description:
"Outdoorsman Lab was founded with a scientific mindset, the spirit of the great outdoors, and a mission to offer innovative, well-made, high-performance outdoor gear at a great value. We work hard to craft innovative designs with select high-quality materials to create exceptional, affordable outdoor gear that stands out from other products on the market. Our gear is thoughtfully designed and rigorously tested to exceed your expectations while providing an unmatched combination of premium features, performance, and value.
Based in the foothills of the beautiful Rocky Mountains in Colorado USA, we believe outdoor adventures should be a fun, comfortable, and safe experience. Our goal is to provide you with reliable quality gear so you can come back relaxed, recharged, and ready to plan your next adventure. So, whether you are heading out on a week-long backpacking adventure or just going on a weekend camping trip with your family, Outdoorsman Lab has the gear you need at the prices you love."
Ultralight Sleeping Pad: Video
Frequently Asked Questions:
Here are some common questions people have about this sleeping pad, with answers supplied by the brand.
What are these sleeping pads' dimensions?
It is 8″ x 3″ x 3″ when completely deflated and packed for travel. Inflated, it measures approximately 73″ x 21.6″ x 2.2″.
Is it suitable for cold weather trips?
Yes, the Outdoorsman Lab Sleeping Pad has an R-Value of 2.2 for four-season warmth.
What is it made of?
The exclusive design is constructed of durable 200 ripstop woven Nylon with a laminated TPU coating.
Is there a return policy if I don't like it?
Yes. Outdoorsman Lab offers has a 30-day, no-questions-asked return policy. If for some reason your pad is defective, you'll get a replacement. While we doubt you'll have any problems with it, it does make it pretty risk-free to try out for yourself.
Is the design really patented?
Yes, this is the only sleeping pad of its kind. Patent number D802,336.