The Osprey Packs Exos 58 Backpack is for ultra-lightweight enthusiastic hikers who don't want to sacrifice comfort. The Osprey Exos 58l backpack is the best hiking backpack from the Osprey Packs.
About Osprey Brand :
The Osprey Packs is a US-based leading manufacturer of hiking backpacks since 1974. The company has set remarkable leadership in making durable, weatherproof best camping backpacks. In the meantime, they maintain deliverable standards and classic designs in the industry. In addition, the Exos 58 is having the added benefit of ultralight compared to other Osprey backpack designs.
"Best Companion for your Lightweight Outdoor Excursions!"
Reliable Pick
Main Features
Superior comfort and good suspension
Easy to haul with a Detachable top lid
Easy gear organization and lightweight
Padded hip belt and breathable back panel.
Awesome Design:-
At the same time, the awesome design of this Osprey backpacking backpack makes it more comfortable and durable. Instead of presenting a "large tube" model, Osprey Exos designed with fewer external pockets and attachments than other larger hiking backpacks. This Osprey Packs Exos 58 provide a lot of internal storage capacity.
In fact, this hiking backpack stores a lot of things like hiking gear, sleeping bags,s and camping tents which need a lot of volume to store. Compared to other Osprey large hiking backpacks, the Osprey Exos series is made of ultralight but heavily durable fabric and material.
Attractive Specifications:
Osprey Exos comes in three different sizes. At this point, you can choose according to your torso length from these different sizes. Presently, three sizes are available: small (SM), medium (MD), and large (LG).
What is the weight of the Osprey Exos 58 Backpack?
Normally, the pack weight for small (SM) is 2.63 lbs, medium(MD) is 2.65 lbs, and large(LG) is 2.68 lbs. But the stripped weight differs a little from the packed weight.
Actually, the small size holds a capacity of 55 Liters (3356 Cubic Inch) and weighs 2.31 lbs. in the bare condition. At the same time, the medium size capacity is 58 liters (3539 Cubic Inch) and weighs 2.40 lbs. The large model capacity is 61 liters (3722 Cubic Inch) and weighs 2.49 lbs. only.
Moreover, This pack comes in two fantastic colors: Pacific Blue and Basalt Black. Both are very attractive colors and have a unique design. This best hiking backpack for the money is ideal to carry 30 pounds of gear and recommend for up to a load of 40 pounds.
Actually, the small pockets provide more storage capacity for easy organization of hiking gear. A removable floating top pocket, stow-on-the-Go trekking pole carry, mesh side pockets, cross-functional and removable sleeping pad straps, Front stretch mesh pocket, Cord tie-off points, and Ice tool attachments loop are some of the special features of this backpack for hiking.
Special Features:-
In addition, some of the special features which make this Osprey backpack unique and outstanding are:-
Detachable Toplid :
Above all, this camping backpack features a detachable top lid with an internal key clip and an internal zippered mesh pocket. In order to shed more weight for minimalist hikers, this pack is provided with a detachable floating top lid. This floating top lid is a perfect one for carrying when you are on the way to the city or out of the camp area. The detachable top lid fits smartly to your waist for carrying.
Integrated FlapJacket:
Osprey 58 integrated FlapJacket is a nylon flap underneath the detachable top lid. In fact, when the removable lid is detached, the FlapJacket system will come into action. The integrated FlapJacket is attached to the buckles.
Actually, this acts as the top lid to help the things inside the backpack dry. This FlapJacket deploys to provide protection to the main compartment when the top lid is removed.
Sleeping Pad straps :
Removable sleeping pad straps are provided at the bottom to carry external gear like a sleeping pad when required. Actually, these straps are adjustable to the desired length as required. These straps are completely removable when not required for your trip. The user manual explains the procedure for removing the strap. It takes only a couple of minutes to remove the extra straps, if not required.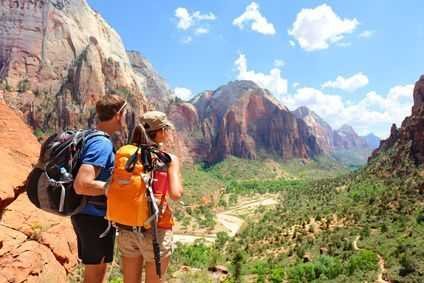 Stretch Mesh External Pockets :
All the Osprey 58 Exos pack design features dual side stretch mesh side pockets and a stretch mesh front pocket. Mesh side pockets with InsideOut compression provide stability and storage. The dual-side stretch mesh side pockets are very easily accessible from the outside.
They are provided with an InsideOut compression design which permits you to secure and tension gear loads through your mesh side pockets. You can route the InsideOut compression straps as desired to achieve stability. In the meantime, the entire side compression straps are removable also. The side compression straps are used for stabilizing the load while hauling. This is a great feature while hiking.
Exoform Hipbelt:
The hipbelt is ExoForm sewn-in. This provides load transfer, cushioning, and extreme comfort due to seamlessly layered mesh-covered foam. In addition to this, the belt is provided with easy-access zippered pockets to keep essential things. The dual-zippered hip-belt pockets are used to keep frequently needed things safely. The adjustable hip belt with ErgoPull ensures a close fit of the pack.
Tie-off points:
Both sides of the front panel feature cord tie-off points for easy attachment of tools, camping tent poles, or any other additional gear. A stow-on-the-Go trekking pole attachment is provided to hang your poles when not in use. It is provided below the side pocket on the left side of the backpack.
Airspeed Superlight suspension :
Moreover, the peripheral frame of this backpack is an aluminum alloy with an internally suspended cross strut giving superior hauling support. Airspeed superlight suspension stabilizes the load and meanwhile gives airflow for ventilation. This avoids wetting of the backside due to sweating. This feature is very useful when the pack is used for long trekking trails.
Exoform harness:
The ExoForm sewn-in, EVA foam padded harness provides comfort and stability. The seamlessly layered mesh-covered foam and spacer mesh at the shoulders unite breathability and performance. A breathable, smooth contact surface is formed giving you comfort and stability. The sternum strap is adjustable and carries a rescue whistle.
Hydration System :
The hydration system of this pack features a Hydraulic reservoir, hydration tube, and internal hydration sleeve. The pack features an internal sew-in back panel sleeve with a clip attachment to store up to three liters of water. H2O icon marking is provided at the top of both sides of the backpack to point to the routing of your hydration tube.
Store the hydration reservoir in the hydration sleeve and route the hydration hoses as required. Take an Osprey Hydraulics 2 or 3-liter hydration reservoir as per your requirement for the planned trip. Hydraulic reservoirs of capacity 1.5 liters and 2.5 liters are also available for use.
Pros
Ultra-lightweight model
Detachable top lids
Comfortable
Good suspension
Easy to load
Cons
Average durability
Lack of exterior pockets
Final Verdict :
The detachable top lid option is very excellent for hikers. As a matter of fact,  this will help those who want to shed more weight during a special period, without reorganizing the whole hiking backpack.
The ExoForm hip belt and shoulder harness design are unique to provide carrying comfort and stability of the load. In conclusion, smart storage and comfort is the main highlight of this Osprey pack.
It is very hard to get a unisex backpack design like this. This pack is commonly used by hiking enthusiasts as it is ultra-lightweight and comfortable. No doubt, there are so many less expensive backpacks available, that they will not be as comfortable or as versatile as this awesome Osprey backpack.
Other Best-Selling Osprey Backpack Models
Here are a few other Osprey's bestselling camping backpacks, you may consider checking. Here it goes.