Everyone who enjoys riding, irrespective of gender, wishes to visit Leh Ladakh at least once in their lives. While they envision an inspiring trip, the reality is that they come across a variety of pitfalls.
Knowing that bikers are likely to meet a few hurdles in rough terrains like the one in Leh and Ladakh, We've made our best effort to collect every detail in this blog, which will assist riders to overcome any obstacles along the way.
About Leh Ladakh Bike Trip
In the stunning Leh Ladakh tour, the phrase "there's beauty all over everything, all you have to do is stare around" is absolutely true. With stunning views of one of the most beautiful places to visit, Leh Ladakh, India, is about the sensation of snow-covered mountains, rugged terrain, high mountain peaks, treacherous roads, and roaring motorbike engines.
In short, taking a Ladakh bike ride is all about good feelings and the unstoppable spirit. There are numerous Leh Ladakh tour packages available through a number of travel sites, which offer bicycle and car rental services.
When Is The Best Time To Visit Leh Ladakh By Bike?
Between June and September is the best season to organize a bike trip in Leh Ladakh. The bikers can explore the tourist destinations of Ladakh, and also they can enjoy the Lahaul & Spiti trip. But, most bikers are keen to start their new year by taking this thrilling bike ride because Ladakh is a place of breathtaking views that can be enjoyed all year, except during monsoons.
A Bike Trip's Ideal Duration
The perfect timeframe for a Leh Ladakh motorcycle journey would be 15 days or over, depending on factors such as the route you've picked, your entire itinerary, and notably the weather conditions. This is a good option if you want to bike from Delhi to Manali.
The cost of a trip to Leh and Ladakh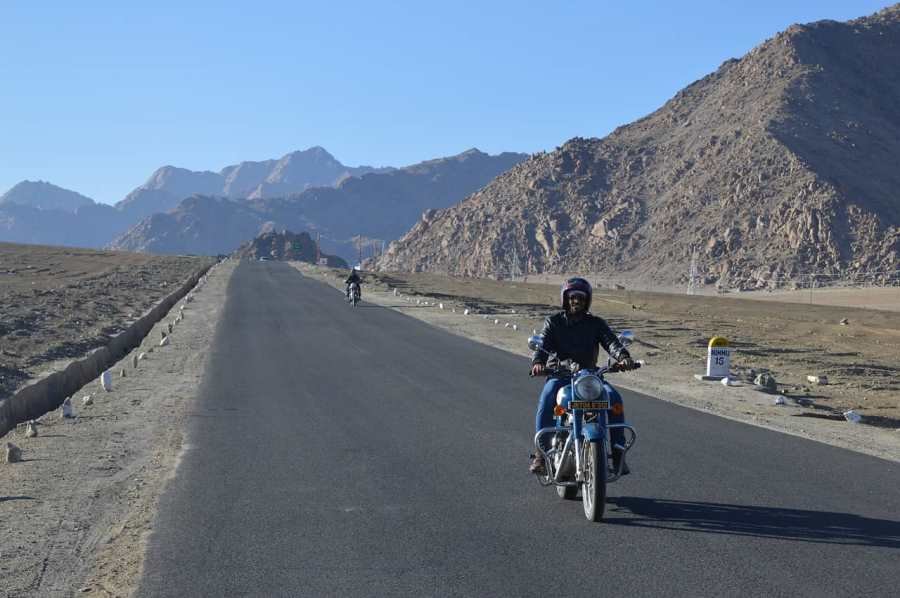 To initiate, you must first calculate your budget. It all depends on the car you select for your trip, along with your budget. The cost of your Leh Ladakh road trip will also be determined by the sort of lodging you select and the cuisine you consume. However, an average budget can be determined by considering the essential elements like accommodation, meals, and fuel.
In normal conditions, you'll end up spending around INR 35,000 to travel to Leh Ladakh on a bicycle for 15 days. The cost of the Leh Ladakh bike tour can vary depending on the route. It also covers permits as well as various expenses related to this Leh Ladakh bike tour.
The Top Motorcycles for a Leh-Ladakh Road Trip
When selecting a Leh Ladakh road trip, Bike, it's indeed necessary to be cautious as well as selective. When selecting bikes for any road trip, be sure you choose a bike that's suitable for your needs rather than the popularity.
Consider it one of the most important factors to consider while organizing your Leh Ladakh bike tour! When we talk about the things to be discussed first, all bikers must pay complete focus to their first affection, and that's their bike.
Choosing bikes that you can easily handle and that are simple to maintain has proved to be secure and beneficial for riders on trips such as the Leh Ladakh bicycle trip. So, here are the best five bikes to take on your Leh Ladakh biking trip:
1. Royal Enfield– Considered to be the best bike for a Leh Ladakh journey, the Royal Enfield is a strong motorbike having 350 or 500cc that might actually matter on a Leh Ladakh bullet trip.
2. Royal Enfield Himalayan- With an engine that is powerful, weighing in at 400 CC. Royal Enfield Himalayan will allow you to ride effortlessly on all trails, even offbeat roads.
3. Bajaj Pulsar- It is the most popular. No bike has made waves within the Indian market as compared to Bajaj Pulsar. It is the most sought-after bike; following the Bullets, Pulsar has models of 150CC, 200CC, and 220CC, which could prove to be a reliable companion on all of your adventures.
4. KTM Duke- It is lightweight; it can be beneficial on roads such as those of Ladakh. With the introduction of the engine models, including Duke 390, and Duke 250, KTM can be an ideal choice for biking to Ladakh.
5. CBR250- Honda makes the motorcycle a standout apart from its Contigo tires, which are difficult to maneuver in Ladakh's terrain in weather changes. The bright side is that when the tires could be replaced, you can utilize the bike's torque and fi technology to use and serve a more critical use.
Yamaha Fazer, Bajaj Vikrant, Yamaha FZ, and Hero Impulse are among the finest motorcycles for something like the Leh Ladakh tour, according to the bike rentals. Although these bikes aren't as heavy on the engines, they are sure to pick up speed (without violating any laws) while on the move.
Bike Rentals in Leh, Ladakh
There isn't a bike to be found. There is no need to be concerned. The bike rental centers in Delhi and Manali will always give you a ride for rent if you present all the documents required. For Delhi, Karol Bagh is the central point from which you can hire a bike for INR 900.00 per day.
Only you'll need for a Leh Ladakh motorcycle ride via Delhi is a photographic identity paper, your driving permit, 10,000 rupees as a security deposit, and a written permission document from your guardians if you're under 25.
In Manali, the per-day rental costs vary from INR 1,000 to INR 1800, while the security deposit ranges from INR 12,000 and INR 18,000 with an original copy of ID documents.
Apart from that, you could also engage an expert mechanic to work off the daily wage for the whole time of the Leh Ladakh bike trip. Be sure to remember not to put your bike on a test run and test its performance beyond its limits to ensure you are secure when you travel by bicycle.
Best Leh Ladakh Bike Tour Route
Srinagar to Leh and Manali to Leh are the two primary routes that give the finest road conditions and spectacular vistas when utilizing Delhi as a base point for a Leh Ladakh bike journey.
Srinagar from Leh route isn't overlapping and makes a circle from beginning to end. From Manali, the Leh Ladakh bike ride route takes you over steep terrain with spectacular vistas.
Essential Expenditure on Leh Ladakh Bike Tour
Here's a list of expenses that can give you a concept of the budget you could anticipate receiving from the Leh Ladakh bike trip:
Petrol – When you consider petrol as the main ingredient when you go on a bike ride regularly, it will cover a distance of 3500 miles. Of the various bikes being evaluated, the average speed is 35 kilometers per one liter.
That means that you'll be in the vicinity of 100 liters of gasoline, and you'll probably require an amount between INR 7000 – INR 8,000.
Accommodation – There are plenty of low-cost hotels located in Leh Ladakh that allow travelers to find affordable accommodation in the budget between INR 500 – INR 2500 per person based on double sharing with taxes included (as according to booking.com).
Therefore, the cost for a standard hotel that offers the highest quality of facilities, comfort, and reviews, could cost between INR 500 and INR 2,500 per night for a person, based on whether you're looking for the cheapest hotel or the most luxurious one.
When you consider the lower price, a 15-day vacation is an approximate sum of INR 7,500 for lodging. Let's make it INR 8000 per person.
Meals – Similarly, the price of food is contingent on the traveler's preference if they would prefer to eat at a Dhaba or a restaurant. Dining at a Dhaba can cost INR 100 – INR 150 while dining at an average and lively restaurant could cost approximately INR 400 – INR 500 per head for your journey from Leh Ladakh.
Considering the lower limit will cost you approximately INR 2,250 to INR 6,000 for meals. On average, you'll have 3500 INR to eat meals.
Miscellaneous – It is essential to have some cash in reserve for the event of an emergency, such as shopping for souvenirs or getting permits. Therefore, a sum of INR between 2,500 and INR 5000 is an absolute requirement for any cyclist to spread it over their luggage or pockets and store it for backup.
Best Three Places to Visit on Leh Ladakh Bike Trip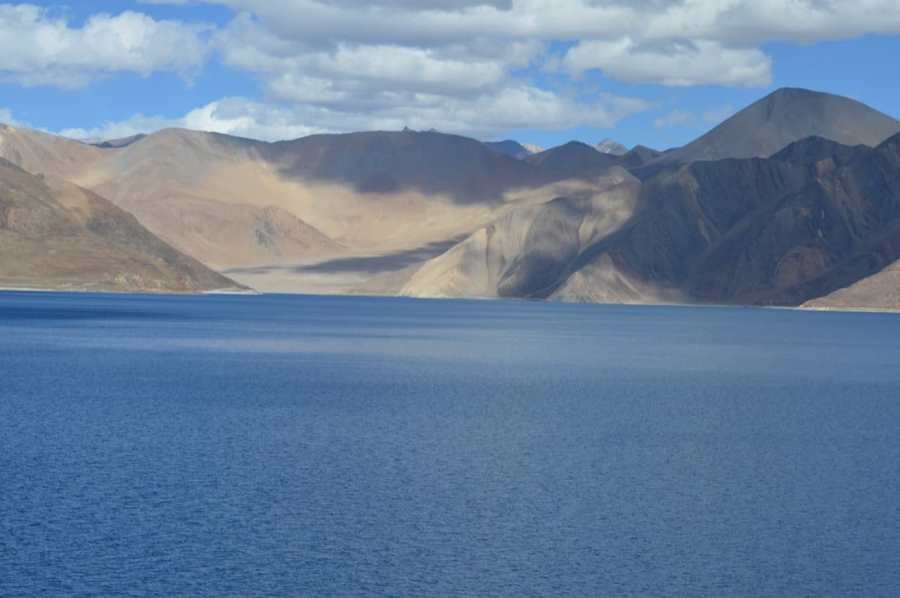 Are you wondering what attractions you can include during the Leh Ladakh bike trip in 2021? Set your schedule around these places. It would help if you explored Ladakh.
1. Pangong Tso – The Lake is also known as Pangong Tso Lake, and is a must-see tourist hotspot on the Leh Ladakh biking journey. The lake, which is located in the Himalayas and spans 140 kilometers, provides spectacular views of the rugged mountains.
It is massive that 60 percent of its length lies to the east of China, making it among the most significant lake bodies in Asia.
2. Namgyal Tsemo Gompa – The Namgyal Tsemo Gompa, also known as the Namgyal Tsemo Monastery, is located in the Leh area. The monastery is well-known for being one of Ladakh's most prominent monasteries. According to mythology, the monastery was founded around 1430 by Ladakh monarch Tashi Namgyal.
It also houses the famed golden Buddha statue, Maitreya Buddha. It is possible to take the chance to see it from the highest point at the top of Leh Royal Palace. If you're staying within the city of Leh, the palace is among the top spots to see in the vicinity.
3. Zanskar Valley – The soothing blue hues and stunning brown can only be seen in the famed Zanskar Valley, which is surrounded by massive peaks of snow across every side.
In winter, the river is frozen, offering adventurers the chance to take on the famed Chadar Trek, where people walk across the ice for several days. A trip to the lively Valley will make you feel enthralled for the rest of your life.
Top Three Things to Do On Your Leh Ladakh Bike Trip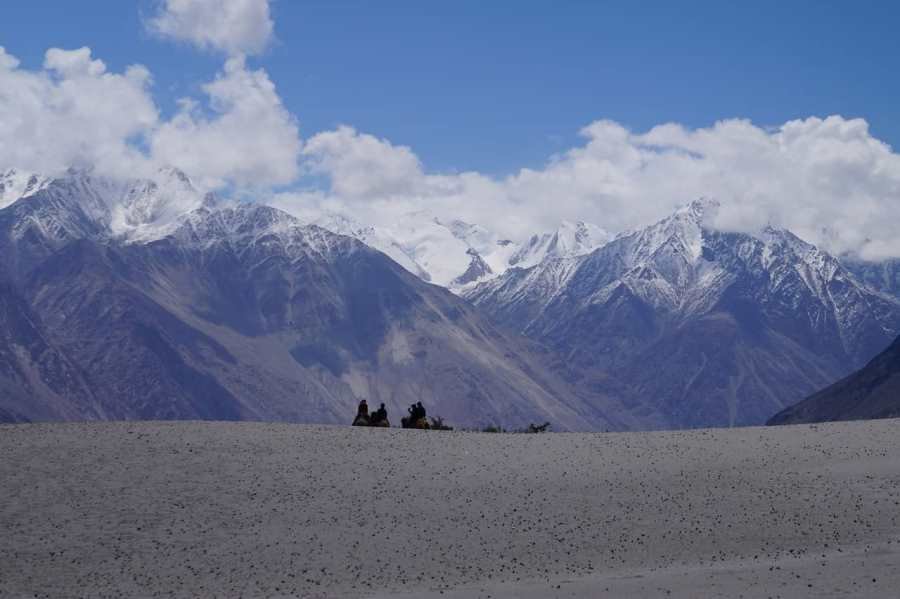 If you're looking to feel adrenaline-pumped, here are a few of the exciting things to take into consideration during the Leh Ladakh bike trip.
1. Nubra Valley Is A Lovely Place To Visit – When you arrive at the Nubra Valley, a well-known tourist destination, the feeling of peace takes over. The Nubra Valley is known for being "the valley of flowers", which refers to the stunning and vibrant blooms that merit a trip into the Nubra valley.
It is among the most beautiful treasures found in Ladakh, which you should explore on your bicycle journey to Ladakh.
2. Find Solace At The Shanti Stupa – The hilltop is perched on the well-known Shanti Stupa can be found at an elevation of 4267 meters. It offers stunning views of Leh and the surrounding mountains, and cyclists need to see the sunrise or a spectacular sunrise in The Shanti Stupa.
It is among the most beautiful places to enjoy peace and serenity. This monument has the advantage of being placed in a magnificent natural setting. The shrine also has the relics of an ancient Buddhist tradition.
3. The Khardung La Is A Great Place To Put Your Riding Skills To The Test – If you're a motorcyclist considering a vacation to Leh, the trek to Khardung La should be at the top of your agenda. It is at an elevation of 18,379 feet.
Khardung La Pass, located around 40 kilometers from Leh, is one of India's most perilous motor-friendly roadways. Inflicting a smack on bikers and drivers on the road, your Leh Ladakh bike trip is unfinished without a ride-along Khardung La Pass, also known as the "Pass of Lower Castle".
Three Must Experiences
Don't claim you've visited Leh Ladakh unless you have been through all of these experiences while on your bike. Everyone who is visiting the area must cross these items off their list.
1. Royal Leh Palace – It is considered to be a treasure located in the middle of Ladakh. The famous King Sengge Namgyal built the palace of the royal Leh Palace. The court is tall and imposing at a height of around nine stories.
One can take in the beauty of Leh's entire city, Stok Kangri, Zanskar ranges, and Indus Valley while standing on the top of this regal but rough palace.
2. Magnetic Hill – Getting a sense of the natural world and experiencing the thrill of Magnetic Hill located in Ladakh is the magic of nature. Magic and Magnetic Hill are inextricably linked.
The Sindhu River surrounds the hills; Magnetic Hills rise to an elevation of around 14,000 feet. Isn't that amazing? And is there a particular type of magnetic power that draws automobiles and bikes uphill? Could you test it out for yourself?
3. Drass Valley – The area is famous for its natural hot springs, which have medicinal properties; Drass Valley is located in the middle of the Kargil district in Jammu & Kashmir. Drass Valley, known for having India's coolest hills, finds the perfect blend of stunning greens, soothing blues, and dramatic browns.
The stark contrast between nature's beauty and Drass valley will cause your jaw to drop to the ground. Make sure to pay tribute to Indian troops at Kargil.