The cold season should not stand in the way of having fun. It is still possible to have the time of your life in snowy or chilly conditions with sufficient preparation. Adequate insulation, as well as protection from wind and moisture, is quite important. Failure to do that will only make you susceptible to hypothermia among other cold-related ailments. One of the safest ways to stay safe in freezing conditions is by dressing up in layers. This has to be done with the help of winter-oriented outfits. In case you are unsure about what to wear hiking in cold weather, you are in for a treat. This article unravels everything you need to know about hiking in cold weather.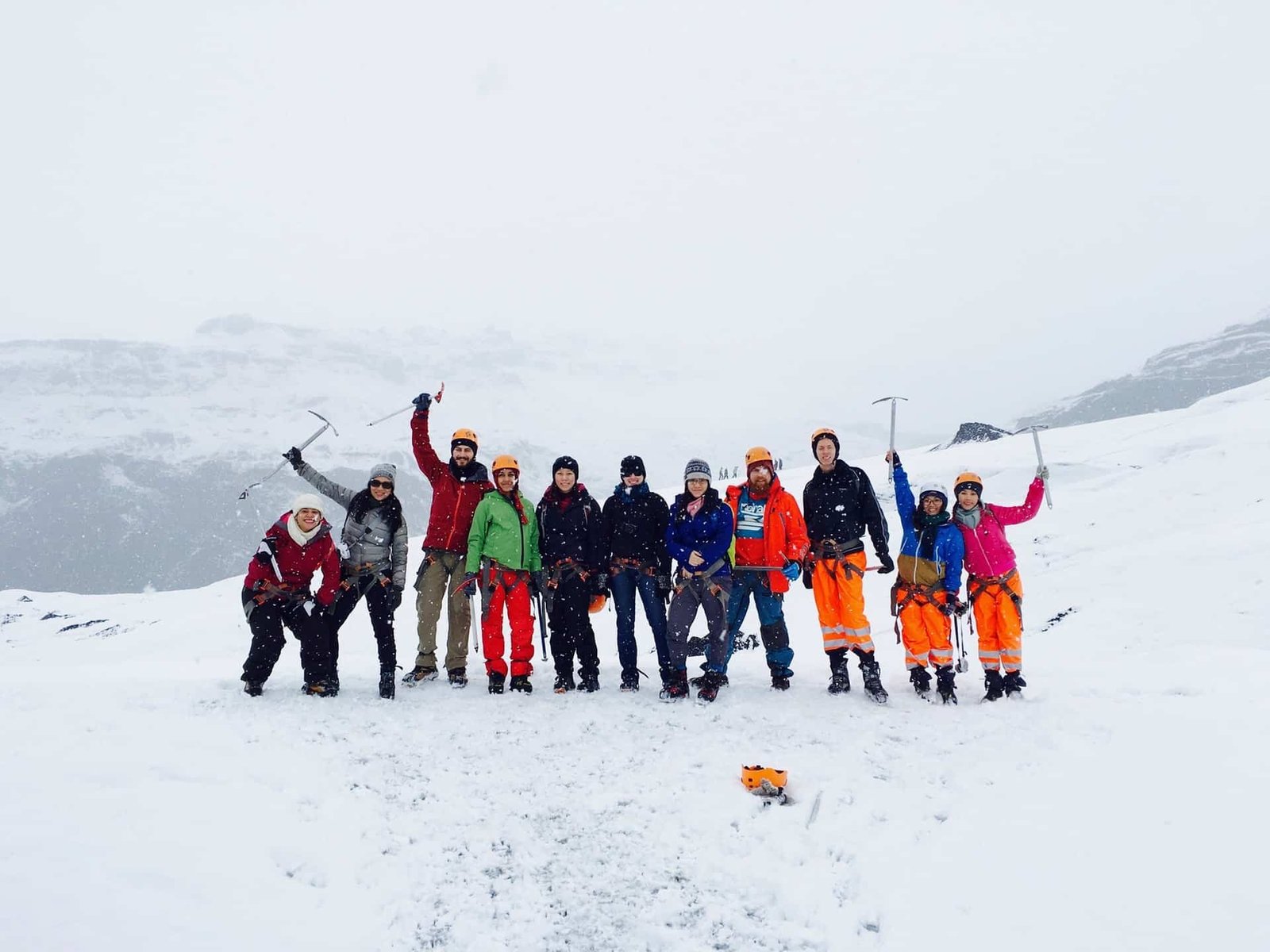 Photo from Pexels
Cold weather hiking/camping list
Here are all the accessories you need for cold weather hiking:
i. Winter coat
Now that you are going out in the cold season you should be prepared for rain, snow, and wind. There is no better way of doing that than getting equipped with a good winter jacket or coat. It is vital to find a coat that is designed to protect you against bad weather. Your preferred model has to be long enough, well-insulated, and perfectly fitting. Here are some of our winter coat recommendations:
(a)

Arc'teryx Atom SL Hoody Men's
"Perfect for cold weather hiking and trekking!"
Premium Pick
Main Features
Offers adequate comfort
Lightweight and Breathable
Durable and sturdy
Ideal for remote conditions
"The choice for every lover of comfort."
This is a perfect freezing-weather dress for men who took so much interest in hiking, trekking, or other outdoor events. Arc'teryx Atom SL Hoody Men's is designed to ensure adequate comfort and coziness while on the road.
Designed with superlight material
Unlike other cold-weather dresses on the shelves, this product is super light. So, you can hike mountains or longer terrains without exhausting them quickly.
Waterproof and Windproof
Arc'teryx Atom SL Hoody Men's comes in breathable textiles, making it resistant to wind and water.
Leave it or take it; hike lovers would definitely find this dress attractive for all events.
Cons
Non-helmet compatible and pricey
(b) Eddie Bauer Women's Lodge Down Duffle Coat
"Ideal to camp in the coldest area!"
Premium Pick
Main Features
Includes a detachable faux fur ruff
Extends from head to knee
Easy to clean with a machine
Ideal for all ages
"Warm and protective."
Eddie designs this coat to keep you warm no matter how icy the weather is. Aside from keeping you warm, this dress also ensures your safety while you hike in the thicket. With fleece lining at the collar and upper body, you can be sure that no thorn will come near your body.
Universal Fit Coat
Unlike other coats for frosty periods, this fabric is not too big or too slim. Eddie makes it with the interest of all campers in mind.
Has Polyester Shell
Undoubtedly, a polyester shell is one of the high-quality materials constructed on the shelves. This material helps the coat resist water or moisture. Aside from the polyester shell, it also has StormRepel's durable water-repellent finish.
You got the perfect coat for all cold winter walks. 
Cons
Not beautifully designed
Not well shaped
Hassle to return
ii. Sports t-shirt
The t-shirt will also form a decent base layer for the upper body. You might need a single long-sleeved pair in the event that it is not so cold. Its fabric should offer unmatched wicking capabilities and breathability. Cotton is obviously a bad choice. Wool or synthetic fabrics are recommended. If temperatures are dangerously low, you may require two tees. Thus, put on the long-sleeved tee first followed by a short-sleeved t-shirt for your base layer. Try these models out:
(a) Icebreaker Merino Men's Merino Wool T-Shirt
"The right long-sleeve T-shirt for all adventures!"
Premium Pick
Main Features
Made from 83% merino wool
Ideal for all road events
Resistant to odor
Dries fast
"Men's choice for the best long-sleeve T-shirt on the road."
As its name implies, this T-shirt provides enough coziness in icy conditions. With this model, you don't have to spend extra bucks buying a coat.
Has Merino Wool Layers
The wool layers make the shirt breathable and warm.
Perfect for all Outdoor Sports
You can enjoy hiking, climbing, backpacking, or any other outdoor event.
The design varies from the covered or exposed neck; please check for the most appropriate construction. 
Cons
Only 5% nylon
Not unisex
(b) Smartwool Women's Sport 150 T-Shirt
"Ideal for female hikers who want an attractive long-sleeve T-shirt to walk."
Premium Pick
Main Features
Perfectly regulates temperature
Durable and comfortable
Offers enough coziness
Fits majority perfectly
"It makes you feel the road's comfort on roads."
Like the previous product, this long-sleeve T-shirt is a must-have for people who are always on the road. Its design is suitable for female hikers only. It also protects your hand from thorns and harmful elements.
Features Modern Technology
The induetructawool technology ensures that the T-shirt lasts for a long. Also, shred shield technology makes it comfortable.
Has body-mapped mesh zones
These zones ensure adequate airflow is distributed around your body.
This shirt is available in different designs, so you can pick the model that best suits your taste.
Cons
Too slim
iii. Hiking pants
Rain pants will form the outer shell now that should be dressed in layers. They have to be wind and waterproof. Breathability is another vital attribute of a good pair of rain pants too. In the event that it is extremely chilly, you can have two rain pants on. One that is lighter but water-resistant for insulation and another that is completely waterproof. Here are our recommendations:
(a)

Arc'teryx Gamma AR Pant Men's
"Durable hiking pants for both snowy and rocky grounds!"
Premium Pick
Main Features
Has a softshell for extra comfort
Perfect for all outdoor sports
Water and abrasion-resistant
Highly breathable
"The favorite walking pants for renowned walkers."
Arc'teryx builds these pants to provide enough warmth and comfort irrespective of your favorite outdoor activity. It is the perfect legging to have on icy or rocky terrains.
Weather Resistant
Aside from frosty weather, this pant is also a perfect fabric to trail in summer. Unlike other models, it has outer layers built to resist water or abrasion.
Multipurpose and Versatile
These hiking pants have a versatile design. As a matter of fact, you can hike, cycle, and snowboard to enjoy any outdoor sport in it.
Ensure you verify the size before purchasing. 
Cons
Has the wrong size description.
(b) prAna Women's Halle Convertible Pant
"The preferred walking pants for all-weather!"
Premium Pick
Main Features
Comes with an interior waistband drawcord
Combines flexibility and comfort
Durable and sturdy
Has button fly
"Everyday pants for people who live fully on roads."
These convertible pants are great outdoor leggings for all weather. While you can have the long pants covering your body in frosty periods, you can easily convert them to a knicker in summer. The nylon and elastane construction makes it unique.
Dries Quick
Since it dries fast, you can easily walk for multiple days.
Versatile
Besides trailing pants, users can also convert the fabric to trousers.
You will love these pants if you are more interested in quality than looks. 
Cons
Has many inaccurate sizes
Too bulky pant
iv. Hiking boots
Hiking boots are a must-have if you are to make the most out of your hike in cold weather. Contrary to ordinary boots, hiking boots boast superior attributes making them ideal for winter. They are waterproof, thick, touchy, and warm on the interior. Strive to acquire boots constructed from leather, Goretex, or a blend of the two for durability. These models will suit you well:
(a) Oboz Men's Waterproof Hiking Boots
"Perfect for rocky trekking grounds in crisp weather!"
Premium Pick
Main Features
Provide enough comfort and cushion
Water-resistant and durable
Protective and supportive
Perfect for rocky terrains
"Hiking boots for all weather!"
These hiking boots keep your feet safe from the elements while you trail to different terrains. It also keeps your feet warm well as offers good ankle support in icy areas. No matter how long you walk in the rain, the boot resists water.
Has Granite Peak Midsole and Outsole
Unlike other hiking boots, this shoe offers stability irrespective of terrain or weather. Likewise, it offers adequate protection and support, especially on rocky grounds.
Has Insulated Top Sheet
The insulated top sheet keeps your foot warm. Likewise, it keeps your toes cozy and comfortable. Rather than releasing the heat out, the hiking boot holds it.
Hikers can always keep their feet and toes warm and safe with this walking shoe. 
Cons
Not ideal for multi-day backpacking
Poorly made b-dry membrane
Not attractive
(b)

The North Face Shellista II Mid Snow Boot
"Perfect for women for any winter game!"
Premium Pick
Main Features
Warm and eye-catching
Ideal for sportswomen
Perfect for wider feet
Has waterproof shell
"Hiking on snowy grounds becomes fun and comfortable with this boot."
This is the best boot for all winter events. The North Face boot keeps your feet and toes dry and warm even on snowmelt days. Besides warmth, this snow boot is also comfortable and eye-catching. The shoe is also waterproof and durable.
Has a Streamlined Shell
In contrast to other walking shoes, this book has a streamlined shell. The shell ensures no water penetrates the shoe, no matter how heavy the rain is. Also, it makes the boot breathable.
Water-resistant and Sturdy
The water-resistant feature makes this snow kit one of a kind. You can walk comfortably in snowy areas with your feet warm and dry.
You don't have to break the bank to trail on snowy grounds. 
Cons
Not perfect for rocky mountains
Scratches and worn out easily
Insulation is not too good
Poorly made
v. Sports underwear
Sports underwear is ideal for the base layer. Now that the base layer keeps the skin dry, you are discouraged from getting underwear made from cotton. Cotton has poor moisture-wicking properties. Nylon, polyester, and other synthetic fabrics are great for underwear. Below are our recommended models:
(a) Thermajane Women's Thermal Underwear Long Johns
"Perfect for all women interested in extra warmth in freezing areas!"
Premium Pick
Main Features
Doesn't produce an unpleasant odor
Doesn't contour your body's shape
Breathable and comfortable
Offers extra comfort
"A must-have for all female hikers in icy campsites."
This underwear from Thermajane allows you to hike comfortably on all terrains. Unlike other models, it has a 4-way stretch fabric, which is eye-catching and simple to wear. It also comes with special moisture-wicking features.
Has Poly-spandex Materials
These materials make the underwear breathable and comfortable. Likewise, it allows the odor to escape leaving you with odor-free fabric.
Lightweight and Fitting
Even if you have a coat on with this underwear, you can move freely around your campsite. Thermajane designs this fabric to offer extra coziness and warmth.
There are multiple designs to choose your favorite color. 
Cons
Has a poor quality
Ripped quickly
Fade quickly
vi. Hiking socks
A pair of hiking boots may not be sufficient against the unforgiving cold conditions. You need an extra layer of insulation. This is why you should include hiking socks on your list. Break them in a few times on normal day excursions prior to hitting the trail during winter. This pair is incredible for winter:
(a) Alvada Merino Wool Hiking Socks
"Ideal for both male and female hikers in frosty time!"
Premium Pick
Main Features
Designed with itch-free materials
Offers comfort and warmth
Made to last for years
Unisex with extra pair
"A must-have for all outdoor lovers."
Like any other hiking kit, walking socks are important. As a matter of fact, this model is one of the best trailing socks available today. These socks from Alvada keep your feet safe from blisters.
Designed with high-quality material
On the market today, Alvada construction is the greatest. Aside from the fact that 15% of polyesters make socks, 80% of construction also comes from merino wool. This construction makes the socks breathable and comfortable.
Ultra-Comfortable
If you are searching for walking socks that offer adequate comfort, look no further than this product. This model is also ideal for all sex.
Ensure you pick the right size for better comfort. 
Cons
Produce big holes quickly
Produce unpleasant smell
Not durable
(b) DANISH ENDURANCE Merino Wool Hiking Socks
"Perfect walking socks for all ages and outdoor activities!"
Premium Pick
Main Features
Perfect for all outdoor events
Resistant to tearing or wear
Ideal for extended trekking
Comfortable and durable
"Become like top climbers and hikers around the world."
Unlike the previous model, this model is not only ideal for men and women but also for kids. As long as you are always on the road, you can always have these socks to keep your feet and toes warm and dry. DANISH ENDURANCE designs this product with high-quality merino wool.
Perfect for all Outdoor Events
Whether you want to trek, hike, cycle, or camp, all you need are these durable socks. This product offers adequate coziness for all events.
Tear and Wear Resistant
Irrespective of how long you have these fabrics on, they would never tear or wear. It has superior-quality construction, which makes it sturdy.
One of the budget-friendly hiking socks on the market today. 
Cons
Not 100% merino wool
Not ideal for long treks
Produces holes quickly
vii. Winter Hats
A lot of people forget to cover their heads in cold weather when a lot of warmth is lost from this part in actuality. For elevated insulation, try out a woolly hat or hats made from synthetic fabrics. Here is our recommended model:
(a) Smartwool Unisex Cuffed Beanie
"Perfect breathable hat for wintry periods!"
Premium Pick
Main Features
Doesn't produce an unpleasant smell
Has double-layer construction
Resist moisture and itching
Easy to wash
"Complete your adventure with a great beanie."
Smartwool designs this cuffed beanie to keep your head warm in freezing conditions. Fortunately, this hiking hat is available for both male and female walkers. The beanie design is also eye-catching.
Designed from 100% Merino Wool
Unlike other beanies on shelves, Smartwool made this product from 100% merino wool. This hat ensures that your head is warm and cozy always.
Machine Washable
Hikers would have no difficulties keeping this hat clean. You only need to wash with the instructed ingredient and dry it.
A cost-saving cuffed beanie for all hiking lovers. 
Cons
Too slim and long
Not too warm
viii. Waterproof gloves
As much as some winter coats incorporate hand warmers it is crucial to have your own gloves too. Gloves aid in keeping hands warm. Other than that, the best gloves for cold weather ought to be breathable and waterproof too. You can try out this pair:
(a) OZERO Men's Winter Thermal Gloves
"Perfect cycling glove for winter sports!"
Premium Pick
Main Features
Has superior-quality water-resistant shell
Designed from windproof polyester
Offers a relaxed feeling while cycling
Smartphone operation is simple
"Comfortable glove for all cycling games."
Your cycling kit is incomplete without these thermal gloves from OZERO. This hand cover keeps your hands warm and dry while you ride in chilly conditions. It also comes with a pull-on closure type.
Windproof and Waterproof Fabric
Whether in light rain or heavy snow, this thermal glove keeps your hand warm and dry. It uses the waterproof TPU component to resist water while you cycle around.
Has Sensitive Touch Screen Fingertip Pads
Unlike other gloves for chilly weather, this fabric allows you to operate your smartphones while you have the glove on. This hand cover is ideal for operating your mobile device irrespective of the model.
Most phone-friendly gloves for all chilly cycling events. 
Cons
Poorly made and clunky
Has too many stitches
Tear easily
What do you wear in freezing weather?
It is imperative to dress up accordingly if you are to enjoy some outdoor time. Freezing weather is fatal to your health. It is important to layer up for optimal warmth and insulation. Before looking at what to wear in freezing conditions, let us first discuss different types of layers for improved protection:
I. Baselayer
The base layer which is also referred to as the underwear layer is your first line of defense against cold. It is meant to be closest to the skin. This layer works to keep your skin dry and comfortable by wicking off any sweat. Although you will be venturing into freezing conditions you are still going to sweat. Sweat is likely to get you chilled which could result in hypothermia. Luckily, you have the base layer to handle that. Nylon, polyester, silk, and merino wool are some of the best fabrics for the underwear layer.
(a) Neleus Men's Baselayer Leggings
"A perfect choice for all-weather sports!"
Premium Pick
Main Features
Budget-friendly and cost-saving
Includes phone pocket
Perfect for all-weather
Has multiple purposes
"The right tights leggings for all sportsmen."
Whether in hot or cozy times, Neleus tights leggings are an excellent choice for all outdoor events. Aside from being breathable, these leggings are also comfortable and warm.
Ideal for All Weather Sports
Neleus designs these leggings with the interest of all winter sports in mind. You can always have these pants when you snowboard, cycle, train, or squat.
Made from Non-abrasion Fabric Material
Unlike other leggings, this product comes with outstanding durability and elasticity. The construction also makes the trailing pant moisture-wicking and comfortable.
This pant offers the best sports experience with enough comfort. 
Cons
Poorly made reap pants
Has big waistline
II. Mid layer
Next is the mid-layer which is supposed to insulate your body by retaining radiant heat. Mid-layers incorporate fabrics that are light yet thick enough to curb heat loss. Mid-layers are mainly made from synthetic fabrics. They should be breathable as well.
III. Wind layer
In the event that the insulating layer is excessively breathable, the wind is likely to blow through. Such an occurrence will inhibit insulation. The mid-layer is susceptible to snow and rain as well. This is where a wind layer comes in. Ultralight jackets are perfect in this case. They have to be treated with durable water repellent (DWR) for elevated performance.
IV. Outer shell
If the wind layer is not sufficient, you can throw on an additional layer. You can either go for a soft shell or hard shell depending on the intensity of a storm or adverse weather conditions. Softshells are water-resistant and more breathable. They also allow more freedom in terms of mobility. Hard shells are a little bulky but highly effective in storms or harsh conditions.
How do you stay warm in winter hiking?
Stay hydrated
Adequate hydration is as imperative in cold weather as it is during summer. You are probably wondering how this is true. The thing is, your core temperature is likely to take a nose dive if you get dehydrated. Such an occurrence would expose you to the hypothermia threat. Insufficient fluids in the system also culminate in dizziness and disorientation. Folks tend to drink less water in the cold season as sweating is not very visible. Hence, do not forget to refill your water bottle or hydration bladder before hitting the sack.
Have some snacks
The cold weather pushes your body into burning twice as many calories as it would under normal conditions. It happens as more heat is needed at this time. That is why you need to eat continuously throughout your excursion. Snacks rich in proteins provide more energy and heat.
Layer up
Perhaps this is the most crucial trick in staying warm while hiking in winter. Aside from dressing in layers, pack up extra clothes that you can throw on if it gets too chilly. Nonetheless, layer your clothes in a manner that your body is protected from wind and water. The layering should also take care of sweating by keeping the skin dry. Therefore, you need a base layer to wick away any moisture from the skin. On top of that, you require a mid-layer to keep your body insulated. A wind or outer layer comes in last to keep off wind and water.
Keep your head insulated
Most people forget to cover their heads when hiking in cold weather. The head, like any other part of the body, should be insulated to curb heat loss. Thus, remember to pack up a beanie or hat before hitting the trail.
Go for wool or synthetic fabric
Wool and synthetic fabrics such as polyester boast excellent insulation properties. Besides that, they dry very fast when wet. Avoid cotton fabric as it takes time to dry. This promotes heat loss.
Sleep in a tent
In the event that you plan to spend a night in freezing weather, ensure that you are well-equipped. One of the essentials you need for a comfortable night in the jungle is a tent. As much as you may be layered up sufficiently, protecting yourself from strong winds, snow showers or unexpected rain is vital. That is not all; a tent will provide additional insulation.
Hike in the warmest sunlight
It is wise to hike when the sun is warmest. The sun is warmest at the highest point in the sky. This way you will not have to worry about freezing.
Make hot drinks
Take a hot cup of coffee or any other beverage before leaving home. Likewise, pack up some hot beverages in a thermos that you can sip whenever it gets too cold. Still, bring along a stove or similar equipment with which warm drinks can be prepared. The importance of all this is to warm up your core.
Conclusion
Winter hiking can never go wrong if you prepare fully. Your top priority should be to stay warm, comfortable, and safe throughout your time in the jungle.
The following is a detailed breakdown of more FAQs regarding what to wear in cold weather:
Can you wear snow boots for hiking?
You can wear snow boots for hiking. However, it may be unwise to do when the snow is heavy so. Most snow boots are not well equipped to handle colossal amounts of snow. What you need is a good pair of hiking boots. The thing is, hiking boots are waterproof and stiff which makes heavy snow a piece of cake. Still, hiking boots fit perfectly in addition to keeping the feet warm.
How do you hike in cold weather?
Before setting a course in the freezing outdoors, it is important to dress up appropriately. Dress in layers so as to keep your body warm, dry, and comfortable. Aside from appropriate clothing, you require a great pair of hiking boots. It is also crucial to protect your head, neck, and hands. This is where a hat, scarf, and gloves come in. To top it off, you need a warm drink alongside some snacks.
Which fabric is best for cold weather?
Wool stands out among the best fabrics for cold weather. This fabric is not only warm but also highly breathable and soft. Similarly, wool is water-resistant, super lightweight, and fairly durable.
Where can I backpack in the winter?
It is wise to backpack on climbing or uphill terrains. Winter is characterized by extreme cold. Taking on difficult trails gets your heart to pump fast. This enhances blood circulation making the internal body warm.