It is very common to bring a camera on a hiking trip. Many choose to do so to capture a moment and document the experience. It is crucial to have a camera strap attached while hiking. There are many forms to choose from especially when there is a backpack involved. There is one out there for you. While looking for the right type it is important to keep your personal needs in mind. In this article, we will review their importance while hiking. We will also discuss the best types of backpacking.
Are you looking for the best camera strap for hiking? You have come to the right page. The camera strap is a simple yet crucial part of a functional camera. Although every new camera comes with a harness, it is usually not quality enough for dependable outdoor performance. That is why most people ditch it for something more practical, comfortable, and discreet. A great strap will keep your treasured camera safe, act as a stabilizer, and allow you to multitask or operate hand-free. In this article, we separate boys from men by reviewing only the crème de la crème of the camera strap universe. We hope that you will find a model that ticks the boxes for your desired strap on our list.
1. Peak Design SL-BK-3 Slide, Camera Strap
"Ideal for long shoots and also perfect for building a minimalist photography kit."
Premium Pick
Main Features
Features Arca-Swiss style tripod plate attachment
Can be used on multiple cameras
Versatile attachment system
Flexible and soft material
"The answer to all your photography problems!"
If you want a camera strap that is practical in the jungle but still looks good and fashionable to have on your shoulder, the Peak Design SL-BK-3 Slide is one of the best options.
Well Made
The model features exceptional craftsmanship. It is hand-made from durable full-grain leather. Furthermore, it has adjustable handles which incorporate aluminum for durability. All this makes up one of the most lightweight straps of all time. Plus, it can easily fold up to fit in any pocket yet is robust enough to hold bulky DLSRs.
Easy to Install
The anchor link connector on this bad boy is cleverly designed. This makes it easy to remove the strap or install it. In the same way, the anchor links provide the quick-release functionality you need for convenience.
Wide Comfortable Strap
It is made from soft and cozy seatbelt material with nylon webbing not to mention the fact that it is minimally wide to reduce pressure on your shoulders. On top of that, the harness includes quality firm padding which offers support. It also distributes the camera's weight across your body for a less strenuous experience.
Easy to adjust
The accessory has uniquely made metal adjustment handles that allow you to adjust the harness to a customized size. They also add a sense of quality to the model.
A mindfully made strap with innovative features that boost convenience alongside a worthy steep price tag.
Pros
Highly adjustable length
Wide and comfortable
Non-bulky padding
Effortless to install
Cons
Stiff padding makes folding difficult
Steep price tag
---
2. Cotton Carrier Skout Sling Style Harness
"A camera strap that makes your camera accessible while actively pursuing your outdoor adventures."
Top Choice
Main Features
Includes one accessible pocket
Excellent price-to-quality ratio
Adjustable for a custom wear
Pioneering sling-style design
"Every hiker's dream!"
The Cotton Carrier Skout Sling is the personification of a world-class camera strap. Not only is its design unique and stylish but it also brings the functionality and convenience you need to capture Mother Nature's beauty unhindered:
Out-of-the-box Sling-Style Design
Unlike your everyday suspender-type camera harness, this model brings something else to the trail. It boasts exceptional sling-style construction featuring a single shoulder strap. First, this design makes it lighter and less cumbersome. Onward, it improves speed, provides a stable hold, and heightens ease of use.
Twist-Lock Attachment System
The system makes attaching your camera to the harness practically effortless. It encompasses a female receptor that attaches to the mounting male bracket on your camera through a slight rotation. The receptor is impact-resistant featuring anodized aluminum material for durability. These two components make it easy to attach or detach your camera to the harness.
Comfortable Quality Build
Other than being light, the model is super comfortable and breathable in hot weather. The harness comes alongside a rain cover and a quick-release safety tether for weather protection and security respectively. Although it is worn over the shoulders, the harness is still adjustable for a personalized fit. You will be impressed by the roomy inside pocket of the model capable of accommodating a few accessories. To top it off, the sling is compatible with different camera sizes.
An extremely light camera strap that is easy to use and reasonably priced.
Pros
A firm with secure hardware
Waterproof weather cover
Pocket-friendly price
Durable materials
Cons
Weight is unevenly distributed on one shoulder causing discomfort
---
3. Black Rapid Sport Camera Sling
"Suitable for use on lighter DSLR or mirrorless cameras."
Best Value
Main Features
Spreads load across the shoulder
Reassuringly sturdy build quality
High-end craftsmanship
Novel sling-style design
"Where quality meets functionality!"
Are you a hiker that appreciates a strap with the highest standards in terms of efficiency, reliability, and flexibility? The Black Rapid Sport strap might just be what you have been looking for. With an exceptional sling-style construction, the harness provides an unparalleled level of strength, safety, and ease of access.
Wide and Moisture-Wicking Harness
The model incorporates a wide strap that covers the shoulders to ensure the weight of your camera is distributed evenly. In addition, it comes with a shoulder pad that features quality nylon webbing to promote breathability. Plus, the strap is long and adjustable for a customized fit.
Cross Body Security
The cross-body design is one of a kind allowing effortless access for right-handed users. Along with that is the stabilizing Brad strap which ensures the security of your camera for perfect pictures. In the same way, the design allows for incredible versatility in different conditions.
Adventure-Ready Design
One thing you surely love about the product is how compact it is crafted. Other than that, it is one of the lightest camera straps. This will give you an easy time in the jungle. All the hardware including the case screw and the sliding carabiner are made from strong materials for heightened durability. To crown it all, the strap is easy to install not to mention the fact that it comes with a storage bag.
A premium, pocket-friendly camera strap that is quick to adjust, extra comfortable, and versatile.
Pros
Great value for money
Highly adjustable
Comfy padding
Useful pockets
Extra compact
Cons
The metal clip on the side is not durable
The strap is too long for short hikers
---
4. OP/TECH USA 6501082 Double Sling
"An excellent choice if you need to carry two cameras or a camera and a pair of binoculars."
Reliable Pick
Main Features
Fully adjustable for a personalized fit
Connects and disconnects quickly
Uncommon neoprene pad design
Nylon webbing for breathability
"The ergonomic solution every photographer needs!"
The OP/Tech double sling bears all the earmarks of a top-class outdoor camera strap. In addition to being mindfully stitched, the harness is quite practical not to mention the multiple convenience-promoting features it possesses.
Slings Two Cameras
One of the biggest selling points of this accessory is the ability to sling two cameras at the same time. Yes, the harness on this model is strong enough to securely support 6.8 kg or 15 lbs in weight. With four connection points and uni-loop connectors where you can attach the tripod socket or camera, the OP/Tech double sling is good to go.
Advanced Neoprene Pad Design
The ingenious design comes in handy when you need to carry a weighty load. It is responsible for the even dispersion of bulk across your shoulders. Together with that, this kind of construction makes it possible to balance your gear.
Convenient and Effortless Use
The strap is fully adjustable to fit any body size. This is a vital attribute when it comes to convenience. Moving on, it has a flexible interchangeable system that allows you to convert it to a single sling system or go with the double sling system depending on your needs.
Rugged Crafting
At only 218g in weight, the accessory is one of the lightest on this list. Moreover, the accessory is compact enough to fit in your pocket at a moment's notice.
A well-priced accessory that is easy to use for top-notch camera security.
Pros
Capable of slinging two cameras
Flexible interchangeable design
Wide and comfy shoulder pad
Incredibly lightweight
Easy to attach
Cons
Does not keep the camera stable
Has durability issues
---
5. Camera Strap Accessories
"A plausibly hand-made camera accessory versatile enough for all-day use."
Reliable Pick
Main Features
Thick and durable belt-type leather
Convenient with quick-release
Good price to quality balance
Completely hand-made
"The strap that works while you enjoy your hike!"
This model is a fan favorite for different reasons although it stands out for its durability and compact hand-finished design. The harness offers a combination of a classic vintage design together with the functionality and quick-release of a contemporary strap:
Outdoor Focused Features
If you are after a camera harness that is simple yet stylish and eye-catching at the same time, this would be a fine choice. The strap is almost weightless and easy to install. Furthermore, it makes your gear more accessible and securely holds it while you focus on other problems on the trail. To wrap it up, the model has a thief-proof security lock system.
Quality Build
The quality of construction on this accessory is next level. It comes with a top-class leather harness that guarantees longevity. In the same fashion, the model includes superior hardware including steel d-rings. All these supreme materials add to the strength of the strap as well as the security of your gear.
Highly Adjustable Structure
You will appreciate the length and incredible adjustability of the strap. You can easily recalibrate the harness to fit the size of any hiker without breaking a sweat. On the same note, the model makes it easy to carry bulky gear by distributing weight. This way you can bid goodbye to neck pain.
This an outstanding purchase packed with the right facets to deliver the performance and functionality you need to hike peacefully.
Pros
Highly adjustable size
Seamless installment
Reasonable pricing
Simple and stylish
Sturdy hardware
Cons
The Tripod mount has durability issues
Unappealing aesthetics
---
6. Altura Photo Camera Strap
"A classy harness that can be used with a tripod."
Premium Pick
Main Features
Adjustable length for a perfect fit
Compatible with different gear
Long-lasting all-metal clasp
Zippered accessory pocket
"The ultimate camera buddy!"
For a camera harness that will stay close to your hips, stay out of your way and enable you to take photos in an instant, try the Altura Photo Camera Strap. It will live up to your expectations and deliver in your hour of need.
Compatible with Different Gear
Every hiker deserves a camera harness that is compatible with DLSR cameras of all sizes. This is the type of convenience you get for choosing this model.
Completely Adaptable
As you might expect, the strap allows you to take photos seamlessly thanks to its quick-release design. Plus, you can attach the camera and plate to the tripod without detaching the plate from the camera.
Solid Materials
The strap is equipped with a reinforced metal plate that works to firmly hold your gear in place. Still, the plate encompasses protective rubbers which protect your camera glass from scratches. There is an anti-slip ergonomic shoulder pad to enhance your outdoor experience as well.
Cozy and Weightless
This strap includes the neoprene pad that ensures maximum comfort and a weightless feel by distributing weight evenly around your shoulders. As if that is not fascinating enough, the model features an accessible zipper pocket to accommodate more camera accessories.
An incredible value strap ideal for photographers of any size or height.
Pros
Excellent material quality
Non-slip shoulder pad
Sturdy safety tether
Wide color variety
Cons
The pocket zipper is not durable
Not ideal for use on bulky gear
---
Using the best camera strap for hiking should not be rocket science. The model harness should be effortless to install, adjustable, and ultimately functional. Whether you opt for a complete leash, sling-style harness, or wrist strap, it is imperative to ensure that your final choice is secure and quick-release. Likewise, it is crucial to acknowledge the fact that every photographer has his or her preference when it comes to design. Therefore, go for what you like or a camera harness that is cut to your requirements. Have fun!
IMPORTANCE OF A CAMERA STRAP WHILE HIKING
It can be difficult to find the best way to store your camera on a hike. It should be in an accessible and safe manner. This is where the importance of a strap presents itself.
It helps to prevent any injury to it, makes it much more accessible, and makes it easier to capture a photograph quickly and safely. You can grab it at the same, ideal, place every time. While your mind is at ease regarding taking photos, you can enjoy the experience while capturing documentation!
Overall, when it comes to choosing one it depends on personal needs. There are many forms of them out there. Some are more stylish than others. Some are sturdy, and some just check off everything you need for success!
Photo by Andre Furtado from Pexels
How do you choose a strap for hiking and backpacking?
When it comes to choosing one for hiking and backpacking there are various forms. If you will be bringing along a mirrorless camera, a wrist one would do. If you have a larger lens on it, the clips would work best.
While backpacking, you might want to just save some extra space for it. Storing it in your backpack will only make your hike more difficult. A con of using this method is it is not accessible. If using this method, you must remove your backpack and sift through it. With a strap, it is already where you need it to be.
Many types will benefit you while backpacking.
STRAPS FOR BACKPACKING
Photo by David Bartus from Pexels
Various types of them can be used for backpacking. Steer clear of a neck one due to the strain it can put on your neck when backpacking.
CLIPS
While backpacking, clips keep your camera in the most ideal placement! With these clips, it can virtually hook on to anything- most importantly, your backpack! This form makes it simple to add to a weight that becomes unnoticeable. The clips are also not only for lightweight cameras. They are a great form to take even the heaviest one. With it attached to your backpack's straps, your neck and shoulders can feel a bit at ease.
Some may not fancy the idea of having it bouncing off of their torso. Though, with this placement, the clips create the absolute ideal positioning for easy shooting.
SHOULDER/ CROSS-BODY
Shoulder/ cross-body ones are the most common for hiking in general. The shoulder/ cross-body style gives you the freedom to shift the weight of the camera while you hike. Shifting the weight often can help to avoid any type of pain from the pressure. The versatility of this style is also very beneficial.
The worrisome aspect of this style is the security due to the fact it is not attached to you in any way. It can also feel like a bit of an overload to have to worry about the camera as well as your backpack.
WRIST
The wrist form is best for when you are only carrying around a lightweight camera. This can give you the feeling of having it in hand at all times while still having it secure. Wrist straps are convenient if you have some extra space to spare in your backpack. When you choose to not have it in hand you can stow it away in your backpack. Overall, the wrist strap is to assure safety while taking photos and that is it.
The only bad part about this one is that it can only be used for lightweight cameras. You will also need to invest in a case for the times that you choose to store it away in your backpack.
HOLSTER
Some holsters are considered to be a strap. This form can provide you with more versatility and comfort than some others. The holster style can give you the convenience of accessibility. It also can assure you of the security of your camera.
One unfortunate aspect of this form is that it oftentimes costs more. The holster style often includes more features than just holding the camera. Some other features include places to hold the extra lens or extra pockets. The holster style presents itself as another backpack.
NECK
As previously stated, the neck ones are not the ideal form to use while backpacking. Though they are not ideal they are an option! This type places your camera at the perfect placement for usage.
The classic neck style is the best option if you are on a budget. The neck style varies in material as the others do. If you do choose to hike with a basic neck style you will want to assure that it has padding.
THINGS TO CONSIDER WHILE CHOOSING A STRAP FOR HIKING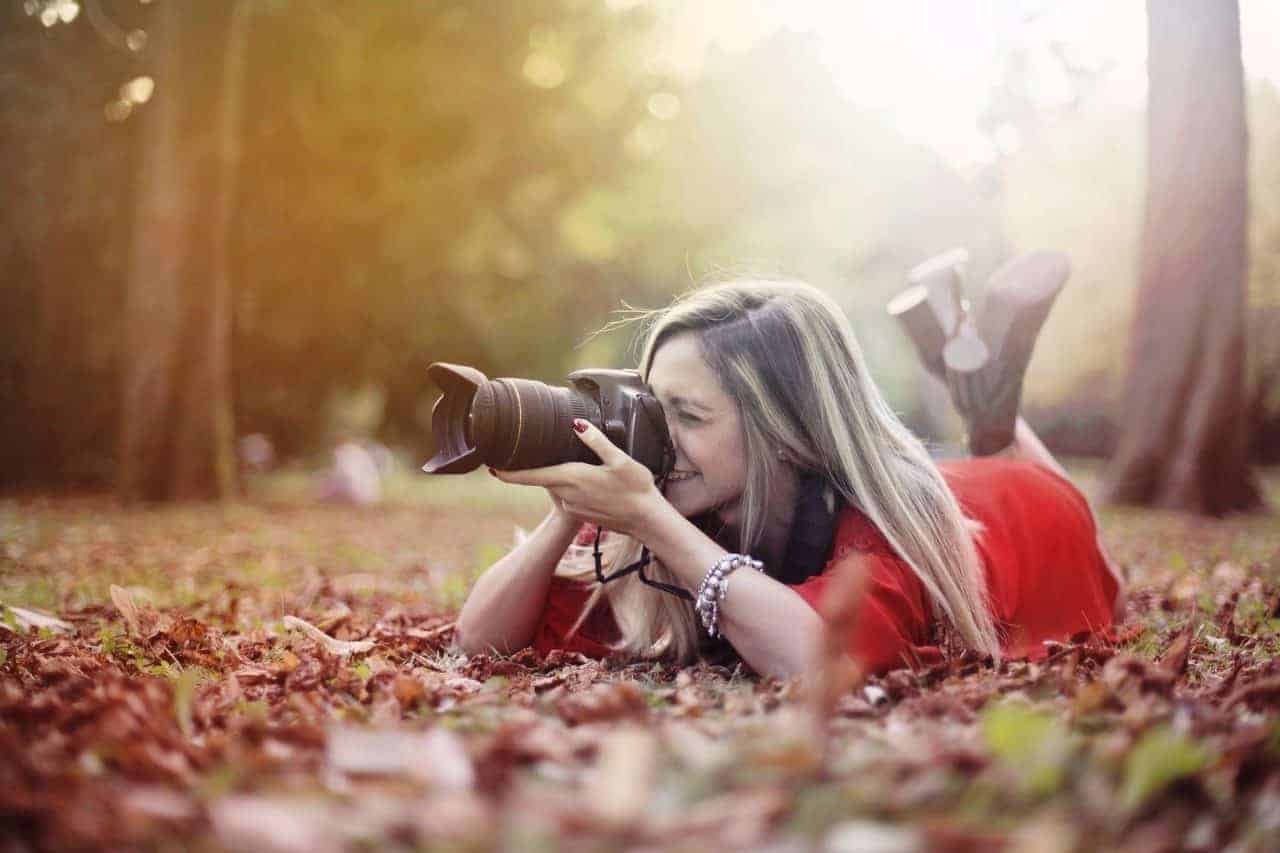 Photo by Andrea Piacquadio from Pexels
First things first, it is important to consider what type will best suit your needs. The most common are the neck, wrist, and ones that can attach to your backpack. These different forms all have their perks and downfalls. It will depend on your personal needs when deciding on what type is best for you.
After deciding the type, you will acquire, it is important to keep quality in mind. Various types of materials can make them. Though there are different styles, typically either nylon or leather is the material. Upon purchasing one it is crucial to keep the quality in mind. Quality is important to assure your camera will not see damage due to a weak material. If it is made from quality material, you can also expect that it will last you a very long time.
Alongside quality, comes comfort level. All of them have different factors. Some of the sizes can be adjusted while others are "one size fits all". Some of them have padding while others have no padding at all. The level of comfort that one may need can depend on the amount of time it will be on. If your camera will be on a strap for long periods you will want to guarantee that it is comfortable to use.
Lastly, pricing is something to consider. Knowing how much you want to and are willing to spend can help when choosing one. The cost can at times be shy of $50 while others exceed the price of $200. Often you can expect to pay for what you get. It is a smart investment for photographers at all levels of experience.
Best Affordable Camera For Travel
Photo by PhotoMIX Company from Pexels
FINAL VERDICT
It is very common to bring a camera on a hiking trip. Many choose to do so to capture a moment and document the experience. While hiking or backpacking with one it is crucial to have it on a strap.
When it comes to choosing one for hiking and backpacking there are various forms. As stated previously it is important to think about what form will best suit your needs. There are the wrist, clips, and a few other styles. The clips will be the most convenient when backpacking.
Before choosing what type you want, it is important to consider quality, comfort, and of course pricing.
The Best Ways To Carry Your Camera: Video
FAQs
Below I have answered a few frequently asked questions regarding using a strap. Hopefully, these answers will help you clear up anything you have been wondering about them.
Q: What is the best type?
A: The best type will vary depending on personal needs. Overall, the most common style for hiking, in general, is shoulder/ cross-body. Clips are very useful when it comes to backpacking.
Q: Do professional photographers use them?
A: Professional photographers find them to be very useful. Typically, professional photographers choose not to use the "stock" or lightweight ones that come with the camera when purchased.
Q: Which type is best for DSLR?
A: A shoulder/ cross-body is the most popular option when it comes to a DSLR. Often this style is made to hold heavier models.
Q: What is a good length?
A: Most people prefer a length between 36 inches (91 cm) to 46 inches (117 cm). The most common length is 40 inches (102 cm).
Q: What are they made of?
A: They are made from various materials. Typically, though, they are made of leather or nylon.
Q: Should I bring a camera backpacking?
A: If you plan on bringing one along while backpacking you should put a strap on. This makes it easily accessible. While your mind is at ease regarding your photography you can have the experience while capturing documentation!