Just starting hiking can be intimidating because it is hard to know where to begin. Especially when it comes to proper clothing.
The good news is you don't need any specific clothes to go hiking. For most day hikes, it's okay to throw on a pair of yoga pants or gym shorts along with your favorite athletic tee and head outside.
However, if you want to go on long and difficult hikes, you will need to invest in good hiking clothes and gear. Wearing the proper clothes can make your trip much easier, while the wrong clothes will make you miserable. Read more here about what to wear when hiking and its importance.
Image Source: canva.com
The Importance of Choosing the Right Hiking Clothes
When hiking challenging trails or in difficult climates, wearing the right clothes can be the difference between having a good time and hating every second of it. Wearing the wrong socks can cause painful blisters. The wrong clothes may make you feel too cold, hot, wet, or sweaty.
Choosing hiking clothes that are comfortable, practical, and make you feel good is an essential part of getting excited and being confident about your next hike!
The Basics of Choosing Hiking Clothes
For most hikes, standard athletic clothes will be enough to give you freedom of movement and keep you comfortable. It's best to go for synthetic materials with good wicking properties.
Most experienced hikers will tell you to avoid cotton garments whenever possible. Cotton traps moisture and holds it close to the body making you feel wet and uncomfortable. Similarly, it's best to avoid denim.
Here are a few general guidelines for choosing your hiking outfit:
Choose items that are not too tight, but not too baggy. Clothes that are too tight will make you hot and restrict movement. Baggy clothes can cause chaffing or catch on branches and rocks.
Think about comfort first. On long hikes, comfort is the priority, and something a little uncomfortable may become unbearable on the trail.
Avoid cheap clothing because it will not last. The best hiking clothes are an investment. Try and find sales or buy second-hand, but don't sacrifice quality.
Pro tip: Don't go out and buy a full hiking outfit now. First, hike some trails and figure out what you need.
What To Wear Hiking Women's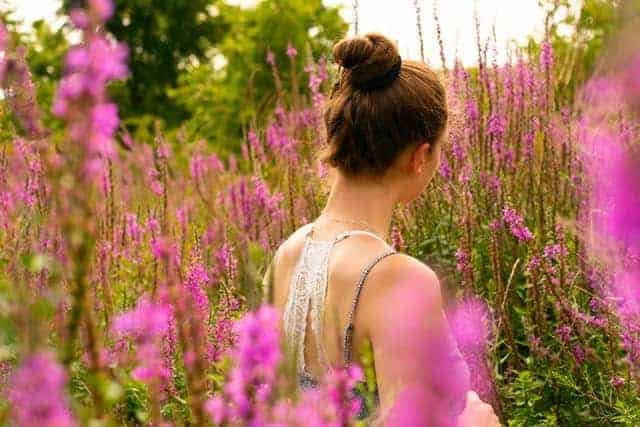 Up until recently, women have been vastly underrepresented in the outdoor clothing sections of most stores. Luckily, this is starting to change and relatively fashionable woman's outdoor clothes are getting easier to find.
Here are some recommendations on what to look for:
Underwear
Pick something comfortable for you. It's best to avoid cotton and instead go with quick-dry undies because they stay clean, dry, and odor-free. Some women recommend boxer-style underwear to help prevent chaffing at the thighs.
Bras
A comfortable sports bra is the best option. Find one that doesn't have any clasps or plastic parts as those can start digging into your skin under the weight of a backpack.
Shirts 
For shirts, the most important factor is layering. Weather can change quickly so you'll want a tank top you can wear under a shirt that you can wear under a pullover. Loose-fitting shirts are the most comfortable on long hikes and you may want to consider UPF-rated shirts to protect your skin from the sun.
Pants
There is a debate among hikers on whether yoga pants or loose pants are the best choices. The truth is, whichever you like best is fine. Some women like yoga pants for the mobility they offer. Yoga pants are also less likely to get caught on things, although more likely to rip. If you do choose yoga pants, make sure they are high quality and durable.
You may also choose to wear shorts depending on the climate. Any athletic shorts are a good option. Many women also swear by biking shorts.
Socks
Choose thick socks that extend above the top of your hiking boot. Wool socks, even in summer, are a great anti-blister option.
Hat
Hats or ballcaps protect your eyes and face from the sun. They can also protect your head from ticks and hide dirty hair on a long trip. If you don't want to wear a hat, another option is a buff which can be used as a thick headband.
Jacket
Depending on the weather, you'll want a good fleece or windbreaker. No matter where you are hiking, always bring a rain jacket in case of sudden showers.
What to Wear for Men
There are a lot of hiking clothes out there for men and it can be hard to know which items you need. The best way to figure out if you should buy an item is to hike without it first. Then, decide if purchasing it would improve your comfort.
 Underwear
The biggest thing to consider with hiking underwear is chaffing. Choosing non-cotton underwear that doesn't have any seams is a good place to start. Some men also prefer compression shorts.
Shirt 
Something that isn't cotton and provides some sun protection is the best choice. Also, consider that you will need to dress in layers, so don't buy anything too tight. Button-up moisture-wicking shirts are popular. Crewneck long-sleeved shirts are also a good option.
Pants
Many hikers go with the classic zip-off pants because they take away the need to choose between shorts and pants. No matter what you choose, it's best to go with something made from quick-drying material. With pants, one important thing to consider is the length. Pants that are too long may drag on the ground and get muddy and wet.
Socks
Thick moisture-wicking socks will help prevent blisters. Socks should always be long enough to reach above the top of your hiking shoes. It's best to avoid cotton and instead choose wool or synthetic materials.
Hat
A ballcap or brimmed fisherman's hat will protect you from the sun and keep your head dry. Hats also prevent ticks from dropping on you, which is always a plus.
Jacket
You may need to bring a fleece or jacket depending on the weather. Investing in a good raincoat is important and will help keep you dry and comfortable during a sudden downpour.
Common Hiking Clothes and How to Look Fashionable
In cold weather, layering is also important for the bottom half of the body. You may want to wear shorts under your hiking pants in case it gets warm later in the day. For very cold weather, insulated leggings or wearing long underwear under your pants are good options.
The most common clothes chosen for hiking include technical t-shirts and shirts (think Under Armour), convertible quick-dry pants/shorts, yoga pants, and fleeces. These garments are all very practical and are great choices for any trial.
If you aren't very excited about technical tees or convertible pants, there are ways to make hiking clothes a little more trendy and fashionable. Trendy outdoor clothing brands like Patagonia, The North Face, and Kathmandu are good places to start.
You can also choose to incorporate current trendy items like vests, fleeces, bike shorts, and puffy coats. For women, yoga pants are a great way to up-style an outfit. A good beanie, nice sunglasses, patterned wool socks, and clunky hiking boots can also add a bit of personality and flair to your outfit.
Cute Hiking Outfit Ideas
On the bright side, this part of the article delves deeper into the subject to outline expert tips you need to choose a cute outwear for your next hike.
1. Adorable Rain Backcountry Outfits
When the rain starts beating, ordinary folks hurry to find shelter or lock themselves in the house. On the contrary, real outdoor heads find this a perfect time to explore the raw beauty that mother nature has to offer. The most suitable outwear in such conditions should be wind and waterproof not forgetting a slight touch of fashion.
A vivid coat or jacket is a must-have when packing for rainy conditions. Together with that, you need waterproof boots to keep your feet safe during the storm. In the event of light rains, consider waterproof sneakers for an enviable appearance. The right accessories for this venture will include gloves, a scarf, and a hat.
It is wise to choose outfits that are not only stylish but also practical with dependable water resistance.
2. Outdoor Outfits with Shorts
Shorts can come in handy on several occasions for an outdoor junkie. This is mostly during summer when their unique knee-high cut promotes cooling. Nonetheless, they are insufficient when it comes to protecting the legs, which is a major drawback given how unforgiving the outdoor environment can be.
Thus, you have to be considerate about the length, shape, and fabrication when opting to wear a pair of shorts on a hike. Another key component you have to look out for is the presence of pockets. Pockets are extra valuable on a backpacking mission. All the same, shorts are the most iconic outwear of all time. They are an absolute personification of cuteness, completing any look effortlessly, and will turn heads in any color.
Shorts are perfect for hot weather adventures as they promote air circulation. Be sure to watch out for the cut, length, and style concerning the terrain you wish to explore.
3. Amazing Summer Outdoor Outfits
Summertime is everyone's favorite when it comes to outdoor activities. The first rule for proper summer outfits is to avoid black fabrics as they absorb heat. Instead, it is advisable to opt for fabrics that are bright colored and light. This promotes air circulation to leave your body cool. Depending on the day, you can wear breathable leggings or loose shorts and coordinate that with an air-permeable tank top that you can combine with a sports bra.
For extreme sunlight, you will need a contemporary pair of sunglasses while breathable trail runners will cover your legs. Your head will also need to be covered. A sassy hat or balaclava will come in handy in this regard. Primarily, remember to pack your sunscreen that will keep your skin protected against harmful UV rays.
Go for summer outfits with colorful fabrics with a light and breathable structure.
4. Exquisite Winter Hiking Outwear
Winter outwear is all about warmth and insulation given the amount of cold that is usually present during the period. That is why you will need a unique combination of a puffer jacket and thick pants for the outer shell alongside a swanky top for the base layer. On top of that, thermal layers might be a crucial necessity for extreme cold.
They are effective at curbing heat loss for any outdoor enthusiast. For a stable and confident step on the wet and slippery winter terrain, you will have to opt for a solid pair of hiking boots. Ideal winter footwear ought to be warm and protective with aggressive treads as well as a firm grip. To complete your look during this cold season, you will need a toasty beanie or hoodie for your head. A beenie or cap is not only protective but also fashionable for any hiker that cares about style.
Cute hiking outfits for winter should be warm and protective against wind or water.
5. Informal Hiking Outwear
The perfect informal outfits should possess a touch of style apart from being functional in the outdoors. For that reason, the list of outfits in this class is almost endless. Jeans are synonymous with casual wear and are quite applicable in this case. What's more, they offer reliable leg protection and complement any color seamlessly.
During hot months, a loose-fitting pair of jeans would be okay as they encompass ample breathability. On the other side, you will need a skinny or slim-fitting pair to hike in cold conditions. For a complete look, put on a cute pair of hiking boots or trail shoes. To crown it all, choose a classy jacket or a colorful top.
The best casual outwear should incorporate elements of fashion and functionality.
6. Ideal Outwear for Hiking Date
If you are a true backcountry lover, then you understand how captivating a hiking date can be. To put it in simple terms, a hiking date is the mother of all dates. Just like any other date, you should strive to look good to impress your companion and bring out a true reflection of your personality.
In as much as you need to look cute, you do not have to sacrifice the level of protection provided by proper adventure outwear. Therefore, go for a simple piece with a remarkable balance between performance and style. Do not forget to bring along a backpack to accommodate snacks.  
What you choose to wear for a hiking date needs to bring out who you truly are, be practical in the outdoors, and have fun.
7. Layered Adventure Outfits
Whether it is a frosty morning or a chilly winter afternoon, layering is imperative for any outdoor enthusiast that is keen on remaining warm and comfortable on a hike. The first step is to start with a base layer. A t-shirt or tank top would make a great base layer. Thereafter, you will have to throw on an outer shell for the wind.
This could be anything from a puffer vest, sweater, or flannelette shirt. If the weather is too cold, you might need a raincoat on top of the outer shell to boost efficiency. For the lower body, you will need tights or leggings as the base layer. Finally, you can put on several accessories including gloves, thick socks, a hat, or a scarf.
Regardless of the colors or style you choose, ensure you have a base layer, a mid-layer in case of extreme cold, and an outer shell.
Main Factors to Consider When Choosing Hiking Clothes
Other than quality and durability, there are a few other factors to consider when purchasing hiking garments including the best fabrics, the climate, terrain, and layering.
1. Fabric Type 
You always want to choose a material that will help you stay dry and comfortable and avoid those that hold moisture. Cotton is a bad choice because it is great at holding moisture and takes a long time to dry. One of the best materials for hiking is merino wool because of its softness and breathability. Polyester and nylon are also great for sweat-wicking and are very affordable.
3. Climate
Depending on the climate of your hiking location, you will need different clothing to keep you safe and comfortable. Fleeces are great for cool climates while puffy down jackets may be needed in cold weather. Breathable waterproof jackets and clothing are necessary for wet climates. You may also want to consider bug-protective and UPF-rated clothing for tropical climates.
4. Terrain
A trail's terrain makes a big difference on what you should wear. Thick forests/jungles require long pants to protect the legs. Rocky terrain means needing sturdy shoes and durable clothing.
5. Layering
Whenever you hike, you should assume that the temperature could fall or rise significantly. The best way to prepare for this is to dress in layers. Make sure when buying your outer layers that they are big enough to accommodate other pieces of clothing underneath.
Best Fabric Type for Each Layer
Layers are a hiker's best friend and the best way to ensure comfort on the trail. Making sure you use the correct fabrics in each layer can boost the efficiency and comfort of your outfit.
The first layer should always be a moisture-wicking t-shirt or tank top. The layer that touches your skin must be able to take your sweat and move it away from your body to keep you dry.
The next layer can be a long-sleeved shirt. A good material choice for this layer is merino wool for warmth. Polyester and rayon can also get the job done.
The third layer should be a high-quality jacket. Many hikers prefer down jackets, but as long as it is warm it will do the trick. If it rains, your raincoat will go over the third layer, so make sure to buy up a size or two.
Hiking Clothes 101: What to Wear Hiking
Main Takeaways
There are no specific clothes needed to start hiking, but some items can make you feel more comfortable on longer trails. When buying hiking garments always think about the material, durability, and quality. Always avoid cotton and instead opt for merino wool or synthetic materials like polyester and rayon. This will help keep you dry and warm.
It can be hard to predict the weather on certain trails. To ensure comfort, always dress in layers with moisture-wicking materials worn the closest to your skin. The most important aspect of food hiking attire is that it is breathable, flexible, and comfortable.
So, buy the clothes that are the most comfortable on your body and get out on the trail!