In case you have not visited the best Hawaiian island for hiking, you are missing out. You will definitely adore this destination if you are a nature lover. It boasts of some of the most monumental scenes and views not just in Hawaii but also across the world. On top of that, the islands are home to opulent beaches. Similarly, Hawaii Islands host exceptional geography characterized by volcanoes. Together with that, it is the heart of Polynesian culture not to mention its multinational cuisines. Most importantly, the spot is easily accessible and its hiking trails are friendly to hikers at any level of expertise.
Favorite places on the best Hawaiian island for hiking
i. Waipio Valley
It is a 6.5-mile adventure, which takes you through some of the most eye-catching scenes in the world. Not only is Waipio Valley a former home of King Kamehameha, but it also has other natural attractions. That might explain why it is a darling among nature enthusiasts. Moving on, the trip proceeds through bewitching Waipio Beach all the way to the magnificent Kuluahine Falls. That is not all; you can also feast your eyes on the Hiilawe Falls.
ii. Mauna Loa Lookout
To begin with, the road that leads up to the Lookout is funfilled. You get to see the slopes of Mauna Loa in their full glory. Plus, the Kilauea Crater is within view. Alongside that, you will interact with the breathtaking green Koa forests, exceptional old lava flows as well as an imposing bird park.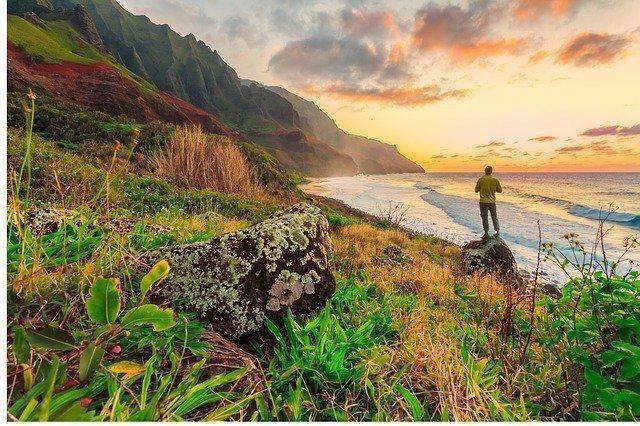 Image from Pixabay
iii. Hawaii Botanical Gardens
The Hawaii Botanical Gardens grant a lifetime experience. Consequently, this is thanks to more than 2000 unique species of trees and plants. As if that is not enough, the destination provides a 1.5-mile hiking trail. Furthermore, the gardens are very accessible through a scenic drive along Onomea Bay. It is the place to be for anyone who treasures the tranquility that nature offer.
iv. Kilauea'iki Trail
This trail renders a four-mile round trip featuring glorious attractions in the lush Ohia forest. It is located within the Hawaii Volcanoes National Park. Apart from that, the trail incorporates the Kilauea'iki crater. The crater is famous for its steaming fissures. Similarly, you get to explore the small Ohia shrubs as well as the green jungle surroundings.
v. Mauna Kea Summit
To begin with, the hike to this spot is a little challenging. It stretches over six miles of rugged terrain not to mention its steep elevation. Besides, the weather condition around the island is unpredictable. Therefore, prepare adequately for any eventuality. If you love high altitudes, this is the place to be. This is because the summit grants you a unique view of the Pacific Ocean. In addition, you will love the ambiance that the serene wilderness has to offer.
vi. Pololu Valley
Are you looking for a scenic valley to explore during your free time? The Pololu Valley is the place to be. Apart from being scenic, it hosts a short 2.5-mile round trip. Yet it can be a little steep hence demanding a proper pair of boots. That aside, the trip leads down a splendid tropical cliff and down to a black sand beach. You are free to take a dip whenever temperatures get out of hand.
vii. Papakolea Beach
The beach stretches over a two-mile distance. Its epic attraction is the green sand beach. In fact, it is one of four sand beaches in the world.  Let us not forget about the magical view of the ocean. Furthermore, it is an easy hike. Still, it gives you the option of taking a swim whenever it gets too hot. However, remember to bring along some water and sunscreen, as there is minimal shade.
FAQs:
Check out more FAQs on the Hawaiian islands below:
1. Which Hawaiian island has the best hiking trails?
Kaui Island has the best hiking trails in Hawaii. In the same way, it is home to the two-mile Kalalau Trail. Moreover, the trail leads through a forest onto a cliff providing exceptional views of the Na Pali Coast.
2. Which island in Hawaii should I visit?
Hawaii has several amazing islands that will take your hiking experience to the next level. Nonetheless, Maui stands out among them all. Apart from being the most beautiful island, it is easily accessible by road. It also boasts of an electric nightlife as well as the iconic Maui Goat Yoga. In like manner, it offers impeccable sights, farms, and hidden restaurants. 
3. What is the most beautiful island in Hawaii?
Maui is the most beautiful island in Hawaii. It is known for its stunning beaches, cute vegetation, and incredible sunset views.
4. Which is the best Hawaiian island to visit for the first time?
Is O'ahu is a perfect destination for first-timers. It is fabulous owing to its child-friendly terrains. Likewise, it offers an urban feel as well as a serene outdoor environment. On top of that, its nightlife is quite vibrant.
5. Are dogs allowed on beaches in Hawaii?
Due to safety reasons, it is illegal to bring a furry friend on most Hawaiian beaches. The beaches have signs indicating whether pooches should be around or not. Ala Moana Beach Park and 26 other beaches in O'ahu prohibit dogs.  However, Central Maui has a dog park.
6. Are dogs allowed in Hawaii state parks?
Not all State Parks in Hawaii allow dogs. Actually, state parks that allow doggies demand that they are leashed, caged, or crated. What's more, it is illegal to have them on beaches, lodges, pavilions, restaurants, campgrounds and swimming areas. Ka Iwi State Scenic Shoreline and Moanalua Dog Park are some of the dog-friendly stops in Hawaii.
7. Do dogs need to be quarantined when going to Hawaii?
All dogs need to be quarantined in Hawaii with the exception of guide and service dogs. Nevertheless, you need to possess proper paperwork for the same. Hawaii also demands the compulsory vaccination of dogs against rabies.
Conclusion
Therefore, if you still have doubts about the experience at the Hawaiian Islands, you are losing a lot. It has rich natural vegetation, singular geography, rare scenic views, and impressive hiking trails all at your disposal.  
Check out for more Hawaii Travel Information:
1. CHECK OUT HERE TO GO VISIT HAWAII
2. CHECK OUT HERE FOR LOVE BIG ISLAND