There are nearly 2,000 hiking, biking, and running trails that are well marked and preserved throughout Ohio with 1 National Park, 3 National Wildlife Refuges, 1 National Historic Park, Scenic Trails, 16 National Forests, and 83 State Parks to choose from. Trails differ in scenery from the foothills of the Appalachian Mountains to the coast of Lake Erie, here you'll find trails for every want and need. The valleys and hills of Ohio's landscape range from dense forests to rivers, large lakes, waterfalls, and even gorges and caves making it a captivating state in the United States for all different types of hiking. As the seasons change take a breathtaking walk-through snowy forest, around frozen lakes, through colorful trees and meadows of wildflowers. Read below to find out more about some of the best hiking places in Ohio!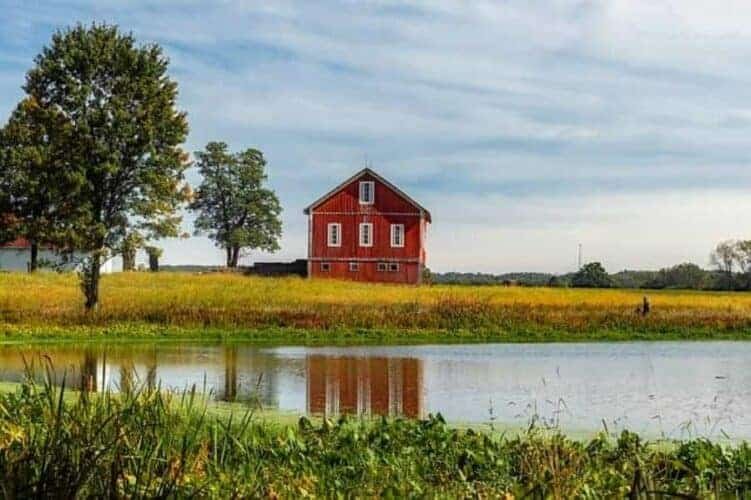 1. The Buckeye Trail
Ohio's longest hiking trail, the Buckeye Trail, is 1444 miles long (2324 km) and creates a loop around inner Ohio reaching large urban areas like Cincinnati, Cleveland, Dayton, and Akron while also taking you through National Forests, Cuyahoga Valley National Park (Ohio's largest National Park), 18 State Parks, 5 State Forests, and 4 Wildlife Areas. This trail is a circular loop you can begin at any point on the Buckeye Trail and end where you started! There are plenty of beautiful camping sites that offer different facilities along the way making it a wonderful thru-hike trail. Only one man has ever thru-hiked this trail so the timeline to complete could vary, he originally took 3 months to complete the entire trail loop.
2. The Ohio And Erie Canal Towpath
Ohio's second-longest hike is 129.2 km long (80 mi), the Ohio and Erie Canal Towpath. This multi-day hike is a point-to-point located in Northeast Ohio from Cleveland to the small city of Zoar. This beginner-level hike is long however featuring an easy walking path that is well marked, smooth, and flat. As you hike along this scenic trail you pass through the larger well-known city of Akron, Cuyahoga Valley National Park, and the Ohio Erie Canal Reservation which offers you urban areas for food, facilities, and rest but also scenic views of lakes, creeks, dense forest, and fields of flowers. With accessibility all year round, you can also enjoy the crisp air of autumn and winter with dense forests of greens changing into yellows, reds, and oranges or the snowy paths of winter.
3. The Valley Of The Ancients trail
Valley of The Ancients trail located near Cynthiana, Ohio in The Highlands Nature Sanctuary is a breathtaking 0.6 km (0.37 miles) easy trail loop that offers views of wildflowers, waterfalls, caves, thick forests, and towering cliffs. This lush green trail makes you step back into time, like in its name, into an ancient world untouched by civilization and industrialization offering peace and tranquility with its quaint brides, sounds of running water, and dense green moss. This trail is rated as an easily navigable trail that is suitable for all ages with the highest elevation gain at 25 m. It also includes the  Appalachian Forest Museum free to the public, serving as an orientation to the Nature Sanctuary including information about the 40-million-year-old history of the forests in Appalachian Ohio. This museum lies on the Rocky Fort Gorge, another beautiful hike offering scenic views of its steep canyon walls.
4. The Ledges Trail Of Cuyahoga Valley National Park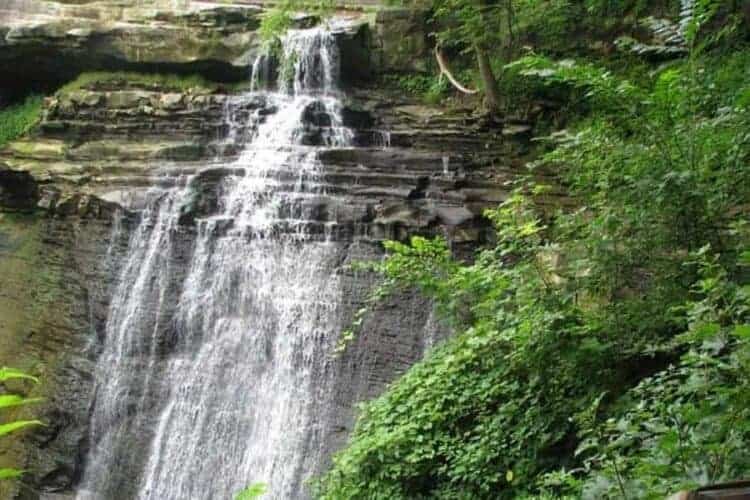 No other trail is rated so highly in Ohio as the Ledges Trail of Cuyahoga Valley National Park, at 3.7 km (2.3 miles) long it's said to be one of the most beautiful trails in the National Park and all of Ohio. You can complete this loop hike within an estimated 56 minutes. With an overlook, moss-covered cliffs, beautiful staircases, steep ledges, and crevasses you can hike into, this trail is very diverse! This trail is rated moderately for its stairs, rocky sections, steep ledges, and hills are navigable for all ages, and includes water refill facilities at the beginning of your hike1! The highest elevation on the hike is 319 m where the overlook is located, as you look out into the dense forest beyond you feel truly immersed in nature without being too far from urban civilization- one of the many perks of Ohio's trails!
5. The Old Man's Cave Trail
Old Man's Cave Trail is in one of the most sought-after state parks in central Ohio, Hocking Hills. This State Park is known for its stunning waterfalls, clear, blue natural waters, outdoor activities, stargazing, and rich history. The cave and trail itself are named after Richard Rowe a hermit who made the cave his home in the early 1800s while hunting along the Scioto River located inside the park. It's approximately 8.5 km long (5.3 miles) of bridges, stairs, waterfalls, and finally the cave. This stunning trail is an "out & back" hike with an elevation gain of 93 m meaning you will have some steep hills and stairs and once you reach the end of the trail you go back in the same direction with an estimate of 2 hours and 20 minutes to complete the hike.
6. The Archers Fork Trail
Archers Fork Trail located in Wayne National Forest, at the foothills of the Appalachian Mountains, is one of the most difficult trails in Ohio. For those looking for more of a challenge and potentially an overnight camping trip in a more remote part of Ohio, you will find this 20.8 km (12.4 miles) looped trail on the border of West Virginia. It can be a few km longer than anticipated if you're wanting to also see the waterfall and cave that veer slightly off the main trail.1 It's not only difficult for its length but also its elevation change, there are many steep hills in this part of Ohio not only making it a beautiful change in Ohio's relatively flat landscape but a new challenge from other trails. Beyond the steep hills, you'll find yourself surrounded by pine forests, up against giant rock faces, peering into dark caves, and finding all sorts of nature's critters and insects flourishing here. Archers Fork Trail takes approximately 6 hours and 30 minutes to complete but offers plenty of camping sites to break the hike into a full weekend adventure.
7. The Ohio Brush Creek Hiking Trail
Ohio Brush Creek Hiking Trail located in Serpent Mound Historical Site is a unique hike in Ohio for its history. The Serpent Mound site has just that, a serpent mound, but how it was created is where the true history lies. This effigy mound in the shape of a snake has an unknown date of origin, however, it's clear this mound was created sometime between 800 and 1000 years ago by "native Ohioans".  You can walk along the easy path around the mound seeing it's incredible shape and size. This loop trail will take you no longer than 30 minutes at just 1.6 km (0.9 miles) including plenty of time to take in the view.
8. The Glen Helen Multi-Trail Loop
Glen Helen Multi-Trail Loop not only takes you through Glen Helen Nature Preserve but to the quaint Yellow Springs town in northern Ohio. The full loop at 6.4 km (4 miles) includes waterfalls, creeks, bridges, wildflowers, and a beaver dam. Moderately rated it takes about 1 hour and 51 minutes to complete the entire hike but longer if you want to take in all the side trails this loop has to offer1. After your hike, you can enjoy a refreshing drink at one of the many delicious cafes and restaurants and end your day with a bit of shopping at one of the local shops.
9. The Brandywine Gorge Trail
The Brandywine Gorge Trail located inside Cuyahoga Valley National Park is a 2.3 km (1.4 miles) loop that is best done in the fall. The forests oak, hickory, and beech trees make it a picturesque hike in the fall because the leaves change colors. Enjoy not only the multicolored leaves falling from the trees but the large Brandywine Falls into the gorge itself best viewed from above. This trail is well kept with gravel, dirt, and asphalt paths that lead you up steps and across bridges to access the best viewpoints. With an elevation increase of 50 m, it's a moderate trail that only has one steep hill. With only 33 minutes to finish to loop make sure to stop for a breathtaking sight at the Big Oak Tree located at the West end of the trail before you loop back to your starting point.
10. The Shaker Trace Outer Loop
Located in South-Western Ohio Miami Whitewater Forest County Park offers an easy loop at 11.9 km (7.4 miles) long called The Shaker Trace Outer Loop. This 3 ½ hours tranquil paved trail is perfect for an easy day hike, a bike ride, run, or even horseback riding! With an elevation gain of 54 m, there are a few hills that offer better views on the county park including creeks, lakes, and agricultural fields. Inside the park are plenty of facilities for food, bathrooms, and several lakes of different sizes that are available for boat and bike rentals. It's easy to enjoy a day in nature at this outdoor wonderland.
Ohio offers many different types of hikes for everyone to enjoy steps away from its large urban cities, if not directly through the city itself! Let the rolling hills, scenic forests, and caves bring you peace and relaxation minutes away from civilization. Adventure here yourself to find the best hiking trails in Ohio!