Beach vacations bring an instant image to our minds: azure blue waters, sandy swept shores, a sprinkle of palm trees, and people in beachwear. But once the ocean swim is over and you're wrapped in your towel under the scorching sun, your moment of bliss can quickly become an annoyance.
Did you bring a wide-brimmed hat with you? Did you make sure to bring sunscreen? Any chance you have a beach umbrella with you – or better yet – a fully protecting beach shelter tent? Depending on which brand you choose, beach tents can be a portable, easy-to-assemble, vacation-saving essential.
But benefits aside, are they really worth it? Read on more to find out why we think "hell yes". 
Easthills Outdoors Beach Tent
"Best Suitable For Sun Protection and Privacy!"
Beach Shelter Tent
Main Features
Best technology to protect from UVA and UVB rays 
Comfortable for your family to relax and enjoy
Ensured privacy with spacious space inside
Easy to set up and provides stability on a windy beach.
Pack down to a carry bag and weighs only 8 lbs
Benefits of Beach Tents:-
The Best Choice For Sun Protection
Balancing sun exposure is a tricky act. Getting sunlight is important for a range of body functions – boosting your vitamin D levels which in turn cares for your muscles and bones. But too much sun can cause DNA damage to your skin – speeding up its aging and even increasing the risk of skin cancer.
So what's the balancing secret? A combination of sunscreen, sunglasses, and staying in the shade is a popular solution – protecting you from harmful UV rays while keeping you cool. But from rainbow-colored umbrellas to fancy beach tents, which beach shade is the right one for you?
Speaking of beach umbrellas, they're super easy to take around. But while they're lightweight and perfectly portable, it doesn't take much wind before they (annoyingly!) blow away – and also:  because it's just the top of you that's sheltered, your body still receives strong amounts of UV rays.
A Neso-style shade is another choice for sun protection – offering good portability with a wide canopy that will give you much more protection. But while it's a big upgrade from umbrellas, this style of shade is unsteady in the wind – annoyingly shifting and forcing you to adjust to the wind's changing direction.
For both ultimate UV protection and wind stability, beach tents easily take the win. They provide full coverage while giving you the option of staying inside while enjoying an open beach view. With stakes to hold them down, you can rest soundly that your beach shelter will stay securely in place.
Want your shelter's stability to be guaranteed? The Easthills Outdoors beach tents all have four sand pockets on the side, so you can fill them up with sand or pebbles for maxi-max anchorage. From extra-large instant shades to ultra tents for a full coast view, the range of beach tents at Easthills Outdoors brings bliss to summer vacations.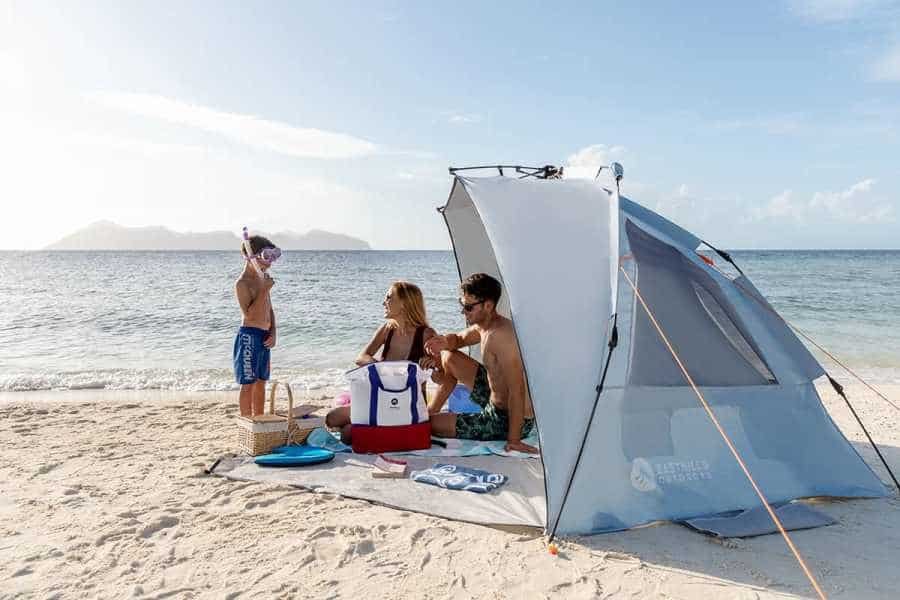 Easy Setup
Visiting the beach is always relaxing, but getting there can sometimes be a pain. From making sure you've brought your picnic to finding the right directions, the last thing you want to stress about is heavy, bulky gear. Anything you bring to the beach should be practical for your family, compact for travel, and easy to set up.
The Easthills Outdoor beach tent ticks all these boxes (and plenty more). Being super lightweight, easy to assemble, and ultra-compact, you can fit it into your car with ease and make sure you have sun protection for the whole family. Taking the stress out of setting up camp, the range of tents are beach camping essentials.
Provides Privacy
Another reason why a beach tent is so handy! Not only does it protect you from sun and wind, but it provides you with a safe, private place to nap, store your gear – and most importantly – change. From changing the kids into their swimsuits to putting on a dry pair of clothes, a beach tent will keep you covered at all times.
Beyond The Beach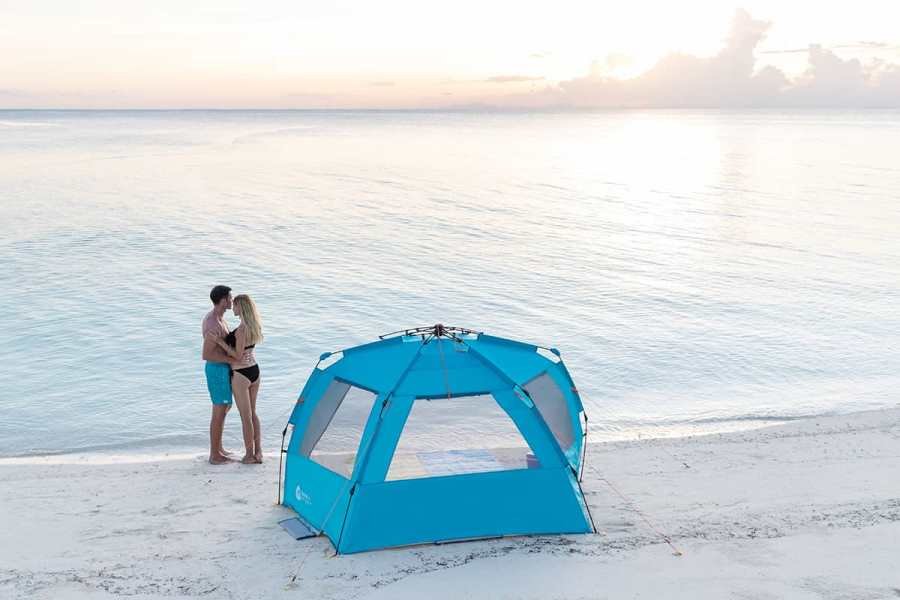 Image Source: https://easthillsoutdoors.com
Here's another secret: beach tents don't have to be limited to the beach! Because they're so light and compact, they make a perfect item to take with you on different occasions. The Instant Shader Enhanced Beach Tent in XL is perfect to get some rest on a hike or take the Instant Shader Dark Shelter XL for an afternoon nap after your picnic trip.  With mesh pockets in each of these beach tents, you can also enjoy handy storage that other types of shades won't have.
Turn to Easthills Outdoors Beach
Easthills Outdoors' mission is to inspire everyone to follow their passion for the outdoors, travel, and experience nature. With a variety of beach shelters in different colors and sizes, hammocks, and coolers, you can be sure to be ready for any outdoor adventure. With easy-to-set-up, protective outdoor gear, nothing can stand in your way anymore!
FAQs:
1. Are beach tents useful?
Yes! A prime beach tent is beneficial to all lovers of beach camping. It serves as UV protection for all users. With this beach shade, you are safe from any risk of sunburn. Besides, they are super comfortable to sit in, which in turn aids convenience.
Do you think that's all? Not yet! You have gotten yourself enough privacy and secured space to keep all you need to enjoy beach camping with beach tents.
2. What's the difference between a camping tent and a beach tent?
Camping tents are primarily designed for adventure trips or night stays. Mostly, these tents are fabricated for outdoor events, especially for forest use. On the other hand, beach tents are primarily designed for beach camping.
More importantly, camping tents are made of heavy-duty tarpaulin material, perfect for all weather conditions. In contrast, beach tents are designed from premium lightweight polyester materials that offer absolute protection against direct sun heat. Meanwhile, beach tents are more effortless to construct than camping tents.
3. Can you camp in beach tents?
Yes! As long as it's on the beach, you can camp in the beach shade. Though you can use any regular camping tent on the beach, most manufacturers specifically designed beach tents for beach camping. 
Moreover, a beach shelter tent serves as sun protection during the day. Besides, it's very comfortable to use. Just get all the essentials you need on the beach. With this, you tend to get a thrilling and exciting camping experience.
4. Can you sleep in a tent on the beach?
Sure! You can take a nap or sleep in a tent on the beach when you camp out. Beaches get cold at night, giving you room to hear crickets and sleep like a log. For extra comfort, ensure you take along a sleeping bag and a pillow if possible.
Needless to say, the sleeping bag is made of synthetic fabrics to provide you with more flexibility. Also, it keeps you warm throughout the night.
5. Are beach tents waterproof?
Absolutely! Beach tents are 100% water-resistant. That's why it's a beach shelter tent. The most annoying thing is being disturbed by rain while having fun on the beach. But, with a beach tent, rainfalls become your most minor worry. That's because beach rents are fabricated from polyester materials which are highly resistant to water and UV rays.
With a high-quality beach tent, you can stay cool and have fun while getting shaded by the tent.
6. Do beach tents get hot?
Yes. Even though beach tents are designed to protect users from harsh UV rays, they can get hot inside if installed under direct sunlight. So, you need to place your beach tent appropriately and carefully.
Suppose you have your kids with you; indeed, you don't want them to keep boiling inside the tent. Get a thermometer to monitor the temperature in the beach tent. Meanwhile, some beach tents come with a ventilation system to prevent overheating. 
7. What do you need to camp on the beach?
Since you're staying away from home, you need certain things to stay perfect while camping on the beach. Get a beach shelter tent to keep you safe from sun, wind, and rain. Getting sunscreen or sunglasses is also a plus.
Also, add a first aid kit, suitable clothing, a sleeping bag, blankets, insect repellent, cooking utensils, a beach umbrella, a headlamp, toiletries, a whisk broom, and many more. Likewise, get a lighter or waterproof match to make a light at night. 
8. How do you put a tent on the beach?
Mostly, tent installation is easy but setting up a tent on the beach might seem challenging. That's because the beach is full of sand, and you need solid ground to secure a beach tent. Meanwhile, to make things easy, ensure all mounting equipment is accessible.
Starting, get a unique spot to put up the tent. Carefully measure and use your shovel to dig two-three feet away from each spot.  Then get sandbags and fill them with sand. Tie with a guy line attached to each side of the tent. Alternatively, you can use rock.
Tightly bury the sandbags in the hole dug to hold up your tent firmly. You can put more sandbags on the outlines of your tent to provide more stability.
9. What are the benefits of camping on the beach?
Beach camping is an ideal adventure for summertime. Besides having fun, feeling cozy, and connecting with nature, beach camping offers other benefits. To start, it's affordable. So, you can avoid crowds and go on beach camping with your loved one without having to spend a fortune.
What else? It offers maximum comfort. You fall asleep peacefully without any disturbances and wake up feeling refreshed. Also, the sand will keep your skin moisturized for a long time.