Deuter Aircontact 65 is a heavy load carrier backpack from Deuter which weighs only 6 lbs, 6 oz. This camping backpack is suitable for camping for which heavy gear loads are planned. It is simply supreme if you require getting a lot of things with you in your next outdoor camping. If you are planning outdoor camping with your kids, you always choose this pack. So that you can even take your kids' load in a single pack.
Deuter Aircontact 65+10
"Hiking can never go wrong with this Backpacking Pack!"
Reliable Pick
Main Features
Comfortable loading up to 55 lbs
Adjustable torso length between 15-21 inches
Backpack Dimensions: 33.1 x 11.8 x 10.2 inches
Total Volume: 75L, Pack weight: 6 lbs 6 oz.
If you are looking for a quality hiking backpack at an affordable price, the Deuter backpack should be a superior choice.
About Deuter Brand:
Deuter is a German-designed backpack manufacturer since 1898 in the backpack industry. Deuter started it's innovative and committed fabrication of backpacks and it upholds that reputation. In 2012 Deuter moved its headquarters into Gersthofen in the district of Augsburg, in Bavaria, Germany to meet high environmental standards.
In 2001 started its USA subsidiary "Deuter USA". The European Outdoor Conservation Association(EOCA) was organized by Deuter to support the European outdoor industry in supporting conservation projects. Deuter is a partner of the Fair Wear Foundation(FWF), which support work standard and social status to improve the workplace environment.
Best Women's Backpack:
Though the size and weight are more, you will not face difficulty in carrying. This backpack is suitable for hikers and backpackers on long-haul trips or travelers opting for small journeys who need to take a lot of gear with them. One main advantage of this backpacking backpack is that it is designed to carry a lot of storage by not being bulky.
This hiking backpack is provided with a storage capacity of 65 liters, as the name suggests, it comes with an additional 10-liter storage compartment. This additional water storage will provide more space for other camping requirements. Sufficient water storage will give you confidence in camping or hiking activity.
It comes in four attractive colors: Forest/Moss, Khaki Navy, Midnight Navy, and Midnight/Ocean.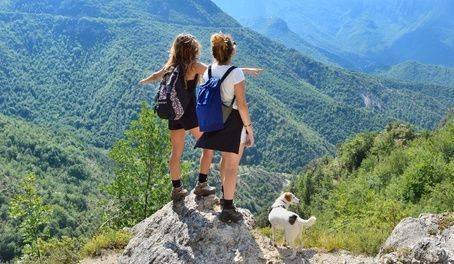 Features
Though the backpack is large the gear organization and accessibility to the loaded things are awesome. With a U-shaped zipper provided at the front side of the backpack, quick access to the entire pack is a very easy task.
This design is included features like top lid attachment rings, ice axe loops, side map/guidebook pockets, and zippered side pockets. A wet pocket compartment is given to stow wet or sweaty clothes till drying.
A 3.0-liter compatible hydration system is provided to drink water without offloading the backpack. Additional straps provided on the shoulder straps provide the correct positioning of the backpack even with more load. Following are some of the important features of this innovation:-
The Top Lid
It has got a very huge top lid. The height of the top lid is adjustable with the lid pocket. It is a floating lid, if you extend the bag it can cover. SOS label is provided inside the top lid to provide main procedures during an emergency. A valuable pocket is given inside the top lid to securely store your valuable things.
Aircontact Lite Suspension System
The German-engineered Aircontact suspension system is an awesome suspension designed to carry a heavy load with extra comfort to the backpacker. This technology enables you to haul a heavy load in a light way. The whole load is spread over the wearer's back body, thus you will not feel the pressure of the load at one point.
The breathable padding with a special ventilating hollow chamber enables air circulation in each movement. This air circulation reduces sweating compared to other normal backpacks. The new back panel design enables a wide contact surface which makes it more compact and comfortable while carrying the load.
VariQuick Adjustable System
You have got easily adjustable shoulder and waist straps to give you comfortable hiking even with a heavy load. The VariQuick adjustable system ensures easy adjustment of the shoulder strap to any torso length.
VariFlex Hip Belt
The hip belt used is very thick and extremely wide. The hip belt is made from a soft and firm combination of foam with added strength. This technology distributes the load with comfort on the hips. Hipbelt is provided with a zipped pocket to carry small quick accessible gear. The hip belt move with your movement and the backpack gets settled on your back, especially while hauling a heavy load. The pull-forward locking function enables it easy to fasten even with more load.
Sleeping Bag Compartment
The sleeping bag compartment is provided at the bottom of the backpack. It is separated from the top compartment. If you want to remove this separation you can remove the separator. When the separator is removed the whole backpack becomes a single compartment and can carry longer gear. But for easy gear organization, separator is a good option.
Pros
Lots of Pockets
Comfortable Suspension
A strong load carrier
Adjustable shoulder straps
Cons
No integrated rain cover
Bulky hipbelt
Final Verdict
It is very hard to narrate the complete advantages of Deuter when you plan to move with a lot of supplies during outdoor camping. An incredible material, flexible supporting suspension system, lavish capacity, multiple access options, and a confident construction/fabrication make this backpack a great backpack for extended outdoor camping or long-haul hiking.