The North Face Banchee 50 is considered to be one of the best hiking backpacks from The North Face in the lightweight category. The North Face is a well-known leader in manufacturing and designing hiking backpacks and adventure gear. Similarly, TNF has got over fifty years of proud tradition in the exploration of outdoor adventure gear.
"Best Suitable For Those Need Extreme Comfort!"
Best Value Pick
Main Features
Easy gear organization with +8 pockets
Dimensions: 25.6 x 13.8 x 12.2 inches
Great lumbar support and durable
Lightweight design : 3 lbs, Volume: 50 Liters
Check for a lifetime Warranty
Body : 70D Ironlite Nylon and Boot : 210D Ironlite Nylon
"Best Suitable For Hiking, Trekking and Mountaineering"
 All things considered, makes North Face is outstanding in the manufacturing field of backpacks, technical packs, sleeping bags, hiking boots, jackets, hiking boots, sandals, etc. This backpack design is coming in 35 liters, 50 liters, and 65-liter capacities.
At this point, we will be reviewing Banchee 50 backpack.
The North Face Banchee 50 Backpack Review
This backpack is actually meant for hiking with less weight. Even with less gear storage capacity, you attain nimbleness, flexibility, and great movement with this backpack. Those who don't want to haul a heavy or big backpack may choose this backpack for their next hiking or camping outdoors.
This North Face travel backpack is a good option for backpackers who intend to go for a long hike with limited hiking gear. Of course, the minimalists will enjoy backpacking with this pack.
Actually, this pack is smaller in size compared to other hiking backpacks we reviewed earlier. However, This hiking backpack is a versatile backpack with enough storage capacity.
It can carry 50 pounds with less interior volume.  Actually, this feature helps you to carry heavier and smaller things comfortably. The hikers prefer to carry eatables and cooking apparatus in these backpacks compared to larger packs.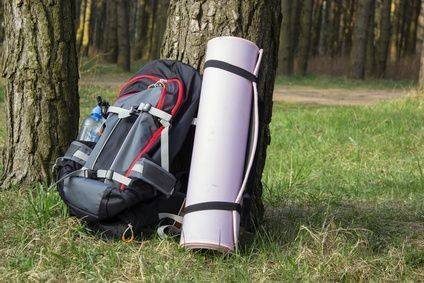 Awesome Features
It comes in the lovely attractive color of Asphalt Grey/TNF Black. The color pattern comes as a combination of two different colors for the top and bottom separate.
This color pattern looks very awesome. The backpack is available in Small / Medium (S/M). Of course, you can choose according to your torso length.
Lifetime guarantee
The product is having a coverage of lifetime guarantee against any material defect and manufacturing defect. In any case, The North Face offers either replacement or repair against any defect in material and workmanship.
Sternum straps
It has got a sternum strap with an adjustable facility to be tight or loose as required. It comes with a whistle for emergency use during hiking. In addition to that, two external-access tool keepers are provided to keep, hang and secure the gears like tent poles, sticks, or tools. In the same way, there are a lot of special features that make this pack one of the best north face hiking backpacks.
Following are some of the main features :
Top lid:
The top floating lid is having a zippered deep pocket to store the things you carry. It is provided with a smaller mesh pocket with zipping to keep smaller hiking gear. In addition, the lid pocket is even big enough to carry a helmet or many small things.
Main compartment :
The top-loading main compartment is accessible from the top side. The main compartment is not partitioned. Presently, there is no separation in the main compartment. Even though a separator is not provided, the bottom side of the main compartment is accessible from the top. There is no separate compartment feature for the best sleeping bag.
In the meantime, for keeping a sleeping bag, outside straps provided on the bottom side can be used. Due to the lumbar support and dynamic curved frame construction, the compartment looks a bit curved. The compartment is provided with a water reservoir pocket inside against the backside wall.
8+ Pockets :
This 50-liter capacity hiking backpack comes with eight-plus pockets. As a result, you can take any multi-day outdoor camping. These many pockets make this hiking backpack famous for easy gear organization. Both pockets provided on the front side are big enough to keep one-liter water bottles.
It has got a marvelous storage capacity. On both sides of the backpack, there are two water bottle pockets. Of course,  this can carry a one-liter water bottle each even when the hiking backpack is with the full load, for which certain packs struggle.
The longer and bigger outside pockets on the backside known as beaver tail pockets got enough space to store any item. In addition, these pockets can be accessed without offloading the backpack. These easily accessible and separate pockets make gear organization fantastic.
OPTIFIT suspension:
Banchee 50 backpack has been engineered with the innovative OPTIFIT system. The OPTIFIT technology provides an incomparable combination of load stabilization.
In addition to that, it features super ventilation with an adjustable hip belt and back panel combination. There are three important points to be considered for being comfortable in carrying a backpack.
In fact, the points: the back doesn't sweat more, the load distribution is over and the backpack fits your body well. The OPTIFIT technology is a unique approach to achieving the best suspension design.
By and large, that combines the best fits, ventilation, and load stabilization. With OPTIFIT technology the hip and shoulder contacts are adjustable to fit the length and width of your body.
Adjustable Hipbelt:
The adjustable hip belt is provided with two lumbar pads in line with forwarding hip pads. This supports exceptional work of distributing and transferring the load on your hips while moving. Even with a full load of the pack, the hip belt doesn't slip downward with this backpack.
As a result, the load transferring on this backpack is outstanding and very comfortable. The hip belt is having two longer zippered pockets to keep quickly accessible things. These pockets were really deep enough and endurable to carry a smartphone, GPS, or camera for travel.
Pros
Easy and comfortable to carry for longer periods
For clear visibility webbings are reflective
Improved comfort with OPTIFIT Technology
Cons
No integrated rain cover
No separation in the main compartment
Final Verdict :
Finally, this pack offers the comfort feature of premium hiking backpacks with more comfort to haul. No doubt, this backpack is best suitable for those suffering from back problems. This 50-liter backpack is very comfortable and the best backpack when you compare some of your old backpacks.
The OPTIFIT improves the comfort of wearing a hiking backpack and provides you with better confidence for longer days. Finally, The Banchee 50l set a new high standard for the lightweight backpack.
All things considered, make sure to have a quick checkout on the Amazing Offers and shipping details from the above link.