The Osprey Men's Atmos 65 AG Backpacks are incredible hiking backpacks that come with tons of features meant to make outdoor excursions flawless. This includes 65 liters of space as well as accessible pockets to accommodate your accessories with ease. With such a capacity the backpack is not only ideal for hiking but also perfect for casual traveling.
Osprey Atmos 65 Backpack
"Discover this ultra-lightweight backpack features!"
Premier Choice
Main Features
Comfortable to haul with easy gear access
Adjustable hip belt and removable top lid
Awesome ventilation with high durability
Lightweight design, pack weight: 4.56 lbs.
Osprey Atmos 65 backpacks deliver several unique benefits that are rarely seen in other camping backpacks.
Anti-gravity suspension system
Alongside, that comes to the revolutionary anti-gravity suspension system that makes carrying the pack a piece of cake. Still, it features a sturdy construction and durable fabric to counter the rugged outdoor environment. It should definitely be your go-to model if you are looking for a model offering quality and world-class performance.
The Osprey is a Californian company. In fact, Osprey started in 1974 with a single sewing machine by Mike Pfotenhauer. Actually, Mike started this firm with a lot of ideas and a desire to design and fabricate world-class backpacks of the topmost quality. Now Osprey designed backpack products to continue that spirit, which we can see on the highest mountains to the remote trails around the world.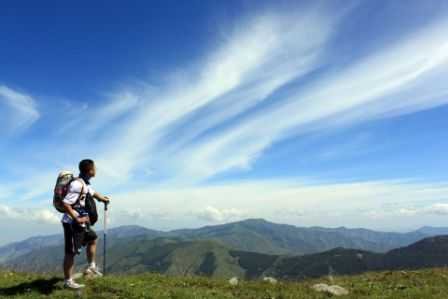 Superior design and style
Not to mention, Osprey Atmos 65 backpack is the most comfortable load-bearing backpack. Moreover, this is ideal for long backpacking trails, mountaineering, or hiking. The designers use high-quality 100D X 630D Nylon Dobly for the Main fabric, 210D High Tenacity Nylon for the accent fabric, and 420D Nylon Packcloth for the bottom fabric. This pack comes in three attractive colors.
The colors are Abyss Grey, Rigby Red, and Unity Blue. It is available in three different sizes according to gear capacity in liters: small(62 L), medium(65 L), and large(68 L) sizes. This lets the user choose the perfect size backpack according to his torso length effectively. This feature will provide correct fitness irrespective of user size.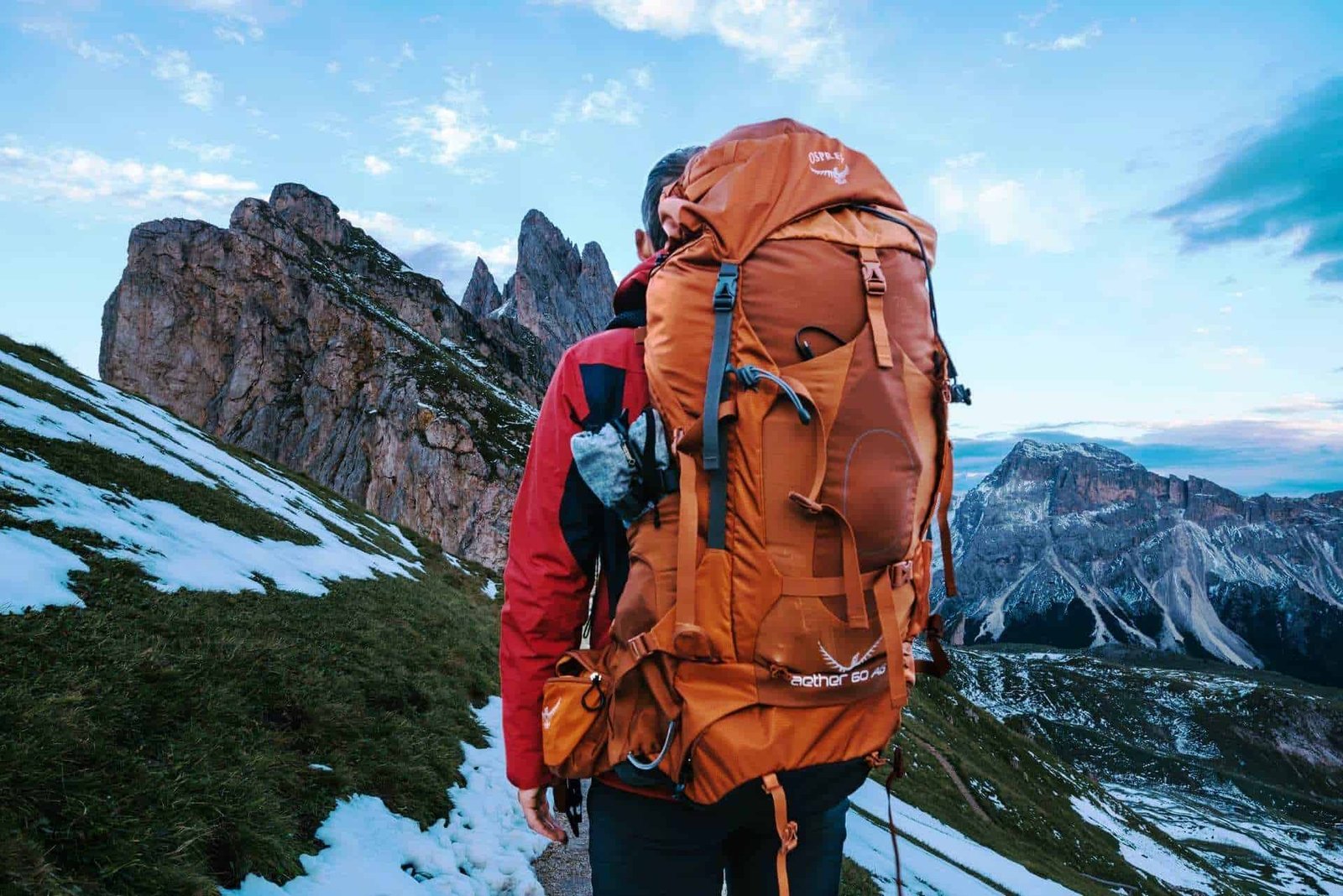 On the other hand, this awesome backpack has got so many features that enhance the comfort in medium to extended outdoor camping. It has got an integrated and detachable rain cover. Therefore, this rain cover can be used to cover the entire backpack at a time when the weather goes worse in the monsoon season or during the snow.
It is provided with a sternum strap with a whistle for usage during an emergency. The side compression straps and internal compression straps help to stabilize the load. Some of the main features are :
More Zippered Pockets :
Its wide range of pockets and easy access to the gear make this backpack the best option. It provides enough space for all equipment and has five exterior zipper pockets and three slip pockets for easy gear organization and quick access to the loaded hiking gear. This pack is considered to be the easiest backpack to be used considering enough access and a lot of pockets.
The dual-side mesh water bottle pockets can carry the water bottle. No doubt, this will make it far easier and quickly accessible without having to offload the backpack. Frequently accessible things can be stored in the Dual Zippered front panel pockets. The Sleeping bag base compartment is provided with an internal divider. The zippered front panel is given to access the gear from the top of the backpack.
Adjustable Hip belt with pads :
The latest Atmos 65 features an innovative suspended AG AntiGravity back system. As a result, this delivers extreme comfort with the world's first fully breathable hip belt. Of course, the extra pads provided with the hip belt help to extend a few inches. Actually, this feature facilitates adjustments according to your hip size for giving an exact fit. The ventilated hip belt wraps around the hip like a big hug, it provides supreme comfort and enough ventilation.
Floating Top Lid :
The top lid is extendable to occupy more gear. In addition to that, the removable floating top lid is detachable from the main pack for saving weight. FlapJacket top cover can be used when the top lid is removed separately to reduce weight. The twin zippered front panel pockets, the base zip, and the top lid give easy access points to grab your gear without offloading the backpack.
The Anti-Gravity Suspension:
In fact, the AG Suspension system is one piece of mesh fabric spread from the top to the bottom down the hipbelt. It is a very awesome feature and superior design. It feels very stable and comfortable during the long haul the backpack. The Osprey is the premier backpack in the market with ventilation. By and large, this awesome feature avoids sweating on your back.
Stow-on-the-Go
"Stow-on-the-Go" trekking pole attachment, Twin ice ax loops, external probe, shovel handle sleeves, and Internal hydration sleeves are some of the important features provided with this backpack.
Exceptional Ventilation
The effort spent in ventilation makes Osprey Atmos AG 65 an excellent backpack. The backpack utilizes superior fabric and the special design improves the ventilation throughout the backpack. In conclusion, this helps us to dry out the gear, by airing gear out and preventing them from getting odor.
In general, its flexibility and comfort make this Osprey design gets good reviews from hiking enthusiasts.
Pros
Side compression straps
Floating top lid
Adjustable hip belt with pads
Cons
Extra loose straps
Hip belt pockets are small
Final Thought
Finally, Osprey Atmos ag is a highly versatile backpack. The Anti-Gravity suspension system used in the backpack provides free movement. Actually, this backpack can react more dynamically with our movement. In my opinion, outdoor backpackers fond of ventilated backpacks with comfort can choose this as the best camping backpack.
Below are more FAQs about the awesome Atmos 65 and other Osprey models:-
Is the Osprey Atmos 65 waterproof?
This Osprey model is not waterproof although it is made with a water-resistant fabric that makes it perfect for any storm or adverse weather. Still, the Atmos 65 comes with a resilient rain cover that will secure your backpack in bad weather.
How do you pack an Osprey Atmos 65?
All pockets or compartments on an Osprey Atmos 65 are strategically placed to heighten accessibility. The model features three packing zones; the top zone, core, and bottom zone. The top zone holds light items that should be accessed quickly and more frequently. The core holds the heaviest items while the bottom zone is for light items that are not often used like sleeping bags.
How do Osprey Atmos fit?
Always, backpack fitting is based on the shoulder, torso, and hip measurements. For the Osprey Atmos model, it should be done at the hip belt, shoulder harness, sternum strap, and load lifter strap. You have to begin at the hip belt, tightening it comfortably around the hipbone.
Thereafter you have to tighten the shoulder harness by pulling on the shoulder straps so as to push the backpack closer to your body. Next is the sternum strap. The sternum strap draws the shoulder straps away from the armpits. Finally, for a perfect fit, you have to tighten the load lifter strap. This strap is more like a compression strap as it alleviates the pressure of shoulder straps.
What is Osprey anti-gravity?
Osprey Atmos and Aura models come with anti-gravity suspension which evenly distributes the weight of the backpack to the hips and back. It also directs it away from your shoulders. This is possible thanks to a series of mesh back panels fitted along with the suspension system.
What is the best Osprey backpack?
Osprey boasts of so many premium backpacks perfect for different outdoor activities. The Osprey Atmos 65 AG has proven to be the best hiking backpack for men. It is medium-sized in addition to bearing exceptional features for a wilderness backpack. On the flip side, the Osprey Aura 65 AG takes the top spot for women hiking backpacks. It is known for its top-notch performance and unmatched durability.
What size backpack do I need?
backpack size depends on the duration of the outdoor excursion. Nonetheless, you need a medium-sized backpack that will be flexible with any activity or duration. A volume ranging from 40 to 50 liters should be ideal in this case.
How do you pack your backpack?
Your backpack should be packed such that its center of gravity is as close as possible to your very own. The center of gravity lies at the waist for men and hips for women. Thus, the heaviest items should be packed in the midsection of the pack while lighter items have to occupy the upper and lower sections. Furthermore, items that are frequently used should be at the bottom while items that are used less often like sleeping bags should be at the bottom.
How do you pack a sleeping bag in a backpack?
First, you have to flatten the sleeping bag by sweeping your arms across its surface. This will get rid of excess air. Next, you should stuff the sleeping bag beginning at the bottom for a small packed size. While you stuff it you ought to ensure that it is well stacked. By stacking the bag, you will make it easier to pull out the next time you need to put it to use. Now you can fit it into a stuff sack and get it into your backpack.
How do you measure the torso for an Osprey backpack?
Osprey backpacks come with the Osprey pack sizer for torso measurement. The torso length should be measured beginning at the iliac crest that lies just above the hip bones. It runs all the way to the C7 vertebrae at your neck's base.
How do you mold an Osprey hip belt?
An Osprey hip belt should be molded at the right time and temperature. You should first select a proper thermal moldable foam material. The material has to be heated at 250-degree farads for 5 minutes. Thereafter you should fit it in a lumbar spacer bar. To top it off, you have to tighten it around your hips then let it cool and conform to whatever shape you give it.
How a backpack should fit?
The backpack's waist belt should rest above your hip bones. On the other hand, shoulder straps should closely hug your upper body and shoulders. After that, the load lifter has to be adjusted to push the backpack's upper section close to your back. Lastly, the sternum strap ought to be an inch under the collarbone.
How do you clean an osprey bag?
The bag should not be placed in a washing machine. You could clean it in a large sink or bathtub using warm water and mild soap. You can use a brush to gently scrub and remove any dirt, food, or other unwanted particles on the fabric of the backpack. Moving on, the pack should be rinsed thoroughly. Lastly, it ought to be aired to dry naturally in a well-ventilated area.
There you have it. The Osprey Atmos 65 is indeed a premium model that is worth every penny you spend on it. Its biggest downside is that it is designed for men. Nevertheless, the osprey has other great backpacks for ladies too. Why not try it out on your next hiking trip? You won't be disappointed.