So, you´ve hiked a few times. You noticed how hard it can be to walk in some places without any kind of support. Maybe you learned the bad way. If you or someone you know got injured on a hiking trip, your solution will be to own the best hiking sticks.
10 Best Hiking Sticks Comparison 2023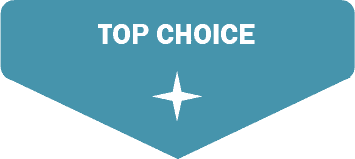 Black Diamond
Alpine Carbon Cork Trekking Poles
Real Nordic Walking
Poles from SWIX of Norway
Cascade Mountain Tech
Trekking Poles
Material: Carbon Fiber
Length: 24 to 53 inch
Weight: 19.2 oz.
Material: Carbide Metal
Length: 32 Various Lengths
Weight: 19.2 oz.
Material: Carbon Fiber
Length: 26 to 54 inch
Weight: 15.6 oz.
Easy to adjust, Life time replacement for defects, Ultra lightweight model, Easy to pack and carry.
Durable Carbide Metal tips, Perfect length, Custom lengths available as per torso length, #1 rated from US manufacturer, Removable rubber tips, Suitable for hard surfaces
Perfect grip, Supreme quality, Compact design, Lightweight strong pole, Quick lock for easy extension of length, Easy to use, Quality tungsten carbide tips,
Black Diamond
Alpine Carbon Cork Trekking Poles
Material: Carbon Fiber
Length: 24 to 53 inch
Weight: 19.2 oz.
Easy to adjust, Life time replacement for defects, Ultra lightweight model, Easy to pack and carry.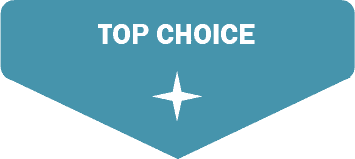 Real Nordic Walking
Poles from SWIX of Norway
Material: Carbide Metal
Length: 32 Various Lengths
Weight: 19.2 oz.
Durable Carbide Metal tips, Perfect length, Custom lengths available as per torso length, #1 rated from US manufacturer, Removable rubber tips, Suitable for hard surfaces
Cascade Mountain Tech
Trekking Poles
Material: Carbon Fiber
Length: 26 to 54 inch
Weight: 15.6 oz.
Perfect grip, Supreme quality, Compact design, Lightweight strong pole, Quick lock for easy extension of length, Easy to use, Quality tungsten carbide tips,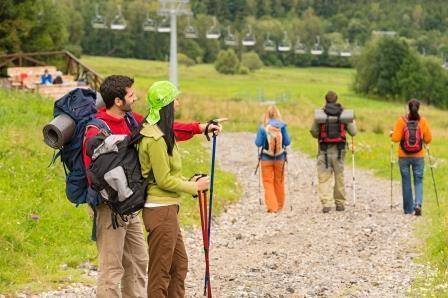 TREKKING POLES
LENGTH &WEIGHT
BOTTOM LINE
PRICE
BAFX Products-Anti Shock
4.5 out of 5
25.5″ to 52.0″
12.40 Oz
High-Grade Aluminium
Ergonomic and Comfortable Grips, Added Grip, Wider and Padded Wrist Strap, Better Features, Fit for all heights, Lightweight,  Durable, Anti Shock, Affordable Price, 
Check Price
Hiker Hunger 100% Carbon Fiber
4.5 out of 5
24.0″ to 54.0″
15.20 Oz
100% Carbon Fiber
Stronger and Lighter, Anti-shock, Easy to collapse, Quick Extension of poles possible, Compact for packing, Non-Slip EVA form grip, Comfortable Grip, Interchangeable tips, 
Check Price
Foxelli Trekking Poles 
5.0 out of 5
24.0″ to 55.0″
14.0 Oz
Carbon Fiber material
Ultralight material, Superior design, Adjustable pole length, Suitable for all heights, Compact design, Easy to pack, Anti-slip grip, Sweat absorbing grip, Extra-padded grip, Extra Comfortable Grip made of EVA foam
Check Price
High Trek Premium Ultralight
4.5 out of 5
25 inches to 53 inches
Lightweight model, Lever locks to adjust the length easily, Fits for all sizes. Comfortable grips, wrist straps prevent dropping, Tungsten tipped with one year warranty.
Check Price
Alpine Summit Hiking/ Trekking Poles
4.5 out of 5
25 to 53 inches 
4 oz
Aerospace-grade aluminum poles for more strength, Lighter than previous versions, Moisture absorbing grips, and Quick height adjustments.
Check Price
Montem Ultra Strong Poles
4.0 out of 5
From 24 inches to 53 inches
9.6 oz
Free life term return policy with replacement offer, Can be set to required length, Lightweight and strong, Nylon straps prevent dropping of poles while hiking, 
Check Price
High Stream Gear Collapsible Poles
4.0 out of 5
From 45 inches to 53 inches
From 39 inches to 47 inches
11.0 oz
Collapsible to a length of 14.5 inches, Durable, Lightweight, high-quality aluminum material, One year guarantee(money back), Awesome quality and design.
Check Price
Best Trekking poles of 2023
1. Black Diamond Alpine Carbon Cork
"Best Suitable For Hiking, Trekking, and Mountaineering!"
Premium Pick
Main Features
Dual flick lock pro-adjust-ability
Carbon fiber shaft
Replaceable carbide tips
Lightweight design.
Nothing defines quality and opulence like the BLACK DIAMOND Alpine Carbon Cork. They are very versatile in their functionality in addition to the dual flick lock pro that allows for full adjustability.
Durable Cork Grips
The structure is fortified by quality materials that guarantee durability. This includes pure carbon fiber which makes the poles light. Comfort is boosted by durable cork grips that wick sweat away as well as thickly padded wrist straps.
Interchangeable Rubber and Carbide Tips
For quick choke-ups on uneven terrain, the poles feature non-slip EVA extensions. Still, interchangeable rubber and carbide tips provide stability and confidence on uneven surfaces.
Versatile Features
This design incorporates superior features that come in handy for folks who love long hikes, winter touring, backpacking trips, and far-flung treks.
In fact, BLACK DIAMOND Alpine Carbon Cork Poles enhance traction in snow, mud, and rocky terrain.
Pros
Comfortable cork grip
Padded wrist wraps
Ergonomic grip
No-slip extensions
Cons
Snaps that hold the poles in place can be disappointing 
---
2. Real Nordic Walking Poles
"A Stronger, Safer Trekking Pole Suitable For Tough Terrains!"
Top Choice
Main Features
Carbide and asphalt tips for rough surfaces
Suitable for Senior citizens with balance problems.
Reputable brand from the USA
Ergonomic cork grips and Replaceable Rubber tips.
If you are looking for dependable and user-friendly designs, the Real Nordic Walking Poles would be your perfect choice.   The poles are constructed to stand the test of time and push you through tough conditions.
Strong and Comfortable Grip
Cork grips are strong and comfortable not to mention ergonomic walking straps that ensure an adequate support system. For smooth trekking on snow or ice, the poles are equipped with sturdy carbide metal tips.
Boot Shaped Tips
No doubt, walking on indoor cemented floors or other hard surfaces is easy too. This is owing to asphalt paws and boot-shaped tips made from rubber.
User-friendly Design
Other than that, these sticks come with a free Nordic Walking Instructions DVD as well as a printed manual hence making it user-friendly. Flip and twist locks make it easy to retract the poles.
Perfect for Balance and Stability
These sticks are ideal for anyone in need of walking support or experiencing problems with balance and stability. As a matter of fact, they are recommended for seniors with such issues. These sticks are also designed to facilitate weight loss.
In fact,  Real Nordic Walking Poles are not only durable they are also easy to use. They brag of multiple functionalities both indoors and outdoors.
Pros
Comfortable
Durable
Supportive wrist straps
Cons
Underperform with regards to stiffness
Not noises absorbent
---
3. Cascade Mountain Tech Trekking Plus
"Best Suitable For Hiking, Trekking, and Mountaineering!"
Best Value
Main Features
Feature EVA foam or cock grips
Fairly priced with comfort grip.
Lightweight and compact design
Perfect for all terrains.
The most compelling attribute of Cascade Mountain Tech Trekking Poles lies in the fact that they are made of pure carbon fiber.
Lightweight Design
This transforms into a lightweight and top quality. Other parts such as the locking mechanism, grips, and shafts are made from quality materials too.
Cock Grips with EVA Foam
Nonetheless, the poles feature compact EVA foam and cock grips that eliminate sweat and provide comfort. The grips also minimize vibration.
Adjustable Straps
Alongside that come adjustable straps for additional support. Rough terrain will not be a problem thanks to rigid tungsten carbide tips. Adjusting pole height is easy.
Suitable for Extended Hikes
Cascade Mountain Tech Carbon Fiber Collapsible Quick Lock Poles are very light in nature owing to their pure carbon structure. This makes them appropriate for extended hiking periods as well as daily walks.
In fact,  Cascade Mountain Tech Carbon Fiber Collapsible Quick Lock Poles are excellent in terms of weight.
Pros
Comfortable cork grip
Quality Carbon Structure
Adjustable straps
Cons
Parts not durable
Not suitable for tough trails
---
4. Foxelli Trekking Poles
"Best Quality Trekking Pole Suitable For Hiking, Trekking!"
Reliable Pick
Main Features
Eva foam sleeve extensions on natural cork grips
Extra padding wrist strap
Highly adjustable wrist straps
Moisture-wicking properties.
The Foxelli Trekking Poles are a fun favorite because of being extremely lightweight.
Reliable Carbon Fiber
This pole is attributed to the carbon fiber from which the poles are constructed. To add to that, carbon absorbs sound and shock thus making your outdoor excursions smooth and enjoyable.
Tungsten Carbide Tips
Similarly, this gear is designed for top stability and to conquer the harshest terrains thanks to tungsten carbide tips. Besides that, the poles also come with cork grips that are anti-slip. They also have moisture-wicking capabilities.
Thickly Padded Grips
Plus, the grips are thickly padded. They come with adjustable wrist straps made from EVA foam thus guaranteeing top-notch comfort. Rubber tips with thermoplastic properties are attached to eliminate snagging in mud or snow.
Quick-lock Technology
Another posh feature is the quick lock technology that makes it easy to adjust the poles. Furthermore, the poles are retractable to 55" ensuring compatibility with any height. On top of all that is a carrying case for the poles.
Reduce Pressure On Joints
These poles are intended to sufficiently provide support for indoor and outdoor activities. On the same note, these are ideal poles to buy if you plan to alleviate weight by up to 20% and reduce pressure on your joints. To top it off, the poles come in handy for anyone recuperating from injury or experiencing a problem with walking posture.
In fact,  Ergonomic features incorporated in the Foxelli Poles cement its position among the best designs. They are worth their cost and are exemplary in terms of comfort, top functionality, and versatility.
Pros
Super lightweight
Maximum comfort
Noise and shock absorbent
Retractable to 55" from 24 inch
Cons
The poles lack indicators for the left or right side
---
5. Montem Trekking Poles
"Best Suitable Collapsible, Lightweight, and Shock-Absorbent poles!"
Reliable Pick
Main Features
Padded strap for a smooth and comfy grip
Compact to pack for backpacking and traveling
Ultra-lightweight and durable design
Can be adjustable from 24″ to 53″.
An ingenious combination of smart features and an innovative design bring out one of the most fascinating designs on the market today.
Light and Sturdy Aluminium
The trekking poles are crafted from light but sturdy aluminum 705 that relays massive support.
Adjustable Length
It is easy to adjust the length of the poles making them suitable for any height. Moving on, the poles come with mud baskets and detachable rubber tips to counter unfavorable terrains. Nylon wrist straps ensure that your poles never slip away while grips provide comfort.
Multiple Uses
Considering strength and durability, Montem Ultra Strong Poles can be utilized in executing different tasks depending on the situation. You can use them as tent poles to set up a shelter in the jungle.
Anti-slip and Stable
The poles can also act as medical splints in the event of an emergency. While in the jungle you are prone to attacks by wild animals. These poles can be lethal weapons. They also ensure stability on slippery or rocky surfaces by boosting grip and traction.
In fact,  the Montem Ultra Strong Poles are well-priced to suit any low-budget hiker looking for strong, heavy-duty, and comfortable support.
Pros
Suitable for any height
Ultra-lightweight design
More durable
Heavy duty
Cons
It is not as light as poles made from carbon
---
6. BAFX Products Hiking Poles
"Best Suitable For Hiking, Trekking and Mountaineering"!
Reliable Pick
Main Features
Integrated mud baskets prevent sinking
Created with robust aluminum for strength
Carbide tips support uneven terrain
Padded wrist straps for comfortable grip.
BAFX Products poles have gained traction among outdoors enthusiasts for several reasons. The most outstanding aspect is that they are pocket friendly.
Comfortable Grips
Other than that, they include thickly padded wrist straps and grips that boost comfort. Comfort on the grips is further enhanced by light thin ribbing alongside an ergonomic design. Other than that, the ribbing ensures that your hands do not slip when they get sweaty.
Eliminates Rubbing
Moreover, sufficient support is generated by wider and thickly cushioned wrist straps. This feature also eliminates chafing and rubbing.
Lightweight and Durable
Additionally, the poles can extend up to 52" making the poles compatible with every height. The poles are made from aluminum making them lightweight and long-lasting. Plus they are meant to conquer the harshest terrains with ease.
Versatile Skill Levels
The BAFX Products poles are designed to accommodate different skill levels. Beginners and professionals alike will find these poles very impressive. They execute a wide range of activities effectively. Thus, these models are ideal for simple walks, skiing, camping, hiking, and trekking as well as other activities that require support.
Generally, the BAFX Products poles are quality exhibiting exceptional functionality in addition to being priced fairly. They are versatile too and can be utilized for different activities.
Pros
User-friendly and more durable
Ergonomically shaped grips
1-year warranty
Cons
Wrist straps tend to be a little short
Straps do not extend sufficiently in rainy weather
---
7. High Trek Trekking Poles
"Best Suitable For Hiking, Trekking, and Walking!"
Reliable Pick
Main Features
Lightweight with easily adjustable lever locks
Hand grips are comfortable with EVA
Compact and easily packable design
One year full warranty.
The engineers behind the High Trek Premium Ultralight Poles have taken every aspect of comfort and security into consideration. This is witnessed in the exquisite design of the poles that bring out the best.
Easily Adjustable
Adjustable wrist straps and padded handles guarantee enjoyable hiking. Through a twist-lock mechanism, the poles are easily adjustable.
Tungsten Tips
They are also integrated with snow and mud baskets that eliminate the risk of sinking on soft surfaces. Tungsten tips and detachable rubber ferrules on the ends ensure easy trekking on all terrain.
Easy to Store and Carry
Still, the highly collapsible poles retract to 26" in addition to being light. This makes them easy to store or carry around. Aluminum frames make the poles light and strong.
Awesome Design
Mountain climbing is one of the specialties of these poles. They have also proven to be the best choice for trekking, camping, hiking, and skiing.
In fact,  they are the type of design sticks that you need on your worst day. Similarly, the High Trek Premium Ultralight exhibits premium performance coupled with the fact that it can be adjusted to suit short and tall adventurers.
Pros
Comfortable grips
The adjustable height is suitable
Easy to use and pack
Fit for all-terrain
Cons
Few issues with the adjustable mechanism
---
8. Hiker Hunger Trekking Poles
"Best Suitable For Compact Lightweight Backpacking!"
Reliable Pick
Main Features
Highly collapsible owing to quick flip locks
Comfortable and suits all heights
Anti-shock capabilities
Non-slip EVA foam grip extensions.
The Hiker Hunger poles boast numerous premium qualities in terms of design, comfort, and functionality. At the top of the list are cork handles that are ergonomically shaped for maximum comfort.
Moisture-wicking hand Grips
Neoprene grips amplify comfort even more. Another top quality is the nonslip EVA Foam Grip extensions cushioning at the bottom of the cork handles. The extensions cut down on discomfort and also bear moisture-wicking properties.
Easy to Adjust
Moving on, the poles are highly adjustable to 54 inches for 24 inches making them appropriate for different body sizes. This carbon fiber weave on their structure makes them light and durable. The quick flip lock feature makes them easily collapsible to 54".
Lightweight Design
Hiker Hunger 100% Carbon Fiber stands out as the best lightweight design because of its featherweight. This makes them perfect for extended outdoor activities such as hiking, camping, trekking, and skiing. They can be used to correct posture problems among the elderly too.
In fact,  the Hiker Hunger 100% Carbon Fiber deserves to be on your next shopping list. This is owing to the extremely cheap price, weight, and superior features that enhance functionality.
Pros
Pure carbon fiber
Ergonomic grip
Moisture-wicking grips
Cons
The locking mechanism is not sturdy
---
9. Alpine Summit Trekking Pole
"Premium Safety and Security Throughout your Trails!"
Reliable Pick
Main Features
Compatible with any height
Safe and ideal for all terrains
Anti-shock grips and tips
Best gift for your hiking friends.
Alpine Summit Poles guarantee total satisfaction for trekking lovers. They stand out among the excellent gear in the market as they are durable, sturdy, and lightweight.
Anti-shock Tips
Anti-shock tips ensure smooth walking even in unfavorable conditions and on all terrains. Additionally, the poles can extend up to 54" and collapse to 24".
Luxurious Grips
On the same note, they can be adjusted to any height making them appropriate for kids and adults alike. The grips are luxuriously incorporating extra padding and moisture-wicking properties.
Versatile Features
These poles are engineered to withstand the worst outdoor conditions. Therefore, they are often utilized for deep snow snowshoeing, backpacking, mountaineering, walking, and hiking. High adjustability makes the pole compatible with kids, which is incredible as well.
Therefore, if you are looking to buy the best support for hiking, the Alpine Summit Poles are worth considering. They have proven to provide unparalleled functionality on different terrains and incredible durability.
Pros
Lightweight
More durable
Comfortable grips
Cons
Inbuilt settings tend to jam at times when in use
---
10. High Stream Gear Trekking Poles
"Premium Safety and Security Throughout your Trails!"
Reliable Pick
Main Features
Innovative design features
Easily foldable to pack and store
Robust in construction and durable
Safe and secure with elegant style.
Performance-enhancing features have driven the High Stream Gear Foldable Poles to become best sellers in the market. First, the poles provide a custom fit for any height.
Robust Design Features
Aside from that, they are crafted from light and strong aluminum 7075 that guarantees durability. Another timeless feature is the classy handles that provide a strong non-slip grip. Furthermore, the handles are ergonomically designed to conform to the hand's shape.
Moisture-wicking Grips
You no longer have to worry about sweating as the handles absorb it leaving your hands cool. It is easy to carry the poles owing to the fact that they can be folded down to 14.5". Wrist straps ensure that you can easily do other things with the poles intact.
Provides Balance and Security
These poles feature an innovative design that provides a safe and secure outdoor experience for hiking enthusiasts, both professionals, and novices. The poles increase traction in undulating terrain in addition to enhancing balance and security for outdoor adventurers. Above all, the poles facilitate exercise.
In fact, the High Stream Gear Foldable Poles are well made besides being light and strong. They are fairly priced considering their quality. You should try them out!
Pros
Highly adjustable
Non-slip handles
Ultra-lightweight
Cons
Too long for folks under 5'10"
---
Benefits of Using Sticks for Hiking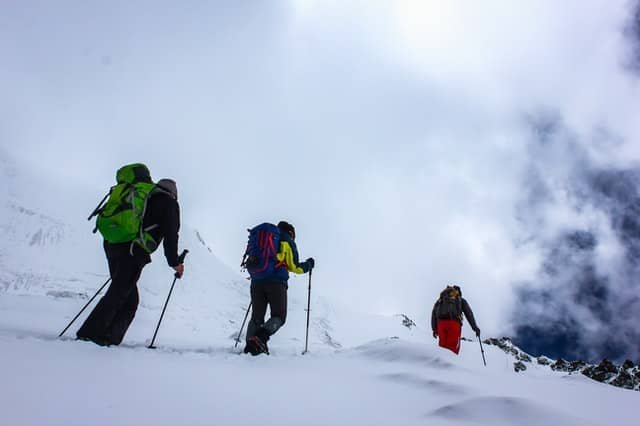 Planning for your worst-case scenario is key hiking-wise. Taking trekking poles with you on a hiking trip is helpful – PERIOD. They can help your movement and give you stability and freedom. Let's be optimistic, shall we?
Improves coordination
Chances are you got into hiking for weight loss. Using poles boosts the cardiovascular benefits of hiking. Meaning it helps increase the calories you burn! Let's not forget the use of trekking poles improves coordination. These magic sticks absorb the impact that would otherwise go straight to your knees.
Help while setting up camp
The benefits of using poles are various. And they're not limited to support, coordination, and cardio boost. Don't believe me? How about using your trekking poles to help you set up your camp?
We did some research on these poles so you don't have to. Of course, we'll tell you what a trekking pole is. Some of its essential design features. Some aspects to consider before getting one more. Read on for some details.
Pros and Cons of Hiking:
Pros:
Improve your sugar levels
Improve your blood pressure
Exercise your heart muscles
Burn calories
Bond with friends and family
Marvel at the beauty of nature
Cons:
 Only ideal in the right weather conditions
Tends to be boring hiking alone
Can be unsafe in unfamiliar terrains
What is a trekking pole?
First things first, sure you heard using a walking aid helps a lot in hiking. How are trekking poles different from walking sticks and hiking staff? The answer is simple.
Designed for heavy-duty
There are two main differences. Manufacturers sell a single walking stick/hiking staff while trekking poles always come in pairs. Also, walking sticks are for longer and lighter use (meaning the terrain will be flat and you'll be carrying no weight). Trekking poles are sturdy and designed for heavy-duty use.
Suitable for tough terrain
That means taking a walking stick on a hike in a national park with clear paths is fine. If you're covering a high mountain trail, then trekking poles are exactly what you need.
There's no big difference between walking sticks and trekking poles material-wise. Walking sticks use non-specialized materials for their construction.
Material of the product
Steel alloys, aluminum, carbon fiber, and wood are the most used materials in the construction of these poles.
Wood is a resistant but heavy material. The weight is what makes it unsuitable for long hikes. Softwoods tend to get too worn out after one use. If you want a hiking staff, go for a hardwood one.
Carbon fiber is the lightest material you'll find in trekking poles. But it's quite pricey and not as resistant as aluminum. Aluminum is the best option when it comes to value. It's durable, light, and cheap. We recommend aluminum poles, but the last word is yours.
Why Do You Need Trekking Poles During Hiking?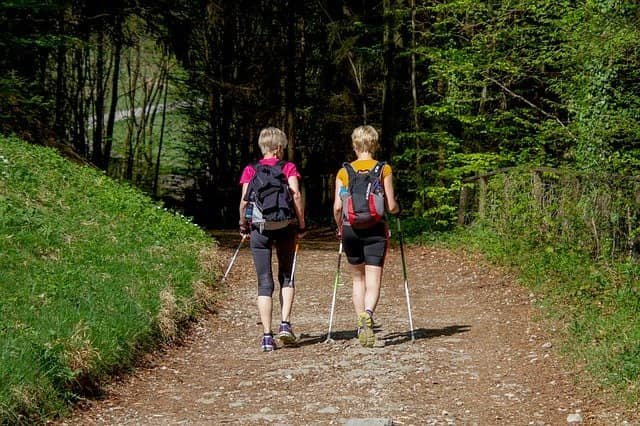 We mentioned the greatest benefits of getting yourself a pair of trekking poles. We said they absorb most of the shock walking gives to your joints. The healthier your joints, the more years you'll be able to hike.
In the wild, you may run into animals. Believe it or not, poles make an attack by some medium-sized animals improbable. They make you look bigger and intimidating if you swing them around like crazy (not kidding here).
Even the most experienced hikers out there find it hard to stay balanced from time to time. That's because of the weight of their backpacks and the quality of the terrain. Using hiking sticks will give you increased safety.
Speaking of heavyweight on your shoulders, the poles alleviate some of the weight of your hiking backpack. Thus increasing your stamina.
Due to their sturdiness and resistance, the poles make a great substitute for camping tent poles. Of course, the poles won't give in to strong winds or the occasional accidental push. The bottom line is these poles can aid in the building of safer shelters.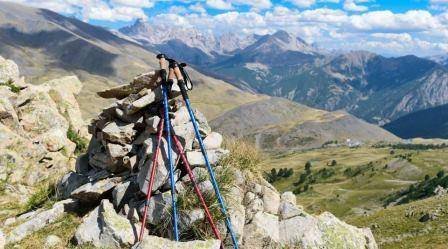 Essential Design Features:
Tip:
An essential feature of a pole is that it's equipped with a sharp metal tip. Tips give these poles traction as they penetrate the ground. If the tip isn't made of metal, then you don't have a high-quality trekking pole.
Tip covers:
Tip covers grant versatility to a pole. Moreover, Tip covers come in different materials, sizes, and shapes. You get to have your trekking pole assure you great performance. No matter the quality of the soil: soft, rocky, muddy, covered in snow. You name it.
Cushioned Hand Grips:
Rubber-over-foam, cork, and molded plastic are the three top material choices for trekking pole hand grip manufacturers. Hand grips are crucial for two reasons. They provide comfort and help prevent blisters.
Wrist Straps:
These make using a trekking pole easier in more than one way. First and foremost, straps make it harder for poles to just slip away from your hands. Second, straps allow your hands to be free to use them whenever you need them.
This way, you won't waste any time figuring out where to put your poles aside. Find poles with straps made of moisture-wicking material. That being the case, sweat won't pose a single problem to you.
Shock absorbents:
You want trekking poles to make a real difference in the impact your knees absorb. They must have some special shock-absorbing mechanism. This mechanism varies from one brand to another. In general, all mechanisms help. Just make sure a shock-absorbing mechanism is present.
High-end trekking poles:
The pricier things are, the better they will be. Well, that isn't always the case. The features mentioned above are basic. But high-end trekking poles go that extra mile in offering tempting yet nonvital features.
Among these, you find built-in thermometers, compasses, and camera mounts. These factors shouldn't be a decisive factor in your decision. Unless you intend to use them a lot.
A thermometer is of real use only for high-mountain hikers. It's useful for them to know how the temperature drops as they go uphill. Compasses increase the price of trekking poles for no good reason. Bear in mind you can always buy a small cheap compass and you'll be fine.
Regarding camera mounts integrated into walking aids. They pose a great option for shutterbugs who enjoy taking pics. They make a great choice because they spare you from carrying additional gear with you.
Things To Consider When Buying Poles:
We've covered materials' advantages and diverse features. Let's focus on the decision-making process. What things should you take into account before buying a set of poles?
Price and quality
There are some pretty decent poles at entry-level prices of $20. Your poles can be as expensive as you can afford them to be. Make sure they meet most, if not all of your needs.
Adjustable or Non-Adjustable Length:
Some poles are adjustable in length. Meaning two persons of any given height would be able to use the same pair of poles. Some poles aren't adjustable in length. These poles are for personal use only.
There's more to consider before buying your poles than if they're for personal use. Remember you can use them as:
tent poles
an aid for building a shelter
a camera mount
a temporary immobilizer before getting proper medical attention
a pole to build a stretcher
Foldable or collapsible?
Imagine your poles are foldable. They won't be as packable as collapsible poles. The other way round. Your poles are collapsible. They can get a little unstable in their structure closer to the distal end. So, you decide what's more of a permissible flaw to you.
Weight of the poles
Assume you're not going on long hikes. And you know for sure you won't carry too much weight on your back. If these two reasons are the case for you, then the weight isn't a relevant matter.
You may choose any type of pole without having the weight of your pole become a big issue. REI considers that only those poles under one pound per pole are ultralight.
Tips for Using Trekking Poles For Hiking
Remember to alternate your legs and the poles.
When using poles, it's important to fixate on a good rhythm. The recommended way is the right leg with the left arm and the left leg with the right arm. At first, it needs some careful focus, then it's easy. It's a matter of practice.
When you lose this pace, you can keep walking lifting the poles off the ground. Only to put them back when you feel ready. Also, you can stop and start again. Find whatever suits you the best.
For steep uphill or downhill.
You can stop and find a point of stability with your poles. Then walk give a couple of steps. Repeat. It's that simple.
Keep a natural posture.
Remember the right way to use poles. When you hold the grips in such a way that your flexed arm forms a 90° angle.
Keep the swing of your arms natural. Not too ample, not too fast. The poles should be pointing forwards. This way, the poles are planted in the ground giving you traction and helping you move on.
Tips For Taking Care Of Your Poles
As for taking care of your poles, it's all about common sense. You must clean them up after every use.
First, remove the dirt with a dry towel. After removing the dirt use a wet towel with some soft detergent. This avoids unnecessary scratching.
Let your poles dry before collapsing them (if they're collapsible poles).
There are special cases for poles. Try to get a hard case for packing them in your backpack. If you can't get a hard case, any fabric case will do.
Check the state of your tip covers from time to time. Replace them when necessary. Use the tip cover for the right kind of terrain.
Where To Buy Trekking Poles and Hiking Staff?
This decision is up to you. There are some popular choices to buy.
Local sports shop
Say you're one of those people who needs to see things before buying them. This being the case, going to a local sporting supply is for you. In a shop, they'll let you try the poles.
You can read as many reviews as you wish. But no review will ever be as powerful as holding the poles with your own hands.
It's a good choice because you can try the handgrip materials and see what works best for you. There's a downside to going to a local store. Maybe they don't have a good variety of poles and staff.
Second-hand outdoor shop.
You don't have a big budget, but you still want a pair of poles. It's easy. Go to a second-hand outdoor shop. The advantage is that they make sure the gear they sell is in good condition. You will get good affordable gear, even if it's not new.
Online shops.
The best pic is REI. They have a surprising variety of trekking poles, walking sticks,

and hiking staff

. They also have experts giving you advice on how to choose the best designs for you.

The only bad thing is that REI is so specialized, most of the gear the sale is (although high-quality) a bit pricey.
Amazon.com.
All people know Amazon. And that's for a good reason. On Amazon, you'll find an endless variety of poles, sticks, and staff. With prices ranging from affordable entry-level to high-end. Dubious Amazon is for you? There's more.
The greatest advantage of buying your trekking poles on Amazon is you don't get brands paying someone for a review. You get real people giving you some valuable insights on design and performance. We consider this to be the best option to buy your best trekking poles.
Happy hiking, folks!