Length: 8.6 miles
Elevation Gain: 5,252 ft (1600 meters)
Route Type: Out and Back
Where is Volcan de Acatenango?
You start by traveling to Antigua, and Guatemala, and figuring out which guiding companies you want to tour with. I booked my guided hike through Tropicana Hostel and would highly recommend them to others. After you lock in your plans for the hike, you can stay overnight in their 15-bed dorm room, with curtains for privacy, at a low cost of 80 Quetzals ($10) per night. This will be an advantage in the morning because breakfast is right upstairs.
How do you get to Volcan de Acatenango?
8 a.m. – You meet at the beautiful terrace for a traditional Guatemalan breakfast consisting of fresh fruit, eggs, ranchero sauce, bread, black beans, pancakes, and coffee.
9 a.m. – A shuttle picks you up and drives your group about one hour to the trailhead at the base of the volcano.
10 a.m. – You arrive at the private shack where last-minute provisions can be purchased. This is a perfect time for people to use the bathroom. There is an option to rent the best hiking sticks at this point. I did not rent walking sticks because I do not normally use them while I hike and thought they would get in my way.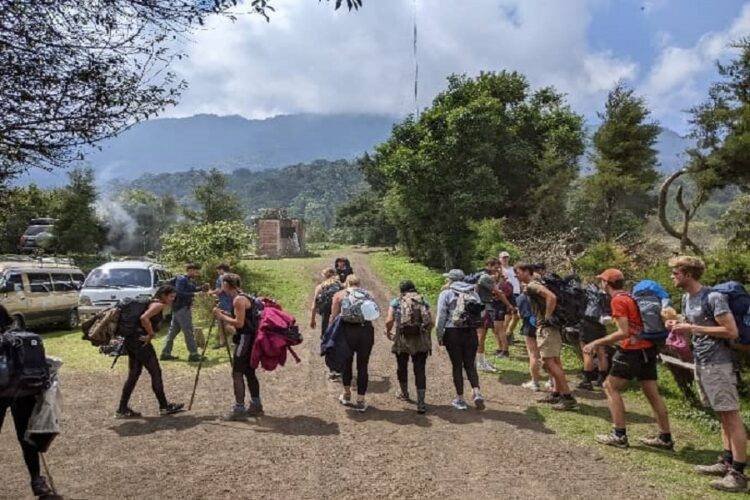 What is it like hiking up a volcano?
10:30 a.m. –Volcan de Acatenango is one of the most biodiverse and wealthy places in Guatemala. As you make your way up the first mile the terrain quickly shifts from farmland to oak forest. The trees found in this first section are endemic to Mexico, Guatemala, and Honduras. Considered a tropical montane moist forest because of the high levels of precipitation annually and the stable annual temperatures. This part of the trail reminds me of a moss-covered fairy wonderland park.
The guides do an amazing job of keeping a steady pace without burning people out. There are four to five backpacking guides who intermingle with the group as they see necessary. One always leads, one brings up the back, and the other two to three may be carrying gear, playing music, or entertaining the tour with fun facts about the environment.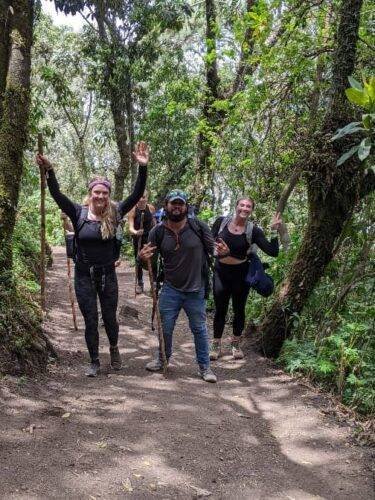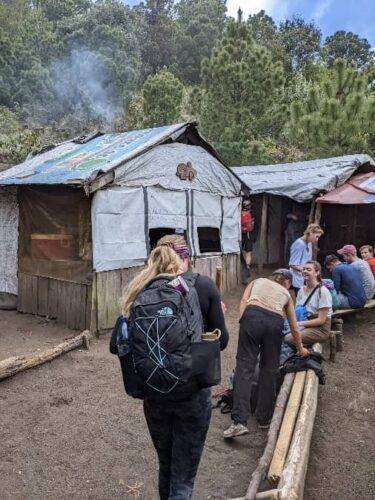 1:00 p.m. – Lunch time! A half-hour is set aside for our prepacked lunch. One vegetarian burrito, boxed apple juice, a bag of chips, and a brownie for dessert. There is a little stand selling beverages at the lunch spot.
Around this area, you should be entering the cloud forest. This section has the greatest diversity of flora and fauna in the country and it's strategic for water capture. This forest acts as a sponge that captures water that supplies the surrounding communities. Much of the sugar and livestock industries, from the southern coast of Guatemala, rely on this cycle as well.
Arriving at Base Camp!
3:00 p.m. – As you push through the last mile, the change in altitude will be felt deep in your lungs. This will mean you have reached the pine and subalpine forest. The subalpine area is a meadow dominated by grasses and is one of the coldest areas in Guatemala. Just as you don't think you can go any further, base camp is in view! Your guide will cook supper, consisting of noodles in a cup, cooked to perfection with boiling water.
What is going on over there…Volcan de Fuego?
You will be able to see the famous Volcan de Fuego, straight across, at eye level from the base camp on Volcan de Acatenango. This next part will be the real challenge. Your guide will offer an extended four-hour hike, up close and personal, to Volcan de Fuego. One thousand feet down, followed by one thousand feet up to Fuego to, potentially, witness the phenomenon that is an active volcanic eruption. Volcan de Fuego is only one of three volcanoes in all Guatemala that is still active. This part does come with an added fee of 200 Quetzals ($25).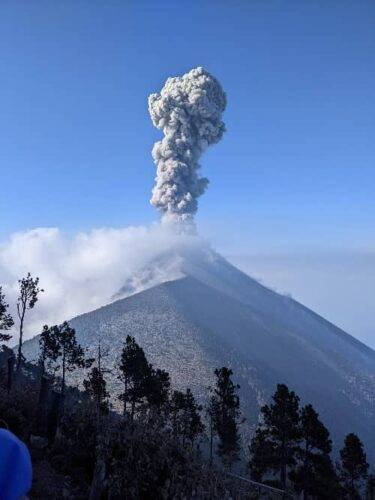 4:00 p.m. – If you decide to take on the challenge of hiking to Volcan de Fuego, you should leave somewhere around now. Expect to reach the top of Fuego when the sun is setting beyond the horizon. Our group sat around at the top of Fuego for almost one hour, after sunset, waiting for the big bang, but left when the weather took a turn for the worse. A single, giant raincloud came to wash us out. Wet and disappointed because we didn't get to see the eruption, we tucked our tails between our legs and made our way back to base camp.
11:00 p.m. – The guides will cook a second meal for those that went on the pilgrimage to Volcan de Fuego. Then, you will be gently ushered to your bunk-style cabin where warm sleeping bags and the body heat from twenty young backpackers should keep you nice and toasty.
11:59 p.m. – We were woken up by a surprise rumbling. Mother Nature was working her course and Volcan de Fuego could not hold back. I was not able to capture any pictures of the giant eruption. I have learned that sometimes beauty should be left for the wonderer to discover on their own. So, I highly recommend that you go and see it for yourself!
Day 2
4:20 a.m. – Our guides had a good sense of humor by telling us to wake up at this time, specifically, to begin our final push to the crater, on top of Acatenango, for sunrise.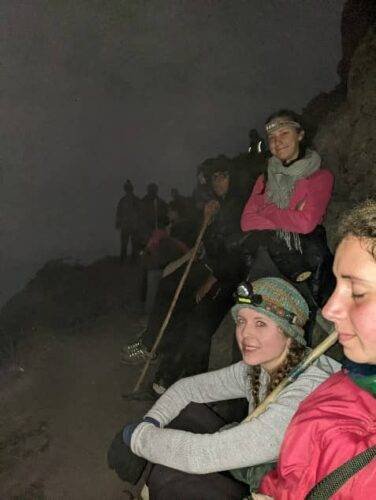 6:00 a.m. – 13,044 feet (3,976 meters) Journal entry: Tues. March 29, 2022 – The Elevation cuts off unnecessary thoughts from the brain. No longer do the stresses of money, lost loves, unknown futures or the burn deep inside my calves fill me with worry. As Fuego exposes himself through the endless sea of clouds, smiles are spread across every face. Tears of Joy reach friends embracing, allowing memories never to be forgotten. The sunrise majestically comforts cold fingers and noses. Loose gravel surrounds you at the top of Volcan de Acatenango reminding all passersby how temporary everything in life is.
7:00 a.m. – Back at base camp the guides set the tour group up with breakfast for the descent. One bowl of oatmeal, a banana, an apple, and local Guatemalan coffee. Time to get your stuff packed away and roll out.
10:00 a.m. – Make sure to bring cash with you because there are small shops and restaurants along the way. God knows how good a milkshake and a crepe taste after a backpacking trip up a steep volcano.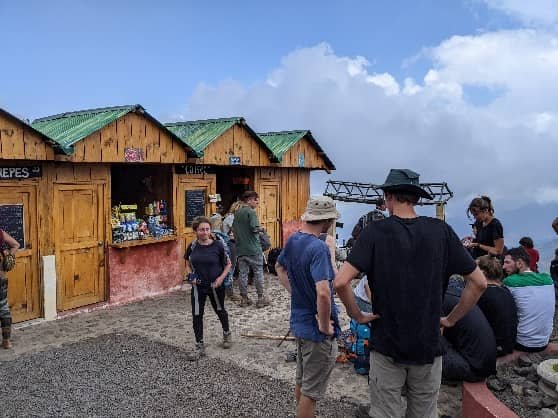 Recap of the experience and advice:
I will rate this hike as difficult due to the consistently steep climb all the way to base camp. There is no leveling off. Only up until you can't go up anymore.
I recommend wearing proper hiking boots for grip and stability, on the way up and the way down.
I would stay in the town of Antigua for a couple of days before taking on this challenge. This will help alleviate any potential elevation sickness.
Pack four liters of water and extra snacks. Your body is working on overdrive.
The weather at the top is no joke. Bring a jacket, hat, and gloves at the very least. If you cannot fit these items in your travel bag, Tropicana Hostel will rent them to you for a reasonable price.
The rainy season typically starts in May and lasts until November. During this time, you will see rain in the afternoon and in the early evening. The dry season takes up the rest of the year, from November to May. I would recommend you do this hike in the dry season to avoid getting caught in the showers. Plus, with rain comes clouds and that could cause low visibility up on the volcano. The dry season is more popular with tourists and you will see hotel rates increase accordingly.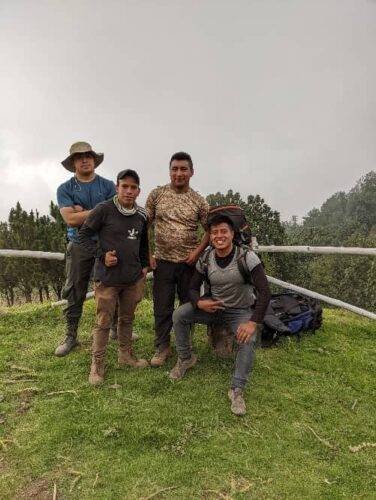 Overall, this experience of hiking Volcan de Acatenango and Volcan de Fuego was incredible, surreal, emotional, challenging, and one of the most natural wonders I've ever done. If you are traveling to Central America this hike should be at the top of your list of outdoor activities to do.