Having the right gear means everything when it comes to hiking.  Hiking boots are an essential addition to your outdoor gear. Unlike ordinary shoes, hiking boots are specifically designed to handle the unpredictable outdoor terrain. They ensure that your feet are well protected from the harsh environment in the jungle. Moreover, these iron heels keep your feet dry, well ventilated and comfortable. All the same, how long do hiking boots last?
Below is an elaborate breakdown of some of the frequently asked questions regarding hiking boots.
Do I really need hiking boots?
| # | Preview | Product | Rating | |
| --- | --- | --- | --- | --- |
| 1 | | Columbia Women's Newton Ridge Plus Waterproof Amped, Elk/Mountain Red, 8.5 | 20,906 Reviews | BUY AT AMAZON |
| 2 | | Columbia Men's Newton Ridge Plus II Suede Waterproof Hiking Boot, elk/Mountain red, 12 | 12,894 Reviews | BUY AT AMAZON |
| 3 | | Merrell Men's Moab 3 Mid Waterproof Hiking Boot, Earth, 11 | 2,166 Reviews | BUY AT AMAZON |
| 4 | | Columbia womens Newton Ridge Plus Waterproof Hiking Boot, Black/Poppy Red, 9.5 US | 26,656 Reviews | BUY AT AMAZON |
| 5 | | Merrell Women's Moab 3 Mid Waterproof Hiking Boot, Granite, 8.5 | 704 Reviews | BUY AT AMAZON |
Now that the mode of transportation in the jungle is mainly anchored on your feet, proper hiking footwear is a must-have. Contrary to what work or any other types of boots have to offer, hiking boots are built to support body weight and provide sufficient ankle anchorage.
In addition to that, hiking boots are waterproof for wet conditions and lighter for easy movement. Hiking boots are comfort-oriented for an enjoyable hiking experience.
Can you use work boots for hiking
You can use work boots for hiking in the event of extreme disparity. Their bulky nature will leave your feet sore and blistered. On the flip side, hiking boots are well suited for the outdoor environment. They are a far cry from work boots with regard to design and adaptability to rugged terrains. While work boots are tough and heavier, hiking boots tend to be comfortable and versatile. In other words, work boots are more safety-oriented.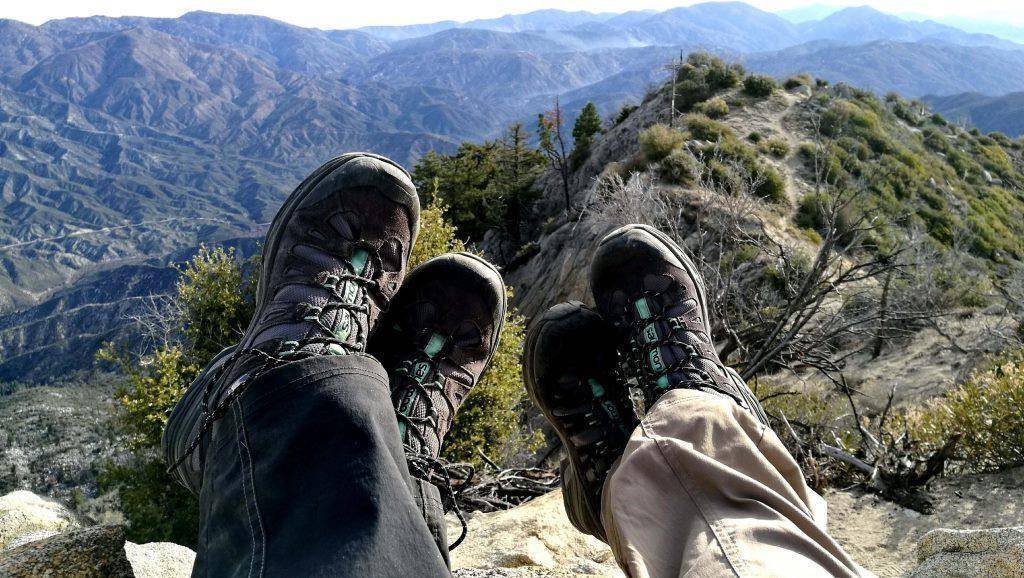 The life of your hiking boot depends on a number of factors. Of course, quality comes first followed by frequency of use and maintenance. Hiking terrain and body weight also play a key role.
Normally, a heavier hiker will have to replace his or her hiking boot sooner compared to a relatively lighter one. The same applies to frequent hikers and those who venture onto rough terrains. If you love day hikes, chances are you will cover about 15 miles on average. With that in mind, a decent boot priced above $100 should serve you for about 600 to 1000 miles.
How often should you replace your hiking boots?
Nothing lasts forever! Hiking boots are not exceptional. Regardless of the quality of the boots or how thorough you are at maintenance, your hiking boots will demand a replacement sooner or later. Here are some of the red flags that you should be on the lookout for:
i. Waterproofing
If your boot leaks consistently even when coated with waterproofing treatment, then a replacement might be in order. Such a scenario indicates beaten fabrics and stitches.
ii. Soles
The insole and out-sole are the most affected spots of a hiking boot. Heavy bends and compression on the insole culminate in insufficient padding and discomfort. Likewise, if the threads get thinner, you will have to get a new pair of hiking boots.
iii. Appearance
This gives you a testimony of the actual wear and tear that a boot has incurred over time. You should replace the boot in case the laces are fraying, when the treads are wasted and when the stitching is worn out. The same goes for a deformed shoe.
iv. Comfort
All the factors above contribute to comfort. Any changes would result in chafing, blisters, and aches.
You should consider replacing your hiking boots every 600 to 1000 miles depending on the quality. Besides the mileage, you ought to focus on the level of comfort that it provides.
Can hiking boots be re-soled?
The answer is a resounding yes! It is possible to resole a hiking boot. Actually, it is way cheaper than purchasing a new pair. Resoling basically involves getting a new sole attached to the bottom of the boot.
Do I need waterproof hiking boots?
The debate about whether hiking boots should be waterproof or not has been around for a while. On one side, you need waterproof boots to prevent moisture from sipping into the inner surface and sole. Conversely, boots with a waterproofing membrane cut down on breathability which is vital in warm weather. So, it narrows down to personal preference, prevailing weather conditions, and the hiking terrain.
Not all hiking boots are good for snow. There are different types of hiking boots. Winter hiking boots are equipped for snowy conditions. They are characterized by exceptional breathability, a waterproofing membrane, snowshoe compatibility, and sufficient insulation.
Winter boots are absolutely necessary. This season is accompanied by colossal amounts of snow and extreme cold. Nevertheless, you can easily maneuver through deep snow and overcome the cold conditions with a proper pair of winter hiking boots. They offer well-rounded protection featuring the appropriate cut, removable liners, and thick waterproof materials. Alongside that comes top-notch insulation and unmatched breathability. Ideal winter boots also come with sufficient room for thick socks to keep you warm.
Are hiking boots slip-resistant?
Most hiking boots are built with slip-resistant capabilities. It prevents one from slipping on rocks, wet surfaces, and uneven terrain. The feature is integrated on the outer sole.
How do you keep hiking boots in good condition? (ways to look after your boots, so they last longer)
You ought to keep your boots in good shape if you intend to have them around for a long period.  Why maintain your boots regularly? To begin with, boots take in dirt particles every time they flex. Whenever the dirt creeps deeper into the leather lining, it causes sandpaper-like grinding and discomfort.
Secondly, in the event that hiking boots get coated in mud, it sucks in moisture which in turn makes leather less pliable and reduces its life.
Now that we know why hiking boots need to be maintained, let's highlight what has to be done:
1. Clean after use
2. Remove insoles after every hike
3. Apply waterproofing agent frequently
4. Keep away from saltwater
Clean after use
You can start by thoroughly cleaning any dirt and pebbles that may be lodged into the outer sole of the boot. After that, you will proceed onto the upper outer surface. Before swinging into action you will have to remove the laces. Thereafter, you can use a proper brush to get rid of dirt and dust. Running water also comes in handy during rinsing to give your boot a spotless clean outlook. Lastly, the boots should be left to dry. Remember to dry the insole and the boot separately.
Remove insoles after every hike
Insoles are likely to hold moisture after a rigorous outdoor excursion. Moisture makes the inner boot smelly in addition to harboring bacteria as well as other infection-causing organisms.  Trust me; you will hate a foul-smelling boot for your next hiking trip. Additionally, it makes the insole mushy and soft thus brewing discomfort. Just air the insoles overnight and you will be good to go.
Apply waterproofing agent frequently
The biggest threat to a boot's durability is water and moisture. This is why you need to reapply a waterproofing agent on the outer surface every once in a while. Most boots come with a DWR coating which wears out over time. Once it begins to fade, it makes the exterior material susceptible to water and moisture. A thin layer of waterproofing agent should be sufficient.
Keep away from saltwater
Metal eyelets hold the base of the boot together. Nonetheless, when they are exposed to saltwater, they become prone to rusting. Keeping in mind they are barely replaceable, salty water should be avoided like a plague.
Final Verdict
So, how long do hiking boots last? I guess the answers above were exhaustive. Hiking boots like any other hiking gear require constant care and maintenance to remain in good shape. To top it off, remember to get a new pair whenever your boots are worn out to keep on enjoying your outdoor excursions.