If you live in or near the Pacific Northwest, you might be interested in hiking Mount St Helens. This article shares all the necessary information about how to go on a hike to this beautiful mountain.
Hiking mountain peaks is a challenging yet thrilling and doable outdoor excursion that many want to experience and fulfill. With amazing views and beautiful nature to enjoy, Mount St. Helens possesses a serene divine memorable taste to it. The mountain is actively volcanic and has become a tourist destination in Washington. Undeniably climbing to its crater rim gives you an impeccable opportunity to view geology in the making and in every direction.
The hiking might be a bit challenging, but crews have eased the trails o sweeten the experience for hikers. That said, let us get into the nitty-gritty aspects of this wonderful Mount St. Helens Hike Summit that needs to be on your bucket list if you are an avid nature lover and hiker.
Image Source: pixabay.com
Is Hiking St Helens dangerous? 
The last time the mountain roared alive was 40 years ago, wherein it sent poisonous gases and ashes at 15 miles high, flattening 135 sq. miles of forest nearby, leading to the death of 57 people. It is still a dangerous active cascade-ranging mountain in the USA. Hiking this active volcanic mountain is difficult, as mentioned earlier, but you don't require technical veteran climbing skills to achieve great results. Nonetheless, Mount St. Helens isn't a necessarily arduous climb, even though injuries and accidents may occur sometimes.
Hazardous accidents only occur if climbers glissade or slide down snowfields when they cannot stop. Thus the crew thereto advises hikers to control their speed and have the ability to stop themselves. It is noteworthy that the crater rim tends to be precipitous, with drops of over 1000 ft to the crater floor. Some snow cornices particularly develop around winter, which lasts perfectly into summer.
Be cautious because rim portions are sometimes unstable all year round, and hence you need to stay off the hazardous snow cornices. The south slopes of the mountain don't have active glaciers. However, there are huge permanent icy snowfields that possess large cracks as a result of settling. Remember to countercheck the forecast and rapidly changing weather conditions. Get well prepared for climate extremes too.
How long is the climb to the peak?
Image Source: pixabay.com
It is noteworthy to mention that this stratovolcano mountain is located in Washington's Skamania County in the US's Northwest Pacific region. You can find it northeast 50miles of Portland. Typically hiking on this mountain is suitable for both newbies and veterans. The commonest route, which is Monitor Ridge, gains about 4500ft in every 5 miles to the crater rim at a feet elevation of 8365.
This strenuous yet non-technical summit can be greatly executed by hikers who are in good fit and can effortlessly scramble on rugged and steep terrains. You can complete this round trip in approximately 7 to 12 hours. You can also decide from which point of the mountain you can hike; east, north, or west. You are permitted to climb to this crater rim, but you cannot enter this crater. Also, a permit is required wherein you can buy between November and March.
Why you need to visit Mount St. Helens
Featuring at 8,366′, the great St. Helens Summit is Washington's shortest cascade volcano that possesses routes that mitigate any chances of technical ascents like glaciers. It is deemed as a straightforward climb but isn't easy by any chance. From about 6000 ft vertical ice and snow climbing in Spring and Winter and rock and dirt in Fall and Summer, Helens Summit is a great real mountain that has its fair of challenges. Firstly anyone can climb Mount St. Helens summit as long as you were adequately prepared for it. Its trailhead is called Climbers' Bivouac.
The Ptarmigan Trail, which is the foremost 2.1 miles, climbs about 1000ft via open meadows and forests to Loowit Trail, which majestically circuits the entire mountain. Ptarmigan Trail curates an impressive moderate half-day hiking via second-growth cool forests. The reward offered is worth the efforts; several ski-worthy slopes, vast cascade views, a straightforward look into the USA's contiguous erupted volcano, as well as nature's endless great serene experience.
Top things to see and do
1.     MOUNT ST. HELENS VISITOR CENTER
After the historical eruption, there's a visitor center opened for tourists and scientists too. It functions like the mountain's gateway and is located 30 miles. You can view the mountain from the western slopes, which are also visible from walking trails. This awesome visitor center features an interestingly expansive window that offers a beautiful towering forest all over. Also, there are wooden columns and a high archway, which greatly contribute to the magnificent sensation. You can enjoy various interpretive displays in the center that are inclusive of comprehensive info on geology, local history, land recovery, and regrowth after the dangerous eruption that occurred.
The displays are inclusive of;
A huge step in the volcano model
Large mannequins
Theater programs
Working seismograph, as well as live current mountain seismicity, feeds
Chronological event timelines that led up to the volcanic eruption in 1980.
Visitors may explore silver lake alongside a half-mile trail, including wetland boardwalks wherein various migratory waterfowls and aquatic plants can be seen at various times.
2.     Johnston Ridge Observatory
It's located at state highway 504's end at the blast zone's heart. Johnstone observatory hosts various displays that tell Mount St. Helens' geological, human and biological story. You can enjoy the award-winning worthy films, observe landscapes, hear ranger talks, hike, purchase souvenirs or even get lunch from food carts. It is usually open from May to October.
3.     Ape Cave
This is the longest lava tube whereby you can crawl or walk through in the USA. It would take over 2 miles to finish walking the whole tube. If you are an avid caver, it is recommended that each person brings more than two sources of light. You can also cave in with your family or friends.
4.     Forest Learning Center
This center is found in the 1980's blast zone, milepost 33. Here, you will trek via the forest and see the eruption chamber, and learn about reforestation, conservation, and forest recovery. Entry is free.
Where to stay
Mount. St. Helens has numerous motels and lodgings available. However, here are the top three highly recommended;
1. Mount St. Helens KOA – you can find it some miles away from Silver Lake Center. It offers convenient bases to effortlessly and effectively explore the whole area.
2. Seaquest State Park – found across Mt. St. Helens visitor center and Silver Lake is ideal for rest.
3. Lewis & Clark State Park; which by far is a cute campground that's situated in an old-growth forest in Washington. It is found near John. R. Jackson House.
Tips To Enjoy Mount St Helens Hike Summit
Image Source: pixabay.com
Before commencing your adventure, you must first adhere to the principles of leaving no trace to ascertain that you will leave the explored places better.
Prepare adequately; comprehend the required regulations and prepare well for different weather conditions and pack essentials too.
Camp and travel on durable trails; ensure that designated trails and campsites you want to be on our 2000ft away from any water source.
Please dispose of all waste; after packing it in, you need to pack it all out. Dispose of all the trash away. 
Leave everything as you found them; leave your footprints and take pictures only.
Minimize any campfire impacts: ascertain that fires are small and utilize fire rings. When done, put it off.
Protect the wildlife: don't feed or approach wildlife. All pets need to be under control.
Be considerate: kindly yield to up-going hikers and lower noises. You can also guide anyone who needs your help when you are there.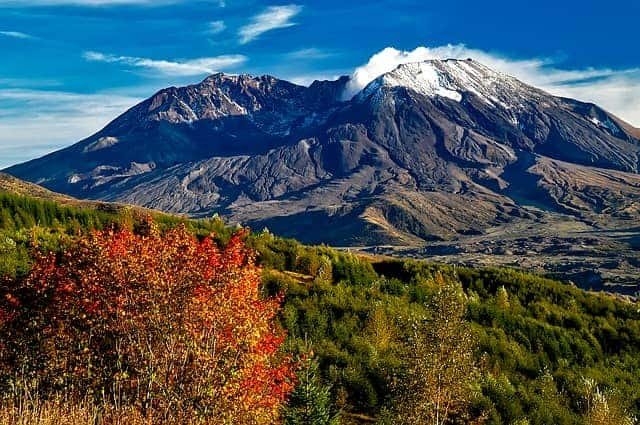 Image Source: pixabay.com
Final say
Mount St. Helens is where Mother Nature occasionally comes alive roaring and showing her might that needn't be forgotten. Being an active volcano, St. Helens is a good tourist attraction based in Washington suitable for caving, hiking, camping, and any other outdoor excursion you need to execute during leisure time. That said you can go to this mountain with your friends or family members.
Remember hiking here requires caution because the mountain is dangerous. You don't need to be a veteran to finish a climb here successfully, and the efforts are worth it, bearing the beautiful natural scenes you will experience from the summit. This is a great historical and eventful mountain in the entirety of Washington. All in all, a permit is required to enjoy the sweet nature of Mount St. Helens.