Underneath insulation is critical during camping. However, most people underestimate the importance of a sleeping mat.  It cushions you from the cold ground. Regardless of whether the temperatures are moderate or low, the earth will still be cold. It's impossible to warm up soil and rock below you, with your body heat considering its massiveness.
Most people start camping while they are still single and young. At that time, a single mattress suits them. Then a time comes when you have your adventure partner. You will need to find one that suits the two of you, there comes the importance of best camping mattress for couples and family.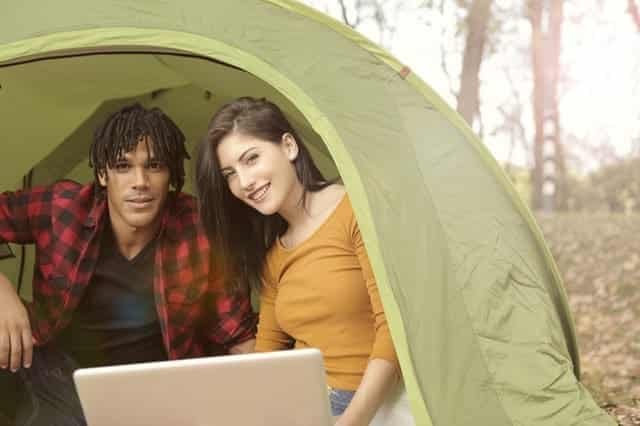 Before going to the details of this buying guide, let us see a few best picks for your best camping experience:
Most Comfortable Double Sleeping Pad Reviews
1. KingCamp Double Self Inflating Pad
Premium Pick
Main Features
Self-inflating with sturdy construction
Comfortable and Suitable for 2 person
Size  – 51.2  x 78 inches thickness: 2.95″
Thickness: 1.6 inches and R-Value: 4.0
Easy to inflate and deflate
Weight  : 11.5 lbs (5.2 kg)
"Try out camping with the best of the best."
If you are an ardent hiking and backpacking fan, this should be your go-to companion for several reasons:
Quality materials
This KingCamp is constructed out of quality and long-lasting materials. This is headlined by the heavy-duty 100% polyester 150D Oxford fabric that is damp-proof.  Likewise, the model comes with jet stream foam which makes inflation and deflation smooth.
Innovative design
To begin with, it is self-inflating, an attribute that very few models in this class brag of. For rapid inflation and deflation, the pad features dual non-corrosive brass valves. Moreover, the pad has other convenience-aligned features including a repair kit, a carrying bag, and compression straps.
Comfortable
Comfort comes first for any sleeping products and the KingCamp does not disappoint. Its material is super thick to eliminate the risk of punctures on rough terrains. Furthermore, it has superior patterning that eliminates squeaky noises and prevents slipping.
For warmth and five-star comfort, the KingCamp Double Self Inflating should be your number one choice.
Pros
Comfort adapted design
More durable
Fairly priced
Proper insulation
Cons
Most suitable for two persons
---
2. KLYMIT Double V Sleeping Pad
"Ideal for use by two people for daily use!"
Top Choice
Main Features
Excellent quality and very comfortable
Perfect design and large in size
Durable and well insulated
Affordable and lightweight
"Best for sleeping in both moist and warm conditions!"
You have been looking for a sleeping pad that will serve two people at a time. Here are your best results with this model. It is wide and with a large capacity hence ideal for use by people.
Lightweight design
You will enjoy carrying the sleeping bag from one place to another. Despite the capacity, the 40.2 Oz weight is very easy to carry along. It can get easily inflated and gave air refilled for continued usage.
Awesome Insulation
This sleeping pad model is perfectly insulated with klymalite. It perfectly holds both the top and the bottom. You will therefore enjoy the warm air and love how the floor area's coldness is kept off. The model is more comfortable when two people are using it at the same time.
Comfortable body mapping
The sleeping pad boasts a very comforting technology for body mapping. It has a V-shaped design that makes you very comfortable despite your sleeping position. Experiences of pain after waking up get limited to a great degree.
Durable 
There is one disgusting thing that everyone hates. Buying a product then it gets spoiled or deteriorated after a few days. However, this model will serve you for a longer time without getting damaged or corrupted.
The durability and the comfortability offered by this model are excellent and hence worth a worthy purchase.
Pros
Highly versatile
Fit and comfortable for couples
Steady and balanced load
Cons
Not good for people with minor health challenges
Can be bulky for long walking distances
---
3. Hikenture Double Sleeping Pad
"Perfect for traveling!"
Best Value
Main Features
Excellent quality and Comfortable
Perfect material choice
Durable and Lovely design
Affordable and easy to use.
"Your ideal choice for family use and long journeys!"
If you have a self-driving tour or hiking, this is the best model for you. It has a polyester fabric make that makes it very comfortable.
Ease of use
The pad is less complicated hence very simple to use. You do not need any additional pumps for breathing. You will love the valves' presence that you can use to inflate or deflate within a very limited time.
Light and compact
Everyone loves a pad that is easy to carry and, of course, ultra-light. The model weighs 3.64 lbs and has a roomy packsack that makes moving from one place to another easy.  When packed, the size is also small hence very comfortable.
Extra comfort
Enjoy a comfortable sleep with the thickness you have always admired to have. Your favorite sleeping position is perfectly catered for by the sleeping pad. An energized mood and comfortability while on your journey is therefore guaranteed.
Durability
Enjoy a long-term service with this sleeping pad because of the strength and the material make. The polyester pongee makes a TPU lamination that makes it tear-resistant and waterproof hence durable.
You don't need to worry anymore, especially when out for several days. The sleeping pad will serve you the best.
Pros
Cons
If frequently inflated or deflated can get damaged quickly
May not serve many people at a time
---
4. YOUKADA Sleeping Pad
"Good for family use!"
Reliable Pick
Main Features
Self-inflating and deflating
Very comfortable and Water-resistant
Has a pillow and user friendly
Excellent quality and large in size.
"The best choice for comfort and user-friendliness!"
Here is the best model if you have been searching for a sleeping pad with a pillow. You will love the design and the material makes up.
Self-inflation and deflation 
Enjoy using a nozzle by a simple twist to have the sleeping back inflated or deflated. No more pumping hustle for pumping. The sleeping pad is, therefore, very simple to use.
Water resistance 
Worry not of sleeping in a dump or any other condition. The sleeping pad is made of resistant materials that keep water off. The all-weather pack allows you to sleep at any point you will wish to.
Built-in pillow
Have a very comfortable sleep on the sleeping pad because of the comfortable material and the built-in pillows. The pillow has a comfortable height hence very pleased for use. No more sliding for the pillow is perfectly attached.
Comfortable and spacious
The sleeping pad has a very comfortable material. The soft foam with a cushioned support perfectly keeps the two of you in place. Have no more headaches and body pains after sleep because the pad is very comfortable.
The best price for the best services.
Pros
Highly versatile
Highly portable
Cons
Exposed to damages
It May be confusing to carry
---
5. Therm A Rest Camper Duo Sleeping Pad
"Perfect for daily use!"
Reliable Pick
Main Features
Easy to inflate and deflate
Excellent comfort-ability
Low bulk construction
WaveCore construction.
"The best choice for user-friendliness and functionality!"
Enjoy the best sleep from the perfectly designed sleeping pad.
Comfortable sleep 
Enjoy the accommodation of two people with a comfortable sleep from the model sleeping pad. The design has two sections on which each can have one person. Make use of the pump to enhance breathing-free inflation using the two valves.
All through the night, you will have a comfortable sleep. The gap in free design ensures that you have the ultimate enjoyment.
Construction
The WaveCore construction has a 3-inch size that ensures you are very comfortable. A wing lock valve ensures that you have perfect airflow and inflation or deflation process. Compressing the sleeping pad to a portable size is another beautiful feature of the model.
Portability 
The sleeping pad weighs 4 pounds. When the size is compressed, you will find it the most portable element to carry from one place to another. The pump has its sack to make the carrying process more simplified.
User-friendliness 
Using a pump, you can easily inflate or deflate the sleeping pad. When it comes to transportation, you will easily fold and carry the sleeping pad. Maintaining its condition of it is another very simple task.
Convenient for use because of ease of maintenance and portability.
Pros
Highly portable
Ease of use
Easy to maintain
Cons
Exposed to physical damages
---
6. ALPS Mountaineering Lightweight Air-Pad
"Best quality for durability!"
Reliable Pick
Main Features
Excellent quality
Easy maintenance
User-friendliness
Comfortable sleep
Excellent portability
"Your ideal choice for comfortability and long-term usage!"
 When looking for quality, both substandard and quality sleeping pads feature. This model is one that boasts of the best quality.
Ease of use 
Enjoy sleeping at your convenient point with one piece of the sleeping pad. You only need to have the dwellings detached and used separately. It has Velcro that makes it very easy to attach or detach the pad.
Easy maintenance
You can make use of the repair kit to fix any challenges that arise from the pads. It has a double valve and a jet foam that is the key to easy maintenance.
Comfortable sleep
The material made of the sleeping pads is perfect. The foams are soft hence a comfortable sleep. The top has a make of polyester Ripstop while the bottom has Polyester Taffeta. You will have a sound sleep with protection from cold and warm maintenance. Fold the two pads to form one and enjoy more comfort.
Portability
When not using the sleeping pads, you fold them. They weigh 9lbs hence very easy to carry from one place to another. You can therefore enjoy your camping with the sleeping pads with fewer worries about the weather conditions.
The durability and quality make it the best choice for use in camping.
Pros
Lovely design
Perfect material make
Perfect breathability
Cons
Seems pricey
Slightly bulky
---
7. TETON Sports Outfitter XXL Camp Pad
"It is a multi-functional design suitable for cold weather and uneven surfaces!"
Reliable Pick
Main Features
Versatile and easy to use
Top-notch insulation and suitable for couples
Outfitter – 38 x 82 inches
Thickness: 2.5 inches and R-Value: 6.2
Weight  : 9.0 lbs
"The TETON Sports Outfitter XXL Camp brings home comfort to your campsite!"
Teton is a brand that is synonymous with quality products and the Outfitter XXL is not exceptional.
Cozy
Self-recovering open-cell foam provides a soft resting surface for users. On top of that, it has thick padding, superior support as well as unmatched insulation.
Easy for carrying
You can forget about bulky designs as the TETON Sports Outfitter packs away small. It will take minimal packing space. Of course, with the help of a roll assister and compression straps you can pack it fast.
Extra innovative features
It is packed with extra features that improve efficiency and convenience in the jungle. This includes multiple compression straps and integrated assistors for effortless packing. Alongside that are a pillow pocket and an additional sewn-in pocket for keys or other accessories. Similarly, this model incorporates end bar attachments which make sure the pad stays intact.
It is a reasonably priced, world-class model that is meant to live up to your expectations.
Pros
Fairly priced
Premium quality
Available in different sizes
Cons
Limited lifetime warranty
---
Importance of a double sleeping mattress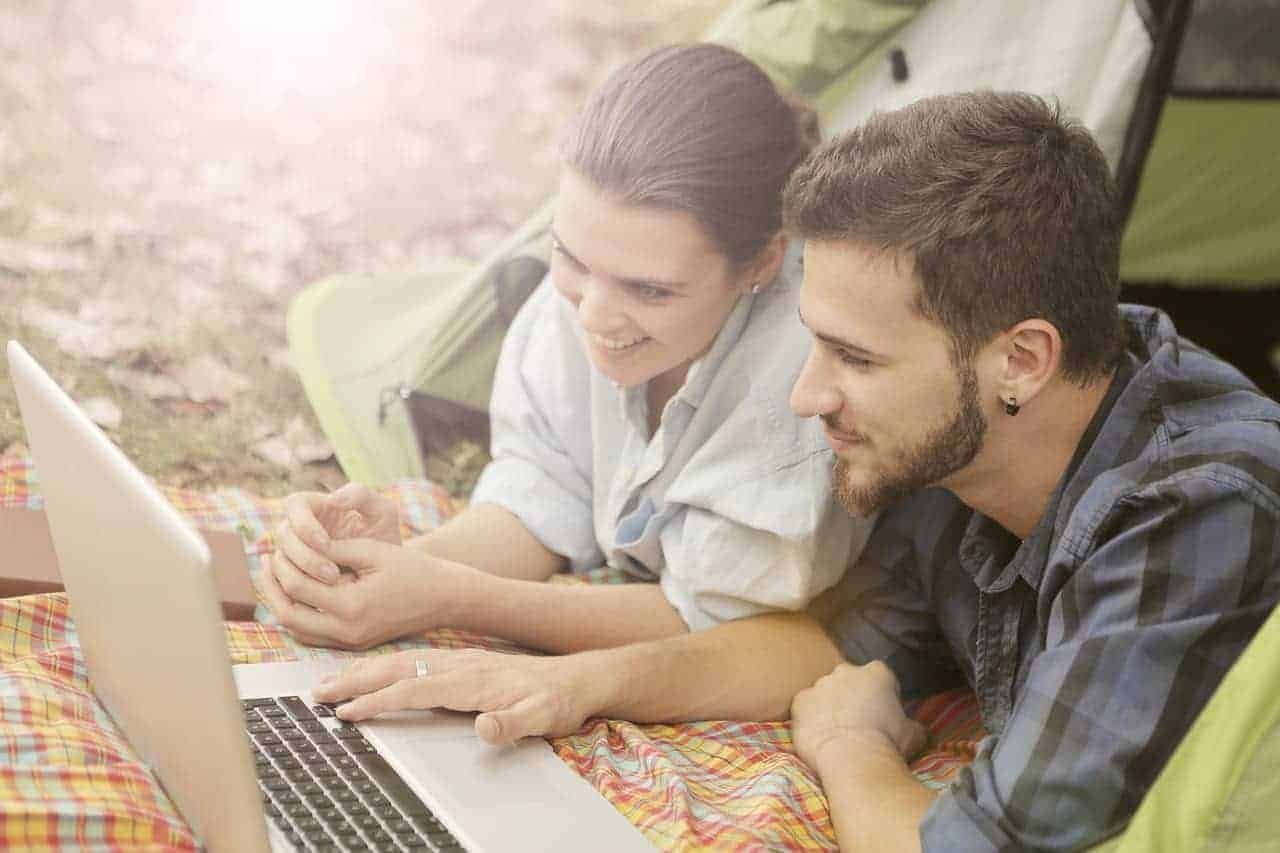 Exploration is fun for everyone, from trekking to other enjoyable outdoor activities. However, sleeping is unavoidable at the end of the day.  The excursion might have been so pleasurable, but how you spend the night might make all the difference. Besides, it determines how your next day's adventure will be.
The two significant benefits
Warmth
One of the most significant benefits is the provision of warmth. Some explorers ignore its importance and decide to use a sleeping bag alone. However, despite the thickness of a sleeping bag, you will compress the insulation with your weight, which leads to heat loss.
Comfort
It also cushions you and your family from anything underneath. Depending on the type you choose, it is often a substitute for an ordinary mattress. Though you may be trying to evade creature comforts, you don't have to spend your nighttime uncomfortably.
How do you choose a double camping mattress?
Consider your comfort level
Sleeping pads are usually available with varying levels of comfort. There are contoured, pillow tops, firm, personalized, etc. It will be difficult to catch sleep in unfamiliar and distressing conditions. When choosing, ensure that it is accommodating and well-cushioned.
Consider your sleeping position
You will need to consider the sleeping condition for both of you. Are you stomach, back, side, or front sleepers, or do you frequently move around the whole night?  You will need to find one that suits your needs. A plush mat will offer side sleepers a better sleep that supports the natural curve of the spine.
Things to Consider While Choosing a Camping Mattress
1. Height and body size
The size is essential and can bring a massive difference in the quality of sleep for your family. Consider both your height and body size, together with that of your partner. Of course, you don't want a situation where one can comfortably fit while the other has body parts hanging throughout the night. If it is too slim, then it becomes uncomfortable.
It is recommendable for the couple to test the mattress before moving out for the adventure. That will ensure that it fits your body size before you move for the adventure.
2. Construction
You need to consider how you will travel to the destination. Will you carry it on your back or use a car? If you have a car and it is accessible with it up to the site, then the weight will not be an issue for you.
However, if the destination calls for some trekking, you will need to choose a lighter type. Besides, you will always need to choose one that is convenient to construct.
3. R-Value
The R-Value represents resistance. It is a measure of resistance against the cold temperature. You will be spending the night in the cold air and ground. In case one of you is vulnerable to harsh air, you will need to choose one with higher resistance. It is possible to find designs that trap your body heat and maintains it in the fabric, thus keeping the body warm.
The season in which you are going for the excursion will also determine the mattress's appropriate R-value. An R-value of five is ideal during winter and three during summer. It is essential to know that quality has an impact on the price. Therefore, you will need to dig deeper into your pocket for a top-notch mattress. However, you will have an assurance of value for your money.
4. Inflation & Deflation
The mattress should not drain your energy as you try to fill it with air. Besides, it should not take your entire morning as you try to deflate to pack. Therefore, as you choose it, you have to consider the convenience of inflating and deflating.
You will need to check the specs on the package for the equipment that accompanies it. Check whether it comes with a pump, or you will have to inflate it manually. With modern technology, you will find self-inflating types. They come with air and cell foam that allows them to self-inflate. Besides, you can use a tire compressor where you plug it into the car and inflate the mattress automatically.
5. The Intended Use
Knowing the type of camping will help you in the determination of the kind of mattress to select. For a car camping, you don't necessarily require one that is light and compact. However, the case is different for backpacking.
Car Camping
Car camping has no restrictions on weight and size. You can go for the most comfortable mattress. You can choose a self-inflating or an air mattress for a restful night.
Backpacking
If you carry the gear on your back for some distance, a lightweight type will be ideal. An air mattress will be a perfect fit unless you come across a self-inflating one that is lightweight.
Winter Camping
If you wish to go for an excursion despite a snowy forecast, you need a well-insulated dual mattress. It may be a down or synthetic insulation type. Down insulated ones provide more warmth. However, it is not suitable for damp climates.
Pros
They are  more versatile
Therefore, if you are spending one or two nights on the ground, then it will be the best option for the couple.
They are lighter in weight
You can easily find a variety of compact and light ones. Therefore, a backpacker will not have inconveniences in terms of portability.
A double is better than two singles
It would be ideal to purchase double than two single mattresses. 
Cons
They often shift at night
A restless sleeper might find the shoulders, feet, or entire body off the mattress. It tends to slide and may even move out of the hammock completely. 
They are often narrow
People with broad shoulders might find them cold since most of them tend to be slim. 
They tend to be short
Tall people may find it challenging to find one that they can fit entirely. That might subject parts of your body to the cold.
Frequently Asked Questions
Let us check a few FAQs related to these pads :
What is the most comfortable way to sleep in a tent?
An air mattress or a cot is the most comfortable way when sleeping in a tent. A cot is suitable for firm surfaces, while an air mattress is good if you want some little bounce. Therefore, you will choose according to your preference.
How do you get a good night's sleep when camping?
You need to find the right spot free from distractions. Other than that, you will need to have a comfortable sleeping mat. After that, you can enjoy your outdoor sleep as you recharge for the next day.
What is a good R-value for a sleeping pad?
The R-value for a sleeping mat usually ranges between 2 and 5.5. A higher R-value gives you more insulation from cold surfaces. If the destination is experiencing winter, you will choose a higher R-value because you need more warmth.
Is sleeping in a car warmer than a tent?
A car retains the heat available during the day in the parts such as the dashboard and seats. When released, the heat won't easily escape a sealed vehicle. The tent consists of a thin material that does not retain heat. Therefore, you will find it warmer to sleep in a car than in a tent.
Can a sleeping pad be too warm?
The bed in your house has an R-value of 25 or even more. Therefore, it can't be too warm.  Its R-value rarely exceeds 5.5. However, it may feel warmer in case you are sweaty.
Are Sleeping pads necessary?
There are two crucial roles in the outdoor sleeping experience. They offer a comfortable sleeping surface and insulate you throughout the night. Until you have a terrible sleeping experience, you will realize its importance.
Does the sleeping pad go inside the sleeping bag?
It's possible to place it inside a sleeping bag. It increases the temperature of the sleeping bag. However, it confines you such that you won't have enough space to move around.  Therefore, you will feel warmer but might have an unpleasant sleeping experience. 
Conclusion
A sound sleep is an essential part of your camping. Picking the correct mattress will give you an enjoyable and comfortable night experience. Once you shop for the mattress, ensure to try it out to have an assurance that it is the right one for you. You may also need to do some research to choose appropriately.
Best Camping Mattress For Couples
PAD

DIMENSION

BOTTOM LINE

PRICE

TETON Sports Outfitter XXL Pad 

4.5 out of 5

Outfitter  : 82 x 38 inches

Pack Size : 38 x 13 inches,

Weight: 9 lbs.

R-Value : 6.2

Color : Brown

Thickness : 2.5 inches

 

KingCamp Deluxe Series Thick Self Inflating Pad

4.0 out of 5

Large : 78 x 51 inches

Pack Size : 27.6 x 7.9 inches

Pack Weight : 9.7 lbs,

Thickness : 1.6 inches,

R-Value : 4.0

Material Polyester 75D Micro brushed,

Two camping pillows with pack,

Self Inflating,

Filling Foam,