When it comes to hiking gears, socks are often perceived as being less significant. On the contrary, they play a major role in the overall comfort of your feet in that hiking boot. While it's easier to choose hiking socks during winter, it's a different picture entirely when it's summer. The best hiking socks for hot weather needs to be light, comfortable, well-ventilated, and cool at all times. This is necessary to avoid moist feet which can lead to blisters via an increase in friction between the socks and the skin of your feet.
That being said, read on to find out more about why hiking socks are important especially in summer.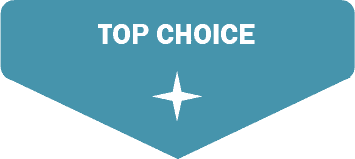 Darn Tough
Hiker Micro Crew Midweight Socks with Cushion Women's
Smartwool
Men's Crew Hiking Socks
DANISH ENDURANCE
Merino Wool Hiking Socks
Darn Tough
Hiker Micro Crew Midweight Socks with Cushion Women's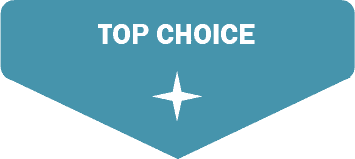 Smartwool
Men's Crew Hiking Socks
DANISH ENDURANCE
Merino Wool Hiking Socks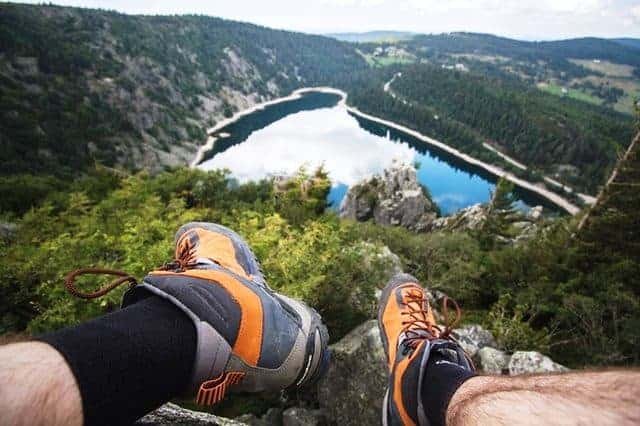 Real nature lovers never let anything come between them and a good time not even when temperatures go through the roof.  Socks like any other footwear play a significant role in enhancing your outdoor experience. Usually, the hot weather is accompanied by a lot of sweating which can result in blisters, chaffing, and other forms of discomfort.  That is why hikers need the best socks for hot weather. These accessories – made from breathable, quick-drying, and moisture-wicking materials – will help to keep your feet dry, fresh, and comfortable. We have handpicked six of the best hiking socks for hot weather you should consider for your next purchase. Check them out below:
1. Darn Tough Hiker Socks
"Designed for high-intensity hiking activities on cool summer days!"
Premium Pick
Main Features
Uncommon moisture-wicking capabilities
Repels odor and bacteria naturally
Available in a wide range of colors
Fantastic thermoregulation
"The pair that works as hard as you do!"
Darn Tough Hiker Micro Crew Midweight Sock promises consistent fit, durability, and comfort for life. It has everything a standard hiking sock can offer and more to curb blisters alongside improving breathability:
Five Star Materials
The model comes with an epic blend of performance-boosting materials composed of lycra spandex, nylon, and merino wool all knit in Vermont. Spandex ensures the sock is sufficiently stretchy without losing shape when washed severally. On the other hand, merino wool encompasses naturally antimicrobial. It also wicks well together with being sufficiently breathable.
Performance Fit
Every hiker needs a sock that fits snugly and holds in place through an excursion. The Darn Tough Hiker Micro Crew Midweight Sock guarantees that. It features the fine gauge knitting with stretchy fabrics that eliminates slipping and bunching. The fine seamless knitting promotes air circulation and moisture-wicking to help curb blisters.
All-Weather Performance
This pair is always cool in summer. It boasts fast action wicking that does away with moisture to keep the feet dry. Alongside that, the socks have a micro crew height that provides more coverage. You will also love the lightweight feel as well as soft and next to skin comfort.
Hiking socks pair that will easily surpass your threshold in terms of durability and unsurpassed thermoregulation.
Pros
Colorful and attractive
Long-lasting materials
Undetectable seams
Lifetime guarantee
Women-specific fit
Cons
---
2. Smartwool Men's Crew Hiking Socks
"Performs well in hot humid weather for mid-range and short hikes!"
Top Choice
Main Features
Awesome price to quality ratio
Superior bottom cushioning
Ample sweat management
Breathable mesh top
"Socks that come through when you demand performance!"
The SmartWool men's crew hiking socks grant you the opportunity to experience optimal moisture management, durability, and heat regulation at its best. Here is a breakdown of some of its most prominent facets:
Unbeatable Moisture and Odor Control
Smartwool's moisture management is on another level. Its fabric is largely composed of merino which has unmatched moisture-wicking abilities. This prevents the feet from getting soggy and wet thus eliminating chills and blisters. On top of that, merino stands out for its antimicrobial properties. Odors will be a thing of the past in these majestic socks.
Excellent Thermoregulation
Merino absorbs moisture quickly and dries fast. It is extra breathable too, an aspect that is vital on a hot day. Still, the socks come with mesh ventilation zones, which enhance air circulation. A secure fit provided by elastic fabrics keeps away any discomfort.
Extensive Light Cushioning
The creators of the pair understand the impact of a smooth and enjoyable hiking experience. They designed the pair to curb soreness on all trails. This explains why the socks are thin and light yet sufficiently cushioned. Still, they are virtually seamless an aspect that reduces friction hence keeping blisters at bay.
Long-Lasting 
Built from quality fabrics, the pair is crafted to serve you for a long while. Expert stitching around the toes and bottom minimizes early wear and tear. You will find its stretchy, supportive, and easy to wear structure appealing. Primarily, the socks remain intact even after washing for long quality of life.
A long-lasting pair that ticks all the boxes for the best hiking socks for hot weather.
Pros
Natural odor control
Provides athletic fit
Decent pricing
Stay up well
Cons
They run small and are tight on the lower leg
Too thin for thru-hiking and extended trips
---
3. DANISH ENDURANCE Merino Wool Hiking 
"Ideal for all-weather outdoor activities!"
Best Value
Main Features
Extra breathable and well ventilated
Unmatched temperature regulation
Available in a wide variety of colors
Fit properly with no sagging
"A pair of socks that that has your feet covered!"
If you are after a versatile pair of socks that will keep your feet cool when the hot months roll by, DANISH ENDURANCE Merino Wool socks might be a great choice. The socks give you the freedom to venture into the jungle when temperatures hit the rood courtesy of outdoor-focused features, top-class construction, and uncommon material quality. Let us highlight more of its noteworthy perks:
Outdoor Oriented Design
Housed in a light yet durable merino wool structure, the Danish endurance hiking socks are the right model for all outdoor activities. They are light and cozy to keep your feet comfortable. Likewise, they boast unbeatable temperature regulation with mesh vents and well-ventilated wool fibers. Moisture regulation is a non-issue to ensure fresh and dry feet in high temperatures. Whether you need to run, go skiing, hit the trail, or stay indoors, these socks have your back.
Stylish and Outstanding
As if premium construction is not enough, the manufactures of this pair ensured that its aesthetics are eye-catching. It comes in a wide variety of colors to suit all. In the same way, the pair is available in a wide range of sizes to suit different outdoor enthusiasts.
Supportive and long-lasting 
As the name of the pair suggests, it can endure the most punishing conditions while keeping your feet cool and cozy without coming apart easily. The socks also fit perfectly and remain in place at all times. Additionally, the structure is sturdy enough to ensure added support. Extra underfoot cushioning on the toes and other pressure points guarantees a smooth hiking encounter. Most importantly, the pair is stretchy, versatile, and easy to put on.
A stellar pair of socks perfect for summer hiking at a reasonable price tag.
Pros
Stretchy and easy to pull on
Wash easy and dry quickly
Outstanding versatility
Superior build quality
Well priced
Cons
Not true to size and less supportive
---
4. Wigwam Hiking Outdoor Sock 
"Best suited for cooler summer days!"
Reliable Pick
Main Features
Features fortified toe, heel, and bottom
Fits well with no bunching and sagging
Expert crafting with premium fabrics
Repels moisture exceptionally
"The air conditioning your feet deserve!"
You do not have to worry about blisters or sweaty feet as Wigwam hiking outdoor F6077 socks are here to set you right. Built with the latest in outdoor footwear technology, you will find the pair up to your standards in the hottest conditions.
Unique Ultimax Moisture Management System
You can bid goodbye to the sweaty fit courtesy of Ultimax moisture control. It utilizes hydrophilic and hydrophobic fibers to wick moisture from the foot bottom, expelling it to the top for evaporation. This leaves the interior cool, dry, and blister-free.
All-Year Comfort
Wigwam socks are light, thin with unmatched temperature regulation capabilities. The comfort that the socks generate is worth mentioning too. Ample padding guarantees an appealing stride on all terrains. Breathability and moisture control are on point allowing you to enjoy the outdoors at any time of the year. A snug fit, provided by stretchable fabrics, keeps the socks up at all times.
Made to Last Long
The model encompasses a synthetic fabric blend featuring spandex, stretch polyester, acrylic, and polypropylene. All these synthetic fibers work hand in hand to keep the socks' structure sturdy and tear-resistant. As if that is not cool enough, the pair is reinforced around pressure points for added life.  Likewise, the synthetic fabrics keep the socks together after washing.
A great buy except for poor odor control that is forgivable considering the pair's exemplary breathability and sweat management.
Pros
Comfy seamless toe closure
Easy to wash and maintain.
Adequate ventilation
Extra cushioned
Curbs blisters
Cons
Tight and run small around toes
Lacks natural odor control
---
5. Merrell Men's Hiker Socks 
"Designed to be worn under hiking boots/shoes during cold weather!"
Reliable Pick
Main Features
Fits well without preventing circulation
Phenomenal moisture management
Stretchy and easy to put on
Easy to wash and maintain
"Socks with a mission!"
The Merrell Cushioned Performance Hiker Socks command a huge following in the hiking community. They are more than stylish with outdoor functionality that is next to none. Let us unravel why its reputation goes beyond appealing aesthetics.
Comfortable and Extra Supportive
This pair will enable you to go the extra mile thanks to low cut construction and zoned arch support that minimizes pressure exerted on your feet. Stretchable spandex material generates a snug fit aside from keeping the socks secure in position. Smooth fabrics further sweeten the level of comfort.
Cushioned Bottom
The pair is meant to be as appealing as possible even on the roughest terrains. You can ascertain that from the thick targeted cushioning that earns it high scores comfort-wise.
Cleverly Reinforced Pressure Points 
With, these socks, you are guaranteed a lifetime of service. This is evident from its resilient stitching coupled with reinforced fibers at the toe and heel. Such a robust structure will minimize wear and tear yielding durability.
It is a pair of socks that you will use and love for years. Definitely worth the money..
Pros
Soft and appealing to wear
Extra cozy and breathable
Long-lasting construction
Ultra-light cushioning
Cons
Fit too tightly compromising air circulation
---
6. Icebreaker Merino Women's Socks
"Meant for classic all-round comfort in warm weather!"
Reliable Pick
Main Features
Awesome temperature control
Moisture-wicking material
Reinforced heel and toe
Fully cushioned uppers
"Ultimate freshness on your hiking trip!"
Ordinary hikers find any pair of hiking socks alluring, on the contrary, ardent outdoor enthusiasts in need of real comfort, wonderful moisture-wicking, and uncommon toe protection choose Icebreaker Merino women's Hiking Crew Socks. This pair might be reserved for women yet they pack unbelievable strength and long life. Let us break down some of its leading attributes:
Adaptable Merino Wool
Unlike other fabrics, merino wool adapts to prevailing conditions at an impressive pace thus aiding in temperature regulation. Its unbelievable moisture-wicking and quick-drying capabilities will keep your feet fresh in hot environments.
Rare Odor Control
Merino wool is odor repellent to leave your feet smelling good after long hikes. Along with that, the fabric is ultra-breathable, allowing air to circulate smoothly leaving your feet dry and snuggly.
Women-Specific Design 
The socks come in highly attractive colors not to mention the exquisite design with a traditional cut for hot weather. They are shaped anatomically for a precise fit on narrow or wide feminine feet. You will also find the cuff's elastics sufficiently stretchable. Moderate cushioning ensures maximum support and underfoot protection.
The model offers you all the benefits of merino wool blend and a precision-oriented design at a good price.
Pros
Anti-odor merino wool
Compact packing size
Quick-drying merino
Breathable fabric
Elastic closure
Cons
Too lengthy for hot weather ventures
Cuff loses elasticity over time
---
There you go! As you might have noticed, our list is only composed of ultra-light socks with merino wool or a blend of synthetic fibers. Avoid cotton at all costs, as it absorbs lots of water and dries slowly. It can lead to chills, blisters, and other shortcomings you were keen to avoid in the first place. Generally, the best hiking socks for hot weather should deliver better moisture management, air circulation, and thermoregulation.
Importance of Hiking Socks for Hot Weather 
Optimal comfort down your feet is a non-negotiable deal when trekking. Socks can make that happen and here are the ways it can:
Moisture-wicking and Ventilation 
If the weather is relatively warm, the last thing you need is more heat on your feet. When hiking, your feet are in constant motion and the warm weather ensures they sweat profusely. This creates discomfort and makes your feet slippery which is bad for traction. But you would have covered up for that if you got the right hiking socks on.
The right socks will wick moisture away while allowing for proper ventilation. This way, your feet can enjoy massive air in-flow to stay cool and dry at all times. This certainly compensates for the heat.
They Keep You Safe from Blisters
An increase in moisture down your feet can lead to an increase in friction between the skin of your feet and the socks. The aftermath is blistering and you don't need to be told how painful that can be. But a comfortable hiking sock designed for warm weather can help you avoid this uncomfortable and painful scenario.
They Get Rid of Odors
Some of these socks come with anti-microbial treatments that make them odorless. Your hiking socks are duty-bound to smell badly after a long hike. Although some don't retain heat and are breathable, that won't suffice to keep the odors at bay. However, their anti-microbial properties can make them go odorless for a few days. This is helpful when you are on long hikes that give you little time to change your socks.
Bottom line of the importance of socks for warm weather; they keep your feet cool, dry, blister-free, and odorless.
How do You Choose Hiking Socks for Warm Weather?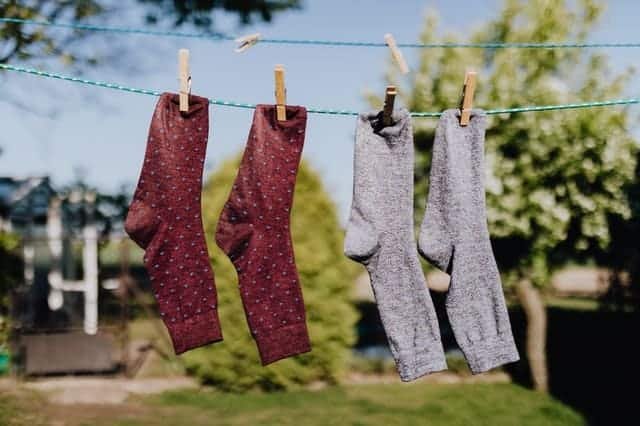 When it comes to choosing hiking socks for warm weather, two things comes first; the size of your feet and the height of the hiking boot.
Choosing according to your Feet Size
It's important you choose according to your feet size. The right size for you won't be too tight or too free for your feet. If it's too tight, be rest assured you'll be uncomfortable and sweat even more. On the flip side, if it's too loose, it won't feel like you are wearing any sock at all and it will be annoying down your feet. Ultimately, you need to find the right size (something in between tight and loose) that suits your feet perfectly to enjoy the comfort it offers.
Choosing according to Boot Height
The height of the hiking boot you will be wearing also needs to be considered. You need to choose a pair of socks that's in line with their height. For low cut boots, go for micro-crew socks. For mid-cut boots, micro-crew socks will also match them rightly and for high-cut boots, crew socks are the perfect fit.
Types of Hiking Socks for Backpacking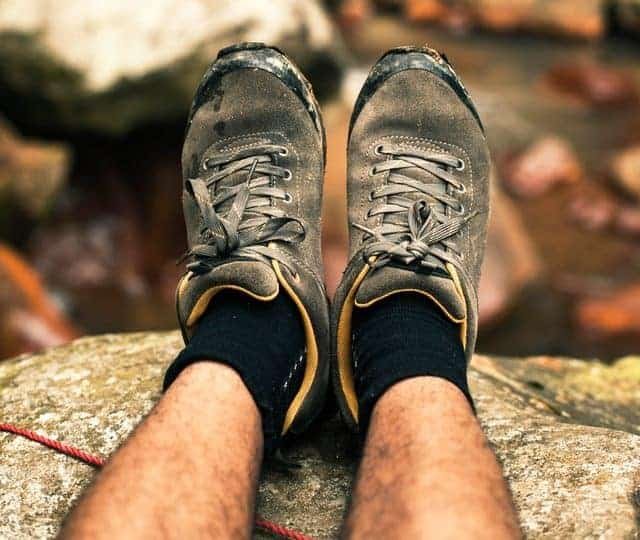 Hiking socks for backpacking are divided into three main categories based on their raw materials.
They are;
Natural
Synthetic
Blended fibers
Let's look at them Individually.
Natural Fibers
These are hiking socks that are made from wool or cotton. Cotton is not a favorable choice for hiking in warm weather but can be useful during winter. Conversely, Merino wool is a top choice for walkers in warm weather. This is due to the moisture-wicking properties that allow it to stay cool and dry at all times. It is also odorless, breathable, and provides the right comfort for your feet in a summer hike.
Synthetic Fibers
Here you have hiking socks made of artificial materials like nylon, spandex, and polyester. These socks are more durable and elastic than their natural counterparts. They also wick moisture faster and help dry off sweats quickly. However, they come with their drawbacks: they are less breathable and are prone to oozing foul odors.
Blended Fibers 
Hiking socks for backpacking made from blended fibers are the best out there. They are made from a combination of natural and synthetic fibers to create durable and highly responsive hiking socks. A blend of Merino wool and polyester or nylon will give you all the benefits that any hiking socks can offer.
Things to Consider when Choosing them
When it's time to buy the best hiking socks for warm weather, there are a couple of factors you need to consider. This is needful because these factors will determine if you'll get the right socks.
The following factors are to be considered:
Material
As far as clothing is concerned and in this case: hiking socks, the kind of material used in manufacturing is important to consider.
Why?
The material is made of cotton has a higher tendency of retaining moisture in your feet. Cotton hardly wicks moisture away by allowing sweat dissipate into the air. So you will sweat more and this will in turn lead to heightened friction. Consequently, blisters are inevitable.
However, if the material is made of wool, the situation will be different. Wool is a famous choice for hikers and over the years, it has earned a reputation for being the best. Wool is more breathable, stretchy and wicks moisture away faster than cotton. Merino wool which is native to Australia is the best kind of wool for hiking socks. This wool is sheer active in wicking moisture away through a process called "evaporative cooling". This way, your feet stay cool, dry, and blister-free in the warm weather. This wool is more excellent in performance when combined with synthetic fibers.
Thickness
In warm weather, wearing thick socks amplify sweating around your feet which is why they are fantastic for winter. So you have to go for the lighter hiking socks. Generally, if you want more air in your skin, you use less fabric. That rule applies here. Lightweight socks will enable heat to dissipate faster into the surrounding air, allow more air in and keep your feet cooler. Although their thin nature will not provide enough cushioning, they can cushion the heel and ball of your feet adequately.
Durability
You will be needing durable hiking socks to get value for your money. Durability is essential because you will have to wash them often and stretch them frequently in the course of wearing and pulling. If durability is not considered, you will end up buying hiking socks that will wear out and lose their elasticity with time. Synthetic fibers last better than their natural counterparts.
Terrain
Although this is a negligible factor to be considered, it's still worth considering especially if you love hiking on shorts. If your terrain is mostly rocks and mountains with very few shrubs, you can go for micro-crew or crew socks. On the other hand, if you'll be tearing your way through bushes and massive vegetation on shorts, you will need knee-high socks.
Conclusion
Hiking Socks are chief providers of comfort for your feet. During winter, you can easily put on a pair of thick socks and double them if you like. However, you have to be selective during summer. It calls for greater attention to details which includes considering a couple of factors in this guide before choosing. Hopefully, this guide will help you in making the right decisions and have a comfortable hiking experience.
Frequently Asked Questions (F.A.Q)
 Are wool socks good for warm weather?
Yes, they are and over the years, hikers have testified of how cool they're compared to cotton.
Can you wear wool socks in summer?
Yes, you can. They are more breathable and don't retain sweats.
What material is best for sweaty feet? 
If you sweat a lot down your feet, wool can limit it when you are hiking. However, a combination of merino wool and any synthetic fiber would do an excellent job of keeping sweats at bay.
What are the most breathable socks?
The most breathable socks are the ones made from merino wool. The breathability of this wool from Australia is super.
What are the best socks for summer?
Merino wool socks are the best for summer. They don't retain heat like cotton and are more breathable.
Can you wear merino wool socks for summer?
Yes, you can. They are the perfect choice for warmer climatic conditions. Wearing them gives you the right amount of airflow to keep your feet cool and dry.
Can I wear wool in summer?
If it's lightweight wool, then you can wear it. However, as a general rule, you should avoid heavy clothing in summer.
Do wool socks keep your feet cool?
Yes, wool socks tend to keep the feet cooler and dry. With their moisture-wicking properties, they can keep your feet cool and dry.
Are merino wool socks worth it?
Yes, they are worth the hype. And to get the best out of them, go for the ones blended with polyester.
Are wool socks better for your feet?
Wool is soft and well-ventilated. It's great for your feet. However, it's more of a seasonal sock – best for summer.
Should hiking socks be thick or thin?
It all depends on the weather. Thick socks are good for winter while thinner socks are perfect for summer. So you choose according to the weather.
Do you really need hiking socks?
Yes, you do. Without hiking socks, those long treks will tell you on feet with blisters. Hiking socks provide real comfort.
Should you wear two pairs of socks when hiking? 
One is enough. However, if the weather is extremely cold, you can use two. Alternatively, you can go on a pair of thick socks whether cotton or wool.