When everyone thinks of New York, they often imagine Manhattan with its busy streets and soaring buildings, but what most people don't realize is that the rest of New York is full of large state parks, rolling green mountains, and thick wilderness. If you want to escape the hustle and bustle of the city for a few days or just want to hit some great trails, upstate New York is a great place to go.
In this article, we'll discuss the 10 Best Hiking Trails in Upstate New York from the highest peaks like Mount Marcy and Cascade Mountain to breathtaking forest paths like Verkeerder Kill Falls and Devil's Hole.
Why Hike in Upstate New York?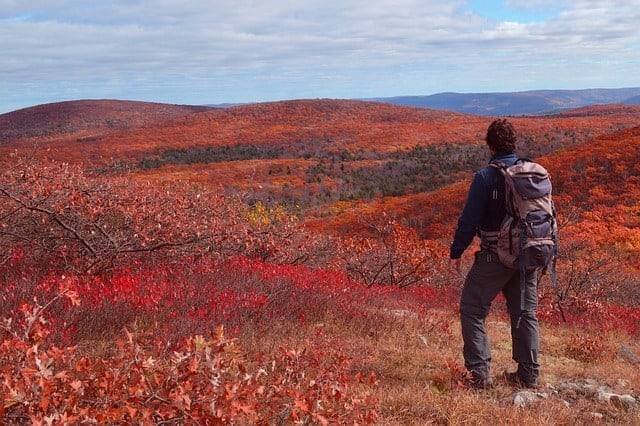 Image from: Pixabay
New York state is a wonderful hiking destination that contains some of the country's largest state parks like the Adirondacks and Catskill mountains.
In the Adirondacks, hikers will be treated to 46 different peaks all above 4,000 feet. The Catskills are lower in elevation than the Adirondacks but there you'll find rolling green mountains and trails that end in beautiful waterfalls. The mountains in upstate New York are not as tall as the Smokies but have a variety of picturesque hikes from challenging summits to moderate 4-hour trails.
If you are looking for an adventure, New York also contains part of the Appalachian Trail as it winds through the Hudson Valley. Other great places to check out include the 'Grand Canyon of the East' in Letchworth State Park, the waterfalls in Watkins Glen State Park, and the river trails up north near Niagara Falls.
10 Best Hiking Trails in Upstate New York
With all its variety of scenery and trails, upstate New York is great for hikers and nature-lovers of all skill levels. So dust off your backpack and gear and start planning!
1. Gorge Trail at Watkins Glen State Park
Difficulty: Moderate
Distance: 2.4 miles
The Gorge Trail at Watkins Glen State Park takes the number one spot on this list because the hike itself is not overly difficult or long but offers some of the best scenery around. Along the way, you pass by 19 different waterfalls as well as numerous pools and 200-foot tall cliffs.
The best part of this trail is the Cavern Cascade where you will get to an up-close experience with a large waterfall and even feel its spray. The path of this hike is a stone walkway that is easy to traverse making it a great option for fit children and pets.
2. Cascade Mountain
Level: Moderate
Distance: 5.6 miles
Cascade Mountain is located in the Adirondacks and is one of the famous 46 above 4,000 feet. If you are looking to summit a mountain and catch incredible views from the top, Cascade Mountain is one of the best options because the trail is shorter and less challenging than the other 45.
When hiking Cascade, if you are feeling adventurous you can also hike the nearby Porter Mountain by only adding another mile to your trip. Cascade has much better views than Porter but if you want to hike all 46 above 4,000, this is a quick way to complete two!
This is an extremely popular trail and can get busy during the day. We recommend leaving in the wee hours of the morning to experience the beauty of sunrise at the summit.
3. Mount Marcy
Level: Difficult
Distance: 14 miles
Mount Marcy is the tallest mountain in New York with an elevation of 5,344 feet. As you can probably imagine, getting up there is quite the climb. This hike takes a grueling 10 hours round trip but if you're up for the challenge, the hard work is all worth it once you get to the top and are rewarded with the best mountain views in the state.
Despite being difficult, this trail is very popular among experienced hikers because of its long and gradual beginning and steep and challenging end.
4. Saranac Six
Level: Difficult
Distance: 31 miles
If you're an avid hiker, the Saranac Six might just be the challenge you are looking for! On this trail, hikers will summit a total of six mountains starting with the easiest and ending in the more difficult.
If you complete all six mountains in one season, you'll earn the title of a 6er and if you complete them all in 24 hours you can ring the special 6er bell in downtown Saranac.
If you aren't looking for an intense hike that will leave your legs feeling like noodles, you can choose to only do part of the trail. Specifically, you can hike up Baker Mountain which is only a two-mile journey and offers great views of Lake Saranac.
5. Poet's Ledge
Level: Moderate
Distance: 6.2 miles
Poet's Ledge is the perfect hike if you are looking for a fun trail with incredible scenery. This beautiful trail got its name because many believe it once inspired famous artists like Ralph Waldo Emerson and Thomas Cole. When on the trail, you'll probably find yourself inspired too as you pass by three majestic waterfalls in the lush green mountains.
Besides the waterfalls, some of the major highlights of this hike include a lookout over the Hudson Valley, Ella's Ledge, and Poet's Ledge. The journey to the top, although short, is quite steep which is why this trail has earned a moderate rating.
6. Verkeerder Kill Falls Hike
Level: Moderate
Distance: 5.6 miles/8.7
Located in Minnewaska State Park, this trail is full of natural wonders including the 185-foot Verkeerder Kill Falls and caves that are so cold they have ice flows even in summer. The hike will take you around the nearby lake and then lead up to the falls which you can view from above at the lookout platform.
Although most of the trail is not difficult, the hike up to Sam's Peak and the falls is rocky and steep.
7. Devil's Hole Trail
Level: Moderate
Distance: 2.5 miles
This trail gets its name from the whitewater rapids of the Niagara River and takes hikers along the cliffs past the famous Devil's Hole Whirlpool. While this hike is not too difficult, it is important to traverse it carefully as a fall might land you in the churning waters below.
The Devil's Hole Trail is a favorite hike among locals and provides some of the most exhilarating views of the Niagara River rapids and gorge.
8. Overlook Mountain Trail
Level: Moderate
Distance: 4.6 miles
The Overlook Mountain Trail is the perfect hike for people who want picturesque scenery and a trail that doesn't require a large investment of time and energy. This moderate trail has some difficult sections but no steep inclines or scrambles and once at the top, you be rewarded with 360-degree views of the surrounding Catskills.
Located near Woodstock, this hike is not only famous for its views but also its folklore. The local Native American tribes believed that this mountain was inhabited by spirits and there are many rumors of unexplained paranormal experiences in the area. To add to the otherworldly vibes, the mountain is also home to an abandoned hotel and Tibetan Monastery.
9. Sleeping Beauty Mountain
Level: Moderate
Distance: 5 to 7.5 miles
Sleeping Beauty Mountain is located in the Adirondacks near Lake George and is a mostly easy hike with a few steep and rocky switchbacks. This is the perfect choice for hikers who are looking for a slightly challenging hike that will take you through scenic forests, lakes, and mountains without draining all your energy.
This trail has two starting points which cause the difference in distance. If you start at the Hog Town Trailhead, your hike will be a little longer. If you drive along the dirt road to Dacy Clearing, you'll shave a few miles off your trip.
10. Rim and Gorge Trail at Robert H. Treman
Level: Moderate
Distance: 4.7 miles
This hike will take you on a steep stone stairway path past a total of 12 waterfalls including the Lucifer Falls which are 115-feet tall. Besides the 11 other beautiful falls you'll pass by on this loop, your eyes will also be treated to the sheer stone walls of the surrounding canyon.
Other viewpoints on the trail grant hikers bird's eye views of the gorge below. Once you conquer the stone stairs, you can choose to cool off in a clear pool under the last waterfall before you continue on the loop back to the trailhead.
TDLR: Too Long Didn't Read—What you Need to Know Summary
New York state is a great place to hike because it has such a variety of beautiful trails of varying difficulty including paths along mountains, thick forests, and waterfalls. If you are looking to summit the tallest mountain in the area, Mount Marcy in the Adirondacks is the place to go. If you want to hike a trail with gorgeous waterfall views then the Gorge Trail and Poet's Ledge are the best options.
Less challenging hikes that offer unbeatable views include Cascade Mountain and Overlook Mountain. If you are looking for a difficult adventure, then you can try out the Saranac Six or any of the mountains in the Adirondacks.
Frequently Asked Questions
Want to know more about upstate New York? Check out some of our answers to the web's frequently asked questions below!
1. Why is upstate New York the best?
Upstate New York is the best because it is full of such natural beauty that is often overshadowed by the fame of New York City. Upstate is a great place to take a break from the fast-pace and sometimes overwhelming big city life and just relax surrounded by trees and nature.
2. What is upstate New York famous for?
Upstate New York is famous for its wilderness and its snowy and cold winters. This area of the U.S. experiences some of the harshest winter storms. Upstate New York is also famous for the Niagara Falls and Hudson River Valley.
3. What is the best city in upstate New York?
If you are looking for a great place to live in upstate New York, look no further than Buffalo. Here you'll find plenty of things to do with enticing nature not too far away. If you are looking for the best upstate city for hiking, it's hard to beat Woodstock which is located in the Catskills and offers access to multiple trails.
4. Is it expensive to live in upstate New York?
Overall, the cost of living in New York State is low. Living in upstate New York is much less expensive than living in New York City, but when you live upstate your salary will be lower than it would in the city.
5. Why is upstate New York so cold?
Although hot in the summer, upstate New York is famous for its frigid winters. Unlike New York City that's winters are softened by the Atlantic, New York state often gets cold winds from Canada and lake-effect snow from Lake Eerie. Many areas in the state, like the Adirondacks, are also high in elevation and experience cold temperatures year-round.