You may certainly want to carry some junk food while backpacking. However, will you eat this throughout the entire trip? If your backpacking trip is going to take a while then you will have to give this a second thought. Actually, junk food may be quite burdensome for the backpacking experience. This is why you will need the best camping stove for backpacking.
Best Camping Stove For Backpacking and Camping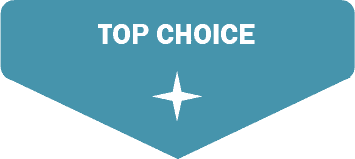 MSR
WindBurner Personal Stove
MSR
WindBurner Personal Stove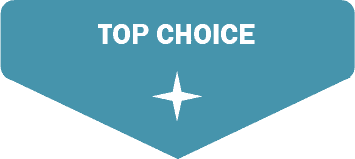 Which is the Best Gas for Camping Stoves?
Ardent backpackers will acknowledge that planning a camping trip without including a proper camping cook would be the worst mistake of their life. Camping stoves are all about convenience, allowing you to prepare a meal or purify water at a moment's notice even in unforgiving conditions.  There are two types of gas used with camping stoves; Butane and Propane. Never carry Butane when backpacking during winter as this condenses when it gets cold. However, when it's not winter Butane is the best option. This is because butane burns more efficiently and is way lighter than propane hence more appropriate for backpacking. Read on as we deconstruct ten of the best camping stoves for backpacking.
1. Coleman Propane Gas Classic Stove
"Your Outdoor Companion!"
Reliable Pick
Main Features
It can be used even in very cold climatic conditions
It is fast, you can cook two things at the same time
Lightweight enough to cut on the bulkiness
Portable and durable
"No doubt, this will do you more good than harm."
Are you looking for a reliable camping burner to add to your backpacking gear? Well, look no further. The Coleman gas stove bears all the bells and whistles of a world-class model. Let us have a glance at some of its prominent attributes:
Wind Blocking Mechanism
This stove has wind block panels that prevent the wind from reaching the burners. They can also be adjusted according to the size of the cooking pots.
Consistent Performance
Due to its perfect flow technology, it works well even in extreme conditions.
Fuel Saving
It has perfect heat technology that allows you to cook efficiently while saving fuel. It has a cooking power of 20,000 BTUs in total.
Two Burners
These can comfortably accommodate a twelve-inch and a ten-inch pan simultaneously. The burners have separate temperature controls.
Chrome-plated grate
This is very durable owing to the quality materials from which it is made. It is also removable to easily clean it.
Aluminized Steel Cooktop
This prevents rusting a protective feature that guarantees durability and extended stress-free outdoor use.
Pros
Strong build that provides longevity
Versatile enough for multiple uses
Compact and easy to travel with
Excellent price-to-quality ratio
Easy to assemble and use 
Cons
It does not have a push-button igniter
The burners do not adjust well
It has a sticky control valve
It is one of the best camping stove types so feel free to get one for your next outdoor activity.
---
2. Soto WindMaster Stove
"Sparked by Nature!"
Reliable Pick
Main Features
Small and compact to occupy minimal packing space
Offers stability for both small and large cooking pots
Lightweight hence easy to carry around
Has a reliable piezoelectric ignition
"With all these conveniences, it is safe to say that this is one of the excellent designs."
If you are looking for a stove that will take your camping experience to the next level, the Soto Windmaster stove would be a solid choice. It features a unique outdoor-oriented design with trail-ready features that will allow you to whip a meal or boil water in a nick of time regardless of the weather conditions. 
Good Performance in Harsh Conditions
It can boil two cups of water in less than 2 ½ minutes in a windy environment. It also performs well in cold conditions.
4 Flex Top
This makes it easy to support larger cooking pots.
Micro Regulator
This allows for consistent performance despite the temperature or fuel level. It also allows for micro-adjustments in flame output.
Wind Obstruction
Due to the minimized space between the bottom of the pot and the burner head, which is concave, there is no interference from the wind.
Pros
Unbeatable performance in strong winds
Comes with a built-in regulator
Easy to use even for beginners
Unparalleled simmer control
Cons
More expensive than other equally effective stoves
It does not include the tri-flex pot holder
Therefore, grab yourself one for that unforgettable outdoor experience.
---
3. MSR WindBurner Stove
"Fifty Years of Unruly Dreamers!"
Reliable Pick
Main Features
Insulated handles for heat-proof advantage
Made from quality material for Durability
An in-built pot cozy to curb heat loss
Perfect protection from the wind
In addition to being lightweight and of diminutive size, the MSRWindBurner Stove System is also one of the most powerful models on the market right now. Here are more reasons why you should get this camping stove for your next excursion:
Additional items
It has an all-in-one compact stove. Also, it offers cookware solution elements; a secure-lock pot/personal eat-and-drink mug.
Fuel Efficiency
It has a radiant burner and heat exchanger which enable quick boiling to save fuel.
Wind Blocking
Its 100% primary combustion in an enclosed design with an internal pressure regulator prevents disruption from the wind.
Pros
Fuel-efficient for more cooking
Includes fuel canister stabilizer
Fast in boiling to save time
Cons
It may be difficult to remove the pot lid
Its handle is not as firm as required
Has no push-button igniter
This is yet another one of the best camping stove models that you should strive to possess for the ultimate experience in the outdoors.
---
4. MSR PocketRocket Stove
"Reliable Pick for Your Camping!"
Reliable Pick
Main Features
Includes an arm featuring a tight folding mechanism to boost stability
Packs away small for easy backpacking
Light and effortless to carry around
Efficient burn for fast boiling
"This is the original Pocket-Rocket design meaning it is great."
For a camping cooker that can perform on a rainy day and still deliver in windy conditions, go for the MSRPocketRocket 2 stove. It bears all the earmarks of a jungle cooking masterpiece. Here is a detailed review of its outstanding feature set:
Quick boiling
With this, you can boil a large amount of water in such a short period. Also, heat can be easily adjusted from a simmer to a full boil.
Excellent performance
This is because it uses isobutane-propane fuel canisters. Nevertheless, this is not included in the package. This should not be a cause for alarm as canister fuel is obtainable in most areas.
Easy to use
Utilizing it does not really require much. Moreover, it has serrated pot support to fit different pot sizes.
Pros
Exceptional simmer control
Easy to use and maintain
Great value for the price
Cons
Flame lacks screen protection limiting performance in windy conditions
Has no piezo igniter
Besides, its affordability makes it even more worthwhile.
---
5. Outland Firebowl Propane Gas Stove
"Outdoor Living Perfected!"
Reliable Pick
Main Features
Has a chrome valve knob for flame height adjustment
Comes with stainless steel burner to curb corrosion
Ultra-light construction for added maneuverability
Premium steel construction for longevity
The Outland Firebowl 893 Deluxe Outdoor fire pit is the one-stop-shop for all your outdoor living needs. It is mindfully made to take care of all your cooking problems when you are in the backcountry.
No Mess
There is no chance of ash and smoke while using this propane campfire.
Portable
It is lightweight which will give you an easy time when traversing the tricky jungle terrain to a safe camping spot. Also, it is easy to set up and use saving time hence allowing you to focus on having a nice time in the backcountry.
Useful during bans
This is certified and is safe to use during most campfire bans.
Comprehensive
It consists of a Cover and Carries kit, a pre-attached hose, an adjustable regulator, and natural lava rock set. All these parts lock in place effortlessly granting you the opportunity to cook in minutes.
Signature Brand Quality
Be sure that anything from Outland Living is of the highest quality. Every part of the stove is crafted from nothing but the best materials, including stainless steel, for durability. In short, you get value for your money.
Pros
Performs well in any climatic condition
Instant lighting and extinguishing
Easy to assemble and clean
It is safe for use outdoors
Cons
The valve is not of good quality leading to leaks
Limited warmth
This is an advanced campfire that will take your camping experience to a whole new level.
---
6. Jetboil Flash Cooking System
"Fast. Compact. Efficient.."
Reliable Pick
Main Features
Features a cool color-changing indicator logo
Packs away small for effortless travel
Neoprene sleeve prevents heat loss
Simple to assemble and used
"This is the best camping stove design for boiling water."
When the weather is unbearable and all other cooking devices cannot work under the prevailing conditions, there is only one outdoor oven that you can count on to come through for you. That is the Jetboil Flash JavaKit Geo Camping Stove. It is a one-of-a-kind model, crafted with your needs at heart.
Fastest Jetboil
It boils water in just a hundred seconds thanks to a strong flame and a lockable metal ribbon that secures the cool pot in place to maximize heat transfer.
Fluxing cooking cup
This has an insulating cozy which not only boils the water up to a capacity of one liter but also keeps it warm.
Portable coffee press
This can easily fit inside cooking vessels so you can easily pack it and make French press coffee whenever you feel like it.
Push-button igniter
This enables you to start heating instantly. In addition to that, it has a thermochromic color-change heat indicator that shows that the water is ready.
Additional items
It comes with a sample pack of Green Mountain Coffee, a bottom cup which is also the measuring cup, and a bowl. These are very lightweight and easy to pack.
Pros
Excellent ignition system
Comprehensive features
Firm stand for stability
Incredible boiling rate
Cons
It is heavy for backpacking (when compared to other available options)
Its fuel type is non-reusable
Unreliable flame control
Limited to boiling water
So if you need a camping stove entirely for boiling water then this is the best option.
---
7. Solo Stove Titan Wood Burning Stove
"Engineered for Adventure."
Reliable Pick
Main Features
Capable of cooking for more than two people
Incredible performance in windy conditions
Environmentally-friendly construction
Lightweight and compact
"This is a Gear of the Year winner meaning it is one of the best camping stove models."
The Solo Stove Titan – 2-4 Person Lightweight Wood Burning Stove delivers a superb balance between compactness and functionality. It is one of the most sought-after outdoor cookers incorporating a pioneering design that works purely out of wood and not the traditional butane or propane field:
Double-wall
It works in a way that air flows from top to bottom. As a result of this, fuel burns entirely without causing much smoke.
Free fuel
It utilizes wood which is easily available and is free of charge. This is extremely pocket-friendly for any backpacker on a tight budget.
Lightweight and compact
The model does not include any propane or butane fuels that add to the bulkiness. Thus, the feature makes it super light and saves space in the camping backpack.
Pros
Produces low smoke
Efficient for cooking
Various size options
Cons
Only accommodates small wood pieces
Difficult to clean
Therefore, do not shy away from getting yourself one.
---
8. Etekcity Ultralight Portable Outdoor Camping Stove
"Building on Better Outdoor Living."
Reliable Pick
Main Features
Adjustable control valve for unbeatable flame control
It is ergonomically designed for small-scale camping
Made from stainless steel for amplified durability
Has a great balance of outdoor-focused features
All backcountry enthusiasts need a well-made camping burner that they can bank on all the time. The Etekcity model features trail-ready facets that fully take care of your cooking needs when enjoying a night in the jungle: 
Durable
It is made from high-quality stainless steel material which can withstand high temperatures and weight.
Compact and Adjustable
This makes it an excellent option for ultralight camping and backpacking. It is suitable for pots with diameters of up to seven inches.
Adjustable Control Valves
This allows for the maximization of heat output.
No debris or soot is left behind
This is in accordance with the US Forest Service, Bureau of Land Management, and National Park Service.
Pros
Strong storage case to prevent damage
Environmentally friendly combustion
Extra light for portability
Broad fuel compatibility
Affordable pricing
Has piezo ignition
Cons
Has small arms unsuitable for larger pots
With all these desirable features, this is definitely a camping stove to try out.
---
9. Fire Mapple Stove
"Your Mobile Kitchen for Outdoor Camping."
Reliable Pick
Main Features
Its pot support system can accommodate pots of varied sizes
Reasonable pricing for tight-budget buyers
Fixed lock handles to keep the top cover intact
Stainless steel mug with a large volume
"With the excellent heat system and quality of the pot among other features, this is definitely a good deal."
If your cooking system is giving you a hard time, it is about time you went for an outdoor cooker that lives up to your expectations. We are talking about the Fire-Maple Fixed Star stove, an awesome backpacking companion with all the earmarks of excellence:
Efficient Heat System
Its heat exchanger heats 30% more efficiently.
Push Button Igniter
This makes it easy to light up. Also, the pot has a hot-proof cover.
High-Quality Pot
The pot is compact and made from hard-anodized material. This makes it more durable and easy to clean than aluminum pots.
Diverse Canister Options
Any 110 fuel canister, except Coleman Fuel Canister, can be used. However, fuel canisters are sold separately.
Pros
Quick Boiling for flawless cooking
Windproof cooking system
Fuel-efficient cooking
Sturdy base stabilizer
Adaptive fuel system
Cons
It is difficult to get things in and out of the mesh bag.
It is difficult to remove the lid after boiling water.
If you are planning on buying yourself the best camping stove, this should certainly be on your bucket list.
---
10. Fire Mapple Stove
"Fast. Compact. Efficient for Adventure Camping."
Reliable Pick
Main Features
A wide variety of cooking pots and eating/drinking vessels
Lightweight and compact for effortless backpacking  
Great performance in windy conditions
Unbelievable price-to-quality ratio
"Compared to other items on the list, this is the best camping stove for groups."
Nothing beats the Jetboil Sumo Camping burner when it comes to portability and outdoor cooking performance. It is a piece of art that you can rely on for quick meals to fuel your love for the jungle.
Capacity
It has a flux ring cooking cup with insulating cozy with a capacity of 1.8 liters. This makes it convenient for groups.
Heat Regulator
It allows for the adjustment of heat from a light simmer to a full boil.
Push button
This enables instant ignition (it also regulates heat).
Storage
It can store 100 grams to 230 grams of Jetpower fuel can with a burner, fuel canister stabilizer, and pot support.
Pros
Efficient with fast cook time
Fair pricing for affordability
Uncommon simmer control
Perfect for two backpackers
Includes a lid and a pot
Easy-to-use ignition
Cons
The gas canisters are not eco-friendly
The 100g version is not durable
So, the next time you are going backpacking alongside your buddies, this is the best option.
---
The above list comprehensively consists of the best camping stove designs to cater to every need. So, if you want one for a group or for just boiling water, you already know what to go for. Similarly, if you want one that can double up as a campfire, there is a perfect solution for you. Nonetheless, keep in mind that the best camping cookers possess exceptional fuel efficiency, impressive cook time, better windy condition performance, and compactness.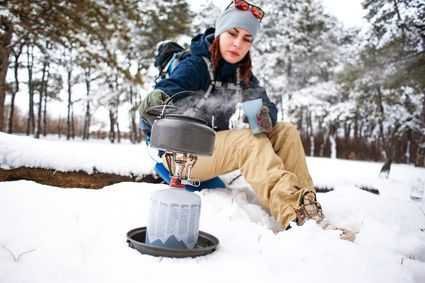 Junk foods have some disadvantages as they are very expensive and their nutrient level is low. There is nothing as fulfilling as beginning your day in the wild with a proper breakfast and ending it with a steaming hot supper. This will help you save a big deal! Furthermore, camping stoves are today lighter than ever before.
So, what do you consider before getting yourself a stove?
What to Consider:
Size:
Ensure you go for a compact and lightweight model that can easily fit in the backpack without causing much heft. If you are traveling in a large group then one may not be enough so it is better to carry one or two extra stoves.
Fuel
There is a variety of types of fuel to choose from. They include solid fuels, liquefied fuels, petroleum fuels, wood, and alcohol. This is in accordance with the compatible type of stove. When choosing the type of fuel, consider the condition of the place you are visiting, health issues, safety, and of course cost. Also, in as much as you need adequate fuel, ensure it does not affect the weight of your luggage.
Type of Food
What are you going to cook on your trip? You might have carried a stove just for the purpose of boiling water and melting ice. Similarly, if you are a huge fan of red meat, you will probably carry some for your hiking trip.
The good news is that there is the best camping stove for every purpose depending on the quality of the equipment.
Frequency of use
If you will not be using your stove very often, then there is no need for buying a costly one.
Types of Camping Stoves
Canister Stoves
These are without a doubt excellent stove models. Utilizing them does not really require much; just screwing in and lighting up. Besides being very simple to use, they are light, compact, fast, and have good temperature control.
The main problem you may face with a canister stove is finding a compatible isobutane fuel canister in case you are backpacking in a remote area. Besides not being able to perform well in very low temperatures, their fuel is quite expensive.
Liquid Fuel Stoves
These are perfect for cooking large quantities of food for large groups of people. The type of fuel used with them, white gas, is more affordable than canister stove fuel. Other liquid fuel stoves utilize a wider variety of fuel options such as kerosene and unleaded auto fuel. These can be accessed even in remote locations.
Their disadvantages include the fact that they are heavy, difficult to use, can be noisy and they require much maintenance. Therefore, they are not one of the best stove designs to use today since there are better options.
Alcohol Stoves
They are light and affordable and their fuel is easy to find. Their inconveniences include being slow in cooking, easily causing accidents, having no temperature control, and inability to work well in windy as well as cold environments.
Solid Fuel Stove
These are lightweight, compact, easy to make, and quiet. However, they are slow in cooking and work poorly in windy conditions. Also, they use Esbit fuel tabs which are expensive, produce a bad smell, and leave a sticky residue at the bottom of the pot
Wood Stoves
These are similar to campfires only because they are faster and more efficient. They are very lightweight and you don't even have to carry fuel. Nevertheless, lighting them requires much effort.
It even gets worse during wet seasons since getting firewood can be difficult. The solution for this is carrying Esbit fuel for backup. Also, carry a case for your pots as wood stoves form soot which blackens them at the bottom.
Conclusion
The above list comprehensively consists of the best stove designs to cater to every need. So, if you want one for a group or for just boiling water, you already know what to go for. Similarly, if you want one that can double up as a campfire, there is a perfect solution for you.
It is imperative to ascertain your needs before choosing the right camping stove. Keep in mind that the more you cook the more your fuel is likely to run out. Thus, you need a bigger fuel capacity. The general thumb rule is to opt for a model that is lightweight and compact.
A camping stove is a crucial addition to your backpacking kit. Here are exclusive FAQs on excellent stoves.
What to Cook on Backpacking Stoves?
Generally, it is more advisable to cook less complex foods that don't require a lot of time to cook. Definitely, the camping stove will enable you to cook any type of food efficiently. However, you still have to minimize the rate at which you cook foods that require complex cooking methods. You can opt for things such as sausages, bacon, pancakes, eggs, and oatmeal for breakfast, and vegetables, pasta, rice, mashed potatoes, chicken, and pork for lunch and dinner.
Which is the Best Gas for Camping Stoves?
There are two types of gas used with camping stoves; Butane and Propane. Never carry Butane when backpacking during winter as this condenses when it gets cold. However, when it's not winter Butane is the best option. This is owing to the fact that butane burns more efficiently and is way lighter than propane hence more appropriate for backpacking.
How much fuel do I need for backpacking?
The amount of fuel you need for backpacking depends on the duration of the expedition, the number of hikers, and your requirements. It is crucial to come up with a meal plan in order to estimate the amount of fuel you should bring along. The meal plan ought to account for the boil and burn time. Most hikers incorporate breakfast, lunch, and dinner.
How do you light a backpacking stove?
First, it is important to note that there are two types of backpacking stoves. They are classified depending on the fuel used. This includes gas and liquid stove. The gas stove has pressurized gas. Pressurized gas flows out when the burner valve opens up. On the other hand, liquid stoves have a fuel tank. Paraffin or white gas is pumped from the fuel tank. The liquid turns into gas after flowing through a carburetor. The gas is then squirted toward a flame. Use a match or lighter to light the gas or liquid stove.
What is the difference between Jetboil zip and flash?
Jetboil zip works well suited for a single person. On the other hand, Jetboil zip meets the needs of a group perfectly. Aside from that, the zip is excellent for backpacking owing to its minimalist design and 0.8 L capacity. On the contrary, the flash boasts a bigger 1L liquid capacity. It makes it ideal for camping.  To top it off, Jetboil flash supersedes Jetboil zip prices.
How much does a camp stove cost?
The average price of a basic gas or liquid fuel stove ranges between $30 and $60 although larger models can cost up to $200.
Can I use the MSR canister with Jetboil?
MSR canisters are compatible with Jetboil. The valves and fuel mixture between the two brands are similar.
How do you bring alcohol on a backpacking stove?
There are several ingenious ways to carry alcohol fuel while backpacking. First, use small plastic soda bottles. Remember to label it to avoid mixing up your supplies. Similarly, you can utilize platypus soft bottles. These two options are lightweight and have zero leaks.
How do you boil water when backpacking?
To begin with, use solar water heating bags. Apart from that, try out the jet boil or MSR pocket water heating system. The Coleman stove is also a great option. Otherwise, simply boil the water over a fire with the help of a metallic bucket.
How long does a backpacking fuel canister last?
The duration relies upon the frequency of use. For instance, an 8-ounce fuel canister can burn continuously for up to three hours.
Do fuel canisters expire?
Fuel canisters are superbly sealed. This prevents the canisters from going bad. It also ensures that they last for over ten years. However, leaks hinder their lifespan.
How long will 100gJetboil fuel last?
100g Jetboil fuel should serve you for about three to five days. The lifespan of Jetboil fuel relies on the size of the canister as well as the frequency of use.
Can you use propane with an isobutane stove?
It is possible to use propane with an isobutane stove although there is a catch. You must have a pressure regulator. It helps to control the hot-burning fuel.
How long does MSR fuel last?
The duration that any fuel can last relies on its use. For example, one 8 oz of MSR fuel canister could boil water for two people over a four-day period.
What is a liquid fuel stove?
Liquid fuel stove burns white gas fuel. White gas happens to be an ultra-pure form of gasoline. It contains zero additives. Diesel, jet fuel, and kerosene are among other fuels used in liquid stoves. These stoves have a fuel tank. Liquid fuel flows from the fuel tank to a carburetor. The carburetor turns it into gas that is squirted toward a flame.
Can you fly with a Jetboil?
It is possible to fly with a Jetboil. However, all its fuel should be cleaned and emptied. This includes any residue or vapors.
What does flash boil mean?
Flash boiling is the introduction of a liquid to an environment whose ambient pressure falls below the liquid's saturation pressure vapor.
What is a Jetboil stove?
The Jetboil stove is a portable lightweight stove suitable for hiking and backpacking. It features a pot insulated with neoprene as well as an adjustable burner. Jetboil stoves are fueled by a mixture of isobutene and propane. Isobutene canisters are fitted at the burner's bottom on the stove.
Who makes the best camp stove?
Camp Chef Everest, Coleman Classic, and Jetboil Genesis Basecamp are the most outstanding camp stoves in the market currently. These brands are not only compact and lightweight but also reliable and highly functional.
Which Coleman stove is the best?
Coleman Classic is the best Coleman stove. It is a versatile model constructed with a fold-open lid in conjunction with independently adjustable burners. Moreover, Coleman Classic accommodates bigger pans thanks to adjustable wind guards.
Can you use a portable gas stove indoors?
Yes, you can. Gas stoves are very eco-friendly. This is unlike liquid stoves that emit toxic levels of carbon monoxide. Still, ensure that your room is well-ventilated before using your gas stove. It lowers carbon monoxide poisoning. Then again, keep the stove away from combustible stuff.
How long does a propane tank last?
A 20-pound propane tank is meant to last for an estimated period of 18 to 20 hours. At the same time, a disposable 15-ounce propane tank should take about 1.5 to 2 hours to run empty.