A good number of recent studies have confirmed the calming effects that nature has on the human brain. Hiking gives folks the chance to get close and personal with nature. While some people are hardcore outdoor enthusiasts, others like it short and sweet.
Remember, not everyone has the time or nerves to camp out in the jungle. This is where day hikes come in. If you are fond of day hikes then you should be familiar with daypacks. They are the perfect bags for the occasion. Besides being smaller and more compact, the best daypacks for hiking are comfort-oriented and lightweight as well.
Check out the following buying guide for exclusive information on the best backpack for day hiking.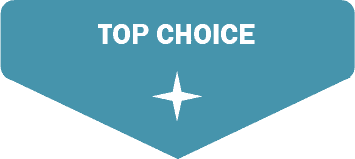 North Face
Borealis Backpack
Osprey
Stratos 34 Hiking Backpack
High Sierra
Loop Backpack
North Face
Borealis Backpack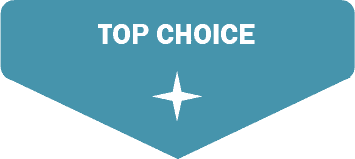 Osprey
Stratos 34 Hiking Backpack
High Sierra
Loop Backpack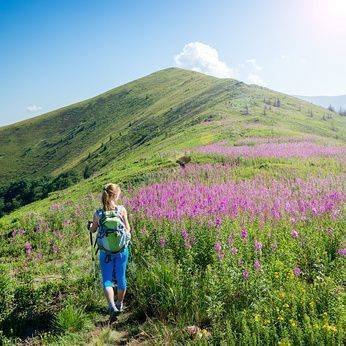 What are the best daypacks for hiking?
There are lots of day hiking backpacks to choose from. With a wide selection, you'll be able to find something that suits your style and hiking or running needs. Here are some of the best designs available in the market currently:
1. North Face Borealis Backpack
"Best Suitable For Day Hiking and Built to Support you Long Period!"
Premium Pick
Main Features
Roomy compartments and numerous pockets
Detachable waist belt
Adjustable shoulder straps and hip belt
Lightweight design.
The most ardent hikers will acknowledge the exceptional performance of the North Face Borealis sack.
More Durable
It is built with world-class attributes to meet all your outdoor hiking needs for a day. On top of the list is the quality nylon material from which it is made. This ensures durability.
Spacious
Similarly, it has a 28-liter capacity that offers enough parking space for a day. There are laptop and tablet sleeves that are cushioned to curb breakage. All these are held in place by firm zippers and side compression straps.
Great suspension system
The sack boasts of an overhauled suspension system. Robust compression straps ensure to expansion of the carrying capacity and also make it possible for the pack to carry bigger loads.
In fact,  if you want a spacious daypack that is worth your money, the North Face Borealis should be your go-to product.
Pros
Exceptional suspension system
Opulent
More durable
Cons
Straps are not easily adjustable
---
2. Osprey Stratos 34
"Best Suitable For Daypack with Awesome Suspension and Hydration Compatible!"
Top Choice
Main Features
Highly adjustable straps
Comfortable to load with a hydration compatible
Top-notch suspension
With trekking pole attachment loop
The Stratos 34 is an all-around hiking sack featuring the best attributes for a captivating experience. Its design allows one to remain organized thanks to multiple zippered pockets on the hip belt and attachment loops. On the other hand, its strong structure ensures durability. Still, it has an adjustable torso length, shoulder straps, and hip belt that allow for a customized fit.
In made hydration sleeve
A hydration sleeve is vital for any hiking backpack for obvious reasons. The reservoir for the Stratos 34 is enough and easily accessible too. There is a special pocket for the hydration bladder to ensure that you do not run thirsty.
Great suspension
A proper suspension system makes a pack more comfortable and this one does not disappoint. Its main compartment is huge enough to hold accessories for a day's hike. Alongside that are multiple mesh side pockets, zippered stash pockets, and hip belt pockets which further increase the space.
Detachable rain cover
Outdoor excursions are marred with unpredictable weather and the last thing you need is to have your accessories soaked.  The makers of this sack understand this problem. For convenience, the rain cover is detachable.
Trekking pole attachments
It has a strong trekking pole attachment system which gives you an easy time carrying trekking poles around. Pole holders and ice tool attachment loops come in handy as well.
In fact, the Stratos 34 has convenience-boosting specs that outshine other daypacks in this class. It will not let you down.
Pros
Integrated rain cover
Versatile
Proper ventilation
Cons
---
3. Osprey Ultralight Stuff Pack 
"Best Suitable For Day Hiking And Built To Support Your Day Hike"
Reliable Pick
Main Features
Extremely lightweight
Excellent suspension
Superb adjustability
Just as the name suggests, the Osprey ultra-light stuff pack offers a less strenuous outdoor experience.
Innovative construction
Its sleek design and structure make the sack easy to carry around. On top of that, it is expertly stitched to hold heavier loads and remain in good shape for a long.
Numerous pockets
There are two stretch pockets on the sides for a water bottle or other gear. Although it has few side pockets, its main compartment is roomy enough to accommodate a satisfactory number of accessories. The compartment is easily accessible not to mention the dual zippers that keep it secured. It comes with its own carrying case which comes in handy when not in use.
Generous adjustability
High adjustability allows for variation in the torso length for a perfect fit.
Excellent suspension system
The suspension system ensures that the pack is upright at all times. It also keeps the weight of the load evenly distributed across the waist, back, and shoulders.
In fact,  the Osprey stuff pack is a premium daypack with deluxe features headlined by its super lightweight.
Pros
Opulent
Premium quality
Easily accessible pockets and compartments
Cons
---
4. High Sierra Loop Backpack 
The High Sierra combines five-star functionality and innovative construction to offer the best hiking daypack.
33 unique designs
It is available in 33 different designs and multiple colors as well.
Ample packing capacity
One of the most outstanding features is strategically placed compression straps which allow one to carry more accessories. 11 interior pockets, 7 exterior ones, and the main compartments provide enviable packing space.
Opulent
Its level of comfort is up to par as the shoulder straps are wide and thickly padded. This is further heightened by superb breathability on the back panel. The only downside with regard to comfort is that the loop is a little rough on the neck area.
Made from quality materials
Moreover, it is of decent quality as its material is water and abrasion-resistant. Zippers and buckles do not snap easily. Such qualities guarantee durability.
In fact,  This pack is pretty stylish in addition to providing top-notch features for a modern-day backpack.
Pros
Comfortable
Stylish design
Top-notch functionality
Cons
---
5. TETON Sports Adventure Backpacks 
The Teton sports adventure sack is packed with a ton of unique features. Hitting the road with the TETON Sports backpack, you can look forward to durability, extraordinary opulence, and world-class functionality. This is due to the features below:
Spacious structure
One of the most notable attributes of the backpack is its large and spacious structure. Unlike other daypacks, it boasts a whole 66-liter capacity capable of holding gear for a multiday hike. Alongside that are attachment loops and a detachable front pouch for extra storage space. Pockets are highly accessible owing to the top-loading capability.
Sturdy support frames
In order to support big loads, the pack has internal frames. To add to that, the support frames are made from aluminum which is super lightweight.
Rigid shell
The product is highly durable thanks to firm stitching and a quality black oxford canvas shell.
Comfy
Sagging and jostling are alleviated by multiple compression straps on the exterior. Still, the torso length, shoulder, chest, and waist straps are highly adjustable to provide a perfect fit.
Sewn-in rain cover
Rain should be the least of your worry with this bag as it has a rain cover.
In fact,  it is a spacious and premium product yet quite affordable for tight-budget hiking enthusiasts.
Pros
Sufficient packing capacity
Detachable pouch
Rain cover
Cons
Torso length might be limited for taller folks
---
6. Osprey Exos 38 Backpacking Pack 
"Best design from a trusted brand For Day Hiking Enthusiasts."
Reliable Pick
Main Features
Five-star ventilation and Superb suspension system
Comfortable and Ultra-light
Inbuilt hydration sleeve
Another high-ranking product on our list is the Osprey packs exos 38. The pack offers first-class performance and functionality.
Lightweight
Not only does the bag provide ample space for hiking gear, but it is also ultra-light considering that it has an inbuilt aluminum frame. More packing space is provided by under-lid mesh pockets and detachable floating pockets.
Multi-point compression straps
Compression straps on the sides keep the load under control making it less bulky.  These straps can also extend to accommodate a bigger load.
Opulent
Opulence is enhanced by a dual mesh construction on the ExoForm hip belt and harness. On the other hand, breathability on the back panel and other pressure points is world-class.
Integrated hydration sleeve
There is an integrated hydration sleeve with a capacity of three liters. Top loading makes organization and accessibility effortless.
In fact, The Exos 38 has an impressive performance record. Plus it is manufactured by a trusted brand that guarantees quality.
Pros
Extensive pocketing
Roomy compartment
Comfortable and Ultra-light
Cons
---
7. CamelBak Rim Runner 22 Hydration Pack
Some of the specs that make the Runner 22 unique include:
2.5L hydration reservoir
The capacity of this Hydration reservoir is ideal for a one-day excursion. It has a self-sealing bite valve that is completed by an ergonomic cap. On top of that, the water spout retention works perfectly thus making drinking easy.
Adequate storage space
It has a spacious main compartment as well as a number of exterior pockets on the sides and cargo pockets on the hip belt.
Highly adjustable
The hip belt and shoulder straps are easily adjustable to provide a customized fit for women, men, or children.
Comfortable
Besides a breathable mesh back panel, the shoulder straps and waist belt are well-ventilated to alleviate sweating. Moreover, there is thick cushioning in these areas as well. An innovative suspension system ensures proper weight distribution hence making the bag less weighty.
Durable
This sack is made from quality material. The outer shell is abrasion resistant and firm enough to endure the rough outdoor environment. Similarly, zippers like plastic fasteners are robust to serve you for a long.
In fact, you will not regret purchasing the Runner 22 owing to its premium features and enviable outdoor performance.
Pros
Incredible functionality
Hydration compatible
Stylish design
Cons
The load-bearing hip belt section is a small causing discomfort
---
8. Gregory Zulu 30 Daypack 
"Best pack with Breathable Back panel and awesome Gregory brand features."
Reliable Pick
Main Features
Excellent breathability
Top functionality
Extremely light
Nothing defines elegance like the Zulu 30 backpack. It is a masterpiece fitted with the finest features for an outdoor sack.
Durable
The sack features a rigid structure that is held together by premium fabric. Furthermore, its bottom panel is reinforced by a dual layer to enhance durability.
Comfort grip zippers
Zippers ensure that pockets and compartments are secured at all times. The Zulu 30 has gone a step further to provide loop pull zippers with comfort grips to make opening and closing effortless.
Breathable back panel
A 3D foam back panel guarantees sweat-free excursions. The breathability extends to other sections of the sack such as the shoulder straps and waist belt.
Integrated rain cover
With the Zulu 30, you can have peace of mind in any weather conditions as it comes with a rain cover.
Hydration compatible
This daypack has a sewn-in hydration hanger where a Gregory 3D reservoir can be attached.
In fact, the Zulu 30 is a five-star daypack that you can bank on for a smooth hiking experience.
Pros
Sturdy zippers
Top functionality
Stylish design
Cons
A little overboard price-wise
---
9. Venture Pal Hiking Backpack Daypack 
"Best Suitable For Day Hiking And Built To Support You Long Period."
Reliable Pick
Main Features
Exceptional ventilation
Water-resistant
Comfortable
If you are looking for a reliable and convenient hiking daypack, the Venture Pal is the perfect choice for you. Just like most products on this list, the pack is highly adjustable to fit snugly on any body type.
Roomy
It offers a colossal 35L capacity that provides sufficient packing space. For easy packing and organization, the daypack has multiple compartments which are secured by sturdy zippers. Additional exterior stash pockets can accommodate snacks and other small accessories.
Water-resistant
This pack is made with premium nylon material that is not only tough against the unforgiving outdoor terrain but also water-resistant.
Exceptional ventilation
The sack is ideal for hot weather conditions due to exemplary ventilation on the back panel and shoulder straps.
In fact, the Venture pal is a reliable modern-day pack that will sufficiently take care of all your hiking needs for a day.
Pros
Lightweight
Easy to load
Water-resistant
Cons
The bottom of the main compartment is not sturdy enough
---
10. The North Face Jester Backpack 
"Best Suitable For Day Hiking And Built To Support You Long Period"
Reliable Pick
Main Features
Crafted from durable fabric
Hydration compatible
Integrated rain cover
Nothing compares to the North Face Jester when it comes to reliable daypacks. Its sleek structures give it a stylish design.
Long-lasting
The bag is crafted from heavy and reinforced fabric that ensures durability. Additionally, it is expertly sewn together so as to accommodate heavy loads without tearing up.
Spacious
Multiple compartments provide sufficient packing space for a day's hike not to mention the fact that it is hydration compatible. Exterior side pockets can store more accessories. Daisy chains and attachment loops are in place to hold lashing gear.
Good cushioning
Carrying heavy loads is pretty easy owing to the thick padding on the back panel and shoulder straps.
Perfect fit
Moving on, the backpack is meant to fit snugly and limit jostling thanks to a strong waist belt and sternum straps.
Integrated rain cover
A rain cover guarantees a worry-free hiking experience in adverse conditions.
In fact, The North Face Jester backpack has a stylish design, impressive functionality, and a pocket-friendly price.
Pros
Good padding
Crafted from durable fabric
Comfy
Cons
Its ventilation is not the best
---
11. Osprey Daylite Daypack
"Best Suitable For Day Hiking And Built To Support You Long Period!"
Reliable Pick
Main Features
Incredible suspension system
Superior breathability
Comparatively Cheap
The Osprey Daylite plus is what you need for your next hiking trip. It is a quality product built to cover all hiking bases. Attributes that make it outstanding include:
Roomy compartments
Its 20-liter capacity offers sufficient space to hold accessories and supplies for a day's hike. Alongside that is a detachable back pocket that can hold a hydration sleeve. Still, the pack has extensive mesh and side pockets that can hold electronics as well as other accessories.
Lightweight design
A frame-less structure ensures that it's light and versatile in terms of usability.
Perfect fit
For a perfect fit, the product comes with adjustable chest and hip straps. The same applies to the torso length. Moving on, the backpack is meant to fit snugly and limit jostling thanks to a strong waist belt and sternum straps.
Extensive cushioning
The shoulder straps and back panel are thick and well-padded to provide that kingly comfort.
Breathable
Hiking in hot weather can be challenging especially when you lack proper gear. Luckily, the Osprey Packs Daylite Plus is highly breathable to allow air to flow around seamlessly. This guarantees minimal sweating.
In fact, The Osprey Daylite Plus is an all-around knapsack perfect for day hikes.
Pros
Superior breathability
Top-notch
Ultra-lightweight
Cons
Its material is not waterproof
---
12. Granite Gear Crown Unisex Hiking Bag
"Suitable For Day Hiking And Support You For Long!"
Reliable Pick
Main Features
Integrated hydration sleeve
Sturdy zippers and buckles
Superb accessibility
This design is a far cry from your ordinary daypacks. It is built with the utmost creativity. Some of its prominent features include:
Five-star comfort
The shoulder harness is wide and thickly cushioned to alleviate pressure. Other than that, it is extremely lightweight for an enjoyable hiking experience.
Accessible compartments
For easy loading and unloading, the pack has a removable lid that opens to a spacious compartment. External pockets on the sides and hip belts provide more packing space. Moreover, it includes sturdy DWR zippers that ensure all pockets are secure.
Ergonomic design
Numerous exterior straps work together to create an unparalleled compression system. The pack's hip belt and shoulder straps are very adjustable to provide a customized fit.  Alongside that comes excellent suspension courtesy of the high adjustability.
Quality material
For reliability and unmatched durability, the daypack is crafted from quality Robic High-tenacity nylon. Nonetheless, pressure points like the bottom of the main compartment are reinforced with firm stitching.
In fact, the Granite Gear Crown2 38L backpack is very lightweight and versatile enough to accommodate loads of different weights for a one-day excursion.
Pros
Sturdy zippers and buckles
Sufficient packing space
Integrated hydration sleeve
Cons
It has a fixed torso length which limits the chances of a perfect fit
---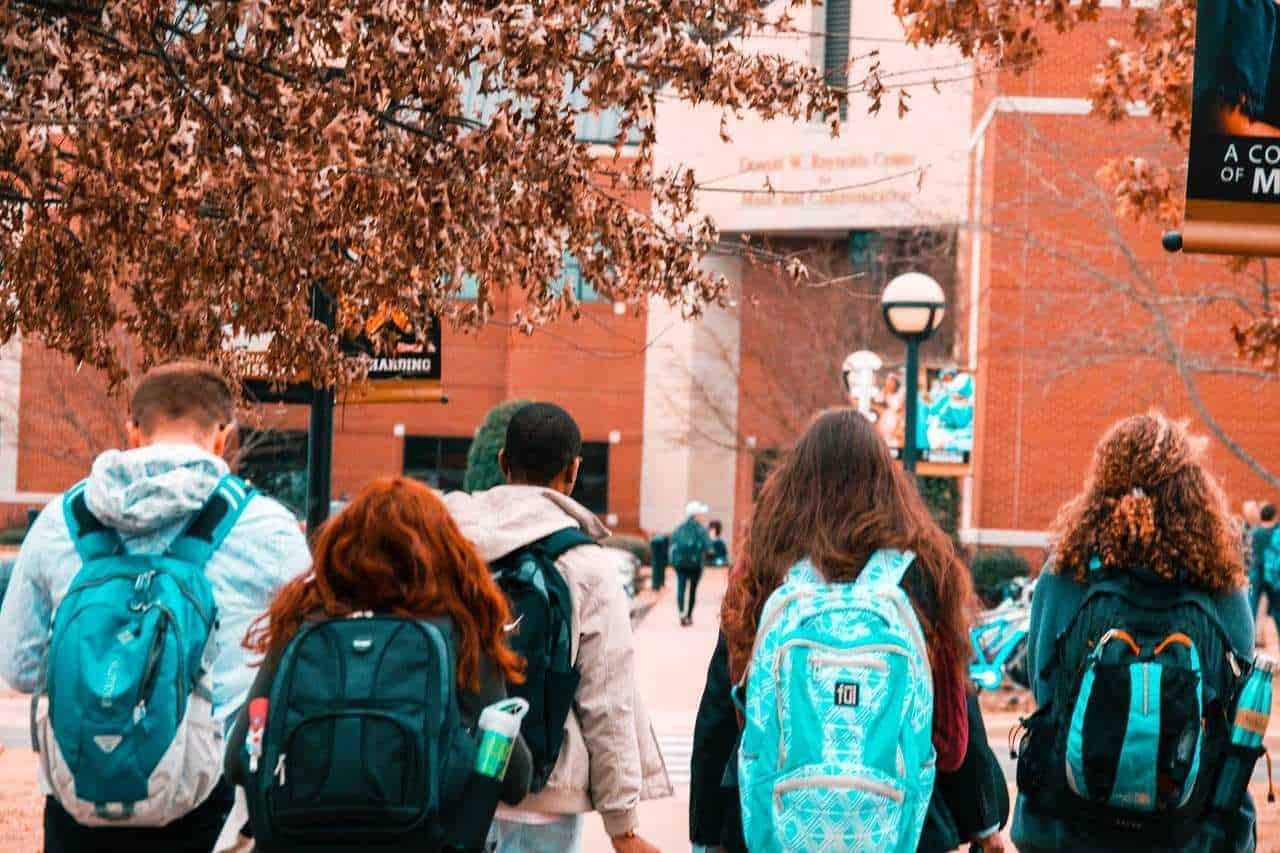 What is a day hike? How long is a day hike?
A day hike involves an outdoor excursion that is not intended to go overnight. The best backpack to use in this scenario is a daypack. It is smaller in capacity owing to the number of necessities or supplies required for a day hike.
What do you need for a day hike? What should I bring on a day hiking trip?
Your safety, comfort, and convenience while outdoors are anchored on the type of gear you bring along. Here are some of the essentials that you should bring on a day hiking trip:
1. Day hiking backpack
2. First Aid kit
3. Multi-purpose tools
4. Water reservoir
5. Extra clothing
6. Backpacking food
7. Hiking sunglasses
1. Day Hiking Backpack
Most of the essential accessories required for a day hike cannot fit in your pockets. It only makes sense to carry a spacious bag which would be a daypack in this case.
2. First Aid kit
Venturing into the jungle comes with lots of uncertainties. The rough and unforgiving outdoor terrain can result in bites, cuts, bruises, blisters, splinters, and so on. You need to have a first aid kit.
3. Multi-purpose tools
Whether you are setting off to a desert, hill, or mountain, you need handy tools that can make it easy for you to maneuver through the hurdles. Trekking poles, axes, and knives are some of the commonly used tools for adventure.
4. Water reservoir
It is crucial to remain hydrated throughout your excursion. You could bank on a water bottle or an inbuilt hydration reservoir for that.
5. Extra clothing  for hiking
You need proper clothing while outdoors depending on the prevailing weather conditions. A light T-shirt would work for a sunny day while a thick moisture-wicking sweater or hiking jacket would be perfect on a cold day. Rain gear is another important piece to carry along too.
6. Backpacking Food
To keep your energy up, you need to have some snacks.
7. Hiking Sunglasses
Sun rays can be dangerous to your eyes. That is why you ought to carry hiking sunglasses whenever you hit the trail.
How do I choose a day hiking backpack?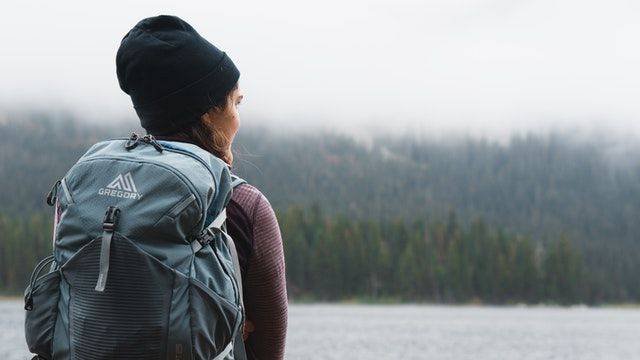 Before making any buying decision look for the following features:
1. Top loading
2. Loading capacity of the pack
3. Lightly padded
4. Price
5. Lightweight
6. Hydration sleeve
7. Additional features
8. Support frames
1. Top loading
Top loading makes daypacks convenient for day hiking when compared to backpacks. It enhances access and makes it easy to organize supplies. Backpacks are bigger. Most of them have bottom or side openings.
2. Loading capacity of the pack
Day hikes do not require as many accessories as those of a multi-day hike. They are compact and smaller in capacity. Most range between 20 to 35 liters in capacity though you can still get daypacks of up to 60 liters. The size of the daypack you need relies on the number of supplies you plan to carry.
3. Lightly padded
Backpacks carry more weight. That might explain why they are often thickly cushioned. On the flip side, daypacks bear smaller loads. This does not demand thicker cushioning on the back panel and shoulder straps. Still, choose a daypack with padding that is comfortable enough for your body.
4. Price
Daypacks are cheaper than backpacks. Therefore, another way to identify a daypack other than size is through the price. Nonetheless, the price can be misleading at times. Look out for quality and the features you desire.
5. Lightweight
Day hikes are meant to be easy and stress-free. Contrary to what backpacks have to offer, daypacks are super lightweight. Choose a daypack that is not only light but also spacious enough to hold your necessities.
6. Hydration sleeve
Adequate hydration is crucial while hiking. You do not have to risk drinking unhealthy water from a pond or river just because you picked the wrong daypack. The ideal sack should have a hydration sleeve, a hydration pack, or a water bottle pocket.
7. Additional features
These features should be geared towards making your time in the jungle easy. Look out for daypacks with a rain cover or sleeping bag compartment. Attachment loops can also be helpful. Safety features like a whistle can be lifesaving.
8. Support frames
This applies to bigger daypacks. More weight demands support frames to keep the sack upright and comfortable. While some frames are made of plastic, others are composed of aluminum to cut on weight.  You need a daypack with sturdy support frames if you need to carry more hiking gear.
What is a good size daypack?
Before selecting any hiking daypack, you should be certain about the length or duration of your impending excursion. Having stated that, the capacity of a daypack should be sufficient to accommodate accessories and supplies for a single day. Small sacks with a capacity of 10 liters or less are ideal for short hikes.
On the other hand, those with a capacity ranging between 35-50 liters can accommodate more supplies such as extra clothing, although they tend to be too bulky. The best size for a daypack is between 15 to 35 liters. Such a capacity will be less bulky and spacious.
Conclusion
Your day hiking should go smoothly with a proper day pack. Be sure to confirm that you have a proper day pack since some might have similar features to ordinary hiking backpacks. The best backpack for day hiking ought to be functional, comfy, and long-lasting.