Just like running, and climbing, hiking is an outdoor sport that requires your eyes to be fully protected. The protection from the sun's glare, falling objects, and other events that could harm your eyes require the best sunglasses for hiking that are up for the game.
Best Hiking Sunglasses For Backpackers In 2022
From cliffs scaling to state park exploring, a professional hiker knows that the difference comes from the right sunglasses choice. Let us go through some of the best picks for you to rely upon.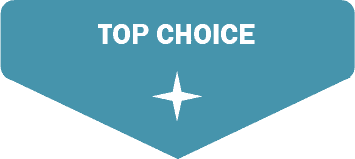 Maui Jim
Peahi Polarized Sunglasses
Julbo
Explorer2 Sunglasses
Maui Jim
Peahi Polarized Sunglasses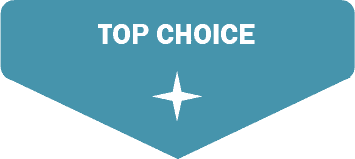 Julbo
Explorer2 Sunglasses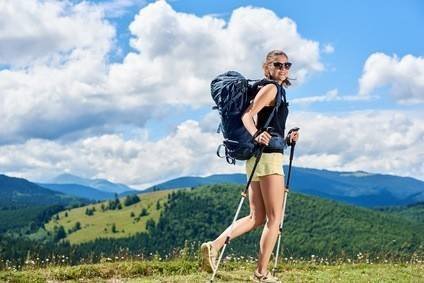 1. Maui Jim Peahi Polarized Sunglasses
"This is an all-around pair ideal for any outdoor activity!"
Premium Pick
Main Features
Crispy clear
Polarized lenses
Comfortable wrap lenses
More durable.
"Your go-to hiking sunglasses!"
The Maui Jim Sunglasses are a darling among hikers and outdoor enthusiasts for several reasons:
100% UV protection
Its lenses are made from quality material that delivers 100% protection from UVB, UVC, and UVA rays. Sufficient Ultraviolet protection curbs eye damage and minimize any health risks in the long run. On top of that, the lenses are effective against High-Energy Visible Radiation in blue light. 
Comfortable
The pair comes with super slim lenses as well as an ultralight frame for an appealing experience. You do not have to worry about headaches or straining your eyes as the model eliminates glare. Lenses are dark for enhanced color. Still, it features adjustable nose pads that give a better fit on medium or large faces.
Rugged design
With this model, you can confidently step into the jungle worry-free thanks to the rugged design. Apart from having a resilient frame, its lenses are impact-resistant and scratch-proof.
Weatherproof
Lenses have a waterproof coating that sheds snow or water. Likewise, they boast of an oleophobic coating meant to repel smudges and grease. Besides, they are not affected by fog either hence offering next to no clarity.
Cons
Designed for large faceUnisex model
The performance and functionality of the Maui Jim Sunglasses will surely surpass your expectations.
---
2. Maui Jim Sunglasses for Women
"Ideal for anyone seeking style and superior sunlight protection!"
Top Choice
Main Features
Classic fit
Stylish
More durable
Super lightweight
"A stylish way to hit the trail!"
The superior UV protection and unmatched comfort are what you get for choosing the women's Maui Jim Sunglasses.
Great frames
Frames are soft and gentle on the face even when worn for a long time. This is attributed to the ultralight nylon material. They are given a fashionable finish for a feminine touch.
Excellent UV protection
The model's unmatched UV filtration capabilities have earned it the Skin Cancer Foundation Seal of Recommendation. As a further matter, its dark lenses, which have the PolarizedPlus2 lens technology, eliminate glare.
Crisp optics
Enjoy glare-free vision from world-class optics. The lenses are thin yet durable not to mention their superb color-enhancing ability.
Tough lenses
Maui Jim Sunglasses are well suited for the outdoor environment owing to their tough lenses. Lenses provide exceptional solvent and scratch resistance. They include a warm tint that is ideal for any light conditions. A neutral grey shade provides sharp contrast and exemplary light reduction.
Cons
Not recommended for light-sensitive eyesWomen specific design
Top-of-the-range pair of sunglasses offered at a reasonable price.
---
3. Julbo Explorer2 Sunglasses
"Best for mountaineering and day-to-day activities such as driving!"
Reliable Pick
Main Features
Long-lasting 
Adjustable for a better fit
Large lenses and great ventilation
Ergonomic design
"The ultimate blend of style and functionality!"
Julbo Explorer 2 Sunglasses are loved for their set of revolutionary features geared towards UV protection and providing an appealing experience in outdoor conditions.
All-round coverage
Harsh sun, glare, wind, and debris should be the least of your worry with the Julbo Explorer 2 Sunglasses. The model boasts detachable side shields that guarantee full protection in unforgiving conditions.
Unparalleled performance
This is courtesy of the curved 6-base ARC lenses which get rid of any distortions for a crystal clear view. Its contrast is increased by coatings on flash lenses. Plus, they wrap around the head better thanks to long adjustable temples.  Temple rubber grips for minimized slippage too.
Quality lens
Julbo's high-performing Camel lens is crafted out of NXT which makes them shatterproof. That is not all, the lens delivers full protection against excess sunlight and UV rays. They are polarized in addition to being photochromic and anti-fog. Intense glare is well taken care of by the lenses.
Cons
An ingenious combination of unique protective features, exquisite quality, and superb functionality make the Julbo Explorer 2 Sunglasses worth every penny. 
---
4. Oakley Men's Shield Sunglasses
"Best suited for running and cycling !"
Reliable Pick
Main Features
Ultralightweight design
Removable lenses
Brilliant field of view
innovative feature set
"Your number one cycling partner!"
This model is a force to reckon with among the top brands due to the following attributes:
Cutting-edge lens technology
It features shock-resistant Plutonite lenses that are 100% effective at filtering deadly UV rays. Similarly, PRIZM lens technology yields heightened contrast and enhanced color. Moving on, it has exceptional optical clarity as a result of Patented High Definition Optics. Going on, a system of interchangeable lenses delivers peerless performance in any environment.
Semi-frameless design
This design results in an ultralight structure that bears all-day protection and comfort.
Pioneering extras
Extras include ear shocks and nose pads that enhance grip in wet conditions. For accurate optical alignment and optimal comfort, it includes the Three-Point fit.
Cons
The small frame that fits tightly on broad faces
A little pricey but worth it if quality and ace outdoor performance are taken into consideration. 
---
5. Smith Optics Parallel Sunglasses
"Recommended for hikers who like a great field of view and good visibility!"
Reliable Pick
Main Features
Secure fit
Frameless design
Ultralight and comfy
Clear visibility
"Reliable UV protection on the go!"
If you are looking for a reliable form of protection against excess sunlight, consider the Smith Optics Parallel Sunglasses. Here is why:
All-day comfort
Its structure incorporates a thin frame that renders a frameless design. The design makes the whole structure very light hence enhancing comfort.
Fits securely
A secure fit is a result of auto-lock hinges. On top of that, you can count on the hydrophilic megol nose and temple pads to secure the pair flawlessly on your face.
Contemporary construction
Its whole structure is performance-oriented with attributes like an interchangeable lens. As if that is not enough, the lenses have a hydrophobic coating for better weather protection. UV protection is unlike no other. Lastly, you can forget about headaches and blurry vision with the 9 Base lens curvature at your disposal.
Tinted lenses
Dark lenses eliminate glare and protect eyes from direct sunlight.
Cons
The nose piece is prone to fogging
You will not regret purchasing the Smith Optics Parallel Sunglasses as they are dependable in any outdoor condition. 
---
6. Peppers Cutthroat Polarized Sunglasses
"Suitable for all outdoor activities!"
Reliable Pick
Main Features
Glare reduction
Good clarity
Stylish and comfortable
Durable
"The versatile outdoor champion!"
The model delivers all you need to keep your eyes safe and comfortable in excess sunlight or adverse weather conditions.
On-point glare elimination
Peppers Cutthroat lenses are uniquely designed to do away with any glare that might arise from water or snow reflections. This is achieved through crystal-embedded filters that absorb any reflected glare.
Polarized filters
These filters work to yield real color perception. In addition to that, the lenses are tinted with a dark color to make them impenetrable to excess sunlight. The dark shade is also phenomenal in UV protection.  
Outdoor oriented features
Rugged design in conjunction with outdoor-oriented features delivers added durability for this pair of hiking shades. Some of the features are a resilient frame. Similar to that is the water-repellant hydrophobic coating on the lenses. Other than that, the lenses are shockproof and anti-scratch.
Cons
Might be too large for certain shapes faces
It is a great buy for anyone looking for a decent pair of shades on a tight budget.
---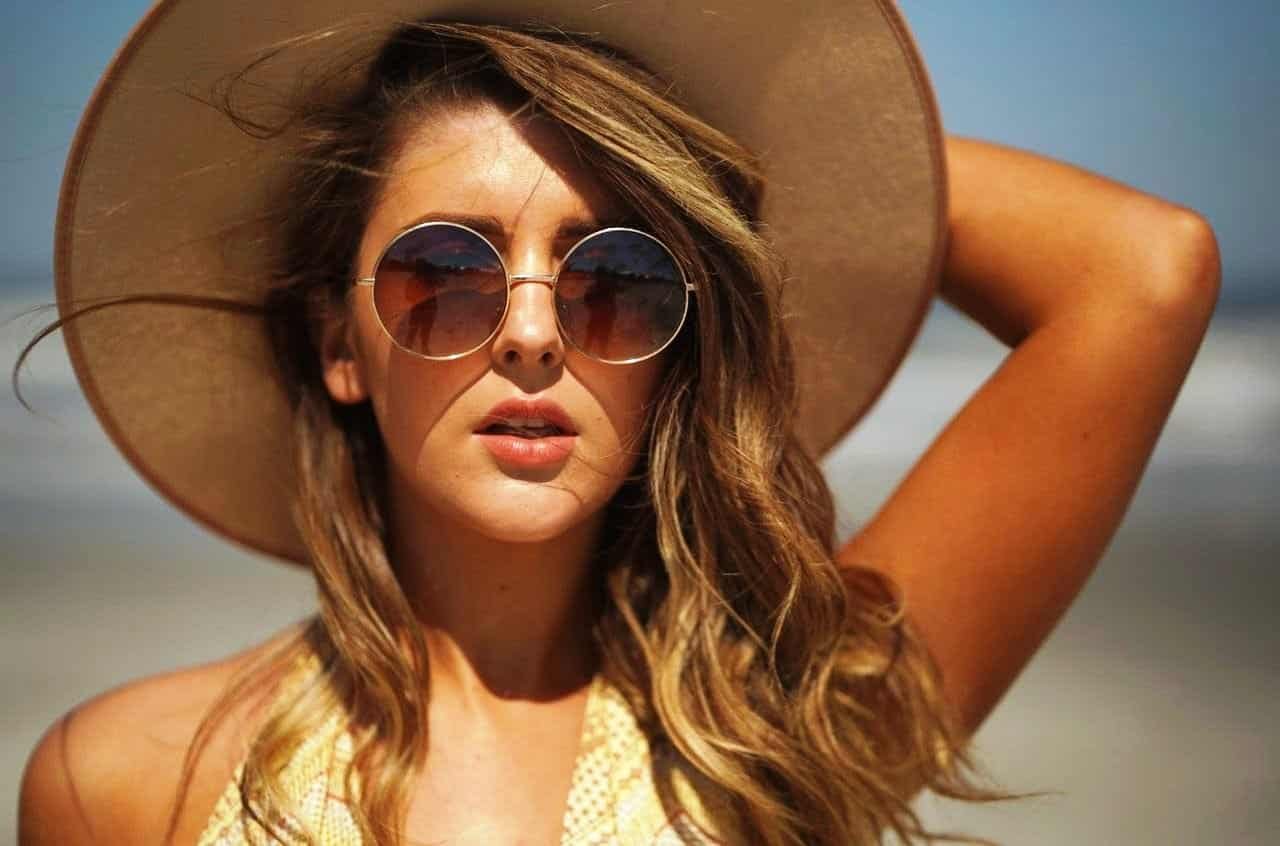 These sunglasses will protect you from anything mother nature waves your way, from debris to tree branches hence keeping your focus on the vital — engulfing yourself in the beautiful scenery like a real hiker is supposed to. A hiker's life is embroiled in safety and hopes of going back home without any injuries or bruises. However, how often do we always care about our eyes? Do you care about having the perfect hiking sunglasses? Well here is the catch.
From ergonomics to frame materials and modern-age lenses, it is very sophisticated when it comes to sunglasses technology! Being a hiker who is tech-savvy here is intrusive research that will guide you as a buyer to get your best hiking sunglasses.
It is a trivial matter when it comes to Choosing the perfect sunglasses pair. Since the eyes are very vulnerable and have a flexible body part, investing in a protective eye device makes a lot of sense.
What are hiking sunglasses?
Informally known as shades, Sunglasses are protective eyewear made mainly to protect the eyes from intense bright light, and any other forms of accidents that could destroy the orbs. Sunglasses can also work as a visual aid spectacle that has colored, darkened or polarized lenses. In the past, these glasses were referred to as sun cheaters which has been an American slang in the past years.
The American Optometric  Association(AOA) has recommended hiking glasses since they help prevent your eyes from ultraviolet radiation more so when you are hiking in the sun. These glasses are also beneficial after eye surgery like LASIK. The lenses have also been used in extremely dusty areas as well as areas commonly attacked by sun dunes and desert winds. The reason for choosing the best material is that most dark glasses that cannot prevent UV radiation are not suitable for the eye. This is because they only enlarge the eyes for more light to pass through.
Why go for sunglasses during hiking?
When it comes to improving your visual clarity and visual comfort, sunglasses are the perfect tools for preventing too much glare from passing through your eyes. These glasses are also used by patients getting eye drops. If you are under any eye medication then going hiking without sunglass is a risky affair. The polarized sunglasses lenses minimize the sun's glare that is mostly reflected on shiny surfaces, like water. The person wearing these glasses can easily look ahead into any object without the fear of reflected light bouncing hard on their eyes. Sunglasses give hikers protection from too much light exposure, including the invisible and visible components.
The glasses are not just used because of their fashionable attribution, but rather it is the epitome of hiking and can't miss in your hiking gear. UV radiation is hazardous to vulnerable eyes. If you don't protect your eyes during hiking, you could suffer from long or short-term ailments like snow blindness, cataracts, photokeratitis, or even eye cancer. So it is essential to carry your hiking sunglasses whenever you go hiking.  Medical experts say that the best hiking sunglasses should almost filter about 99% of the UVB or UV light. To get this type of sunglasses you have to look at the labeling which usually is "UV400". Compared to the EU standard, these glasses offer more eye protection from dangerous radiation. Nonetheless having these hiking glasses on does not mean you can now look directly into the sun.
Things to consider while buying: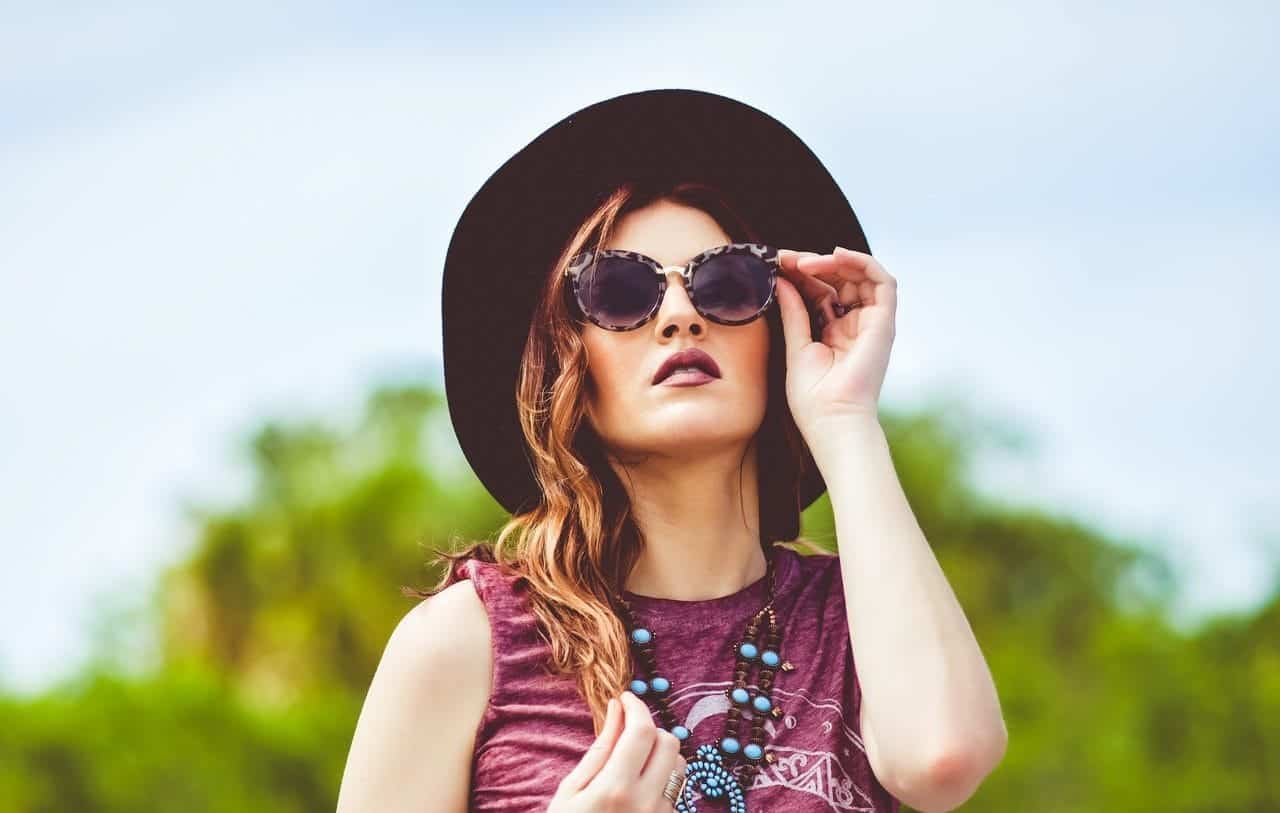 Staying healthy in your eyes while hiking is vital and this can only be achieved by getting the perfect sunglasses. Getting the best glasses for your hiking activity is essential. So here are some of the useful things to look out for in sunglasses.
1. Lightweight Frames
2. Durability is a key factor
3. Comfort is relevant
4. Polarized lenses do the magic
5. The curves are equally important
Lightweight Frames
Lightweight sunglasses are the best, so when settling down for sunglasses, you will need to pick the ones with plastic frames. You wouldn't love the feeling of carrying a heavy thing on your face, and it is very discomforting. When you go hiking, a lot of energy needs to be preserved, and it is tiresome to add something that is heavy more so on a hot hiking day.
Durability is key
Plastic frames have the capability of handling a bit of tear and wear.
This is essential especially should you be embarking on strenuous or long hikes where you possess higher risks of getting your sunglasses damaged.
Squinting when it is hot has never been a good experience for hikers. So having sunglasses that can match your activity level is vital.
Comfort is relevant
When it comes to comfortable sunglasses, then plastic ones are the ones to go for. This is very important when getting yourself sunglasses for a hiking trip. Being distracted while hiking has never been something you can ask for more so when your feet are swollen, and you have irritating glasses on your face too!
Polarized lenses do the magic
Polarized lenses are the best asset for any hiker. An additional green tip when you are selecting the best hiking glasses is to purchase one that possesses polarized lenses. These polarized lenses can shield your eyes from the rocks, sand, and snow glare.
The discomfort caused by the sun's harshness can give strain on your eyes which can cause you a headache during your hike. Your main hiking agenda is to enjoy so get yourself polarized lenses.
When it comes to impact resistance, polarized lenses play a significant role.
The curves are equally important
Your face shape should determine the type of hiking sunglasses you are purchasing. The variety of frames that slightly curve your face is a perfect choice. The curves give protection and comfort to the hiker.
It is also important to say that getting a wraparound type of sunglasses will protect you from the sun's glare on both sides. This will in return give you the comfort and courage to hike without distraction.
Essential Design features of sunglass for hiking
1. Fit
2. Shape
3. Tint
4. Material
Fit
Sunglasses are supposed to fit for them to be attractive or look better. How they provide can also play a significant role in how they will offer protection from the dangerous UV rays while hiking. A perfect-fitting sunglasses are right when they snugly fit onto your face without a struggle or discomfort. Your eye and lens should be aligned at the Centre.  The sunglasses frame should be narrow to protect your eyes from the rays that might pass through the sides.
Shape
When it comes to shape, you can't fail to get one that fits your need because there are many sunglasses shapes available. These include the wayfarer, wraparound, cat eye, and aviator. It is an aesthetic decision for any shape that you select. Always get sunglasses that correspond with your face. However, some occasions require a particular type of sunglasses to protect the eyes from imminent danger.
Tint
The tints of sunglasses work in different ways when it comes to filtering light. Most tinted grey lenses cut the light brightness without messing with the color of the objects. Such glasses are suitable for sightseeing and even driving. Brown and amber reduce glare and blue light. Gradient lenses that fade light and a darker top can be compared to the windshield of your car. These sunglasses can block sunlight without affecting whatever you are seeing.
Material
Plastic is the most commonly used material to make sunglasses more so the lenses. Nonetheless, it is important to note which type of plastic the sunglasses are made of. The kind of plastic determines durability, strength, and how heavy or light the sunglasses are. When a sunglass is made of heavy plastic, it is most likely to withstand tension and may not break during an aggressive hiking moment. It is not safe for the eyes when sunglasses shutter; the outcome can be drastic.
Description of different parts of hiking sunglasses
If you are an outdoor person, then you would be aware of the dangers you expose your eyes to the bright light from the sun. Sunglasses aren't just about the dangerous rays, but they protect your eyes from the everyday eminent dangers that could harm your eyes.
Pad Arm
The arm pad is found at the nose pad, and it is crucial when it comes to adjustments to fit well on your face.
Nose pad
At the bridge of the sunglasses, there is a nose pad under it. It is a somewhat dull plastic object that is used to position the sunglasses onto your face. It gives comfort and a tight fit on the front of the wearer.
Lenses
These glass material objects act as the visual point of the wearer. They are not only glass-made but also polycarbonate material and plastic. Some lenses can be incorporated with materials that can protect your eyes from dangerous rays.
Top Bar
At the lenses, there is a high bar that gives the glasses extra support. However, some lenses don't come with the top bar.
End Piece
This frame is found at the end of the lenses connecting the lenses to the temples.
Screw
It is a small fastener metal that is at the hinge and joins the frames to the temples. They also assist in tightening or holding the nose pad firmly.
The pros and cons of hiking glasses
The pros
Reasonable price and high quality
Ears and nose grips made of rubber
With warranty
The resistant impact is high
Excellent lens technology
Very comfortable
Suitable for snow and mountaineering
Anti-fog and shock resistance technology
Side shields are removable
Cons
Not advisable for extreme sports
Invisible lenses in situations of low light
Obstruction of vision by the frame edge
Final verdict
Taking care of your eyes is the most viable thing any hiker can do. It not only helps protect your eyes but also gives you a lot of chances for more hikes to come. An injury to the eye can be very devastating and should be avoided at all costs since our eyes are the most vital body part. You should also remember that despite their names being sunglasses they are only of use on sunny days. No, that is not the case. They are essential every day as long as you have hit the trail. Whether the day is clear or cloudy sun rays can always penetrate through even on a rainy day. Reflection and glare are very disturbing. It is therefore essential to have your sunglasses intact. Do have a beautiful hiking time and remember your sunglasses everywhere.
FAQs
Check out more FAQs below:
What are the best-rated sunglasses?
Some of the best-rated sunglasses include Oakley Radarlock Path, Julbo Shield, Peppers Cutthroat, Duduma Tr90, and Maui Jim Haleakala. 
What color lens is the best for sunglasses?
Sunglasses meant for outdoor activities ought to incorporate dark colors such as green, gray, and brown. These types of shades minimize eye strain in bright light. They cut down on glare levels too.
What are Category 3 sunglasses?
Sunglass lenses are available in different categories depending on how effective they are at UV protection, clarity, and glare reduction. They get better as you ascend from category one onwards.
Category 3 sunglasses offer an elevated level of UV protection as well as a substantial reduction in sun glare levels as compared to lower categories.
Which is better polarized or UV protection?
Polarized glasses do not come with full UV protection. Nonetheless, they eliminate the glare in addition to providing heightened image clarity. On the flip side, UV protection is 100% effective in protecting the eyes from harmful UV rays. Therefore, Polarized glasses are more of a luxury while UV sunglasses are a necessity.  
How can I tell if my sunglasses are UV protected?
A good number of sunglasses with UV protection include a label indicating this feature. Aside from the label, you should ensure that the pair has polycarbonate lenses.
The best way to test the authenticity of your UV sunglasses is with the help of a UV flashlight and a credit card. With the help of a UV flashlight beam, you should be able to discern the watermark letters on a credit card. If the same does not happen when you cast the beam through your UV sunglasses then it is 100% effective against UV rays. However, in the event that watermark letters are still visible when you cast the light through UV sunglasses then your pair is fake.  
Do cheap sunglasses offer UV protection?
A great pair of sunglasses is supposed to offer sufficient UV protection whether cheap or not. This is a requirement that must be met by all sunglass manufacturers according to international law.
Normally, the only limitation present in cheap sunglasses, mostly under the $40 mark, is the quality of the lenses. A good number of cheap glasses have distorted lenses. Distorted lenses cause eye strain and headaches.
Are Oakley sunglasses 100 UV protection?
You can count on the Oakley sunglasses to keep your eyes safe in the face of the deadly UV radiation rays. The lens material is not only scratch resistant but also sturdy enough to block high-energy blue light, UVC, UVB, and UVA with 100% efficiency.
How can I tell if my Ray-Ban sunglasses are real?
Original Ray-Ban sunglasses are very unique in their appearance. First, they incorporate the initials "RB" which are etched on the far left side of the left lens.
Other than that, the top corner of the other side has "Ray-Ban" written in white. Fake models have painted or poor-quality etching.