Gregory packs are known to produce world-class backpacks. The Gregory 75 hiking backpack is not exceptional. It lives up to the standards of a premium hiking pack with its top-notch quality, unmatched durability, and impeccable performance. All this is attributed to several key features. Besides an innovative design, Gregory Baltoro 75 boasts exceptional comfort and an ergonomic fit. The ergonomic fit is possible thanks to interchangeable shoulder straps and hip belts that make torso length adjustable.
Gregory Baltoro 75 Backpack
"Best Suitable For Back-country Adventures!"
Reliable Pick
Main Features
Superior suspension system with floating top lid
Highly durable with awesome lower back support
Easy gear organization and Best load management.
Of course, this 75-liter model is spacious enough for a multiple-day hiking trip. Also, a larger packing space makes it easy for one to organize stuff while its top-loading improves accessibility. Moreover, its structure is fortified by an aluminum frame for support. These among other convenience-boosting attributes make the pack ideal for backpacking, camping, hiking, and traveling. It is the number one hiking gear perfect for both men and women.
The unique latest renovation of the A3 suspension system makes this backpack a balanced and comfortable backpack in the backpacking industry. In fact, the A3 suspension system or Automatic Angle Adjust system makes this backpack more comfortable.
In fact, this system maintains a balanced load-carrying feature in any shifting terrain and situations. The A3 suspension feature is the reason these backpacks remain lightest, most comfortable, and time-tested throughout 40 years of their induction.
This is a costly backpack from Gregory Mountain Products. No doubt, this hiking backpack has become the most popular backpack due to its high performance and gear organization capacity.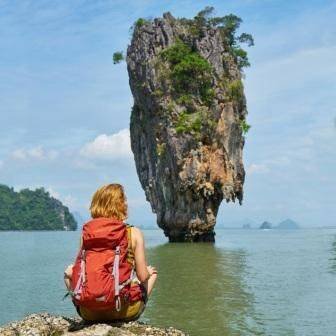 Moreover, it has a heavier load-carrying capacity with comfort and superior quality. On the other hand, Gregory Mountain produces very attractive and comfortable lightweight backpacks available in the market. But Gregory Baltoro's pack is for long hikers, who intend to carry more hiking gear.
Normally, this model comes in three attractive colors. One can choose according to their wish from these: Navy Blue, Shadow Black, and Spark Red. The color designs are very attractive.
It comes in two different sizes to fit different torso lengths: small and large. Though it comes in three different sizes, it offers interchangeable shoulder straps and hip belts for in-between sizes. Actually, these interchangeable hip belts and shoulder straps will help you to maintain the correct fit as per your torso length.
Awesome features :
This hiking backpack is a remarkable hiking backpack loaded with superb specs to enhance your hiking experience. Although a little expensive, the model is worth every penny.
It has won a number of awards and is yet to win so many in the future. This backpack is presenting a tremendous outstanding performance during any hiking or mountaineering. In the meantime, it has won Backpacker Magazine's Editor's Choice Gold Award in 2015 and Outside Magazine's Gear of the Year Award. It has got lot many features that make this backpack one of the best backpacking backpacks. In addition to the above facts, some remarkable features are listed below:-
A 3 Suspension System :
This improved A3 suspension system carries better and more comfortably than its predecessor backpack. The main feature of the suspension system is both the hipbelt and the shoulder straps. First of all, the hipbelt and the shoulder straps can be adjusted automatically to enable load distribution according to the natural movement of the carrier.
Actually, it ensures load distribution in any difficult terrain and with heavier loads. In addition to that, both the hip belt and shoulder straps are thickly padded to provide more comfort during long hauling. Both the hipbelts can move independently to shift the load exactly to the hip.
Weather shield Hipbelt Pocket:
The hipbelt is provided with two pockets. In case the weather goes rainy, the weather shield hip belt pocket protects digital devices like smartphones, hiking watches, GPS, etc. with you during hiking.  As a matter of fact, the hip belt pockets are TPU-coated and weather shielded. In addition to that, the hip pocket with a heavy-duty zipper will make sure your electronics will not be affected in case of weather going down south.
Lumbar Tune :
The removable lumbar pad is providing a perfect fit in the lumbar region. It has got lumbar support. As a matter of fact, this support is adjustable according to the customer's preference and comfort. In addition, this foam inserts into the back panel for adjusting the lumbar support according to the lower back curvature of the backpacker providing the best load management. The lumbar backing is removable. As a matter of fact, which makes the backpack to be fit for a more extensive range of customers.
One of the main motivations that people love this pack is that a most superior lower back support is available. The lumbar backing is the most generous in everybody's experience. When we utilized the lumbar cushion, it felt like a great Gregory backpack; once we took it out, the level of lumbar bolster felt like the greater part of alternate packs out there.
U-Zip Access :
The U-shaped panel zip opens up fully to access the main compartment very quickly. Without opening the top lid you can access the main compartment store easily.
The drag handle is provided at the top of the backpack. It has got a detachable top lid with two compartments accessible with zippers. Both side of the backpack it is provided with two tubular pockets very large enough to accommodate dress, food, water bottles, etc.
An angle mesh pocket is provided at the bottom side of the tubular pocket to carry a small water bottle. This is a unique feature. The sleeping bag compartment is separated from the main compartment. Furthermore, compression straps are provided at the bottom side and both sides of the backpack to properly hold and stabilize the packed load.
In short, the bag is perfect if you are willing to spend money on it, it can be coined as "you get what you pay for".
Pros
Award-winning Suspension System
Detachable Top Lid
Easy Access
Superior Quality
Integrated Rain Cover
Cons
Expensive
Hipbelt pocket small
The Final Verdict
Gregory Mountain Products is a leading manufacturer and designer of hiking gear for the past 40 years. In the meantime, from 2014 onward Gregory Mountain Products is a subsidiary of US company Samsonite LLC. This Gregory hiking backpack is having the best carrying system you can find in the backpack market.
As a matter of fact, this is among the best backpack for multi-day hiking. Ultimately, this is giving an adjusted and unfaltering hiking experience. It incorporates a lumbar tune that can adjust the hips, shoulders, and midsection to splendidly fit your body. In addition, you can even swap out the hip belt with different models for an unrivaled fit.
This hiking backpack will give you the best backpacking comfort, style, and support. Meanwhile, you are on a trekking or hiking expedition.  Finally, it will provide you with self-confidence and great gear organization on your next trip.
FAQs :
Let us check out more FAQs on this awesome pack as well as the Gregory brand and backpacks in general.
Are Gregory backpacks waterproof?
Water resistance for Gregory's backpacks is anchored on the model. Some are completely waterproof like the Gregory Stout 30 backpack. On the flip side, the Baltoro 75 model and a few others are not water-resistant although they come with excellent weather protection features. This includes a fully water-resistant rain cover as well as a hip belt pocket that is coated with a water shield for electronics.
Are Gregory packs made in the USA?
Gregory packs are exclusively designed and handcrafted at the Gregory Mountain Products headquarter based in Salt Lake City, USA.
Who owns Gregory Backpacks?
Gregory Mountain Products, which produces Gregory packs was started in 1977 by Wayne Gregory. The original location of the company was in San Diego, California. Currently, the company is a subsidiary of Samsonite LLC, a US company.
How do you clean a Gregory backpack?
To begin with, the exterior of a Gregory backpack should be cleaned with a dumb sponge and mild soap. Solvents and detergents should be avoided as they ruin the fabric and protective coating. The same applies to washing machines. If you have to scrub the fabric, it should be done with a small-bristled nylon brush. Drying is essential before storage and it ought to be done by laying it out in the open. Driers have the same effect as detergents and washing machines.
How do you know if a backpack fits?
The first step to learning if a backpack fits is to try it on. Its torso length has to be in harmony with yours for a perfect fit and to avoid sagging. Other than that, you should try buckling its hip belt if it has one. It should rest about an inch over your hip bone.
Thereafter, it is crucial to check on the shoulder straps. They ought to complement your natural shape by forming contours and staying put on the shoulders as well. Lastly, you will need to try out the sternum strap. In order to keep the shoulder straps in position, the sternum strap has to lock at heart height.
How do you pack a Gregory backpack?
The Gregory backpack features the trail smart packing system which makes loading fast and stress-free. It separates the backpack into three sections namely; on-the-go, trail, and camp. On-the-go compartment incorporates hip pockets and side pockets that accommodate all items you require frequently such as snacks and water bottles.
The trail section is for items that you will not require immediately but will come in handy later like rain jackets. Lastly, the camp hosts the heaviest gear like your food stash, water reservoir, and sleeping bag.
How do you deodorize a backpack without washing it?
You can spray a mixture of vodka and water on the bag's fabric where it is most affected. Vodka is known to eliminate bad odors and kill bacteria. Another solution would be to spray the pack inside out with vinegar inside out, then air dries it. Lastly, you can simply spread it out in the open and let fresh air do the magic.
Can I put a backpack in the dryer?
You can put a backpack in the dryer if it is entirely made of cotton. Nonetheless, it is inadvisable to put a backpack in a dryer owing to the damage that might be incurred if done inappropriately.
The inner surface of most backpacks is composed of metal frames, protective coating, and insulation material. Such materials are prone to shrinking, warping, or melting under extreme temperatures. The best option is to dry it naturally.
Can you put a backpack in the washer and dryer?
It is possible to put a backpack in the washer and dryer. However, it is imperative to stick to the manufacturer's instructions. First, you should ensure that all its contents are emptied. This includes the metal frame if your package includes one. After that, you can turn it inside out or wrap it in a laundry bag to prevent any damage.
What is the difference between a rucksack and a backpack?
The two are quite similar when it comes to design. The difference between the two lies in size. While a rucksack is mid-sized and ideal for multi-day hiking trips, backpacks are larger which makes them excellent for longer outdoor excursions.
Where should a backpack sit on your back?
A backpack should sit on the back such that its center of gravity is as close to the body as possible. To add to that, the center of gravity has to be shoulder high – over your own center of gravity – in order to prevent the pack from leaning backward. It should be positioned on the strongest muscles on the back's midsection.