Buying a backpack like Teton Sports Scout 3400 is just more than buying one that looks authentic. You have to put considerations like what you will use the backpack for, its design, comfort as well as the amount of hiking gear you'll need.
Since Hiking is a tiresome sport. Thus you'll have to carry a hiking backpack that well suits you making you enjoy the hike without causing bruises and injuries to your shoulders. Even though there are three backpack basic styles, there are differences in each category.
TETON Sports Scout 3400
"Best Suitable as Compared to Quality with Price!"
Reliable Pick
Main Features
Lightweight design and comfortable
Best gear organization with multiple access points
Adjustable harness with adjustable torso length
Capacity: 55 L, Lightweight: 4.5 lbs( kg).
In short, this is perfect for the money spent on it, it can be coined as "you get what you pay for". Happy hiking!!!
From price, size, stability, brand, utility, and durability there are several products on the market. But none matches this design from Teton. This is just one of the most significant works by Teton Sports, US.
Actually, what makes it outstanding and fabulous from the other kind of packs is its versatility, size, and affordability. A lot of hikers find this gear an excellent starter for newbie hikers and an impressive partner for professional hikers too.
Why you should choose this backpack?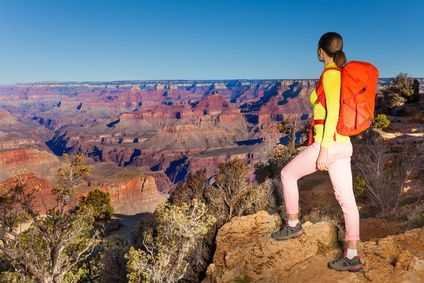 So what is this Teton pack that everyone is talking about? If you aren't aware of this pack, it is a backpack made by Teton Sports ideal for trips for as long as you want. It comes in four appealing colors. The available colors are Black, Mecca Orange, Coyote Tan, and Hunter green.
It is made of polyester that is rugged with canvas shells. This proudly boasts adjustable shoulder straps that are thick padded, foam lumbar pad, molded channels that maximize airflow and comfort, and adjustable fit in the torso and waist. This possesses an integrated rainfly, strategic packing compartments, multiple pockets and not to forget a roomy sleeping bag compartment. If you happen to see the backpack, grab it very first!
Why go for Teton Scout 3400 for hiking?
This pack is incredibly lightweight gear. It will provide you with a sparkling idea of the things backpacks can do without burning available resources up.  The material choice and general quality are excellent. Thus giving implies that you'll get considerable utilization before the backpack gives out on you.
With the intention of meeting your requirements at pocket-friendly costs, the TETON pack gets adaptable attempting to address your issues at hand during hiking.
The backpack has several features cushioning advantageous for happy trekking. Moreover, considerable space is provided on the outside so that all you need is well stored. An appealing selling point of this product is its yellow rainfly. It is shrouded and concealed, and it's invisible till the rainy season. That way your gear has good coverage keeping the apparatus dry when the season is wet.
It weighs 4.5 lbs (2 kg), providing a capacity of 55 liters and 3400 cubic inches. It also features adjustable torso length, that's adjustable from 15 inches to 19.5 inches.
Things to consider while buying:
HOW BIG?
The capacity you require in a bag is dependent on the gear you have to carry. Other packs are lightweight reasonably but they take 30 to 40 lbs.
For gear-intensive multi-day trips such as mountaineering, look at 70 liters or more extensive. Bigger packs built for heavier loads have a more substantial suspension and more features — thus, they are typically heavier.
Should you need to do ultralight backpacking, perhaps for long-distance hikes, it is likely that you will need a backpack that is about 46 to 50 liters and one which does not weigh more than 2 lbs when it is empty. No doubt, this means it possesses minimalist features. This backpack style demands compact, lightweight gear that may be costlier.
PRICE
What can you get for additional cash? Simply put, in unison with every backpack, it is usually a design as well as an intensive dialed-in fit that results in extra comfort. Okay, what I am saying here is that get something you really can afford though when you're able it is better to spend on more performance, durability, and comfort.
YOUR FLAVOR
The backpacks come in various shapes, opening styles, designs, pockets, and other features. Why should settle for a backpack which meets none of your requirements?
THE PERFECT FIT
You are growing so go for packs that have adjustable suspensions which adapt well to one's body. Making a pack fit well is substantial for your comfort and what that implies is that you should know the length of your torso.
How to measure the torso for a backpack?
If you do not have any idea here is how you can measure its length:
Stand upright. Put your hands on the top hipbone part that looks shelf-like. The thumbs are going to point to a lower spine spot. Request somebody to extend a tape measure from the thumbs to the protruding bone from the neck's base when you're forward tilting your head. Now that is the length of your torso.
Now if the length of your torso falls at the bottom or top end of the fit range of a pack, then neither the larger nor smaller size is not for you. A suitable hiking backpack is when the torso length of a person falls at the center of the fit range of a backpack. However, if you still need that pack attempt both sizes.
Features:
Coming from a United States company, this product is lightweight, low cost, and comes with features you'll appreciate having when you go hiking. It has a lot of pockets, mesh lumbar support, and bendable aluminum stays. Other features that make selling points for this are as below:-
Adjustable Torso Shoulder Straps:
The adjustable torso length makes it possible for the Teton backpack to be compatible with several various body sizes. It does not matter if your back is slender or well-built, it's definitely for you. Hand in hand with the adjustable Velcro comes to the adjustable shoulder straps. When you remove the Velcro, it will be easy to have the harness shifted in accord with the length of your torso.
Actually, it's a one-time process, what else can be more interesting? You are even guaranteed more comfort with the shoulder straps that are well-padded. Besides, it has several side pockets as well as other zippered side pockets to keep essentials; the front mesh may be used to carry maps.
Compression Straps:
The backpack provides duo compression straps which are used for compressing the loads to ease the hike and make it more comfortable.  Apart from the bungee cord which is used to compress load, there are other two compression straps at the bottom that you can use to attach your camping tent, sleeping bag, or sleeping pad. A backpack that assures you of total comfort is your hiking savior.
Accessibility to the main compartment
It is a top-loading pack having an entrance to the main compartment under the top lid. The top collar offers you about some extra volume of 3 to 5 liters if need be. For this purpose, you will find two drawstrings having clips. One is for the normal load while the other one is for when the collar is extended upwards.
The lid contains a zippered pocket which is accessible from the inside after you have the lid lifted.  At the top of the lid, you will get an essential compression bungee mesh for putting a fleece, hiking jacket, or anything it is similar to such. That is not all; there is another external zippered pocket at the lid. Authentic features indeed.
In the main compartment, you possess a water bladder sleeve for 3 water–liters. One water hose opening is at the back.
Padded hip belt:
On hipbelt, you are provided with very thick padding for comfort additionally during the haul. This hipbelt is adjustable, and it is possible to fit it well to your body during hiking. The padding ensures maximum airflow. It is possible to hang walking poles or ice ax on attachment loops that are provided by the hipbelt at the bottom.
Hydration reservoir 
The backpack has a water reservoir that you can use to steal quick sips of water without having to stop to get a water bottle out.
Different pockets and compartments:
At the top lid, there are two small separated compartments. Under the top lid is the main compartment which is reachable from the top and bottom. Two barrel-lock drawstrings close the main compartment. In the main compartment, you are provided with a hydration pocket. One of the two drawstrings is used for the standard load while the other one when the collar is extended.
In addition, It's offered with a sleeping bag compartment found at the bottom side of a backpack. Opening it with a front zipper is possible. To keep the rainfly which is water-resistant when it is not in use, a separate compartment that has zippered pocket is available.  The mesh pocket on every side is given to carry water bottles. The enormous zippered pockets on every side can carry several gears without necessarily taking up central compartment space.
Integrated Rainfly:
It's given with an inbuilt yellow rainfly to cover the whole backpack during a rainy day when you are hiking. It may be used when the season is wet. Folding it back is possible to the compartment's bottom which is meant for that purpose.
Pack sides and a front face
The clips of the lid go frontwards of the backpack. Again here there is a compression bungee mesh for storing things when you're on the go.
Furthermore, farther below there is another mesh pocket that is quite small perhaps for holding items such as maps. At the bottom, you'll find a zippered entrance to the compartment.  In between the compartment is a divider that is zippered thus you open it when you need it. This gives you a larger compartment. Two compression straps on top of the bottom compartment can be used for attaching a sleeping bag or sleeping pad.
Pros
It is comfortable
High quality for the price
Perfect for the younger generation
Cons
Few zipper complaints
Suitable for lightweight backpacking
The Final Verdict
In enumeration, the Scout 3400 is just a perfect companion for hiking. Designed with an intention of lightweight backpacking, it is ideal for the younger generation. It is very impeccable looking, popular and too comfortable that you will be taken aback by its cost. As a matter of fact, with its jaw-dropping features, this is one of the best backpacking backpacks among campers and hikers. What are you waiting for, grab yours today!
FAQs :
Are Teton backpacks any good?
These backpacks are good because they are made using quality material. They tend to be big and bulky. Nonetheless, they last longer giving you more service.
Where are Teton Backpacks made?
Teton backpacks are made in the USA, specifically in Utah. That is why they are popular among many Americans.
How do you adjust a Teton backpack?
The backpack has adjustable straps that you pull or let out to properly adjust it.