If you're looking for a great camping experience, California offers a variety of options. This beautiful state has something for everyone, from the rugged coastline of the north to the dramatic desert landscapes of the south. In this roundup, we'll discuss five great places to camp in California. Get ready to pack your tent for some outdoor fun!
Yosemite
Yosemite is a legendary National Park, and it's one of the most popular camping destinations in California with over 13 campgrounds and over 1,400 campsites. Many of the best campsites get booked up quickly, so you may want to make a reservation well in advance if you plan on camping here. One of the most popular camping spots at Yosemite is Upper Pines Campground, which is located near Yosemite Valley.
You'll have quite the primitive luxury at this campground. There's everything from flush toilets, potable water, cellphone reception, and food storage lockers. You can also set up your own wood fire. Just make sure to bring plenty of firewood with you. There aren't any showers, but overall the campground is a great place to explore all that Yosemite has to offer without bringing along too much technology. With many food and grocery stores nearby, you'll be able to stock up on everything you want or need for your camping trip.
Upper Pines has an elevation of 4,000 feet, so it is not particularly difficult for those who are not used to the altitude.  That makes it a good base area for your day excursions further up the mountains.
Hiking in the area is excellent. You can find countless different trails that are perfect for hiking, biking, and horseback riding. hikes are pet-friendly, which is important as more and more people want to hike with their dogs these days. Be sure to plan your gear, including having versatile footwear (like a pair of lightweight hiking shoes).  You need to be ready for anything on these trails, which makes versatile gear very important.
The rivers are beautiful, and with access to Vernon Falls and Mirror Lake, you won't be able to resist spending quality time in the water. Feel free to spend the whole day swimming, fishing, or kayaking. Carry a map with you as you explore, as there are many different routes you can take so it's easy to get lost. There's also a playground, amphitheater, and ranger-led programs available for all ages. Park rangers are always standing around so that you can get any information about the area you might need.
Redwoods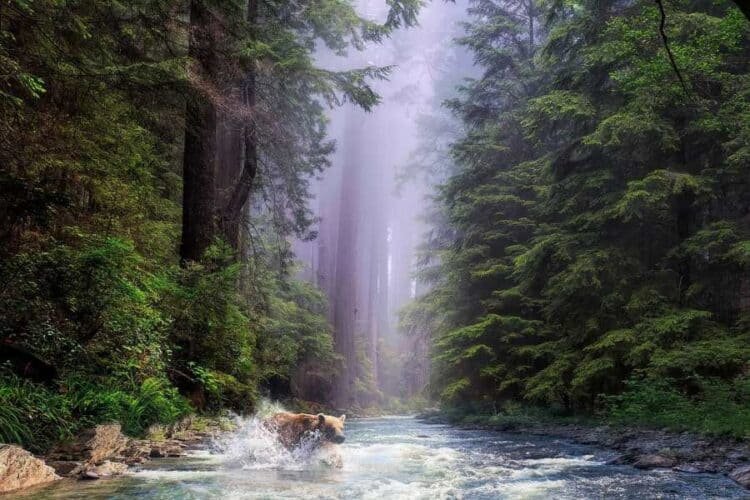 Redwoods is another National Park located further North in Northern California, and it's home to the world's tallest trees. Camping here is an unforgettable experience, and you'll have plenty of options to choose from the four developed campgrounds–Jedediah Smith, Mill Creek, Elk Prairie, and Gold Bluffs Beach. If you've never been to Redwoods, we recommend staying at one of the 26 campsites at Gold Bluffs Beach Campground that are open all year long.
The best part about Gold Bluffs is that it's right on the beach, hence the name. Fern Canyon is also just next door! With stunning views of the ocean, this is a perfect place to relax and enjoy nature. The campsite is nestled among the trees, giving you plenty of privacy. You'll find wildlife all around you, from deer, elks, foxes, and raccoons. There are also many birds in the area, so keep your eyes peeled for some feathered friends.
There's a tiny building with flush toilets and showers. You can take a free shower, but you'll find it to be a little cold as there is no gas or electricity in the area. Water stations are around, but you can head to one of the nearby towns to stock up on supplies. There are also many hiking trails in the area that you can explore during the day and spend time near the beach at night. The rangers are very strict on cleaning up after yourself, so make sure to pack out everything you bring in.
One of the great things about camping at Gold Bluffs is that there are plenty of activities to keep you busy. From hiking and biking to fishing, there's something for everyone to enjoy. There are also plenty of exciting activities for kids and adults alike to partake in. The best time to camp here is during the summer, as the weather is perfect for spending time outdoors. Winters are cold and can get fairly windy, so dress and pack accordingly.
Tahoe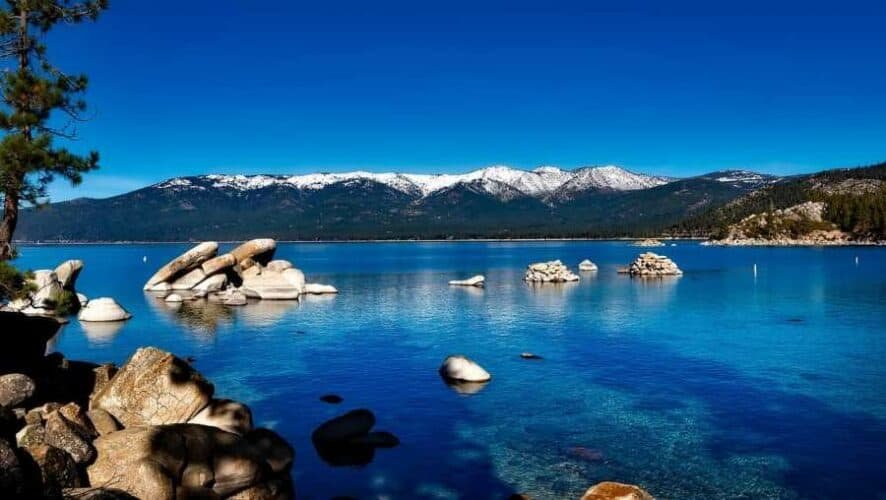 Tahoe is a National Forest located in the Sierra Nevada Mountains and is one of the most popular camping destinations in California. With over 850,000 acres of land, you'll undoubtedly find the perfect spot to call your own. There are many campgrounds around the forest and Lake Tahoe, so you'll have plenty of options to choose from. If you're looking to camp closer to the water, then pick somewhere near the lake. Of course, there are smaller bodies of water near the National Forest, such as Meadow Lake Campground. Nonetheless, the campground we're recommending is North Fork, which is a crowd favorite.
North Fork is heavily shaded by cedar, pine, and fir trees. The campsites are also more spread out than other campgrounds, so you're given more privacy compared to other campgrounds. There's a creek that runs through the middle of the campground, which is perfect for cooling off on a hot day. Alternatively, you can jump into the infamous swimming hole that's located right at the end of the campground. When water levels are safe, you can go tubing, water skiing, and boating down the river.
The campsites also have fire pits and picnic tables, allowing you to cook and eat your meals outdoors. People love fishing and cooling off in the nearby river, but you can also explore the many hiking trails in the area. During the fall, there's an abundance of berries you can pick and eat, so keep your eyes peeled for some tasty treats. North Fork is absolutely scenic.
Whether you're spending time at the Little Grass Valley Recreation Area, taking a drive through Indian Valley, or hiking in the Bucks Lake Wilderness, you'll adore your time here. The best time to camp at North Fork is during the summer, especially since there are running showers to clean yourself off with. There are also vault toilets around the campground, so you don't have to worry about doing your business in the woods. Pets are allowed as long as they're on a leash and attended to.
Big Sur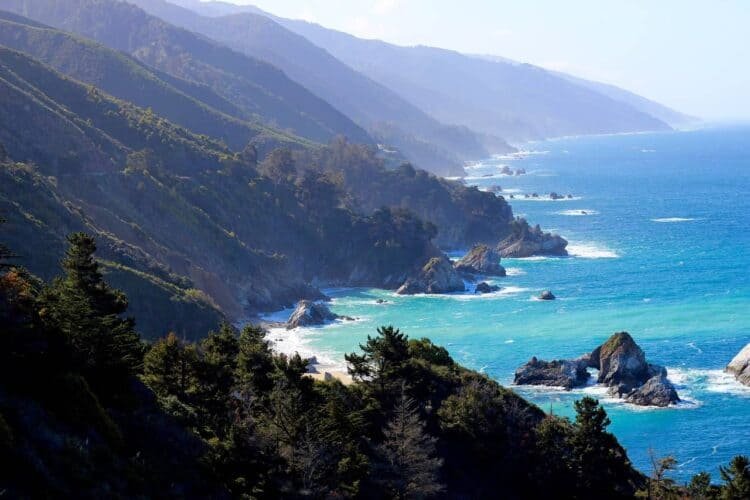 Big Sur is a renowned camping destination for good reason. The scenery is incredible, with redwoods towering over you and the ocean right at your fingertips. There are many campgrounds around, but if you've never been here, try staying at Pfeiffer Big Sur Campground–a more glamping style of camping with a lodge, restaurant, cafe, and bar nearby.
The campground is located in Pfeiffer Big Sur State Park and is the most popular campground in the area. The campsites are well-maintained and there are plenty of amenities to keep you comfortable. There are running water and flush toilets, as well as picnic tables and fire pits. Some sites may not have faucets, so it's a good idea to pack extra water just in case. You can also rent out cabins if you're looking for something a little more comfortable.
Pfeiffer Big Sur Campground is located right next to the Big Sur River, which is perfect if you want to go fishing or swimming. There are also many hiking trails in the area, so you can explore the surrounding scenery. Some of the sites are very shaded while others might not. Depending on your preferences, you can pick and choose which site you want to stay at.
The best time to camp here is during the spring or fall, as the weather is mild and there are fewer crowds. Camping at night can get very cold, so pack some extra blankets just in case. You're also likely to see some wildlife around, so keep your eyes open and your camera ready. For camping in comfort, Pfeiffer Big Sur Campground is the best place to be.
Southern California Options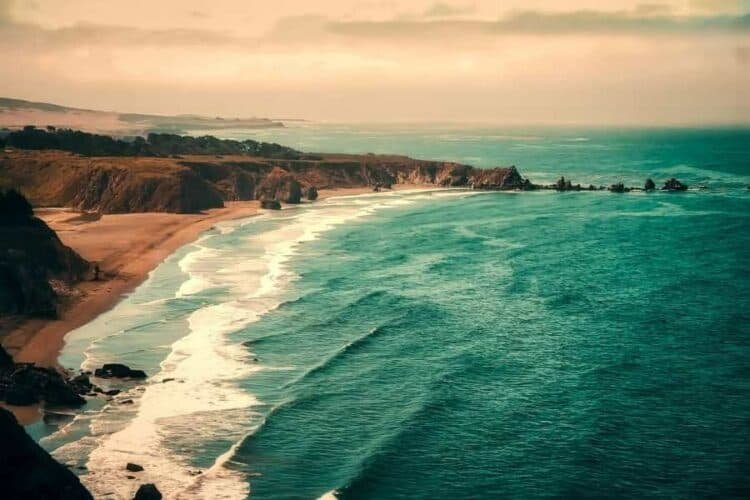 We have not even talked about the Southern third of California yet, which is the best place to camp if you're looking for some sun and waves. The area is known for its many beaches as you're next to the Pacific Ocean. Just pick your favorite spot and set up camp. Many of the beaches have camping spots right on the sand, so you can fall asleep to the sound of waves crashing. South Carlsbad State Beach Campground is a great option if you're looking for easy beach access.
The campground is located right on the beach and has sites for both tents and RVs. Beach camping areas are also highly-conducive to rooftop tenting if that is your thing. 
There are also showers, bathrooms, and several general and shopping stores, and restaurants nearby. The sites can get very crowded during the summer, but they offer breathtaking views of the ocean. Live music is commonly played on the beach, so you can enjoy some tunes while relaxing. Traffic can get busy, especially on weekends, so make sure you arrive early and look out for passing vehicles.
The campground alongside many others is ideal for swimming, surfing, bodyboarding, scuba diving, fishing, and other beach and water activities. You can also explore the tide pools or take a hike on one of the nearby trails if you wish to stay dry. The sand is on the softer side, which won't leave your feet too sore after a long day of walking. If you're lucky, you might find some interesting rocks and shells to take home with you as souvenirs.
By far, staying at one of So Cal's campgrounds will offer you the best experiences you'll ever get when it comes to camping by the beach. One of the main downsides is you might hear road noise from the nearby highway. You might be better off reserving a campsite near the oceanfront, which will also give you better views of the sunset.