You deserve a comfortable and warm bag that is made with care, by a manufacturer with a strong and positive reputation. When you choose one of our top 10 picks, you'll be able to enjoy the perfect blend of comfort, durability and affordability. Actually, this buying guide will help you to choose the best sleeping bag for your next planned trip.
To help you comparison-shop in the most convenient and quick manner, without cutting corners, we've done the homework and research for you. We're going to showcase highly-rated bags from ten great brands.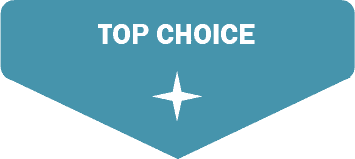 Marmot
Hydrogen Down 30 Degree
Western Mountaineering
10 Dgree Versalite
Temp. Rating : 20 Deg. F
Weight : 2.8 lbs.
Temp. Rating : 30 Deg. F
Weight : 1.9 lbs
Temp. Rating : 10 Deg. F
Weight : 2.0 lbs
Ideal for camping and backpacking, Dries soon, Superior design, Keeps warm and comfort, Three season camping, Insulation : 550 fill DriDown, imension : 78" x 29" x 8", Suitable upto 6 ft 6 in person, Fill Wt. 18.2 oz.
Comfortable , High end design, 850 Plus Goose down fill, Easy to compress and pack, Lightweight design, Suitable for cooler weather, Quality zipper, Easy to open and close, Complete length zipper
Lightweight, Highly durable, Supreme quality, Reliable. Insulation: 850 plus fill goose down, 3-season compatible, Mummy shape, Shoulder circumference,
Temp. Rating : 20 Deg. F
Weight : 2.8 lbs.
Ideal for camping and backpacking, Dries soon, Superior design, Keeps warm and comfort, Three season camping, Insulation : 550 fill DriDown, imension : 78" x 29" x 8", Suitable upto 6 ft 6 in person, Fill Wt. 18.2 oz.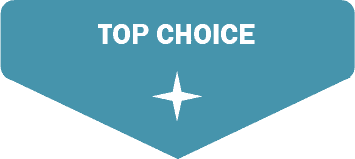 Marmot
Hydrogen Down 30 Degree
Temp. Rating : 30 Deg. F
Weight : 1.9 lbs
Comfortable , High end design, 850 Plus Goose down fill, Easy to compress and pack, Lightweight design, Suitable for cooler weather, Quality zipper, Easy to open and close, Complete length zipper
Western Mountaineering
10 Dgree Versalite
Temp. Rating : 10 Deg. F
Weight : 2.0 lbs
Lightweight, Highly durable, Supreme quality, Reliable. Insulation: 850 plus fill goose down, 3-season compatible, Mummy shape, Shoulder circumference,
Best Affordable Sleeping Bags
Once you've discovered their main features, pros, and cons, you'll be ready to choose the one which is right for you. In fact, a bag can ease your rest time during a hiking trip. No doubt, choosing a comfortable bag for your next hiking trip will be very easy if you go through our reviews.
1. Kelty Cosmic Down 20
"Treated down to keep your insulation intact!"
Premium Pick
Main Features
Resistance to moisture and easy to pack
Suitable for 3- seasons with 4 styles
Superior design and comfy
Mummy shape and lightweight
"Revolution of design with Down Insulation !"
This design is very popular and it features DriDown insulation which is resistant to water. This part​icular design is​ known for its superlative loft. However, it definitely compresses to a very small size and this makes it a perfect option for those who want to backpack. It's suitable for three seasons and has a mid-range price tag, although prices may vary based on where you buy.
Awesome features
In terms of pros, its resistance to moisture, its high loft, and its excellent compression top the list.
Cons
In terms of drawbacks, it's not really a budget model, although it's quite affordable. It was also updated in 2016, so it's now better than ever. In terms of cons, it's only suitable for those who are up to five foot eight in height. If you're taller, you may want to look for a different style that is cut to provide you with more length.
Expensive
Few color choice
Conclusion
Our final verdict is 4.4 stars out of 5 stars for this model. Although it doesn't fit all sizes, it's so great for those who are at the right heights for this model bag. It keeps campers toasty warm all night and only weighs 2.8 pounds.
If you can afford an expensive one, a great companion for your next trail.
---
2. Marmot Hydrogen Bag
"Awesome pick for your next outdoor trip!"
Top Choice
Main Features
Easy to compress and pack
Suitable for cooler weather
 Quality zipper
Complete length zipper
"Enjoy the ultra-lightweight design for warmth and comfort!"
If you're interested in high-end style and performance, then you'll love what this stylish bag from Marmot offers. Its dark Citron and Olive finish are gorgeous and bright.
However, this offers a lot more than fashionable looks. It's equipped with a second zipper that folds down and this second zipper makes it simple to access more ventilation easily.
As well, it has a slider that is anti-snag. This bag contains eight hundred plus fills power Goose Down, so it's got the premium filler that discerning campers want.
Pros
The Hydrogen is so light in weight and it's so simple to pack. It has curved baffles which stop the down from shifting, so it's warm enough for climbs and excursions in cooler weather. As well, its second zipper makes it easy to access ventilation in an instant. This is a 1.9-pound design and sleeping bags don't get much lighter than this.
Cons
In terms of drawbacks, you'll pay more for all of these perks. However, it may be well worth it. In general superb quality is definitely worth paying more for.
Expensive
Not suitable for fat guys
Conclusion
We rate this one 4.5 stars out of five stars. It's one of the best high-end designs that we've found online and it looks fantastic. We love its goose-down fill and how easy it is to compress. We also trust the Marmot brand name.
Your companion for backcountry excursions with a top-notch design and lightweight goose down from California. 
---
3. Western Mountaineering Versalite Bag
"Right choice for your next summer camp!"
Best Value
Main Features
Rated for 10 degrees F temperature
Lightweight and easy to pack
Provide enough warmth for cold weather
Hassle-free double zippers of high quality
This design is another deluxe style. In fact, it's the priciest that we've mentioned so far on the list. However, it packs a big punch in terms of features and real-life owners love its twenty-ounce down fill, full down collar, and lightweight. This particular style is rated for 10 degrees F and it weighs in at just a couple of pounds. It's also so simple to pack up when it's time to move on.
Pros
Western Mountaineering is a company with a superb reputation. This design has an awesome collar that keeps warmth inside and it's definitely one of the warmer bags around, which helps to justify the higher price. It features a roomy shoulder girth of sixty-two inches.
Cons
In term​​s of drawbacks, it's a high-end model. It's going to be out of reach to those on a shoestring budget. However, with these models, you often get what you pay for, so you may want to consider spending more for this level of warmth and comfort if it's feasible.
Final Verdict
We rate this design five stars out of five stars. It was expensive but awesome. It's best for those who do want more warmth than average. It may not be the right choice for summer and spring campers.
---
4. Mountain Hardwear HyperLamina Spark
"High performance and Ultra lightweight sleeping bag!"
Reliable Pick
Main Features
Synthetic material with Thermal Q insulation
Mummy cut design for more warmth and protection
Lightweight: 1.75 lbs and easy to backpack
Temperature rating up to 35 degrees Fahrenheit
The Mountain Hardwear bag has a cheery Saffron hue which is stylish and bright. It's made from synthetic materials and also features innovative construction (Lamina) which improves loft and stops cold spots from developing.
Its insulation is Thermal Q and it offers incredible compressibility as it also keeps loft at superb levels. It's cut in the Mummy style and it's designed to provide a snug fit. It's custom-engineered to be thermally efficient. It weighs one pound and twelve ounces, so it's extremely lightweight.
Pros
It is made of durable synthetic material with maximum thermal efficiency. It is compact when packed. This product is worth its price with exceptional design features.
This is a mid-range design. It offers quite a bit of value for the price, including a smart shape that promotes warmth, a stylish shell, and ultimate compression for packing. It's got a lot to offer and comes from a brand that is respected and established.
Cons
In terms of drawbacks, it's best for those who don't want a roomy one. It is a snug-fitting design, so avoid it if you want to move around a lot while you sleep.
Final Verdict
This bag earns a 4.5/5 rating from our team. It has plenty of appealing and practical features. However, its super-bright yellow finish is a bit too much for some people.
---
5. Sea to Summit Spark Down Bag
"Awesome for summer camp with superior comfort!"
Reliable Pick
Main Features
Suitable for lightweight backpacking and weighs 1.5 lbs
Material: Down Insulation, 850+ Down Ultradry
Temperature Range: 25 degrees to 62 degrees Fahrenheit
Pack includes compression pack and bag for storage
Sea to Summit is known for producing high-end bags which are very warm and very light and the Spark SP III is definitely no exception. It's a deluxe bag, so it's not the cheapest to buy. However, it's got the performance features that campers and backcountry hikers want and need.
For example, it has a shell that is crafted from 10D UL Nylon. As well, it has a 15D liner. The bag is filled with ultra-dry down, which is European Goose down. It has a loft of over eight hundred and fifty. The bag has a zipper of one-third length and features baffle construction of the sew-through, transverse type.
Pros
This product with quality design is very warm. In fact, it's the warmest style from Sea to Summit's Spark collection. You'll find that this exceptional model 2-season bag is ideal for milder winter outings, as well as outdoor sleeping in spring and summer. This ultralightweight bag weighs only 1lbs and is easy to pack with ultra compression features.
Cons
In terms of drawbacks, it's relatively expensive. You'll need to pay for its superlative warmth and other comfort and performance features.
Final Verdict
We rate this design five stars out of five stars. It's a wonderful bag, but too expensive for a lot of campers and back-country explorers. If you've got the money, it may be right for you. You'll love the warmth that it provides.
---
6. Coleman Silverton 25 Degree Bag
"Ultra-lightweight, Mummy design, and Worth the price!"
Reliable Pick
Main Features
Temperature rating up to 0 degrees Fahrenheit
Design: Mummy Style and suitable for up to 6 ft. 2 inches.
Material; polyester keeps warmth
Quality Two-way zipper with trouble-free technology
Weight: 3.7 lbs, Coletherm insulation
Size: 14.6″x10.6″x10.6″,
Coleman is such an excellent brand. In fact, the Coleman name is really synonymous with camping! This bag from Coleman is suitable for temps from twenty-five F to thirty-five F.
It's a good choice for taller folk, as it will hold a person up to six feet two inches in height. As well, it features a rip-stop cover made from polyester and a lining made from polyester. It also has a box-shaped foot which adds more room. This design comes with a stuff sack, so it's simple to store. Its hood is semi-sculpted and assists with draft control.
Pros
This design has a draft tube of full length with a Thermo lock feature and can accommodate up to 6 ft 2″. It stops heat loss via its zipper. It also has a patented zipper style which is two-way and no-snag, so fabric won't catch. If you want more air on warm nights, you may unzip the bottom of this design for instant ventilation. A storage bag is included in the pack.
Cons
This is an affordable bag. It's the cheapest on the list, so don't expect deluxe quality. It's for budget-conscious campers.
Final Verdict
We rate this design 4.2 stars out of 5 stars. It's a good bag that is roomy, but so budget-priced that it lacks some of the high-end features that campers want. If the economy is important to you, you may want to consider this inexpensive design.
---
7. NEMO Disco 15 Sleeping Bag
"Suitable for camping and backpacking with Best design features!"
Reliable Pick
Main Features
Material: 650 fill down lightweight and keeps warmth
Breathable and can control the temperature with ThermoGills.
Suitable for three-season camping
Extra space for elbows and knees with Spoon Shape
Weight: 2 lbs 5 oz, Temp. 30 degree F
Size: 17″ x 9″, Shape: Spoon,
This cute bag looks a bit like a peanut thanks to its brown finish and hourglass shape. It's crafted from 30D Nylon micro-taffeta and its shape is called a spoon shape by the team at NEMO. NEMO is a good brand that is trusted. This design comes with plenty of great features for a mid-range price tag, including stretchy stitching, good fabrics, and flow rates. It features down which is water-repellent and 650FP. The down will maintain its loft as it keeps water away. Moreover, this one comes with a stuff sack that has a drawstring.
Pros
This is a nice warm bag and perfect for side sleeping. It is rated for temperatures from fifteen Fahrenheit to thirty Fahrenheit. Also, it's a nice-looking bag with lime green accents that add a touch of style. It's not too cheap or too expensive and most customers really love it. It is highly durable with an awesome design.
Cons
In terms of cons, it's not right for those who want Mummy shapes. It's got the spoon shape and this is better for some people. It's really a personal choice.
Final Verdict
We rate this bag 4.7 out of 5 stars. It offers quite a bit of warmth, but it's not as warm as some other bags.
---
8. TETON Sports Tracker Double Bag
"Perfect for couples, Worth its price, and Lightweight design,!"
Reliable Pick
Main Features
Three-piece hoods for perfect coverage of the face
Temperature Rating 5 degrees Fahrenheit.
Weight: 8.2 lbs with compression sack
Anti-snag zipper, Affordable price,
A great companion for chilling out with your honey.
If you want a cheaper design that is perfect for snuggling with your honey, then you'll enjoy this unique model, which is made for two, rather than one! It's a mummy-type bag that offers more leg and shoulder room than average. Its dimensions are eighty-seven by sixty-three by forty-four. This TETON Sports design is warm and light along with body-mapping technology. This means more insulation in the most important areas. The bag weighs a little over eight pounds, which is pretty light for a double-wide design.
Pros
This bag provides more insulation with the design of Mummy hoods and size: 87″ x 63″ x 44″. The diamond ripstop shell is durable and provides enough compression while sleeping.
We like the three-piece hoods on this design. They cradle the face to keep the head toasty warm. As well, we think that the foot boxes for this design are great, as they are vaulted and feature another layer of fill. It's so nice to have warm feet while you sleep. As well, this design has a zipper that is anti-snag.
Cons
In terms of cons, this design is fairly cheap, so you're not going to get a high-end experience. However, it does offer good value for what you'll pay and it is built for a couple, which is fun.
Final Verdict
This, 4.3 stars out of 5 stars rated design is something special and it won't cost too much. It's a great choice for those who want to get more body heat from their partners.
---
9. Sierra Designs Sleeping Bag
"Highly durable,  Excellent comfort, with perfect insulation, !"
Reliable Pick
Main Features
Material: 800 fill DriDown with sleeping pad sleeve
Lightweight design; 2 lbs and fits up to 6'6″ height.
Temperature Rating: up to 15 degrees F for men and 26 F for women
Mummy design with zipper-free features
This Sierra Designs bag is a versatile design that will allow you to adjust it to your preferred temperature. It features six hundred fill DriDown which is of superb quality. Thanks to its integrated comforter wraps, it's definitely an innovative style that allows for plenty of personalization each time that it's used!
As well, it has hand and arm pockets that are insulated. This design comes with a sleeping pad sleeve which offers the ultimate, bed-like feel. The opening of this design is Catenary-shaped, which means that it's more compact than the width of the bag. If you push it out, the walls will push in and keep drafts out.
Pros
This is suitable for side sleeping or stomach sleeping and also dries faster. This nylon material design got sleeves for securing a sleeping pad.
This design is so intuitive and versatile! It doesn't have any extraneous hardware, including Velcro and zippers, so it may be tucked in or pulled out as needed. It's oversized in order to provide lots of adjustability options. Use it no matter how you sleep. It works for side, back, and stomach sleepers. Temperature is also adjustable, which is really practical.
Cons
In terms of disadvantages, one customer complained that the back portion of the bag isn't padded enough and lets in the cold via the mat and ground.
Final Verdict
This is a good, 4.4 star out of 5 stars rated bag which does have a lot of unique and interesting features. It's mid-range in price.
---
10. The North Face Cat's Meow 20 Bag
"Treated down to keep your insulation intact!"
Reliable Pick
Main Features
More durable and comfortable design features
Lightweight design; 1 lb and suitable for women.
Mummy shape design for warmth and comfort
Compression bag and bag for storage included
This nylon product comes from one of the world's leading outdoor gear brands. The North Face is known for its stylish and functional outdoor products. The North Face's Cat's Meo is designed to provide optimal fill, while still being very compact. It is made with insulation of the Heatseeker Pro type which is designed to provide great thermal performance. As well, it has a hood that is shaped in order to offer more comfort and warmth.
Pros
This design has a zipper pull that glows in the dark, so it's easy to adjust the bag during evening naps or while you're sleeping through the night. As well, most customers who've bought it find that it keeps them toasty warm. It's a design that is popular with women and seems to fit their bodies well, so it may be a good choice for you if you're female.
Cons
In terms of drawbacks, one customer had a bad experience after machine-washing this and recommends that you don't put it in the washer. It's a mid-range design which a fairly low price tag, so it won't have every high-performance feature. However, it does offer good quality for what you'll pay and it comes in some nice colors, too.
Final Verdict
We rate this bag four out of five stars. It works well for most, but maybe too short for very tall campers and backcountry enthusiasts. As well, we like the price. It's not too low or high.
---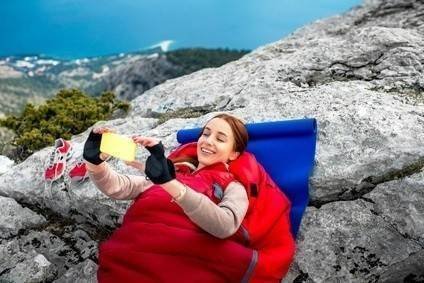 The number one rule of camping and hiking is to always be ready for whatever the wilderness may throw at you.
Being ready is about having the right gear and having one of the excellent bags is an essential part of your equipment pack.
Not only does the bag for camping promote a restful night's sleep, but having a high-quality bag helps keep you safe in the event of an extreme drop in temperature or if you're forced to spend the night out on the trail.
Obviously, finding the coziest bag is a priority. Something warm and spacious is always a good idea.
But you also have to lug it around. This makes it tempting for outdoor enthusiasts to treat their search for bedding like they do their bags – by looking for the one that is lightest and easiest to carry rather than the bag best suited to the rest of their adventurous needs.
So, how do you choose what design bag to bring on your next hike?
Read our full guide on finding and buying the best bags to find out:
Sleeping Bag For Backpacking 101
These bags are designed to provide you with a good night's sleep when you cannot make it back to your bed.
Typically made of down and other lightweight materials, these bags are designed to pack small, remain lightweight, and keep you covered and protected in certain conditions.
Always, these bags are ideal for camping because they are far easier to carry than an air mattress or a camping cot. They are lighter and smaller, but they don't require the accessories that other sleeping equipment does.
While you might normally associate them with camping alone, they're also great for hiking.
Sure, a trail hike might be a fun day out. But when you start to take longer or more adventurous hikes, you take more risks.
This is where the sleeping bags come in handy. Whether you find yourself stuck in a cold or snowy climate or unintentionally spending a night on the trail, a bag can be more than a game-changer. It can be a lifesaver.
Essentially, this gear requires only the bag (and ideally a pad)- you don't need camping pillows, sheets, blankets, or mattresses. Not only do they keep you safe, but they save you a huge amount of space and effort when out on the trail.
It also saves you time in setting up and tearing down and they don't require power, batteries, or someone with great lungs and a lot of time on their hands to set up.
Having one of the best bags is essential for campers and hikers because each individual bag is designed to help you sleep in rugged or remote conditions.
For example, a 40+ temperature rating means the bag is best suitable for warm weather conditions.
Alternatively, a bag graded for cold conditions can be a lifesaver. If your bag is already prepared for a drop in the temperature, then you'll be safer than you would be with a camping pillow and some blankets.
Essential Features to Consider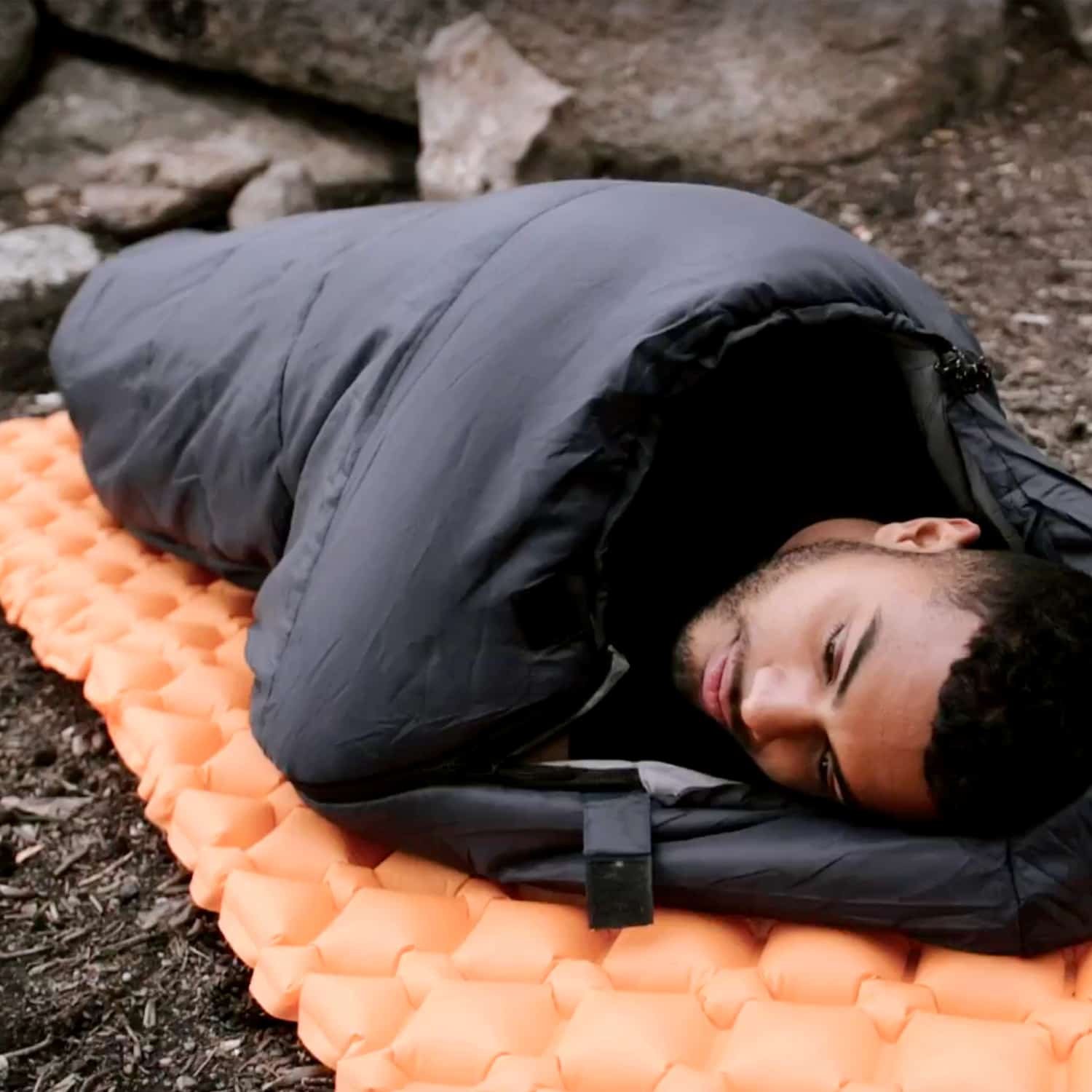 Even among the best down bag, not all bags are made alike. Different bags are created for different conditions. So, you need to be aware of what features an individual bag provides before you purchase and/or pack your bag.
Price:
Price is a key consideration that often affects buyers' choices.
Actually, the bag prices have gone up over the last few years because of down, the main insulation material is less available than it was before. You can still purchase an inexpensive down bag, but you'll need to consider the quality of the down if you see a cheap bag at a rock bottom price.
In fact, you can still purchase an inexpensive down bag. In the first place, you'll need to consider the quality of the down if you see a bag at a rock bottom price.
Material:
Though, you can purchase bags filled with down or with synthetic material.
The pros of splurging on a down bag lie in its value. Down is warmer and it's warmth-to-weight (or how warm it keeps you vs. how much the bag weighs). Down also retains its shape and is better for long-term use.
Plus, unlike synthetic material, it is moisture-wicking, which is great for sweaty sleepers.
The downside of real feathers is that it requires special cleaning. Plus, if it gets wet while you're on the trail, it won't dry quickly and it definitely won't keep you warm.
Synthetic materials dry quickly, are cheaper, and are hypoallergenic.
Basically, synthetic materials are essential for anyone who can't deal with feather pillows.
Temperature Rating:
As previously mentioned, the temperature rating is also important.
A temperature rating provides an indicator of the lowest temperature safe for using the bag. You can buy warm weather, cold weather, and sub-zero bags.
Temperature ratings are set based on the premise that you're using a sleeping pad within your bag. The pad adds extra insulation, which helps keep you warm.
Paying attention to the temperature rating is important when you're choosing a bag for a location. But you also need to consider your sleeping metabolism. If you radiate heat overnight like a bear (and you know if you do) then you'll need to keep that in mind when buying a bag. The same is true if your feet are icicles.
Warmth is a critical factor in purchasing a bag, and it can make or break your outdoor experience. So be prepared to spend and buy accordingly.
Weight Vs Roominess:
Weight vs. roominess is another factor to consider. You don't want a bulky bag, but you also need one big enough to accommodate you. Some bags are larger than others, but because of the extra space, they also need extra material.
Essentially, when looking at basic features you want it to be three things:
1. Warm
2. Spacious
3. Compact
If you can get all three of those in one nifty package, then you have one of the excellent bags for backpacking.
Extra Design Features Among the Best All Round Bag
Extra design features provide a little something that makes your life easier or is just a little more you.
Hood styles are important to consider. A hood prevents the heat held by the bag from escaping around your head.
A hood might offer different features. Some have pillow pockets used to create a pillow out of clothing. Others double as a quilt when you unzip the bag. Some bags – typically ultralight ones – do away with the hood altogether.
Draft tubes are another extra feature that makes all the difference. A draft tube is placed along the zipper to stop the draft created by the zipper.
Another useful design feature? The trapezoidal foot box. Anytime a manufacturer adds design to help you achieve a natural, un-mummy-like sleeping position, then you have a winner.
Look at the foot box on your bag, particularly if you sleep on your back. The extra space provided by this shape makes your sleeping position more comfortable. Bonus: it also places less stress on the bag itself.
Pros and Cons
The pros of bags are many.
First, they are lightweight and easy to carry around, which you can't say about other sleeping equipment. Even carrying a blanket is often heavier than a bag because the material results in the bag being much lighter.
Second, bags are obligatory in any situation where the temperature dips below 40 degrees. Unless you're a bear with a fur coat or you are secretly sneaking away from the campsite to check into the nearest hotel, you need a bag.
Sleeping bags are also amazing to have on hand in the event your hiking trip inadvertently turns into a camping trip. If you've found yourself lost or decided to go longer than initially planned, the bag will keep you warm through the night and may even save your life.
Cons
The only downside of bags is that they are not small. They do take up space in your backpack.
But if you get the right bag and have the right backpack, the space issue becomes a non-issue.
To find a great backpack to match your bag, check out one of our individual backpack reviews here.
Final Verdict
Ultimately, if you plan to do any hiking or camping, a bag is a must-have piece of your kit.
No doubt, these bags protect you from the elements, even if you don't intend to stay out all night. But more than that, bags prepare you for a good night's sleep out on the trail.
The excellent design bags are the right bags for you and your needs. Be sure to take all the factors, like location, weather, and your own body, into consideration before making your purchase.